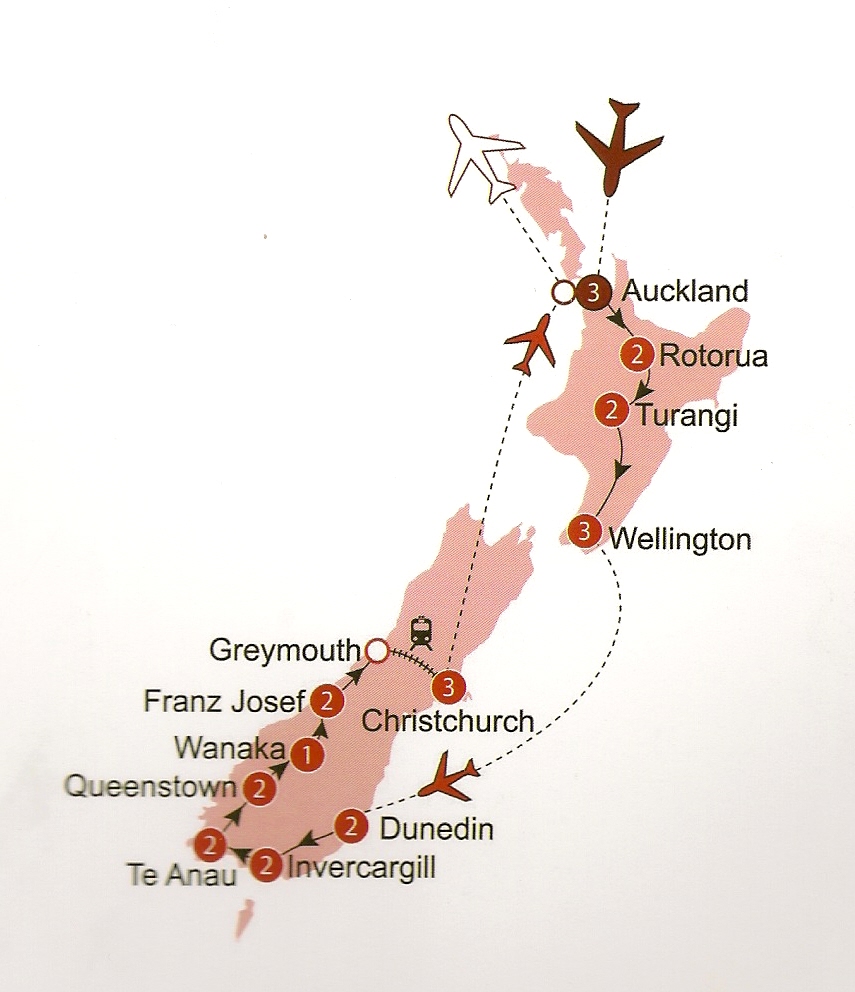 Many years ago our ski club ran a "See and Ski" trip to New Zealand. We didn't go and we've always regretted it. When the Ring Trilogy came out we were captivated by the landscape. Then there was a PBS program on seeing New Zealand by rail. What a teaser that was! I looked up potential rail itineraries, but it would have been complicated to put one together on our own. There were no US companies that offered such a thing and none of the NZ companies offered a complete package. So we turned to our faithful Road Scholar. They offer a number of tours of varying length, but we opted for the longest one: Land of Geysers and Greenstone. It was four weeks and included most of what we wanted to see -- including a rail segment!
As usual the program was a great success. The leadership was great, our fellow travelers were interesting in their own right, and New Zealand was as fascinating as we could have wished.
The "New Zealand" name came about because the first Europeans to discover it were Dutch. Although the explorers did not themselves give it that name, the early Dutch cartographers did. The Maori name is Aotearoa, usually translated as the "land of the long white cloud," a reference to the way that oceanic land masses often host clouds, which makes them targets for navigators.
There are a couple of ways to follow us on our trip. I've tried to make the narrative a complete summary, but I've used many links to other web sites to provide additional details and sometimes pictures. You can either stick with the basic narrative or explore the various links. At the time this album was created the links were all valid, but the WWW is in constant flux and that can change. If you encounter broken links, please send us some email. I won't apologize (too much) for the length (too long) of this log -- it seems like everything we saw was either beautiful or interesting (or both) and it takes space to cover even a fraction of it. Or you may choose a condensed version.
The map that Road Scholar included in our trip materials gives an overview of our journey.
Follow the links for details.
Auckland
Rotorua
Turangi
Wellington
Dunedin
Invercargill
Te Anau
Queenstown
Wanaka
Franz Josef
Christchurch
Click to visit our other picture albums.