Most people are aware that New Zealand comprises a North Island and a South Island. Few know there is a third major island as well: Stewart Island. Not to mention several Oceania island groups such as the Cook Islands.
This was the first time that Stewart Island had been offered on this program. There had been a "farm stay" offering, but the farmers retired. The cost of the Stewart Island excursion and the potential for really rough seas on the way to the island were concerns for Road Scholar, but it was worth any price and we were lucky to have smooth sailing. I hope they will offer this excursion again.
---
The boat to Stewart Island left from Bluff and it took a while to get there from the hotel in Invercargill.
Whenever we had a scheduled connection to make, our guides allowed plenty of time in case of mishaps. That occasioned plenty of jokes about "hurry up and wait."
L-R: Ed, Bill, Al, Mary, Vic, Sandra (tucked behind Vic), Trallee & Suzanne (standing).
Suzanne is a native Kiwi who has traveled all over the world, This was her first visit to Stewart Island!
---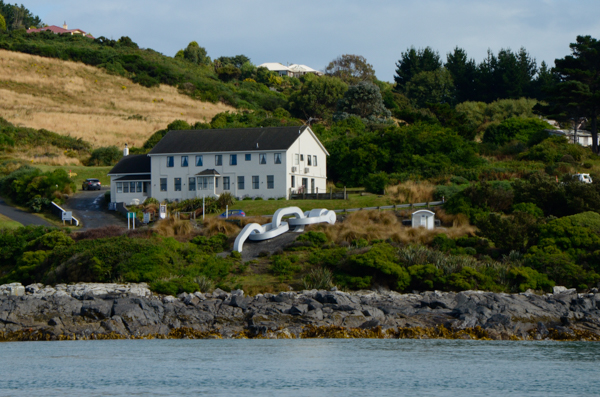 Leaving the harbor we passed a huge chain sculpture. According to Maori legend, the North Island was a great fish miraculously captured by the demigod Maui. The South Island was his canoe or waka, and Stewart Island was his anchor stone.
The chain represents the connection between Stewart Island and the South Island. There is a corresponding sculpture on Stewart Island.
---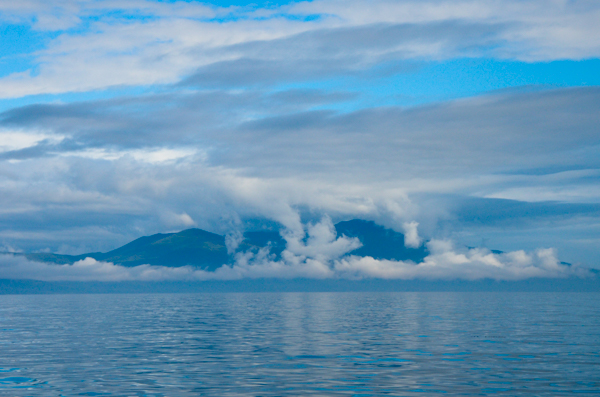 The sea could not be smoother for our trip. We couldn't tell at this point what the weather would be on the island. (It was changeable but generally outstanding.)
The high point is Mt. Anglem.
We saw pictures that made it clear that the sea can be MUCH more challenging. The excursion was listed in our materials as "weather permitting."
---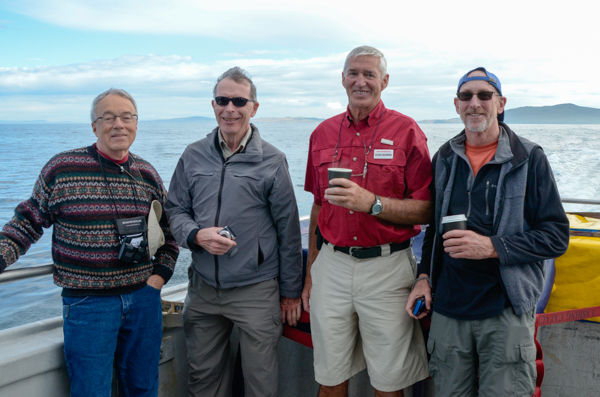 Road Scholars on the boat. L-R: Gary, Vic, leader Chas & Carl.
I had expected the South Island to be chilly, but obviously it was not.
---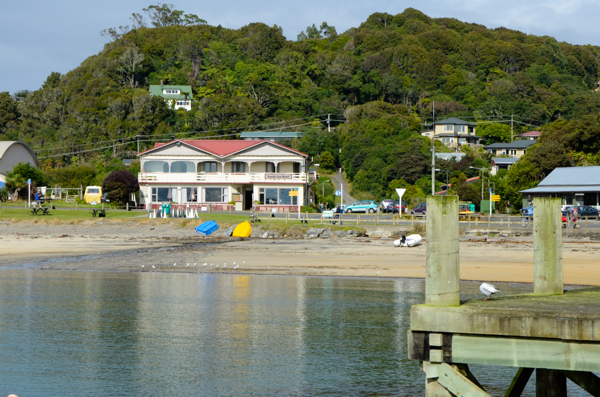 The only town on Stewart Island is named Oban, but is usually called Halfmoon Bay. This is downtown. Like much of Southland the area was settled by Scots and retains Scottish place names.
We broke into smaller groups for a minibus tour of Oban and the surrounding area. One thing that struck us was that our guide persisted in speaking of the mainland as "New Zealand" implying that Stewart Island isn't really part of it.
---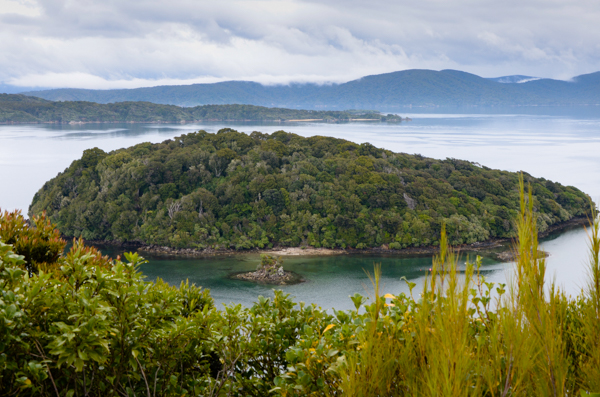 This overlook into Paterson Inlet is the opposite side of a narrow peninsula from Halfmoon Bay where we had landed.
Keeping with the Scottish theme, the closer island is Iona and the larger one in the distance Ulva. We would be visiting Ulva later.
---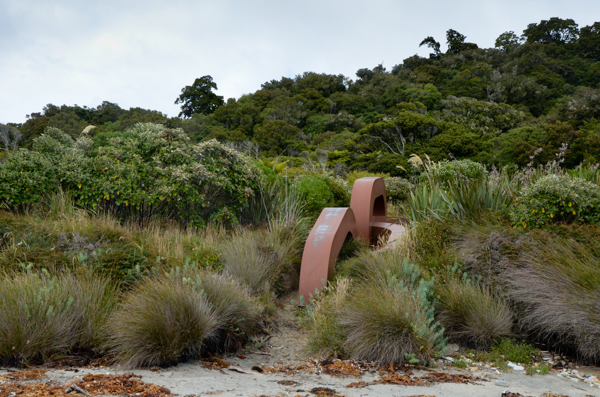 The Stewart Island end of Maui's Chain is located in Lee Bay. It sends a clear message that Stewart Island is indeed connected to New Zealand. I've read that it was somewhat controversial when installed, perhaps for that reason.
The chain marks the entrance to Rakiura National Park, which comprises about 85% of the island.
The park allows hunting, which seems odd to us Americans. Introduced deer are major plant predators in New Zealand. There are no seasons, protected areas, or limits on the number that can be killed.
---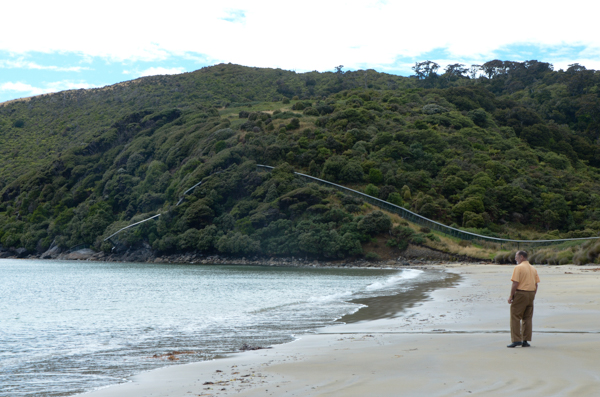 Most NZ areas protected from invasive species are on islands, but the owner of this peninsula went to the great expense of installing a many-kilometer-long "predator proof" fence and working to clear introduced predators.
"Predator proof" has to be in quotes because there is controversy as to how effective such fences really are.
This land is now included in the National Park.
---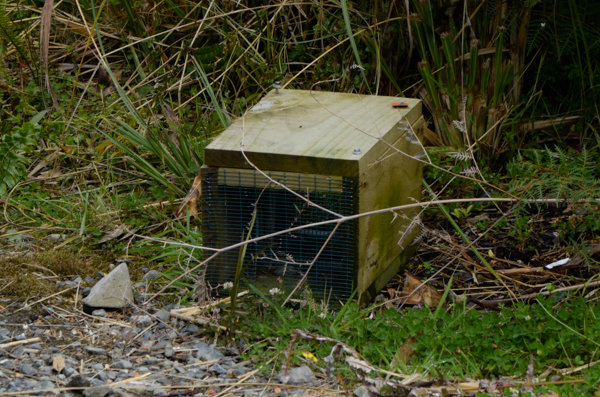 In fact, there is no way to guarantee predator exclusion -- fence or no fence, island or not. Traps located throughout many of the places that we visited, islands included, are monitored by staff and volunteers.
---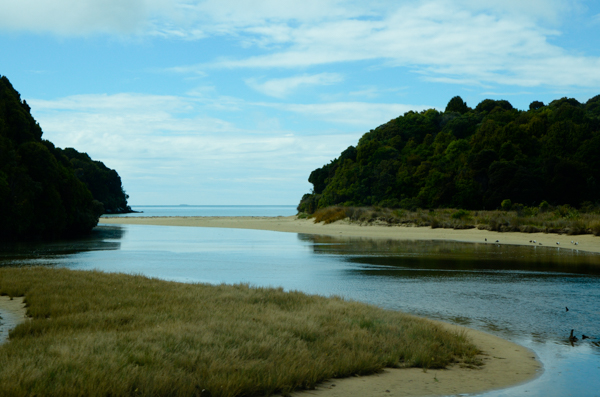 This pretty backwater is a favored playground of local children. The water is shallow enough, even at high tide, to provide a place for them to boat and swim. It also provides good habitat for shore birds.
Stewart Island reminded me of growing up without all the anxieties of 100% "protection" of children, which so limits their opportunities to develop independence and self-sufficiency.
---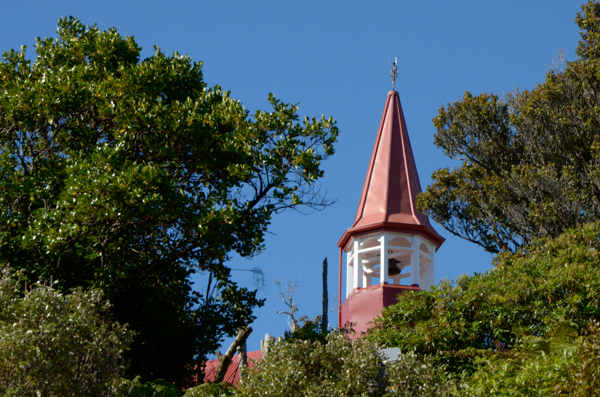 The Presbyterian Church is active although it no longer has a resident pastor.
I regretted not having free time on any Sunday morning of our trip to go to church. It is a wonderful way to meet local folks in addition to taking time out for worship.
Of course, there were plenty of opportunities for private praise and worship at the various places that we visited.
---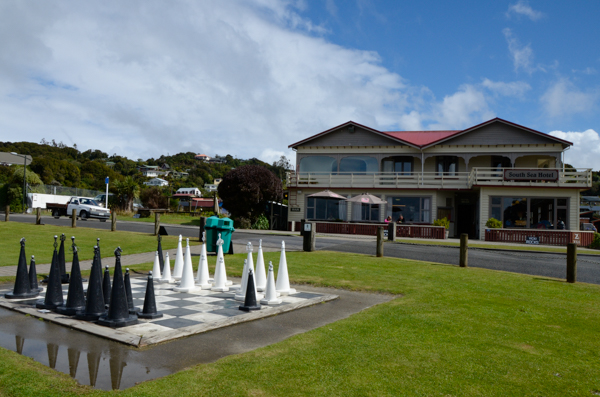 After the tour of Stewart Island and the cruise of Paterson Inlet, several of our number kicked back with a beer at the South Sea Hotel.
Before that, however, Jim & I and a few others went to the movies to see "A Local's Tail," a whimsical compilation of home movies, historical stills, and tall tales narrated by ... a dog. Check the trailer on YouTube. After the movie the dog was available for a meet & greet.
The giant chess set on the green is made from traffic cones. I wonder if there is a local chess club or ???
---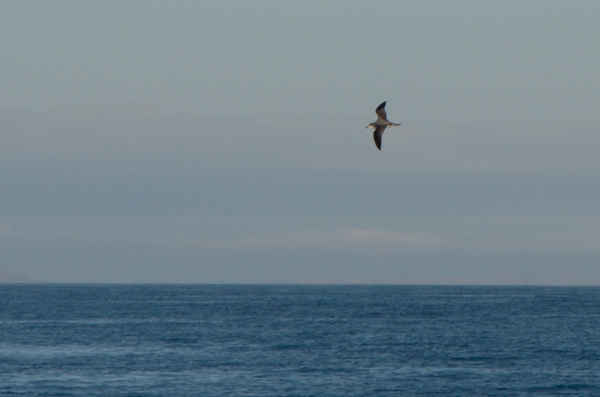 Of course we saw seabirds on the way back to Bluff.
This appears to be a Cook's Petrel.
---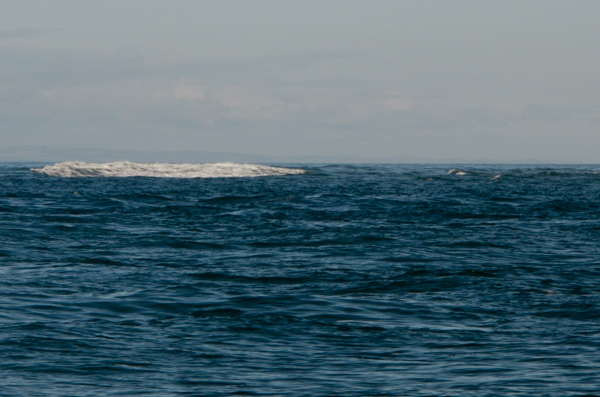 I can't find anything about it online, but I believe this was something like a tidal bore just outside the Bluff harbor.
As we entered the harbor, the outrushing tide looked like a fast-flowing river current as it passed the channel buoys. I believe it may have caused this standing wave where it met the open sea.
---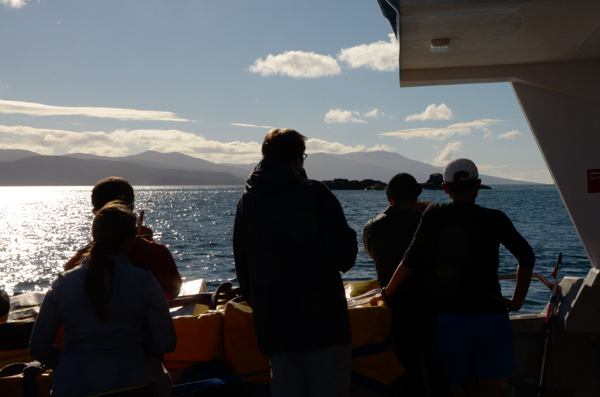 Stewart Island was the high point of a wonderful trip.
The weather held for our return to Bluff in the late afternoon. Would we have liked it as well had it rained the entire time with a gale-force wind?
---
Click your "back" button to return.