On the afternoon of our first day in Christchurch we had arranged to meet friends from home. Lad & Vicki Sessions have a daughter who lives in Christchurch and they spend most winters visiting her. They also spent several months in Dunedin some years back when Lad was writing a book while on sabbatical from his W&L teaching position. They gave us picture books and advice on picking a suitable program for our trip.
Chas suggested this particular afternoon as the best time so we met the Sessions in Sumner where the group was headed for lunch.
---
Just one more disaster picture. The hillside above Sumner Beach was the location of expensive beach homes with ocean views. We've already seen how the schist rock is subject to landslides, and this entire cliff had sloughed away.
It is dangerous even to demolish these houses.
---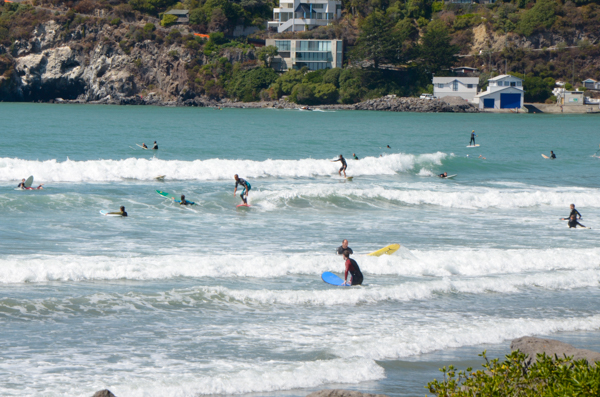 This is the view that those houses had once overlooked.
The beach is popular with surfers and on this warm Saturday afternoon everyone was enjoying the waves.
---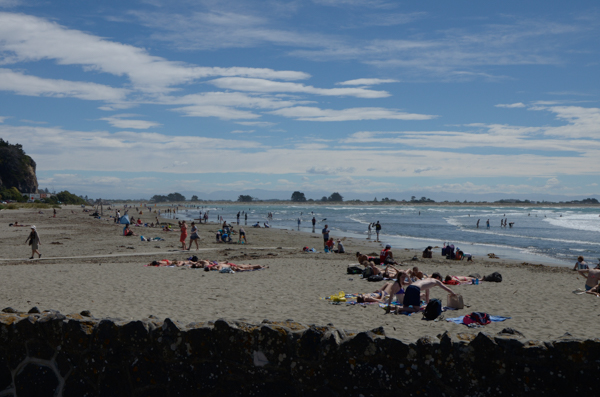 Farther along there is less surf and more space for families to enjoy sand and gentle waves.
---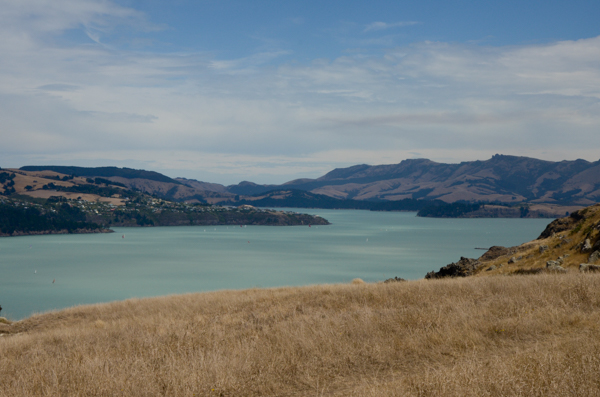 After sharing lunch (pizza!) with Lad & Vicki, we drove to Godley Head, a scenic spot that was the site of several WWII gun emplacements.
This extinct caldera has been flooded by the sea.
The gun emplacements were closed due to structural problems associated with the quake, but we enjoyed the walk. At one point we ended up in a military preserve where we saw signs announcing exercises for that day, but no one shot at us!
---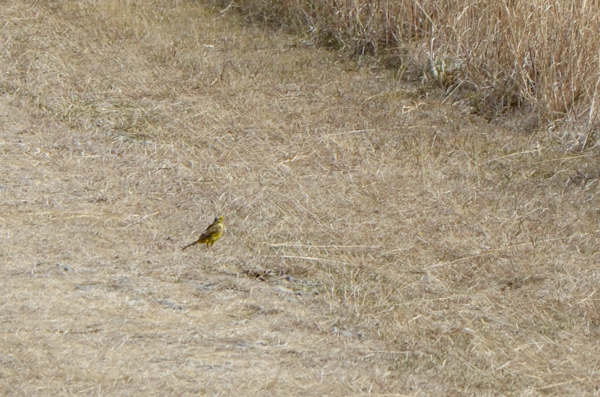 There were a number of yellowhammers in the area. We also saw goldfinches feasting on invasive thistles.
---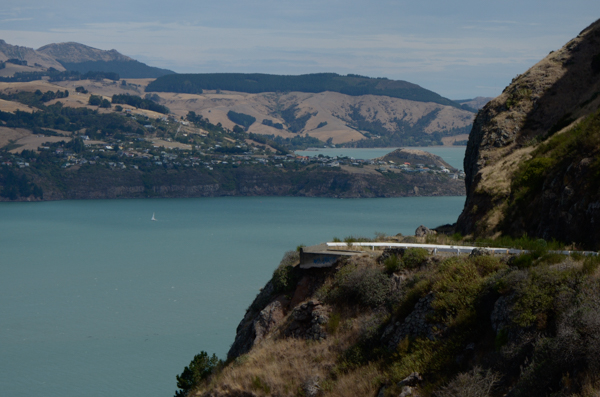 Lad had planned a scenic drive to Lyttelton, the deep water port for the city of Christchurch, but the roads were closed because of landslips. For that reason and others we decided to travel into the city and back out again through the highway tunnel.
That enabled us to stop for boutique ice cream! Every cloud has a silver (vanilla?) lining!
---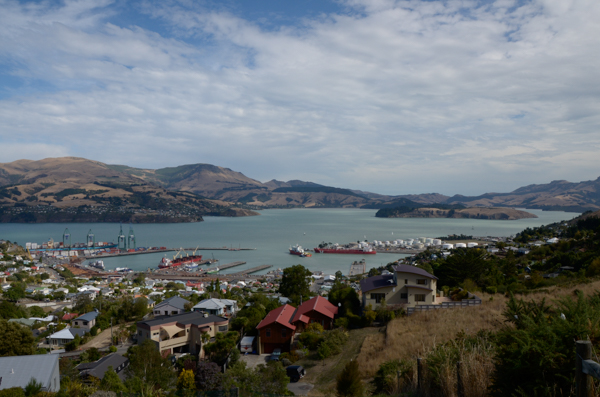 The Sessions' daughter and son-in-law own property in this area intending to build a house. Their plans were on hold because of the competition for construction resources.
At least the land survived. Of the houses in this picture the house with the prominent red roof survived, but the house to its right did not and will have to be demolished.
---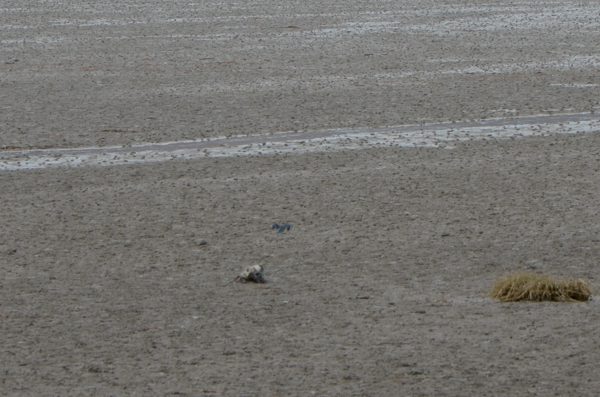 It turns out that we all like birds. Lad & Vicki took us to an area where the tidal flats attract a variety of birds. In addition to the usual suspects, I saw a New Zealand Kingfisher. He posed prettily on a post until I got my camera ready, then took off! I was able to get this picture of his backside
---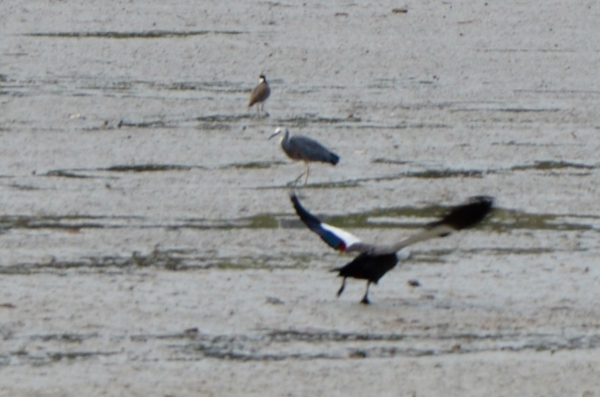 Of the birds in this fuzzy image, the far one appears to be a Spur-winged Plover; the one next to it is a white-faced heron, and the nearest one is a Paradise Shelduck taking off. I've got better pictures of the latter two elsewhere.
When walking back to the car we passed a young girl out riding bareback on her pony. Made me homesick.
---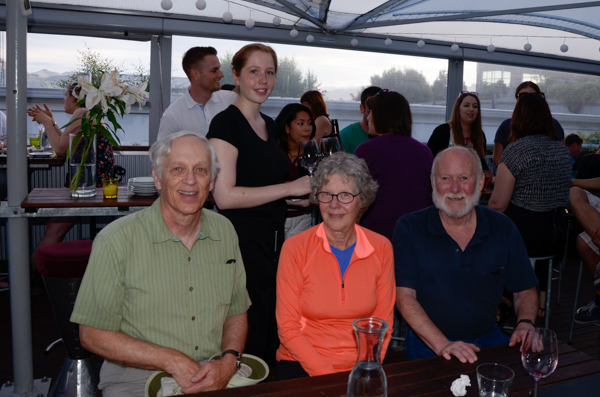 When we reached Lyttelton, Lad & Vicki had made reservations at Freemans restaurant overlooking the harbor. We sat on the deck, a pretty place. Food was good too.
Our waitress was from Germany.
---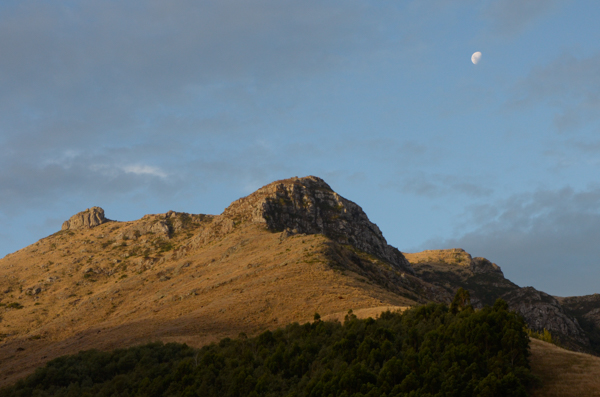 On the way back to Christchurch we stopped to view the gibbous moon over the hillside.
A beautiful end to a lovely day.
---
Click your "back" button to return.