It was back on the bus to continue our journey.
---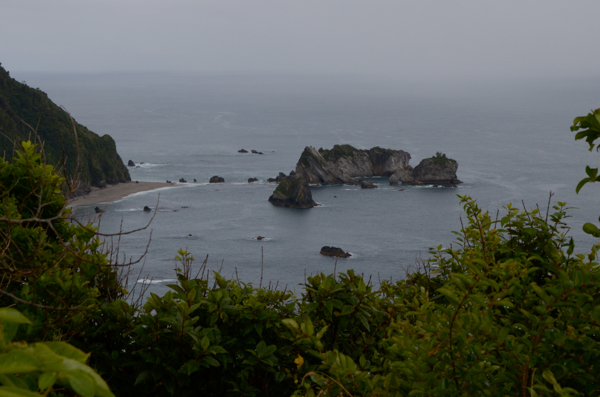 Not far from Ship's Creek we stopped at an overlook for box lunches, which we enjoyed in spite of the drizzle. The picture shows faint drifts of heavier rain here and there in the distance.
Fur seals have hauled out on the rocks and beach below.
---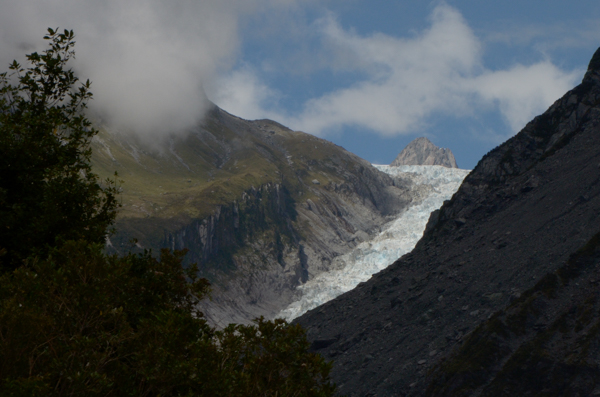 Fox Glacier has retreated dramatically in recent years as have most NZ glaciers. The bare rock on the edge of the remaining ice indicates its former size.
The valley containing this glacier is adjacent to the valley containing the Franz Josef glacier that we will visit the following day.
---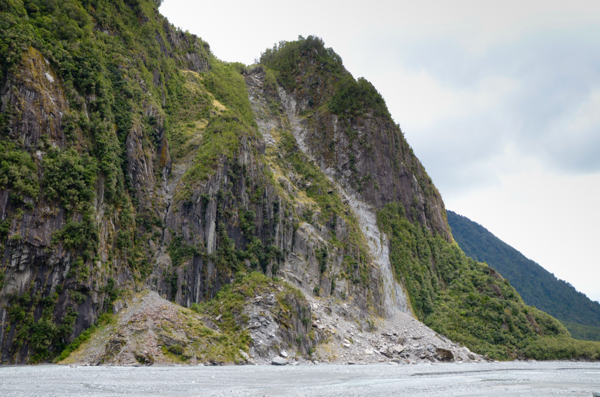 The mountains in this area are largely schist, a fragile rock that crumbles easily. There are many landslides visible along the road.
---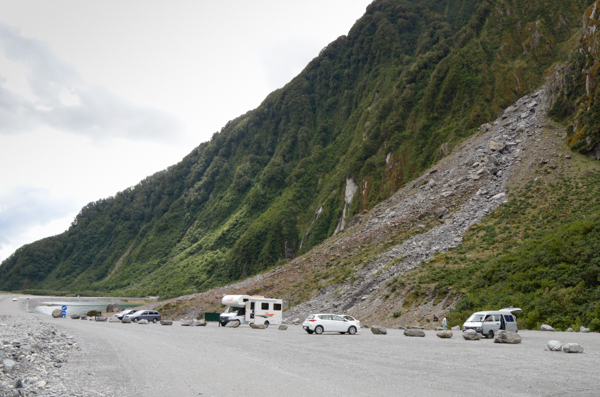 A landslide inundated part of the parking lot at Fox Glacier and closed the access road. The road was rerouted around the debris field.
Similar landslides have swept people to their deaths in this area.
---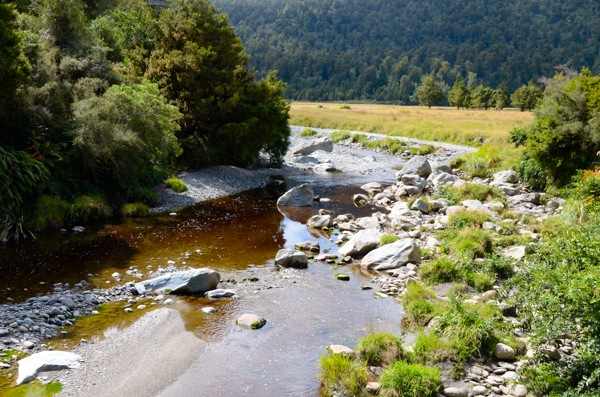 The far side of Lake Matheson is noted for views of Mt. Cook, the highest mountain in New Zealand, and the surrounding peaks.
Unlike most of the streams that we saw, this one discharging from the lake has tea-colored water typical of a forest stream. Decaying leaves give it the color. Back home in Mississippi these are called "black water" streams.
---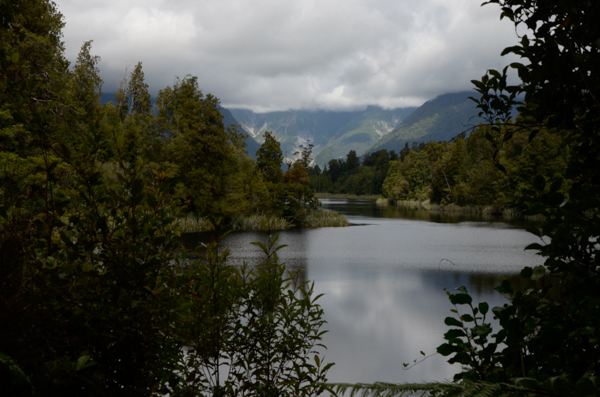 The stunning views are predicated on two things:
1 - Clear skies. Not today; the mountain peaks are shrouded in cloud.
2 - No wind. Although the lake is sheltered from the prevailing breezes, today the wind was from a different direction and ruffled the surface of the lake.
Ah well, the view was merely lovely instead of stunning. It was an invigorating hike anyway and there were other sights along the way.
---
These tiny wildflowers were prevalent all along the path.
Lake Matheson is a kettle hole lake and has its own unique ecosystem.
Can't put a name to these.
---
Another of New Zealand's major exports is sphagnum moss, which has a surprising number of uses from baby diapers to hanging baskets. When dried it can absorb an amazing amount of water.
This is what it looks like "in the wild."
---
A closer view.
---
I was also able to get a picture of a Southern Rata flower up close. Most of the trees were too far away, but this small one was right by the trail -- just for us tourists.
It only had the one cluster of blossoms.
---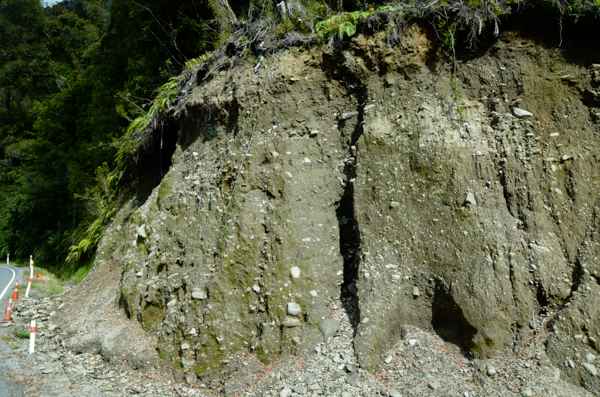 After leaving Lake Matheson, we traveled through broken country with steep declines. The hill country in this area consists of glacial moraines left after numerous ice ages. Glaciers, as we will see later, carry enormous amounts of ground up stones that are then left when the ice recedes. The unconsolidated and unstable mixture, as shown here by the side of the road, erodes easily into deep valleys and is subject to landslides.
This road is often washed out.
---
Click your "back" button to return.