On our final full day in New Zealand we visited Akaroa. Unlike everywhere else we had seen, Akaroa was originally claimed by the French. It was also the site of English complicity in a Maori tribal ambush.
---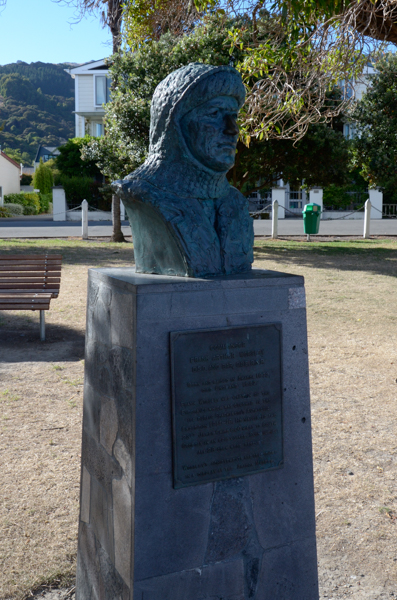 It was a long bus ride from Christchurch to the small town of Akaroa on the Banks Peninsula.
What an unexpected treat to see this monument! Commander Frank Worsley was born and raised in Akaroa. A part of the Antarctica exhibits that I didn't mention was Sir Ernest Shackleton's failed 1914 mission to cross Antarctica. Their ship was frozen into the ice and eventually crushed, but all the men in Shackleton's company survived -- largely due to the navigational skills of Commander Worsley, who piloted a small ship's boat 800 miles across some of the world's worst seas to South Georgia, a small subantarctic island inhabited by whalers.
We visited South Georgia some years back and marveled at this accomplishment.
---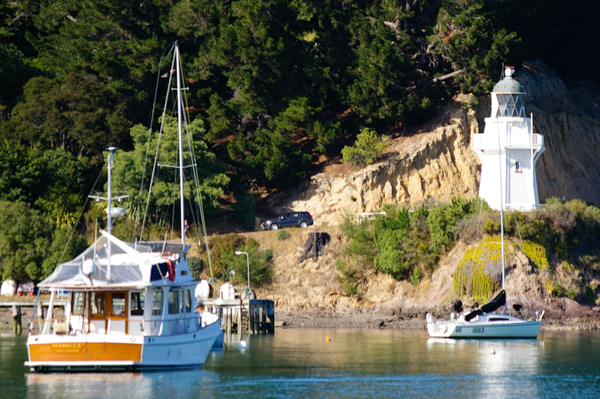 The first order of business in Akaroa was a harbor cruise to check out birds and marine mammals as well as the scenery.
This lighthouse used to be out on the point, but it was replaced by an automated lighthouse and moved to this location basically for decoration.
---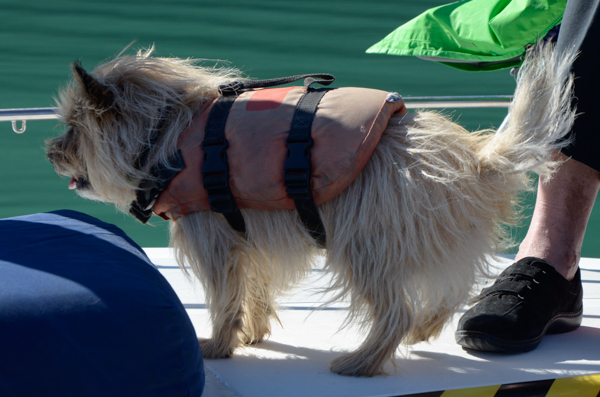 One of the crew on board the boat was Hector the Dolphin Detector Dog. The captain asserted that he could hear the dolphins "talking to" each other.
In practice it appeared mostly that he detected tourists pointing and exclaiming "Ooh, a dolphin!"
Hector is a Cairn Terrier.
---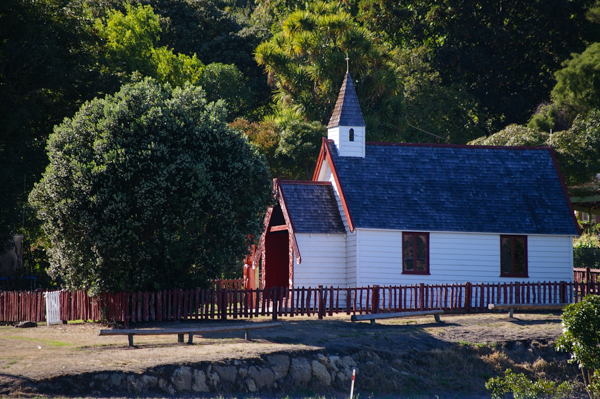 A little farther along the harbor we passed this Maori settlement. There was a marae and this church. They were also building a meeting-house that could be used for small conventions.
---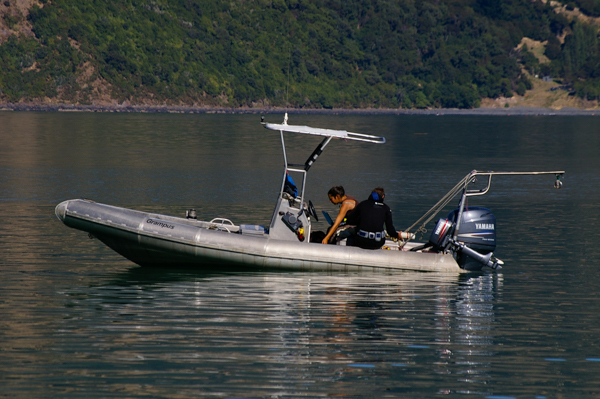 A research boat from the University of Canterbury was checking research installations. Our captain said he had once seen what looked like a fishing buoy, which was illegal in these protected waters. He pulled it up to find it was a research buoy. Oops! Splash.
---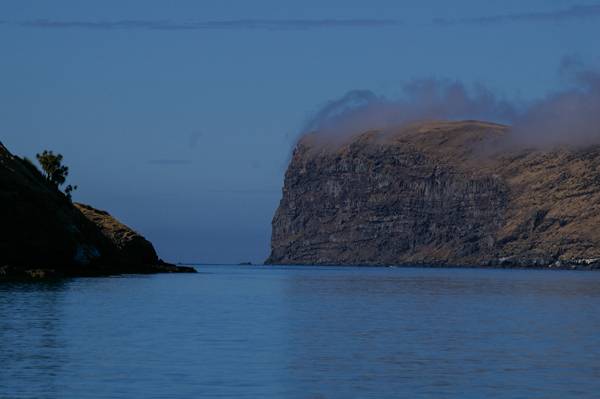 The inlet is the caldera of an extinct volcano. At one time the sea broke through. This head and the land opposite show the various layers put down by past volcanic activity.
---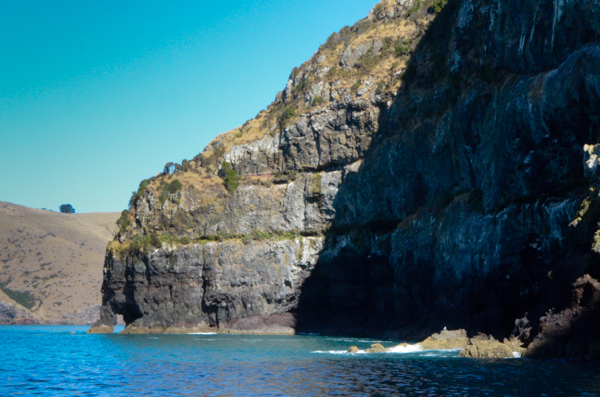 The rock formation at the point is locally called "The Elephant." The trunk extends into the water and the massive shoulders can be seen behind the "head."
The horizontal lines in the rock indicate several depositions of volcanic lava and ash. Like the inlet we saw earlier with our friends, this was an ancient caldera that has been breached to let the sea in.
This part of the harbor has recently been designated a marine reserve.
---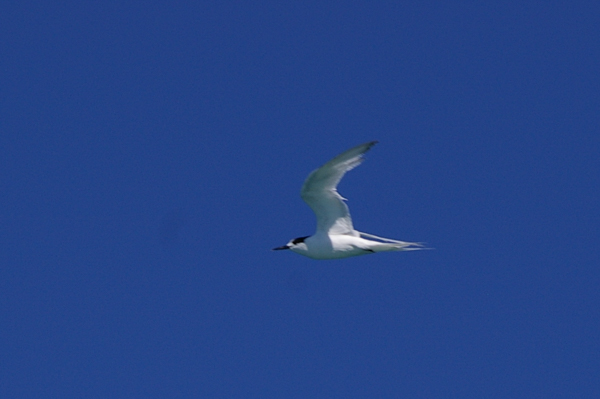 As we progressed toward the open sea we were looking for all sorts of marine life. (Mostly we were looking for Hector's Dolphins.)
This White-fronted Tern checked us out.
---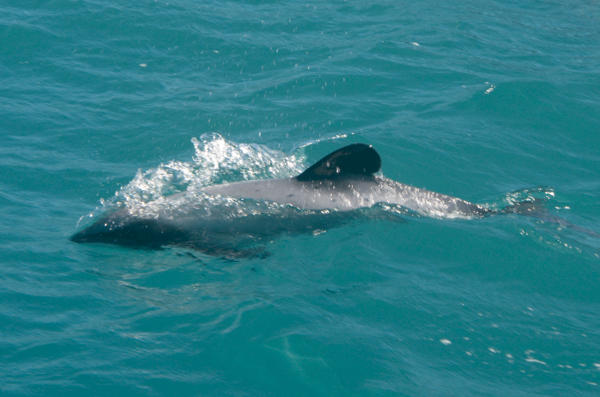 Finally we were visited by a Hector's Dolphin.
---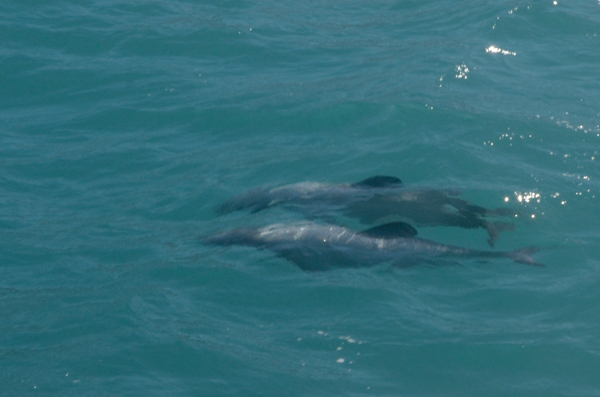 Then two. Later we saw a mother and her calf.
---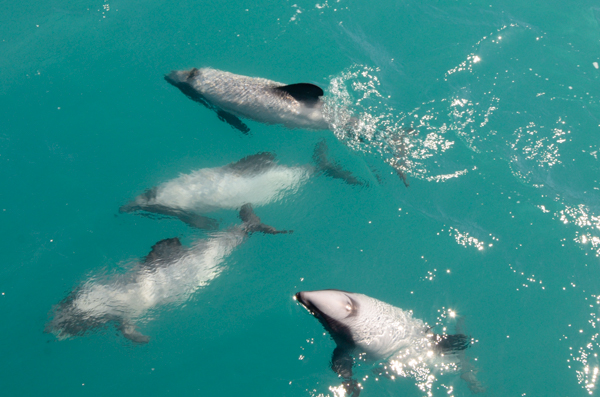 Then many! At one time I captured eight in a single photo!
There is some concern that tourism contributes to a decline in the population of these dolphins because it distracts them from feeding. On the other hand it creates awareness of the dolphins and their needs.
---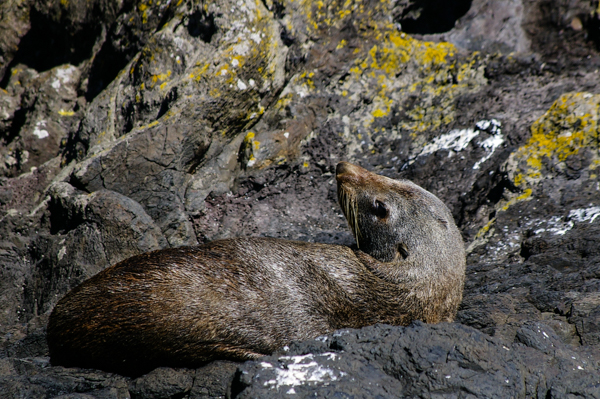 We reluctantly bid good-bye to the dolphins to continue our exploration. We saw several fur seals including this one who wasn't thrilled about having his siesta interrupted.
---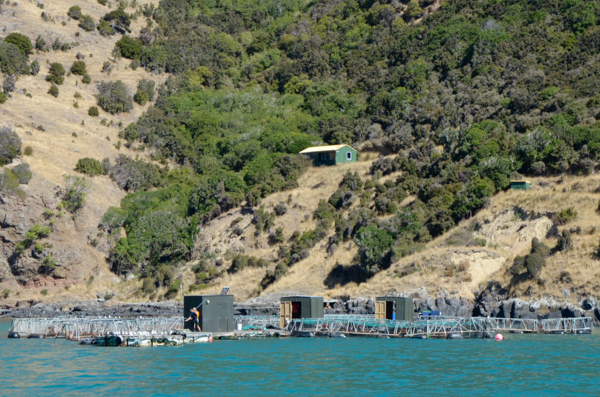 Akaroa Harbor is home to salmon farming. The various enclosures keep the salmon confined, They are fed regularly and there is quite a feeding frenzy when that happens!
---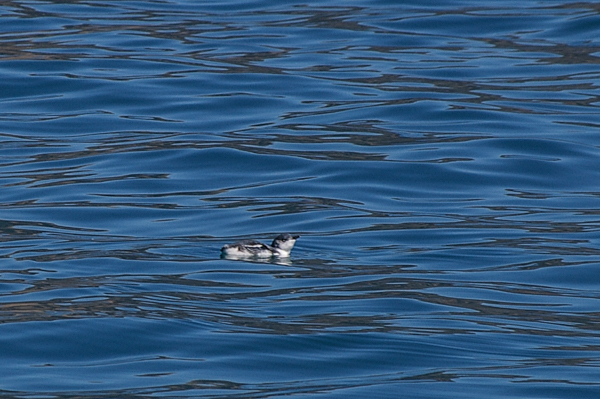 Our next sighting was this White Flippered Penguin hanging out on the water. It is very similar to the Little Blue Penguin, but in 2006 was classified as a distinct species based on DNA analysis.
We also saw some shearwaters, but I didn't get a good enough look to find out what kind.
---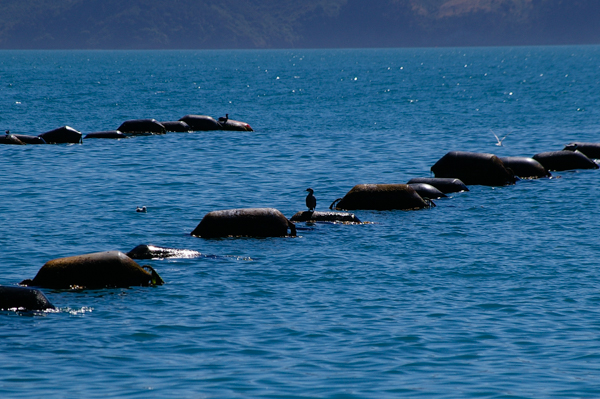 Another kind of aquaculture: mussel farming. The young mussels (spat) cling to lines hanging from these floats. When it is time to harvest them, the floats are simply hauled up.
The mussels cultivated here are green-lipped mussels, endemic to New Zealand.
---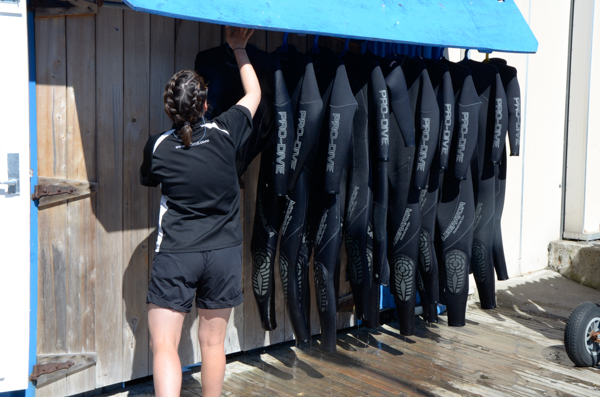 After we returned to the dock I saw this young woman washing wet suits and hanging them out to dry.
There is a "swim with the dolphins" concession and other snorkeling and diving activities that need the suits for warmth. Although the air may be warm, the water is not.
There were also racks of matching booties.
---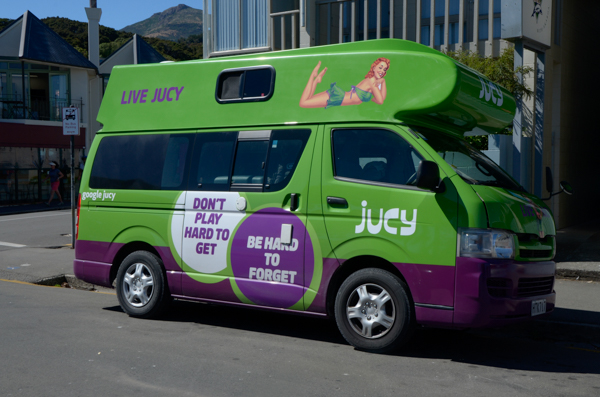 We saw Jucy Rentals throughout our NZ stay. They are pretty hard to overlook! I decided I had to get a picture of one before we left.
They all had different slogans and this was my favorite one.
---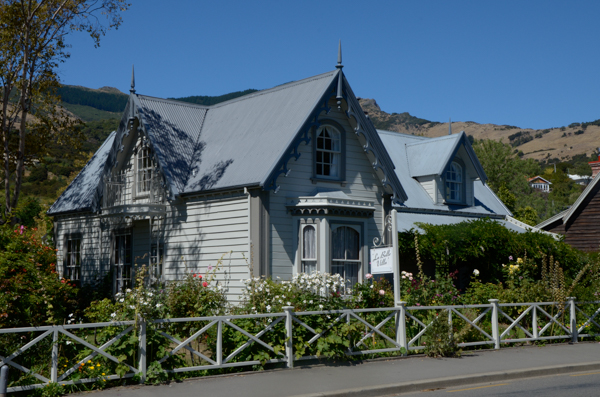 After lunch on our own, we walked around town a bit before meeting everyone for a film at the local museum.
The town had many quaint and charming houses like this one as well as ultra-modern ones.
---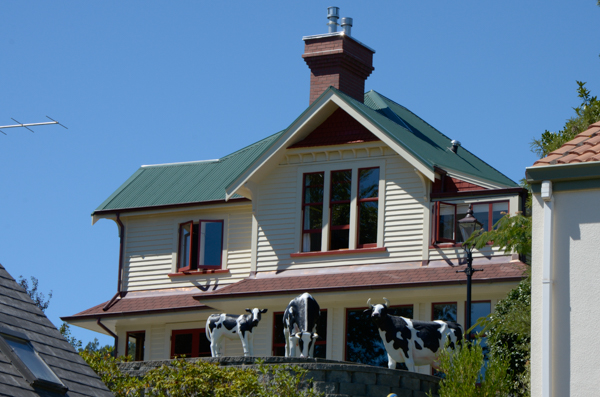 Who needs garden gnomes when you can have garden cows?
---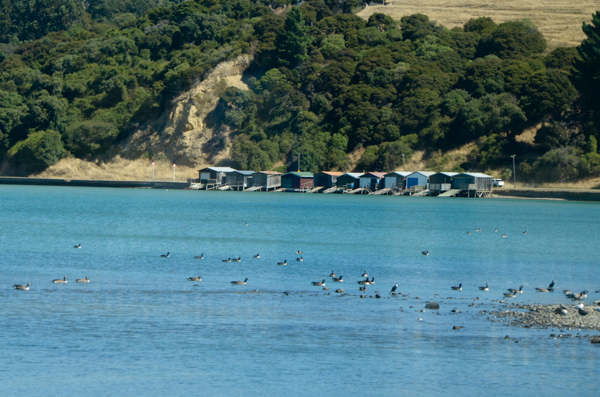 We finally had to start making our way back to Christchurch so that we could pack and get ready to go home.
I thought the boathouses were charming. The Canada Geese (yes, even in New Zealand) ... not so much.
The Kiwis don't like them any more than we do.
---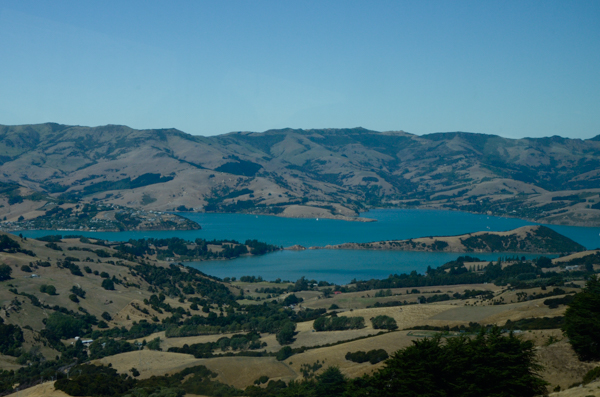 An overlook of the harbor from the crest of the ancient volcano rim.
---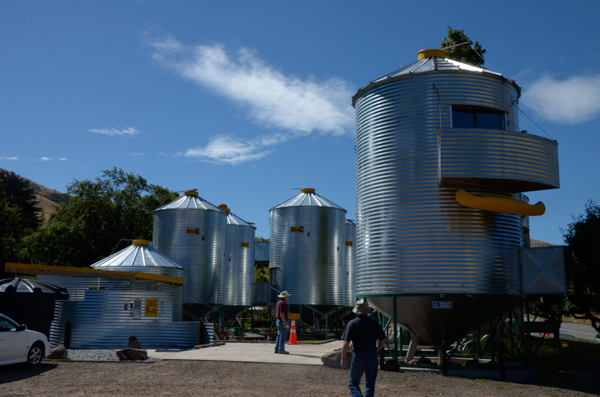 On our way to Akaroa we had stopped at Little River for a pit stop. It had a nice craft shop and everyone wanted to come back so we spent a bit more time on the homeward journey.
For our money the major attraction at Little River was this quirky holiday lodging called SiloStay. And our last Tip-Top ice cream.
All of the farmers in the group were appalled at the idea of staying in a silo because of the debilitating heat. The proprietors believe they have addressed that problem and perhaps they have.
Little River was once the terminus of a rail line from Christchurch. The line has now been converted to a bike trail.
---
Click your "back" button to return.