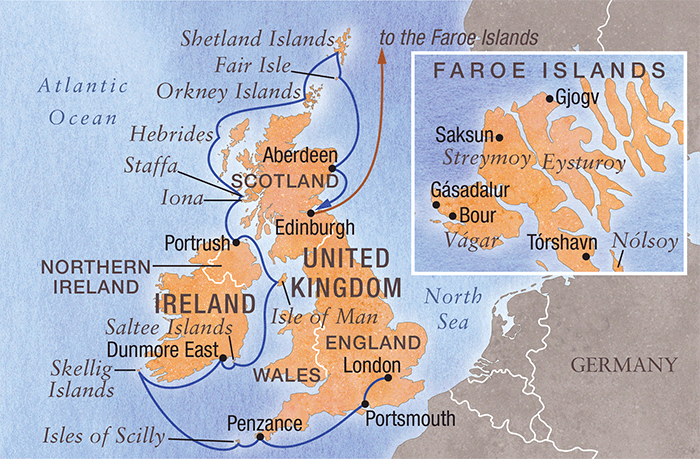 We had already sailed on this general itinerary in 2015. Why, then, do it again? Several reasons: The highlights were places like the Isles of Scilly and Shetland that are not on the "if this is Tuesday" itineraries, and it was on a ship that we had traveled with before, but that had been "refurbished" in the meantime. We were intrigued by the unusual stops and the chance to see how a ship could be modified. The stops delivered on their promise, but the ship was a disappointment for several reasons. Continue and find out why.
The map shows our itinerary (except that our port of call in Cornwall was Falmouth instead of Penzance). It is from the Stanford website:
There was another compelling reason for me. In the five years since our last visit to the area, I've become much more proficient on the fiddle and I wanted to play my Scottish tunes in their homeland.
There are a couple of ways to follow us on our trip. I've tried to make the narrative a complete summary, but I've used many links to other web sites to provide additional details and sometimes pictures. You can either stick with the basic narrative or explore the various links. At the time this album was created the links were all valid, but the WWW is in constant flux and that can change. If you encounter broken links, please send us some email.
For a quick dip, check out the highlights page. Then I hope you will be inspired to dig deeper with the links below.
England:
Republic of Ireland:
Isle of Man:
Northern Ireland:
Scotland:
Faroe Islands
Click your "back" button to return to the previous page or click for our picture album.