The original itinerary had us visiting Penzance. Jim wondered if we would see pirates. He was disappointed when he learned we would be landing at Falmouth instead. No pirates. No D'Oyly Carte. No matter; the two gardens were beautiful.
---
Trebah Gardens occupies a narrow ravine sloping down to the Helford River estuary. It is startling to see palm trees in England amidst the rhododendrons.
---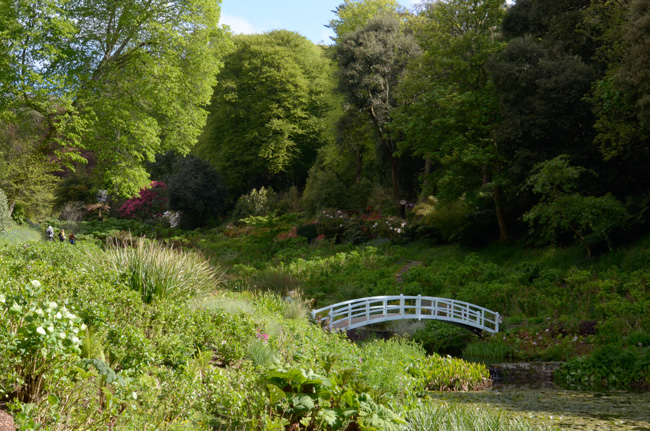 The stream running down the ravine provides many water features.
After researching historical weather patterns, we expected most days to be rainy or at least misty. On the contrary, the weather was beautiful. On our last visit to Cornwall, also in May, we looked like drowned rats.
Although any genealogical link to Bishop Ward is tenuous, my Cornish ancestry is pretty certain. Joseph Pendarvis arrived in South Carolina in 1671. Although I've not been able to verify his original home in Cornwall, the name is a Cornish one. Some researchers trace the family to Camborne, but there is no contemporary "paper trail" that I have yet found.
---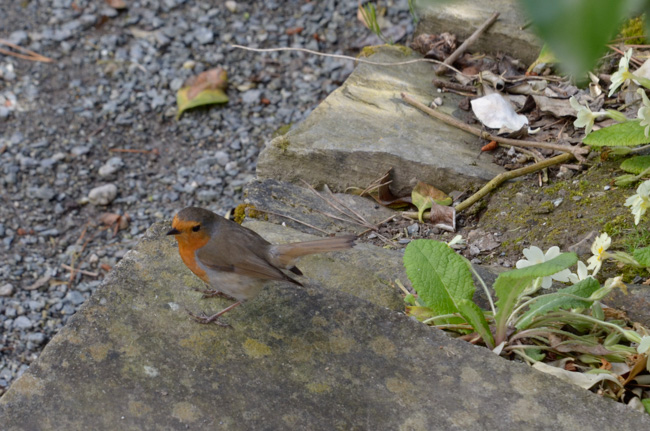 Robin Redbreast is a different bird in England than in Virginia. The European robin is much smaller than our American variety.
---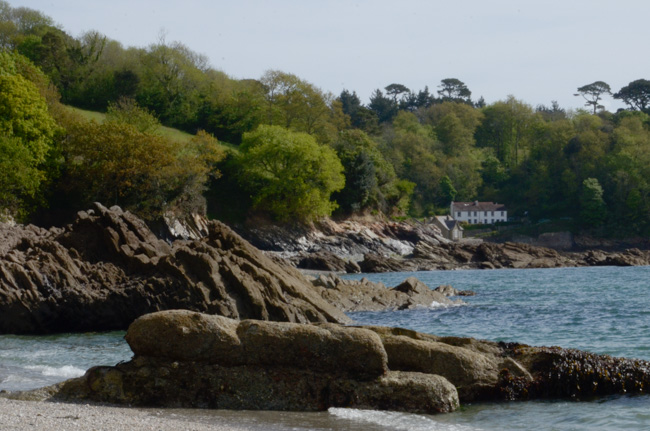 The beach at the base of the garden was one of the locations where the D-Day assault was launched. Donald Healey, the race driver & motorcar designer (Austin-Healey, Nash Metropolitan, Jensen, etc.) owned the estate in the 60s and removed the military structures left over from WWII.
---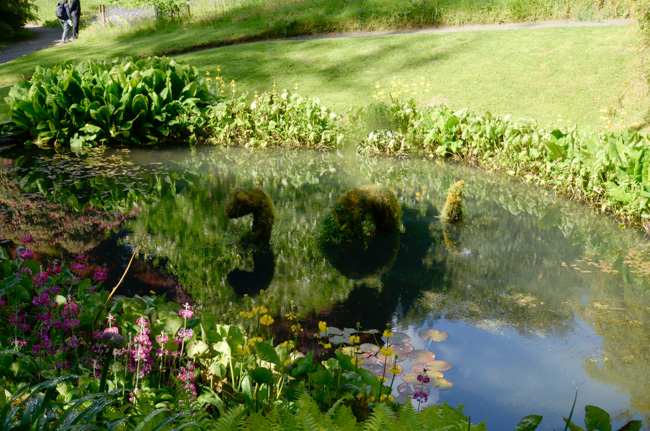 One of the garden ponds contained a "Nessie" feature. The monster must chuckle over all those misguided folks searching in Scotland!
---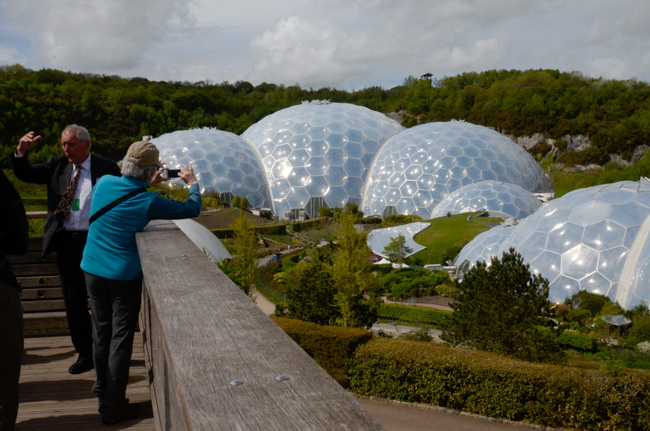 Our afternoon excursion was the Eden Project, which features gardens within a garden. Two self-sustaining biospheres are inside the domes: tropical and Mediterranean.
The surrounding park had its own attractions including England's longest zip line. I was unable to get a picture of a zipper because as soon as I heard the whir of an approaching rider, he or she was gone!
The Eden Project is located in a former china clay pit.
---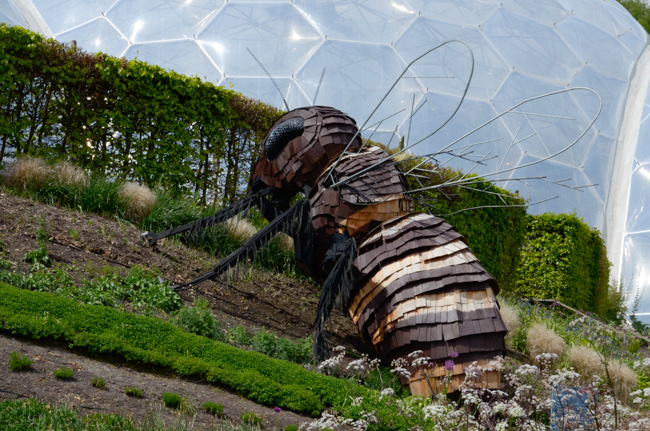 We walked down to the biospheres past a number of outdoor plantings and artwork. This sculpture draws attention to the plight of the threatened native black honeybee. Eden supports the B4 Project dedicated to preserving this valuable resource.
---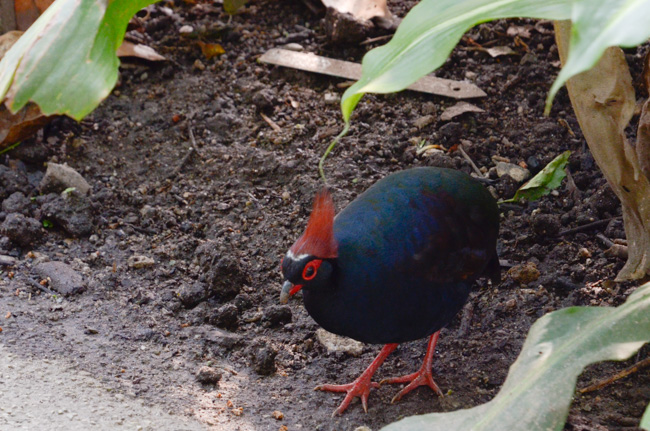 The rainforest biome includes compatible birds, insects and lizards. We saw several roul-roul or crested partridge of Southeast Asia. This is the male. Females are green and brown.
---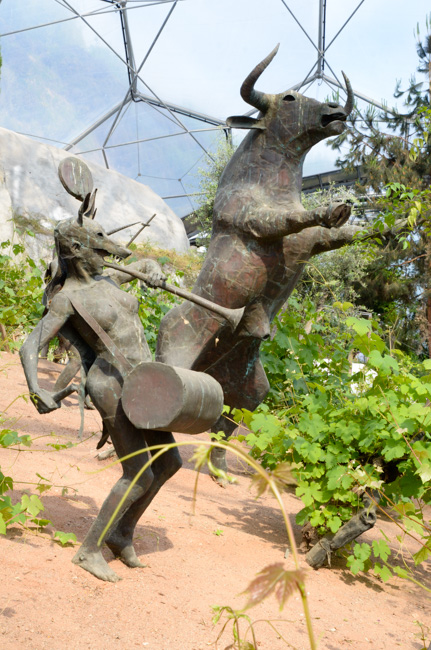 The Mediterranean Biome included a riotous set of sculptures. This bacchanal is set in a vineyard. The bull represents the ancient god known as Dionysus in Grecian and Bacchus in Roman mythology.
---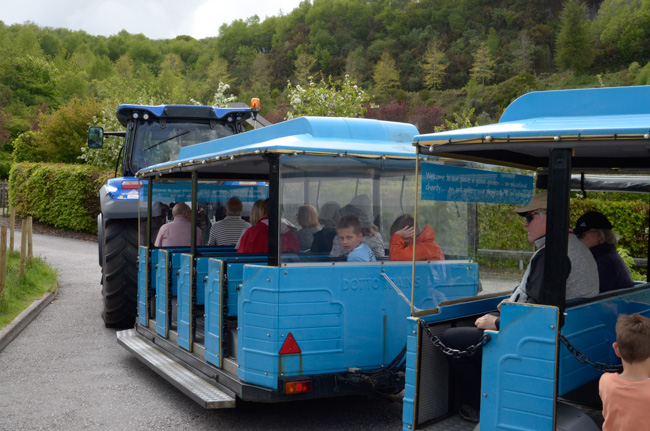 After touring the biomes, we took the lazy way out of the garden. The little train wound through various plantings and provided an overview of the "outside world" of Eden.
---
Click your "back" button to return to the previous page or click for our picture album.