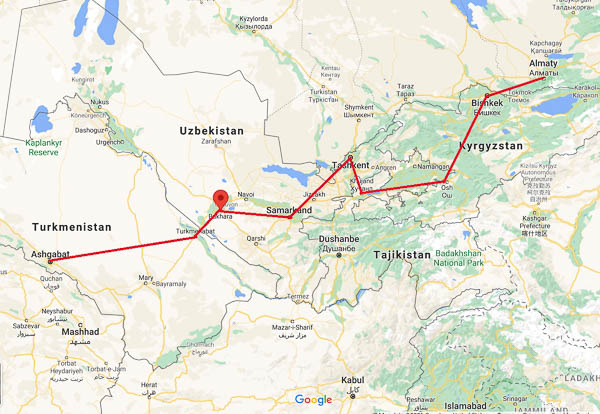 Ever since I can remember I have been fascinated by the exotic names and images of the Silk Road: Samarkand, Tashkent, the Scythians, Tamerlane and others. Moreover the steppes of Central Asia are where the horse was first domesticated. When I noticed the Elderhostel Road Scholar trip to Central Asia, I felt the time had come to make this adventure and Jim agreed. What a wonderful trip it was! It would be hard to point to another three weeks in my life that have been as crammed with thought-provoking and eye-opening experiences. I'm not sure what we expected, but we marveled at the modern cities, the delicious food, the cleanliness, the feeling of security and, most of all, the friendliness of the people.
I have cribbed this map from Google Maps and added annotations to show our itinerary from Almaty, Kazakhstan, to Ashgabat, Turkmenistan.
As in all of the Road Scholar trips we've taken, the actual execution of the trip is contracted to a specialist travel company. That company in this case was Mir Corporation. Our guide was Jamshid Fayzullaev, or Jama as we called him. He was working on his PhD with a focus on the early history of the Silk Road and was a font of information! Just about everything about the trip was excellent.
The area comprising the five former Soviet republics we visited may have been on the sidelines since its heyday 700 years ago, but we believe it will become prominent on the world stage again in the 21st century.
A note on spelling. Once an interviewer criticized T.E. Lawrence about inconsistent spelling in his book Seven Pillars of Wisdom. In particular he had many variants of the name of a certain camel who figured prominently in the book. His response: "She was a splendid beast." None of the underlying languages have a standard transliteration into English. I've made little attempt to normalize the spelling of such words as madrasa (madrassa, madrassah, etc.) and the names of various sites.
There are a couple of ways to follow us on our trip. I've tried to make the narrative a complete summary, but I've used many links to other web sites to provide additional details and sometimes pictures. You can either stick with the basic narrative or explore the various links. At the time this album was created the links were all valid, but the WWW is in constant flux and that can change. If you encounter broken links, please send us some email.
Join us on our journey of discovery:
---
Kyrgyzstan
Uzbekistan
Turkmenistan
---
.