After lunch we had a full afternoon of touring. I now realize why I was exhausted much of the time. We were on the go from dawn to well after dusk! But we agree that there is little we would have skipped.
---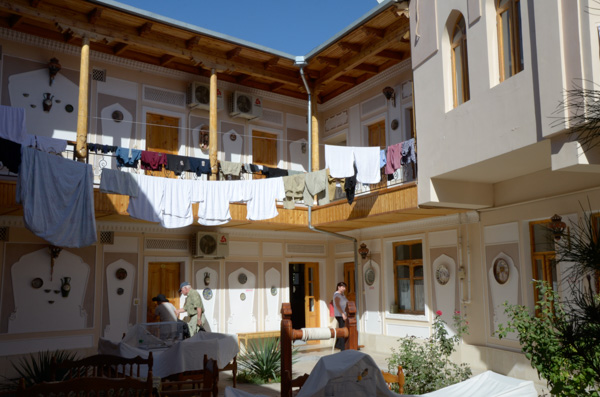 Before our afternoon travels we walked back to the hotel for a short break. Almost all of us had turned in laundry since this was our longest hotel stay. Imagine our surprise when we found that our socks, gotchies, and other clothes were drying in the courtyard along with the hotel's towels and sheets!
The next morning they were clean and fresh from the open-air treatment.
---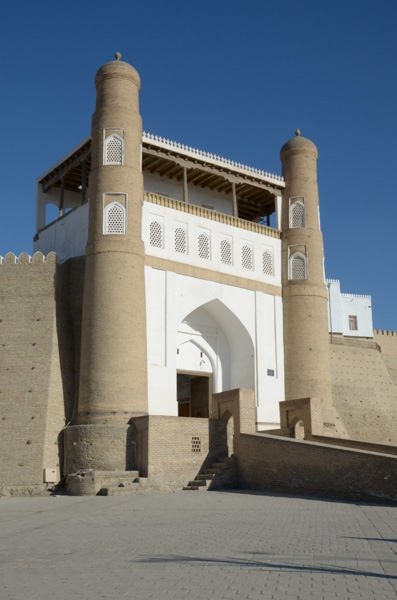 After lunch we visited the Ark Citadel. A fortress has existed in this location since the 3rd century although it has been enlarged and reconstructed many times.
The complex is just outside the city center.
---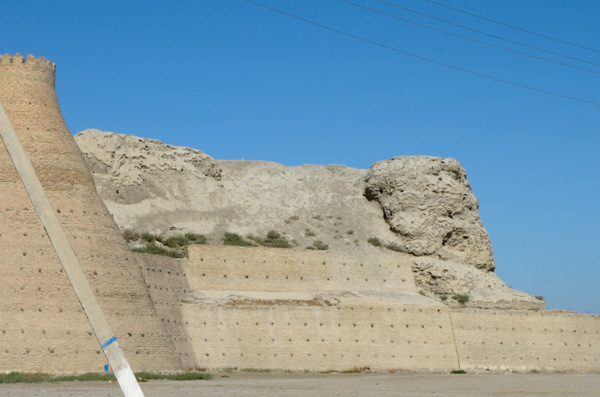 The walls of the citadel are restored in some places and crumbling in others. Restoration was ongoing while we were there.
The fortifications enclose an artificial hill reinforced first with mud brick and later with more durable fired brick.
The Ark has an evil history as part of the Great Game – a 19th century imperial conflict between England and Russia. Two British officers were brutally imprisoned and then executed as spies here in the mid-19th century. They are said to be buried somewhere in the plaza. Bukhara has these and other instances of arbitrary and harsh injustice.
---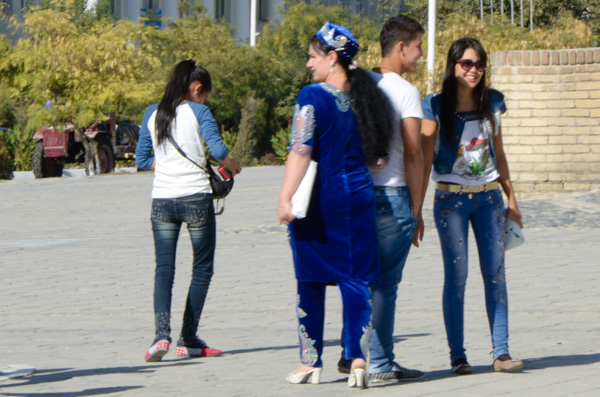 The numerous tourists at the Ark included this newly-wed couple with friends. The contrast between the hip young women and the bride was striking. I found the traditional dress stylish.
I expect she dressed like her friends before her marriage.
After our visit to the museums located within the fortress, we crossed the street to the Bolo-Khauz Mosque.
---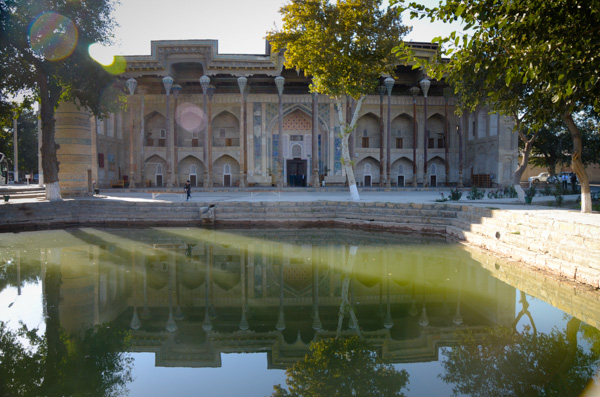 As I said earlier, "registan" is not a specific place limited to Samarkand. Bokhara also had a registan with one of the city's pools in it. This mosque, built in the early 18th century, is the only remaining structure.
The name of the mosque derives from the adjacent pool. Bolo-khauz means "children's pond."
---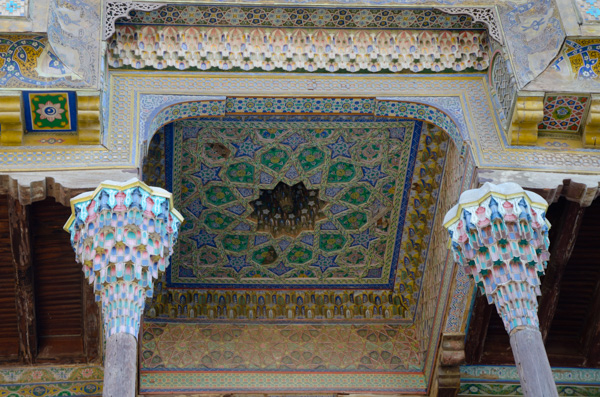 Unlike most other structures we saw, the decoration was painted. It was just as beautiful and even more intricate.
Some of the decoration is papier-mache.
I was pleased to get away from blue domes for a while (but only for a while).
Then we were back on the bus to see outlying areas.
---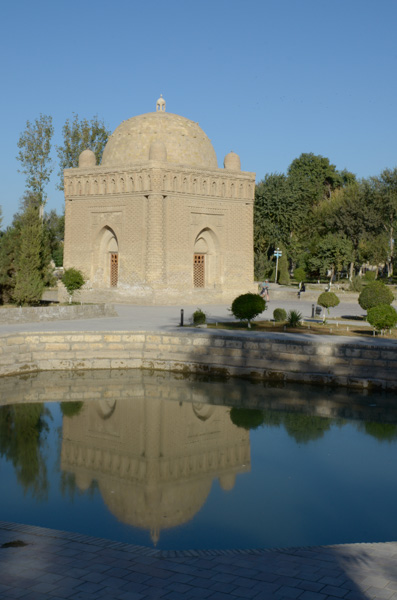 This
mausoleum
, built in the 10th century, was perhaps the oldest structure that we saw. It is the resting place of Ismail Samani, his father, and his grandson, the founders of the first local ruling dynasty. (We saw his statue in Tajikistan.) It adjoins yet another pond.
---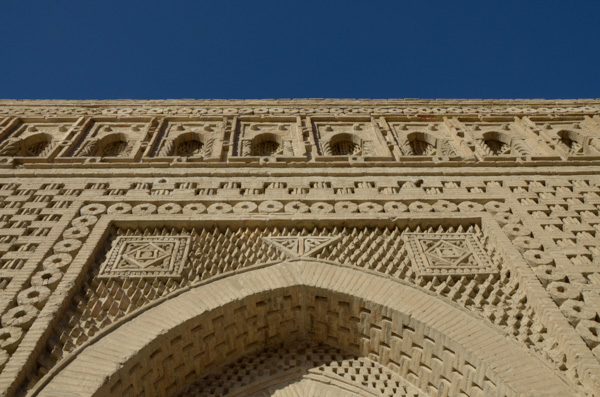 After colorful decorations, not to mention blue domes, the monochrome patterning of the buff brickwork was soothing.
---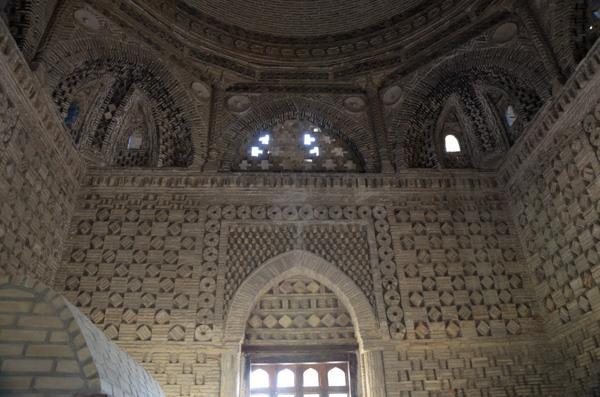 The interior was as beautiful as the exterior.
Many places we visited asked for a small payment, typically 3000 cym (pronounced SOOM), to take pictures. This is about $1.50 at the official exchange rate. At this location I had asked Jim to pick up my photography permit while I wandered around the pond. I'm glad he got a receipt because when I began to take some pictures inside the guard challenged me. I was able to show the permit and click away.
---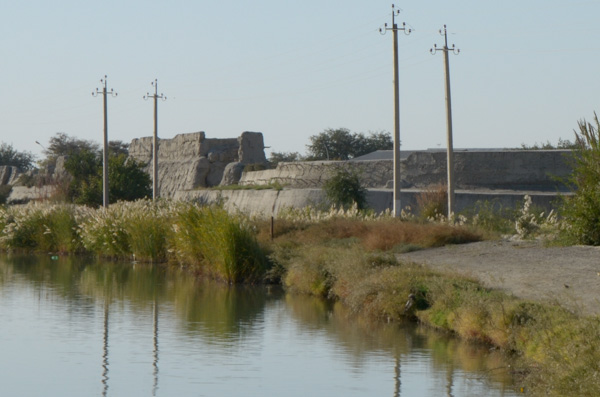 The mausoleum is on the outskirts of the old city center near decaying remnants of the old city walls.
This quiet lake and serene mausoleum are reached by walking through an amusement park with many children's rides!
---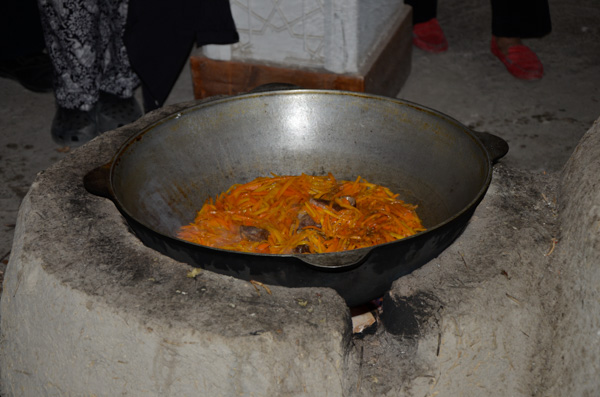 That evening we had a lesson in making the national dish, Rice Plov (spelled pilaf or pilau elsewhere). We ate at a local home within walking distance of the hotel.
Whenever we went out at night we needed flashlights since street lighting is sparse and pavements treacherous. We passed one pothole that was large enough, and old enough, to have a small tree growing in it!
The plov is prepared in this wok-like cooker. First onions, carrots and whole heads of garlic are simmered until soft.
---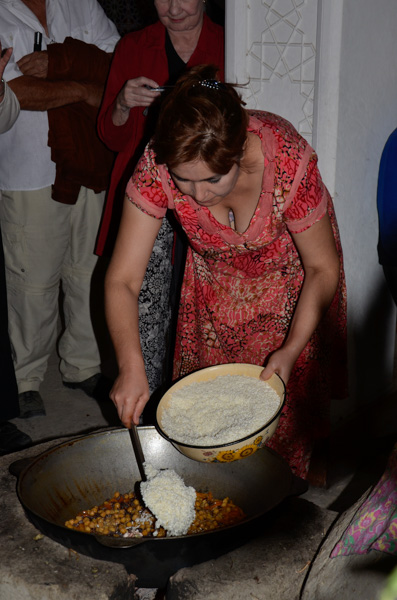 The cook has added chickpeas and raisins to the mixture, and is mixing in well-rinsed rice.
Stir everything together, add water, and simmer until done. This made enough for our entire group of 24. (Along with the obligatory appetizers, soup, bread and dessert.)
We whined to Jama that there was too much food, but he explained that when they had allowed people to order either soup or an entree, it was chaos with folks forgetting what they ordered or changing their minds. "So," he said, "if you don't want it, don't eat it."
We ignored that sage advice and stuffed ourselves.
We've tried to reproduce this dish at home with limited success.
---
Jama helped with the cooking by monitoring the fire, which was was made using cotton twigs.
Some years back when relations between our countries were better, Jama traveled to the US as part of an Uzbekistan - US exchange program. He studied the hospitality industry in New Orleans, Memphis & Jackson, Mississippi, about 45 miles from my home town.
It's truly a small world.
---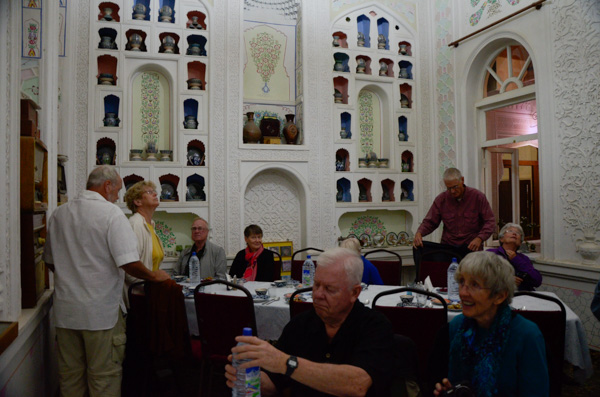 Most of the houses we visited looked scruffy on the street and were elegant, even palatial, inside. This one was no exception. To be sure, the places we visited were set up to cater to tourists. This particular family had another smaller group eating there on the same night.
The custom niches displaying ceramics and other decorative items are common in Bukhara. Our hotel room had a similar display.
Our group was 24 people and I can't recommend a larger number. Jama said he once had a group of 40 and it was very unsatisfactory.
---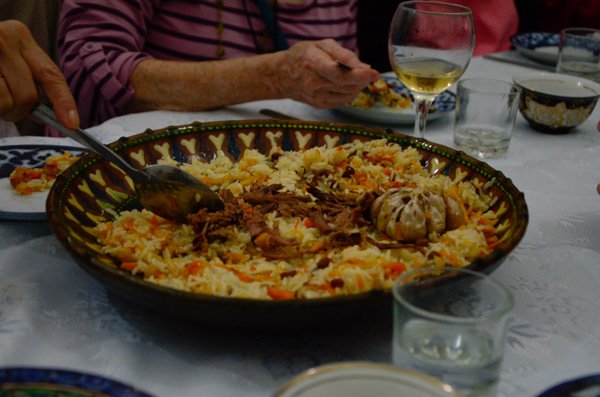 The finished dish arrives! It was well worth the wait. Delicious! (Especially the garlic.)
After the meal we returned to the hotel, stuffed but happy.
---
Click your "back" button to return to the previous page or click for our picture album.