After the Soviet Union collapsed, interest revived in the craft of traditional carpet-making, including the development and use of natural dyes. These are produced from plants or minerals and occasionally, such as cochineal, from insects. The founder of the workshop traveled to Afghanistan and elsewhere to collect techniques and materials.
---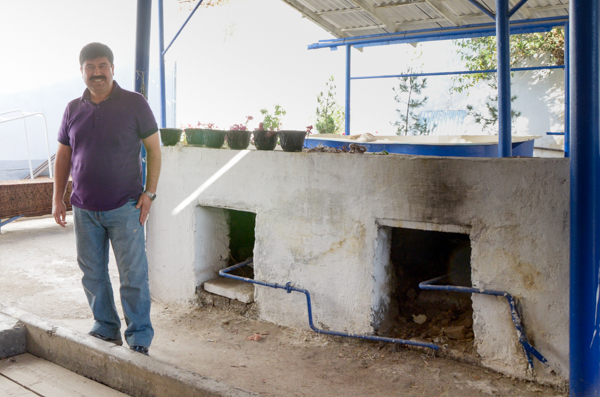 Our tour started with an overview by one of the founder's sons. The vats behind him are used to dye threads for the carpets.
---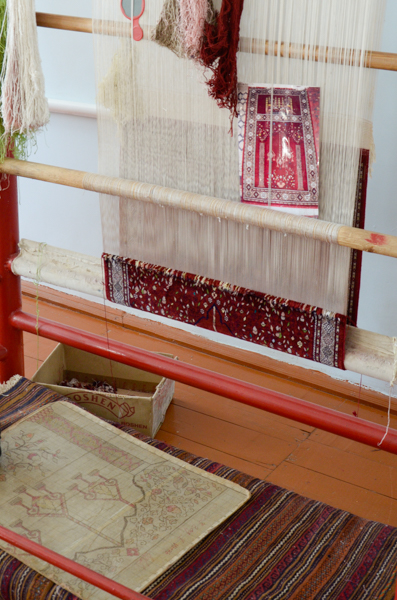 This loom illustrates the techniques used to make a carpet.
The ultimate design is shown on the picture tucked into the loom. Artisans develop a pattern from that design and produce a graph as shown below the loom. The pattern indicates the colors and where they will be used.
Dyers estimate the amount (by weight) of material of each color based on the pattern and the anticipated finished size of the carpet. When natural dyes are used, it is impossible to produce the same color twice. Therefore they add 10% to the estimated amount and that much thread is dyed in one lot.
The specialty of this workshop is producing silk carpets, but they also work with wool and cotton.
Most carpets are made with traditional designs, but they also work on commission. One carpet we saw during our visit was reproducing a portrait of a client's pet dog!
---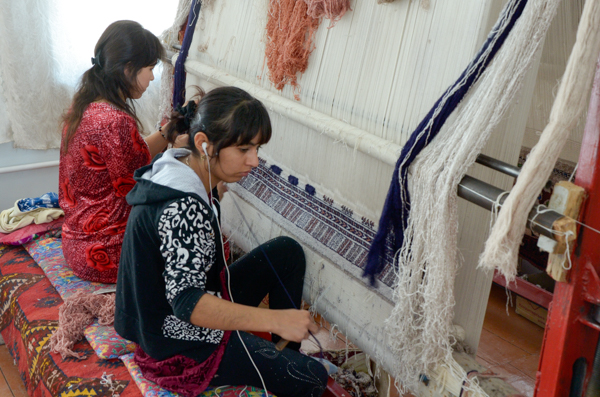 Most of the workers in this shop are young women. There are several workshops associated with this company. The workers are assigned to individual locations based on compatibility with the work and with each other.
One of these youngsters was singing along with her iPod.
---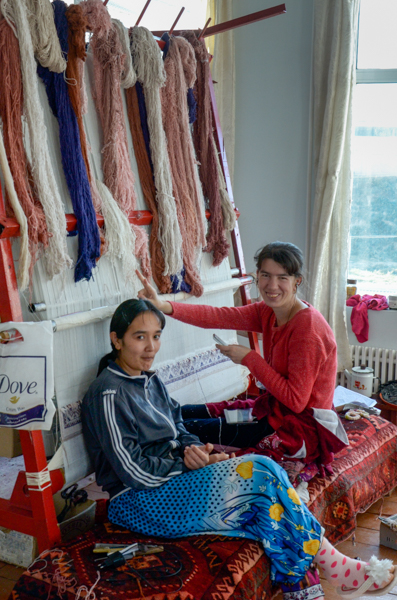 Traditionally children were widely used in carpet making, but this shop does not use child labor. All employees are at least 18. Moreover workers are required to take frequent breaks to prevent repetitive motion injury.
It was astonishing to see how quickly these young women could tie the tiny knots needed to make the intricate designs.
Once workers complete their apprenticeship they are free to stay or go out on their own with what they have learned.
---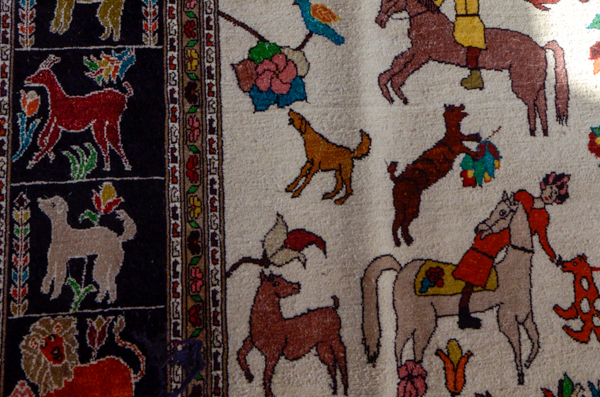 An example of one pattern under production.
I don't know if any of our number purchased a carpet while we were there. There were also pillow shams, scarves and other items in the gift shop.
---
Click your "back" button to return to Samarkand.