For our final day we spent the morning sight-seeing and then returned to the hotel to pack and try to nap. Our plane was scheduled to leave around midnight, so although we wouldn't be spending a final night in the hotel our rooms were available for the evening.
The Altyn-Asyr bazaar was built in 2011 to replace a funkier open-air bazaar that Lonely Planet deemed "possibly the most fabulous in Central Asia." The old one was demolished, presumably because it didn't have any white marble. Some pictures and detailed descriptions may be found at this web site (scroll down to see the Ashqabat info). Altyn Asyr is also the name of the state-owned cell phone company.
---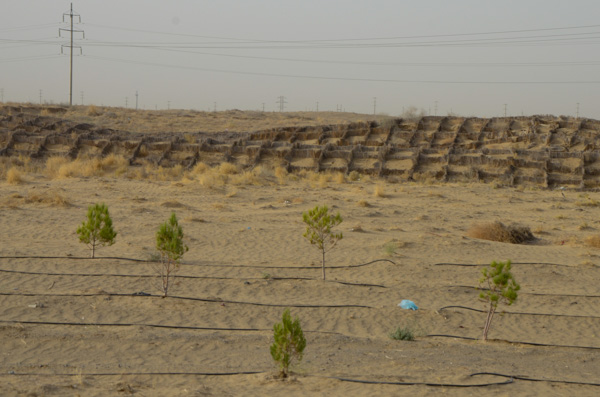 Approaching the bazaar we passed seedling trees with drip irrigation. The "checkerboard" behind them is a type of reed mat to stabilize the desert sand and keep it from swamping the trees and the road as well.
Although all but one in this picture are still alive, many of the little trees were already dead
---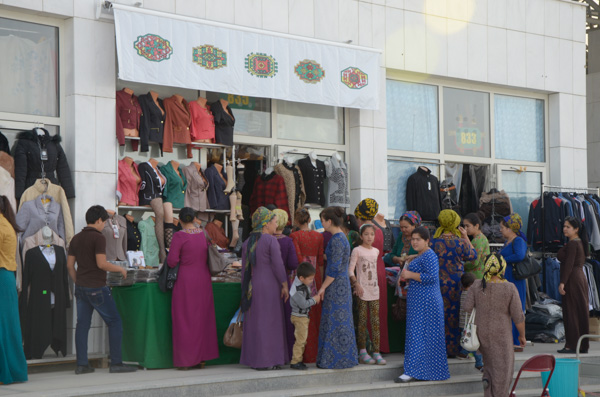 We'll never know how the new bazaar compares with the old one, but it was certainly thriving. Outdoor shops such as this dress shop were jammed.
---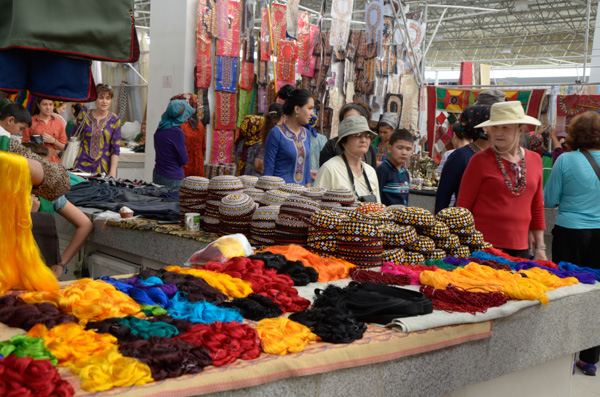 The indoor shops seemed to be doing a good business as well.
This shop was selling embroidery floss and men's hats. The shop behind it was selling pre-embroidered plackets used to trim traditional dresses.
---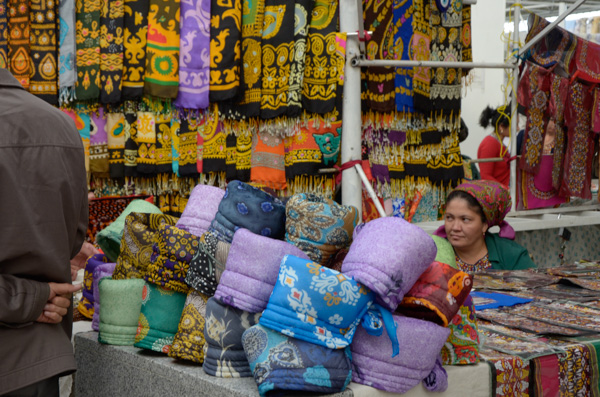 Many of the Turkmen women wore scarves. We thought that most must have very long and thick hair to fill up a scarf. We discovered that, although you can get a simple scarf to wear, there are poofy hats that simply tie on and give the impression of a truly magnificent head of hair.
Perhaps I should have bought one!
---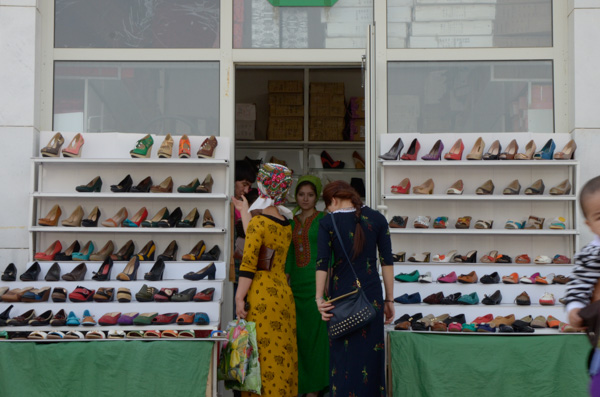 This shoe store offered everything from bedroom slippers to platform heels.
There were shops offering hardware, toys, kitchen supplies, camels, etc. Just about anything you could possibly want.
---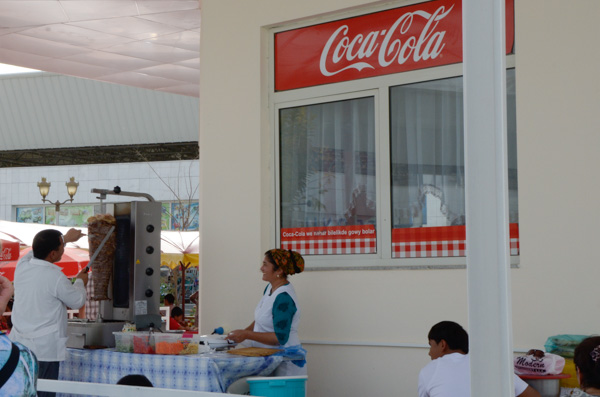 Donner kebab was on many signs that we saw throughout our travels, but this was the only place that I saw it being prepared and served. All but one of our meals was included in the program, and we never ate at a place that offered it. Coca-Cola was ubiquitous. Pepsi ran a not-even-close second.
To give the devil his due, this new & shiny bazaar may be a lot more sanitary than the old one and local folks, who care less about "colorful and quaint" than tourists, may have been thrilled with the change. I hope so. There were certainly ample modern restroom facilities, which is not to be sneered at.
---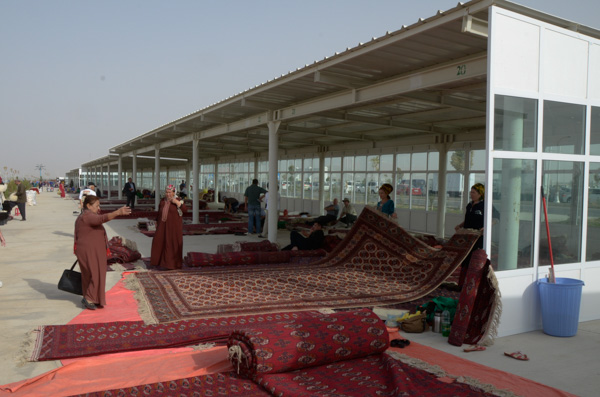 A significant portion of the bazaar is dedicated to carpets and other handicrafts. Back in the day when we were purchasing carpets I could have identified which tribe each carpet represented as well as whether the materials were sheep, camel or cotton, but I've forgotten too much.
Besides, we have no more floor space for carpets.
---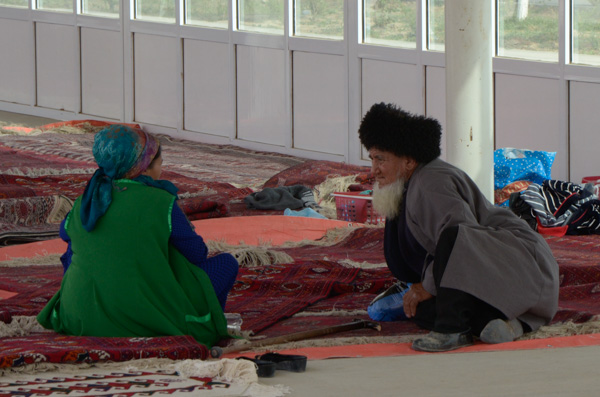 This couple was having a pleasant chat in the shade. They look fresh from "central casting."
---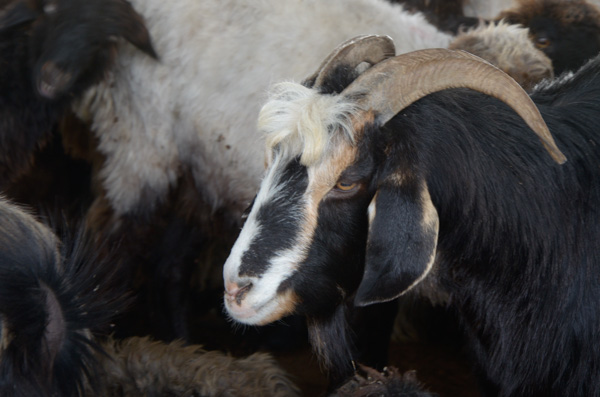 After the carpet bazaar, we moved on to the livestock area. A wide variety of sheep, goats and camels was on offer.
The little beard is a giveaway that this is a goat rather than a sheep. it isn't always easy to tell the difference.
---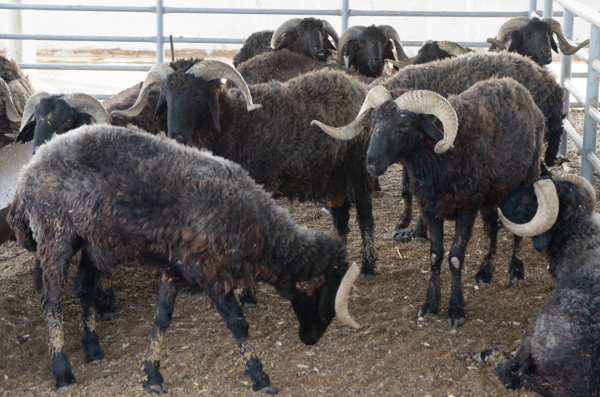 These are sheep. Those are impressive horns. Another way to differentiate between sheep and goats is that goats have perky little tails. Sheep are often tailless or if they have them, they hang down.
---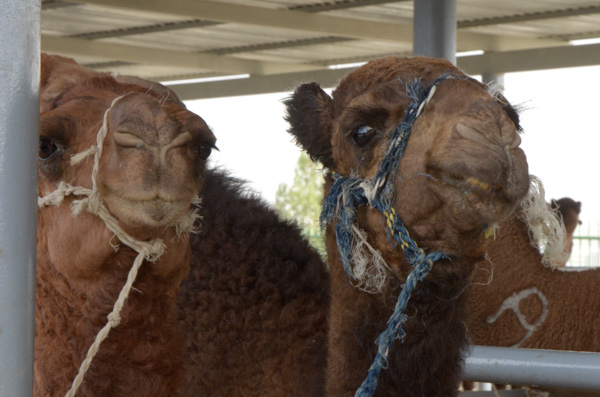 Camels were also for sale.
I saw a sign indicating that there was a horse section, but I never found it. I thought it might be unwise to wander too far on my own in such a vast place.
The market is laid out to form a Turkman gul when viewed from the air.
---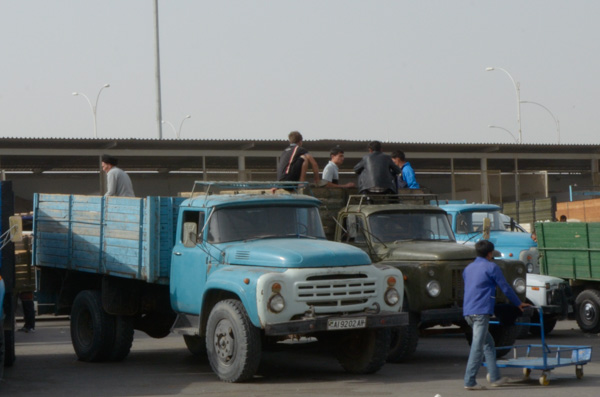 Local farmers hang out in their trucks chewing the fat while waiting for their animals to sell.
---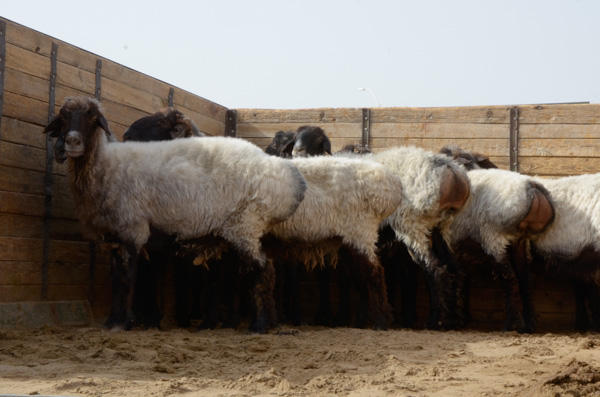 I don't know if these sheep were waiting to be sold or had been purchased and were waiting to be hauled away. I asked our guide if the swollen rumps were an indication of estrus or fat or ??? He said the sheep developed fat in that region and the fat was considered a delicacy.
To each his own.
---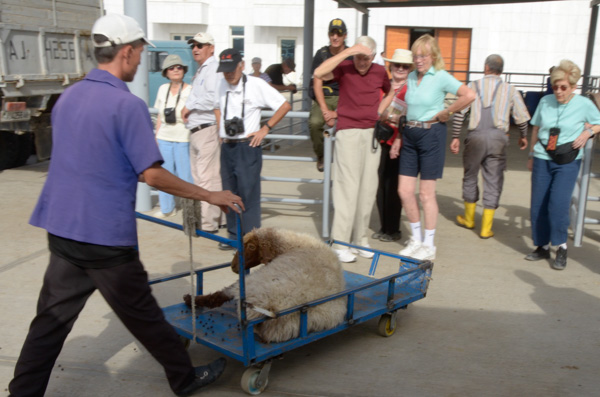 At least some, if not most, of the sheep and goats purchased at the bazaar are taken to the adjacent slaughterhouse to be processed into chops, burgers and whatever else. This sheep is passive because his legs are tied.
---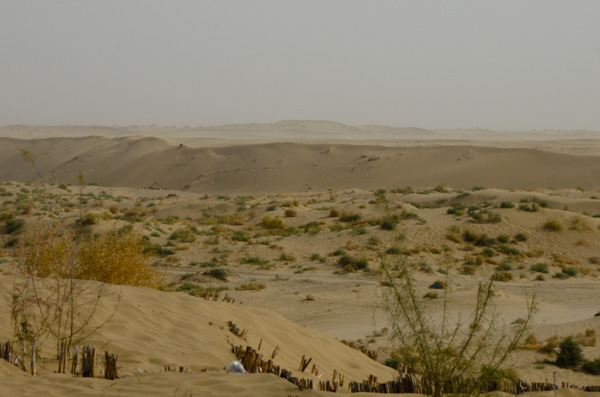 Serious desert begins at the edge of the bazaar. I will have to reread Frank Herbert's Dune now that I've been to an archetypical Asian desert and seen ill-advised attempts to turn it into a garden. From what we've seen so far in Central Asia, man's activities are more likely to turn it into even more of a desert than the opposite.
The haze is due to an incoming dust storm. Jim and I wondered if such storms affect air travel.
---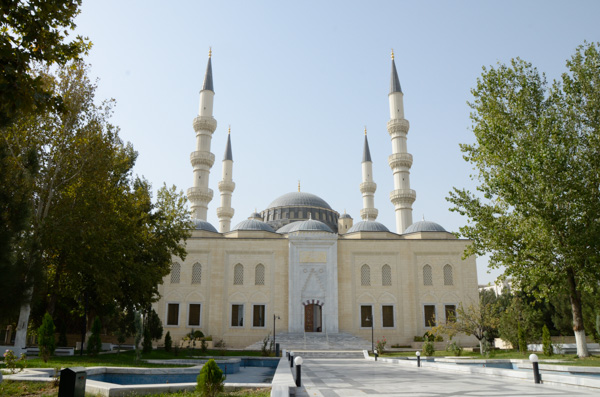 On our way back to town for lunch, we made an unscheduled stop at Ertugrul Gazi Mosque, a replica of the blue mosque in Istanbul.
It is named for the father of Osman I the founder of the Ottoman Empire in the 13th century. The mosque was constructed in the late 20th century.
---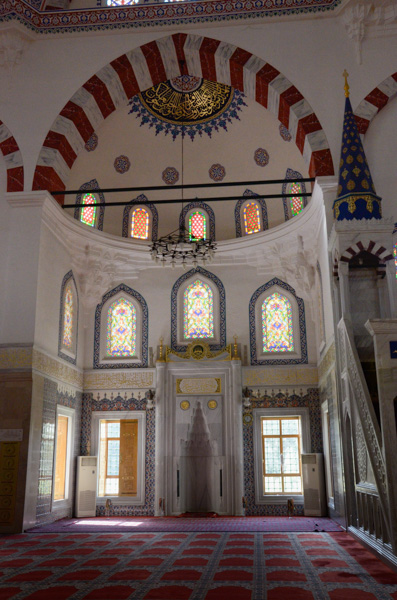 The interior is striking with the contrast of the white and colors – including stained glass windows.
---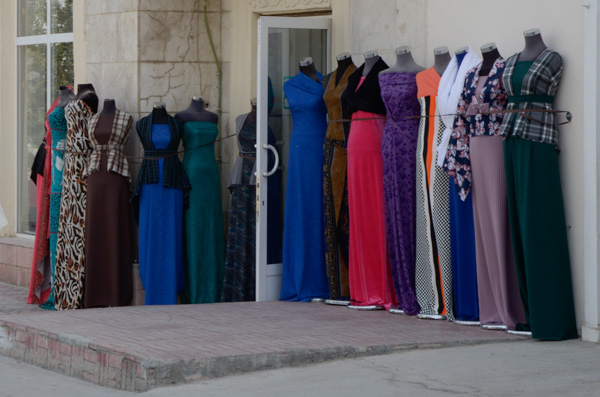 Next it was off to the Russian Bazaar located in the city center. It was surrounded by other shops like this dressmaker's.
I thought the fabric display was very clever because, by using only swathes of cloth, it suggests several styles that can be achieved.
---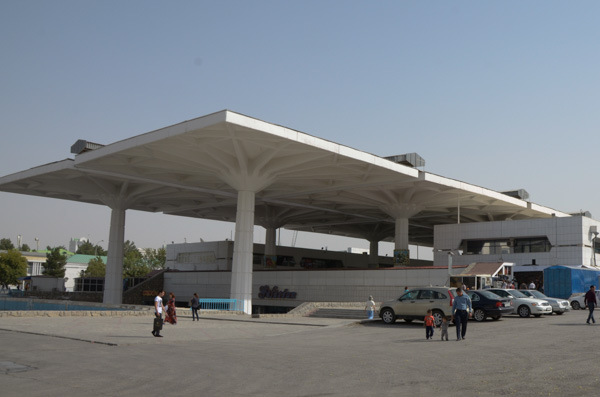 The bazaar is open-air, but covered. The existing facility was built in 2001, but the business is much older.
---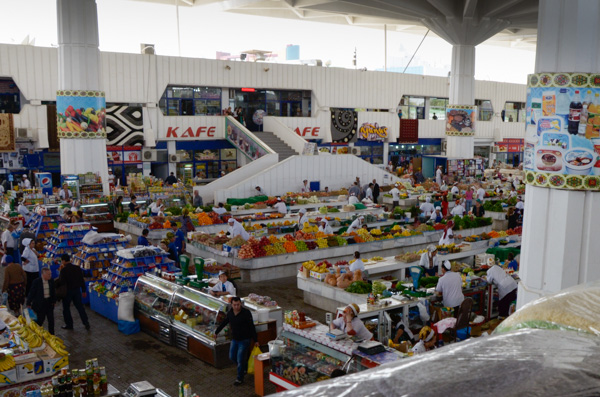 We were told that no photographs were allowed. That didn't make sense to me, but except for the horses, none of Turkmenistan made sense to me. It also made for a challenge, because there were guards all over.
So of course I had to take a picture. It's not a great picture, but here it is -- contraband!
---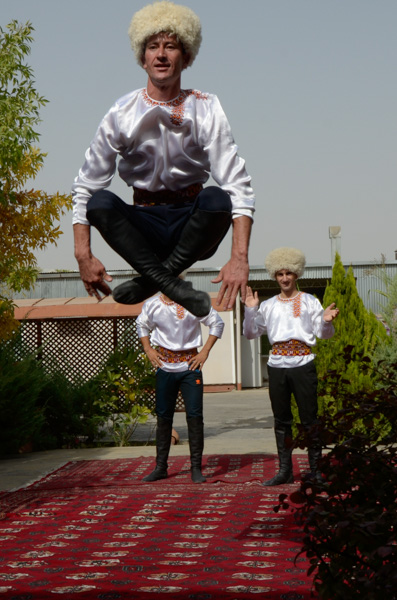 Lunch was in a restaurant that celebrated Turkmenistan folklore and culture. We ate in yurts and afterward saw a dance presentation and fashion show.
White men CAN jump!
---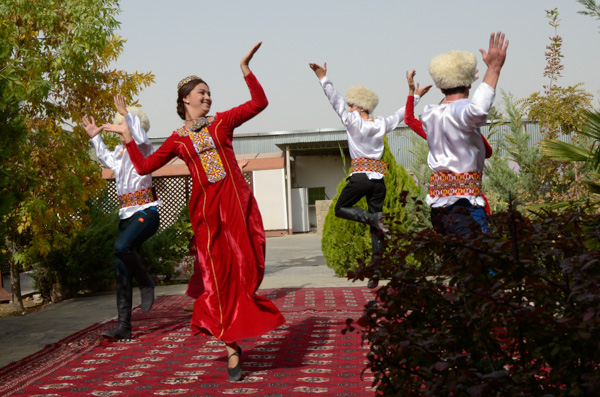 The athleticism and grace of the dancers were spectacular.
---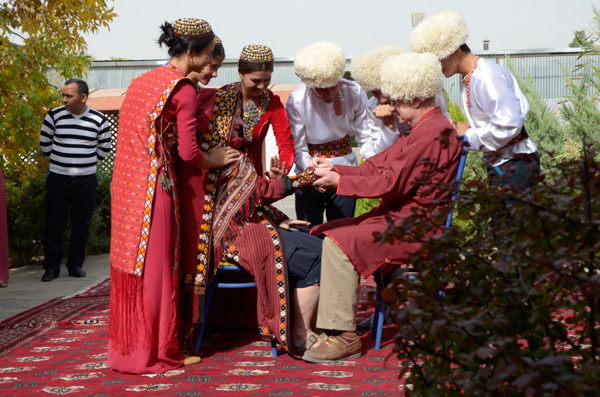 Jim and Cathy Massie were chosen again to demonstrate traditional wedding garb and rites. They must be one of the most-married couples around!
The wedding is concluded when she takes his hat and throws it into the air and he does likewise with her scarf.
---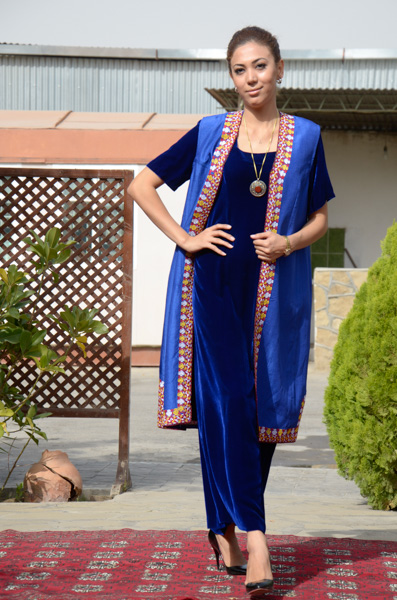 The creations at this fashion show were rather more practical than the one in Tashkent.
---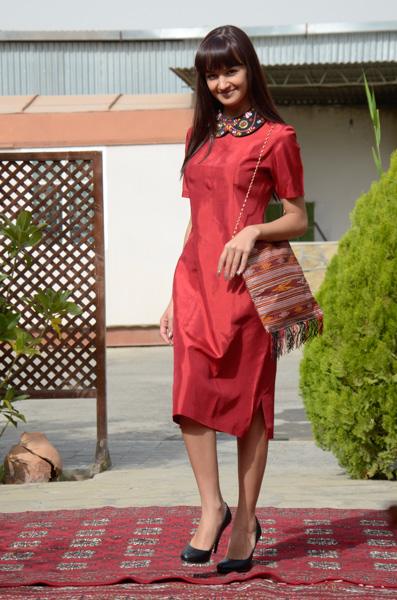 Everything we saw (and more) was for sale after the show. I bought a shawl with long silk fringes and a metal belt.
I'm pretty slender for a American of a certain age, but the belt will need some adjustment before it will drape prettily over my hips like it did on these models!
Both belt and shawl are somewhere in my closet.
---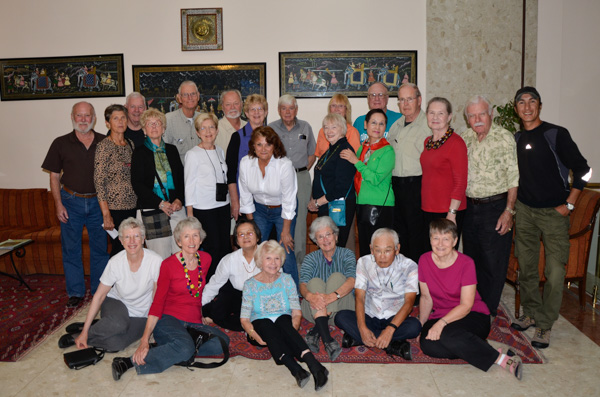 After a free afternoon in the hotel to pack and nap, we gathered for our final supper at the hotel.
As it turned out, the much dreaded midnight departure from Turkmenistan went very smoothly. We were waved through every checkpoint by sleepy guards. No one even took our carefully prepared exit paperwork let alone searched for contraband carpets.
It was sad to say goodbye to Jama, tour guide extraordinaire, and our fellow Road Scholars, but great to be headed home.
---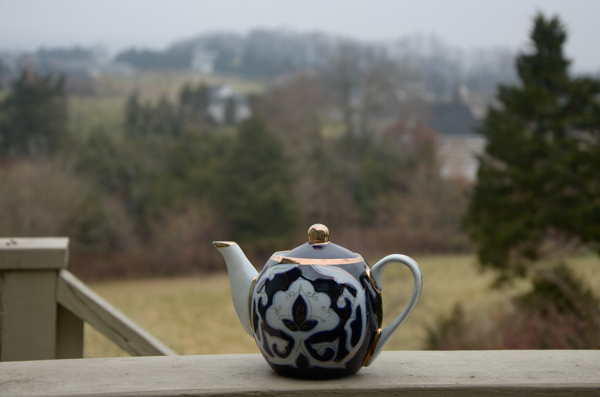 I always end a trip album with a photo from home. This is my favorite souvenir: a $4 teapot.
We had all wondered about the blue and white china that appeared in every restaurant. When I saw a teapot of that same pattern in one of the museums, I had the opportunity to ask. The china is made primarily in the Fergana valley and the design represents a cotton boll.
Once it was explained, it was obvious. Of course, as a native Mississippian, I had to have one. Our Khiva guide thought I was crazy but he directed me to the local bazaar where I found this one. (It is normally displayed in my blue & white kitchen, not on the deck railing.)
---
Click your "back" button to return to the previous page or click for our picture album.