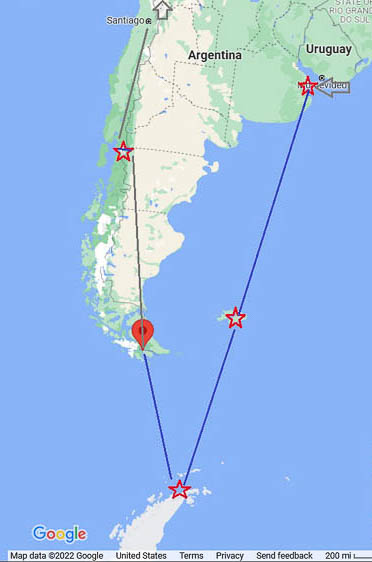 2008: the height of the Great Recession. In 2006 we had retired and moved to Lexington Virginia, and now lived on fixed incomes. Retrench in the face of a market in free-fall? Noooo ... we signed up for a trip to Antarctica! We agree it was better use of our money than watching it go up in smoke.
Sensible people were more cautious, and our Elderhostel group comprised only ten people plus our leader. It barely escaped cancellation, but we persevered and had a great time ... although the trip had its challenges.
The map shows a schematic of our trip. We flew to Buenos Aires where we spent three days before boarding our ship. We spent twelve days cruising to the Falkland Islands, the Antarctic peninsula, and Ushuaia, Argentina. Another flight took us to Bariloche, Argentina, where we boarded a succession of boats and buses to cross the Andes to Puerto Varas, Chile. After two days there, we flew to Santiago and home. We covered ground in three weeks.
You may view a brief summary, or use the links below for more detail.
There are a couple of ways to follow us on our trip. I've tried to make the narrative a complete summary, but I've used many links to other web sites to provide additional details and sometimes pictures. You can either stick with the basic narrative or explore the various links. At the time this album was created the links were all valid, but the WWW is in constant flux and that can change. If you encounter broken links, please send us some email.
---
The Falkland Islands
Tierra del Fuego
---
Click your "back" button to return to the previous page or click for our picture album.