We boarded our ship, MV Discovery, in Buenos Aires for the three-day trip to the Falkland Islands. It was en route from the Mediterranean to the Antarctic for the season. The majority of passengers had boarded in Lisbon, but there was a contingent from Egypt that continued on to the Antarctic with us. That's a loooong voyage!
There was plenty to do on board with food, an extensive library, food, music, food, lectures, food, crafts. Did I mention food? Alas, I had not yet discovered scopolamine, so I was limited to Dramamine for the inevitable mal de mer. Most of that food got a pass from me.
Lectures by the ship's staff informed us about the geography, history, flora, and fauna of the Falklands and their relationship with Argentina.
Another fly in the ointment arose during this portion of the expedition. We were supposed to have a dedicated space for our private lectures from Michael, but this never materialized. For a while our small group was relegated to the bar, but that didn't last. Elderhostel sends two leaders on each of its trips: one subject matter expert and one "minder," who tends to the nitty-gritty of logistics. In order to make the trip happen at all, Michael had to agree to do both jobs. If there had been no personality problems within the group, he could perhaps have pulled it off, but there were problems that consumed his energy and detracted from the planned program. It became a chronic issue.
---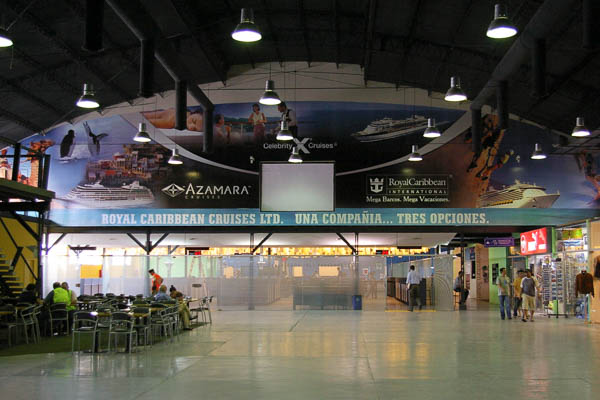 The cruise terminal was designed for 2000+ passenger ships. Discovery, although she was rated for almost 700 passengers, carried closer to 500 on this voyage. Most of her passengers had either reboarded earlier, or were staying on board. Our little contingent of eleven didn't make a blip in this space.
---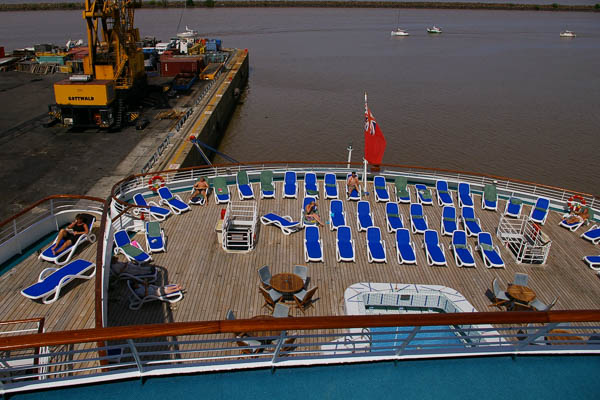 I believe this was the last place anyone felt comfortable sunning. As we cruised south, the weather quickly became cloudier and colder. The deck chairs disappeared into secure places, and the pool was covered.
---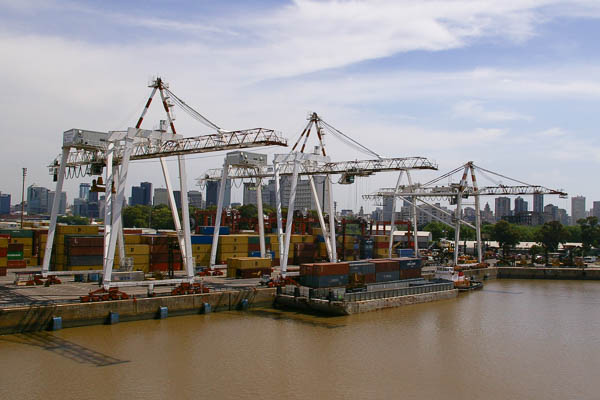 Buenos Aires is a significant port as evidenced by the huge cranes and containers. The city skyline is in the background.
Natives of Buenos Aires call themselves porteños.
---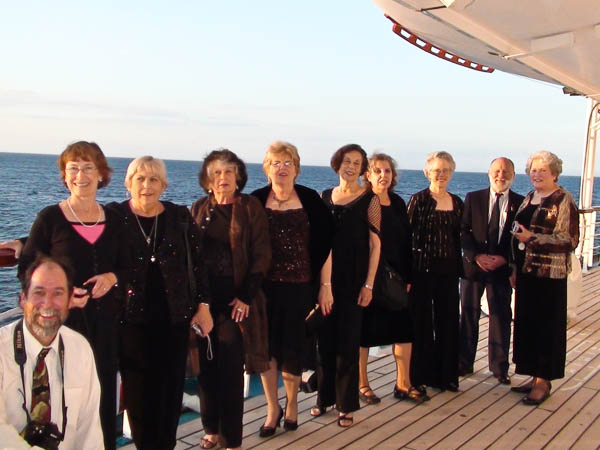 Our band of Elderhostel adventurers, minus Tom Dawson (MN), who took this picture and shared it with me.
From left to right with their home states are:
Michael (MI), Louise (MN), Charlotte (AL), Phyllis (CA), Anne (MI), Darryl (FL), Madelyn (NYC), ME & Jim (VA) and Nancy (MN).
We were gussied up for some special event. Perhaps the captain's "welcome aboard" gala.
---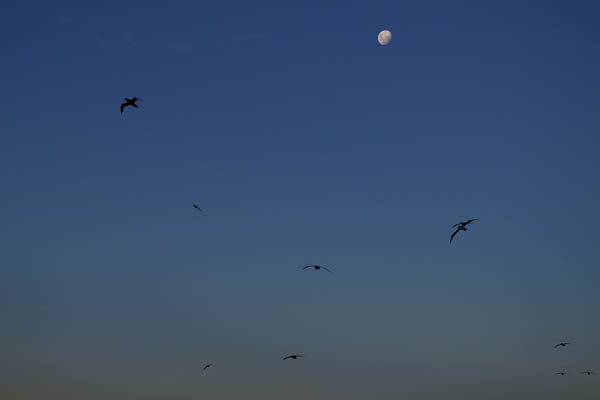 This may have been the first time I began to be interested in bird watching. We were close enough to land throughout the trip that there were always sea birds cruising along with us.
---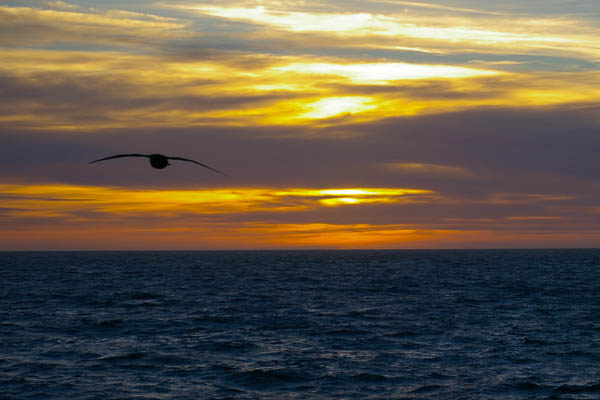 As we cruised farther south and clouds began to gather, the sunsets became glorious.
---
Click your "back" button to return to the previous page or click for our picture album.