We waffled on this one and it almost got away.
We were intrigued by the Stanford Alumni brochure, but dilly-dallied before calling. The excursion had filled so we went on the wait list. Then another brochure came from Stanford for a cruise around Japan. We decided to sign up for that one instead. Our names came off the Baltic wait list and onto the Japan trip. After further consideration, we canceled Japan, and were back on the wait list for the Baltic. Before long we were "promoted" and the trip was on.
I'm sure the Japan trip would have been wonderful, but we enjoyed the Baltic ports of call and our study leaders immensely (and added five countries to our "Century Club" list).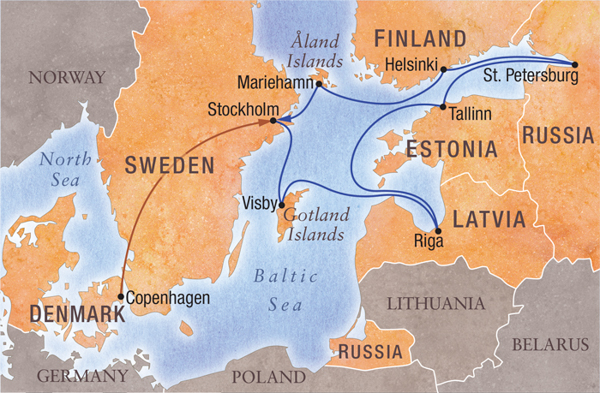 I extracted this overview map from the Stanford Alumni web site to put our travels in perspective.
We did not participate in the optional pre-trip extension to Copenhagen because it conflicted with my Strathgheny Scottish Fiddle School. Instead we flew directly to Stockholm and joined the tour there. Of the ports of call, the only one we had previously visited was St. Petersburg in 2015. This trip included different attractions in that city, so it was almost new to us as well.
When we began working on the pre-trip reading list, we were amazed to discover how little we knew about this fascinating region and its place in European and world history. Although we had learned about St. Petersburg on our earlier trip, it was a late-comer to the area. The other stops were much older.
There are a couple of ways to follow us on our trip. I've tried to make the narrative a complete summary, but I've used many links to other web sites to provide additional details and sometimes pictures. You can either stick with the basic narrative or explore the various links. At the time this album was created the links were all valid, but the WWW is in constant flux and that can change. If you encounter broken links, please send us some email.
---
For a quick survey of our adventures, check out the overview page or go for the details below.
Stockholm, Sweden
St. Petersburg, Russia
---
Click your "back" button to return to the previous page or click for our picture album.