We entered St. Petersburg through the Griboyadov Canal which dates to the time of Catherine the Great. We were then able to dock in the center of the city at the English Embankment. Larger cruise ships are relegated to the new cruise terminal far out of town. There will be more on that later.
---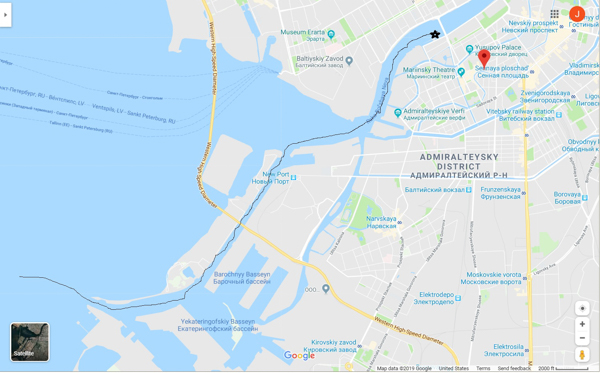 I have been unable to find a discussion of the canal online. This image is captured from Google Maps. I have drawn in our route through the canal and to the Neva River with a star marking our berth.
St. Petersburg is a city intimately connected with the Neva River and its delta. I found an interesting discussion online describing this relationship over the years.
---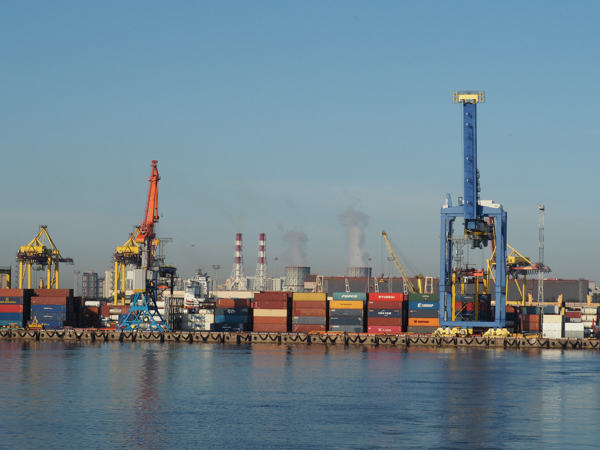 Our route took us by the industrial port of the city. I pondered whether this would have been allowed in Soviet days.
---
Our cruise leaders had crammed many excursions into this first day. I have broken them into separate pages.
On the first day the ship was unloaded in smaller sections to prevent a crowd at the immigration station on the pier. In addition to our passports we had to carry a printed tour ticket since our visas were only for the group, not each individual. We also had to carry a pre-filled-out printed entry/exit document. All of these documents were scrutinized and stamped. We had to make sure we didn't lose the "exit" portion of the one document in order to gain re-entry to the ship. This was scrutinized and stamped as we returned after visiting the Church on Spilled Blood. Afterwards? No problem, no examination, no stamps. For the evening Hermitage excursion we sailed through the immigration station. The following day ditto. I guess the authorities were satisfied that they tied us up once in red tape and didn't care about the rest.
---
Click your "back" button to return to the previous page or click for our picture album.