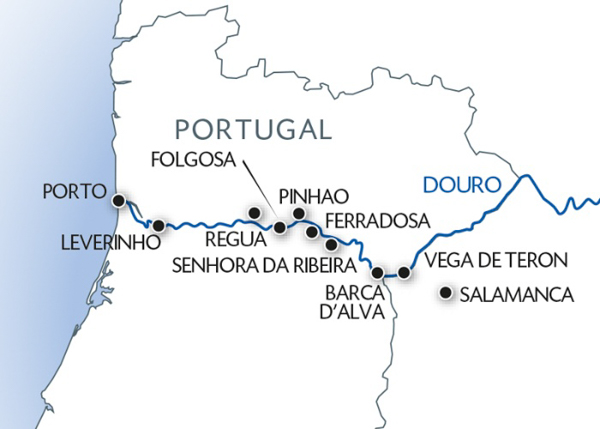 The trip lived up to the Road Scholar overview:
Sail along the winding Douro River to the fairy-tale landscapes of Portugal. Aboard an exclusively chartered riverboat just for Road Scholar, you'll have full access to our top-notch instructors as you explore medieval towns and Baroque architecture for an in-depth historical discovery. While floating from lively cities to tranquil villages, get a taste of the local culture with a bountiful selection of some of the region's most spectacular wines and port wine. With the ship all to yourselves, soak up the most of your learning adventure by uncovering the best-kept secrets of Portugal from the locals who know it best, revealing a side of this country people seldom see.
I wasn't able to find a complete map showing our itinerary, but this one gives an idea. We cruised along the river from Porto to Barca d'Alva and back.
For a bird's eye view, check the overview or travel with us in detail.
There are a couple of ways to follow us on our trip. I've tried to make the narrative a complete summary, but I've used many links to other web sites to provide additional details and sometimes pictures. You can either stick with the basic narrative or explore the various links. At the time this album was created the links were all valid, but the WWW is in constant flux and that can change. If you encounter broken links, please send us some email.
---
---
Click your "back" button to return to the previous page or click for our picture album.