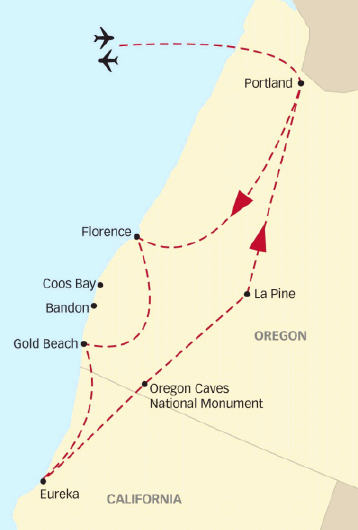 When the Great American Eclipse first began to be publicized in the fall of 2016, we decided that we had to make the effort to see it. We've experienced numerous partial eclipses, but never totality. Figuring that demand would soon outstrip supply, leading to excessive prices, not to mention logistical difficulties, we turned to our standby: Road Scholar. One of the trips they offered that mentioned "eclipse" was to Oregon, one of our favorite states. Oh, and the itinerary was one that Road Scholar had been running for years and was described as "most popular!" It started in Portland and proceeded down the Oregon coast into northern California before coming back up the eastern side of the Cascades. We had already visited much of the itinerary, but had never really seen the coast. The fact that the eclipse would find us on the notoriously foggy coast was worrisome, but not a sufficient deterrent. Sign us up!
The graphic from the Road Scholar web site shows the places we stayed while on the program. It is called "On the Road: The Oregon Coast, California Redwoods and Crater Lake."
Since we were now signed up to visit the West Coast, we decided to extend our trip to the Bay Area and catch up with friends from the days we lived there. And since we therefore needed to travel between the Bay Area and Portland, the obvious way to do that was the Amtrak Coast Starlight Express.
There are a couple of ways to follow us on our trip. I've tried to make the narrative a complete summary, but I've used many links to other web sites to provide additional details and sometimes pictures. You can either stick with the basic narrative or explore the various links. At the time this album was created the links were all valid, but the WWW is in constant flux and that can change. If you encounter broken links, please send us some email.
For a quick review of the trip with one or a few pictures of each day check the Overview page. Or if you have more time, look at the play-by-play below:
California
Oregon
Click your "back" button to return to the previous page or click for our picture album.