I'm glad we had the eclipse fairly early in our expedition so we could get it out of the way, so to speak. But that's a stupid way of saying it! An eclipse is a phenomenal experience! We were awed and amazed!
In some ways, however, the beach where we experienced it was as awesome and amazing.
As for the eclipse.... When we first signed up for this particular program we promised each other that the chances were good that we wouldn't see much of anything because of the commonly foggy weather on the Pacific coast. Furthermore the trip leaders were explicit that they didn't know what the possibilities were for getting to a place where we could experience totality. There could be traffic. There could be fog. There could be nowhere to park.
We might sit in the bus and not see anything at all. Jim and I had a contingency plan: take a bottle of wine and toast the universe regardless. Until we were told that it was illegal in Oregon to drink wine in a bus! This in a state that has legalized marijuana. Hrumpf!
As it happens, everything worked out beautifully.
We left very early in the morning with box breakfasts prepared by the hotel. Since no one was sure what the traffic or the weather would be like, our "Plan A" destination was the W. B. Nelson State Recreation Site on the very edge of the path of totality. We didn't encounter any traffic, but the conditions at the park were not promising -- dense fog. Lynn & Carol had an assistant, John, who met us there, and who was promptly sent out on a scouting expedition for a better place. While he was gone, most of us wandered around and enjoyed the atmospheric sights in the fog (alas, no pictures) and/or the restroom facilities, which were pretty basic. John returned apace and said that he had found a better place for us farther up the coast. Away we went!
---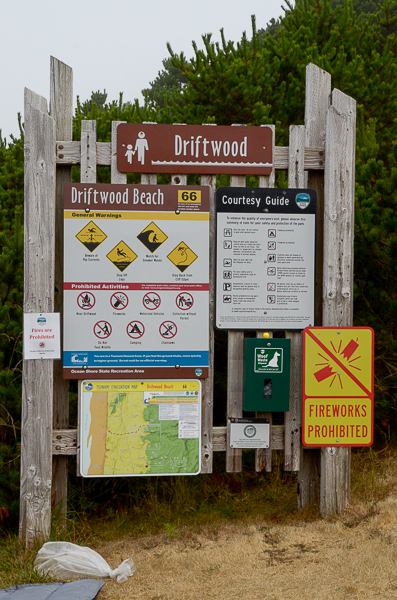 After visiting several sites along the coast, John had stopped into Driftwood Beach. I can't say enough about the welcome we received there. Eclipse or no eclipse, it was a treasure.
In spite of the general prohibition against camping, Oregon had opened the parks within the zone of totality to campers who applied in advance. There were a number of campers at this beach, but not the hoards that were found inland.
---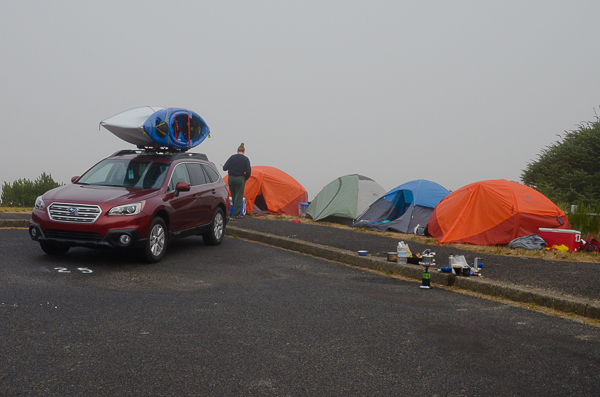 The park had been opened to campers who had set up camp for the entire weekend while waiting for the eclipse. When John asked Ranger Chris if there might be room for our bus to park, Chris asked the campers if they would be willing to move. NO PROBLEM! They picked up their tents and moved to make room for our bus.
---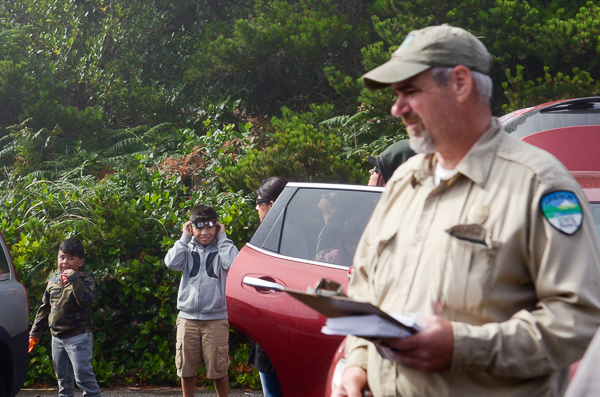 This isn't a great picture, but I had to include a photo of Ranger Chris, who made it possible for us to experience this wonder at this location.
---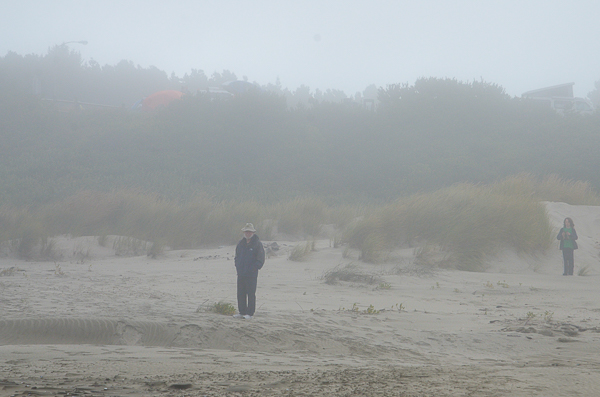 At the time that we arrived, the viewing conditions were pretty much what we expected: dismal!
The entire area was socked in, but never mind, it was beautiful.
---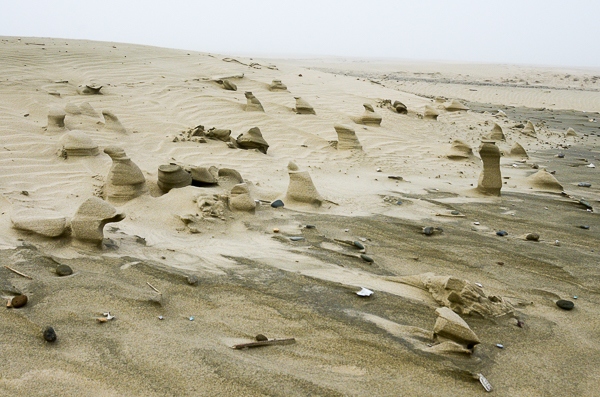 The incessant wind along the coast had sculpted the sand into all kinds of bizarre shapes. This is just a small sample of the many and varied "sand castles."
---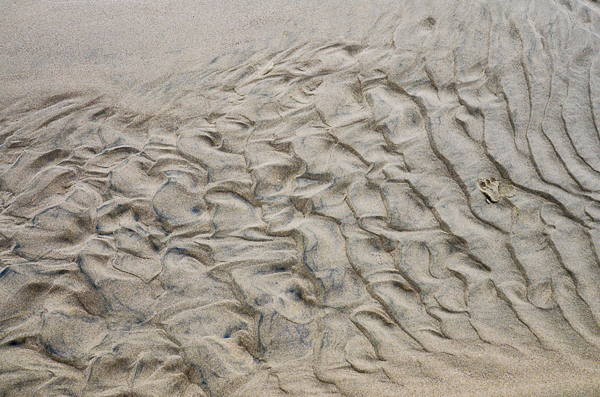 In places where the retreating tides had left sand too wet to sculpt, the ripples made infinitely varying patterns.
---
The tide was out and the beach seem to go on forever. I walked out along with others to the edge of the surf, but wasn't willing to let people out of sight. The Pacific Ocean isn't safe, as signs continually reminded us, plus I wasn't certain that I could find my way back to the parking lot in the fog by myself.
People welcomed the event in many ways. I did not see her, but some of our other travelers saw a woman dancing in the fog. One took a video and has set it to music. It is a must-see! The video will open in a new window -- it is best viewed full-screen.
---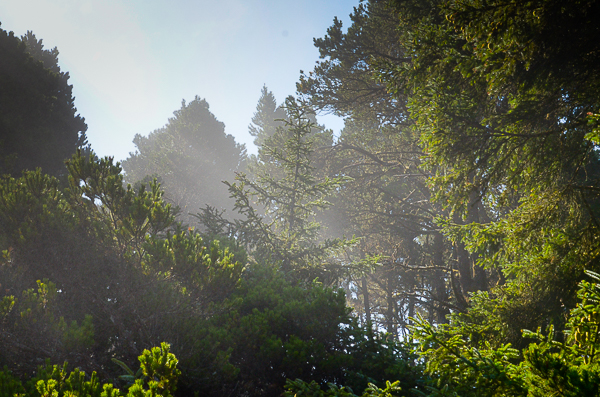 As the time for the eclipse approached, the mist began to thin. Blue sky was sighted!
---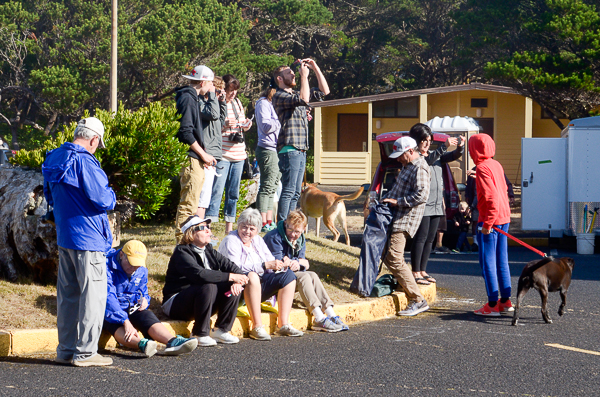 In the early stages, there didn't seem to be much going on. People started to accumulate. In addition to the folks in our group there were about 20-30 campers. Then there were 10-20 folks who wandered in from across the street. Everyone seemed to be equipped with eclipse glasses.
---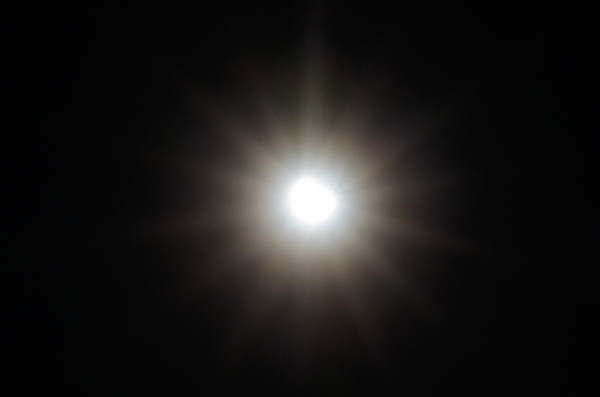 A friend had sent me a link to a set of YouTube videos about taking pictures of an eclipse. The short form of the advice: don't bother! This may be a once-in-a-lifetime experience. Experience it! Don't spend the entire time dinking with a camera.
Great advice! I ignored it.
This was my first picture. Camera stopped all the way down. ISO as low as it would get. Shutter speed as fast as I could make it.
If you look really close you can see a kinda sorta flat side to the sun's disc on the upper right-hand side of the picture (between 1:00 and 2:00). This was the only picture that I got that showed this. Most of the similar pictures simply showed a disc regardless of the fact that only a small crescent of the sun was visible.
I'm sure there is a rational explanation for this, but I don't know it.
---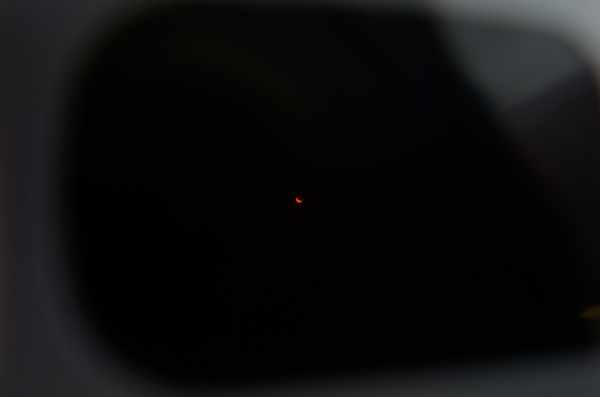 Most of my pictures were taken like this.
I had waited too late to get a real eclipse filter for my camera, so I simply took pictures through my eclipse glasses.
Crude, but it worked.
---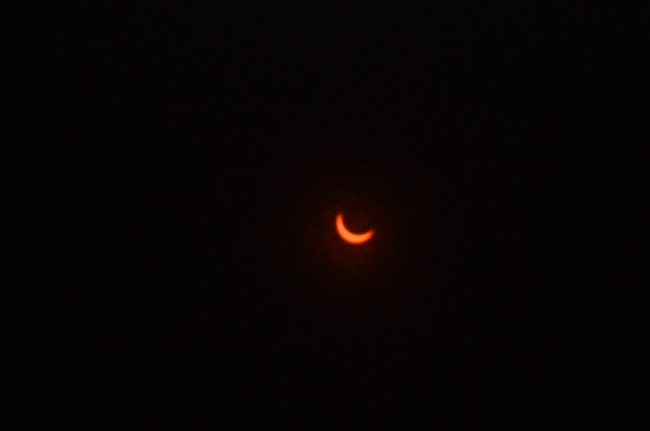 This is what it looked like "up close."
---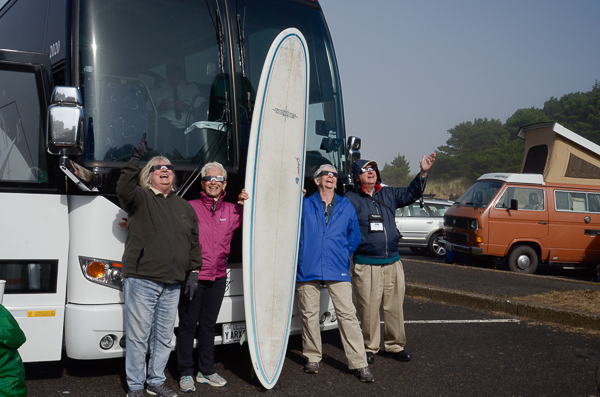 It was more fun taking pictures of people.
I don't know where the surfboard came from, but it made a great prop!
---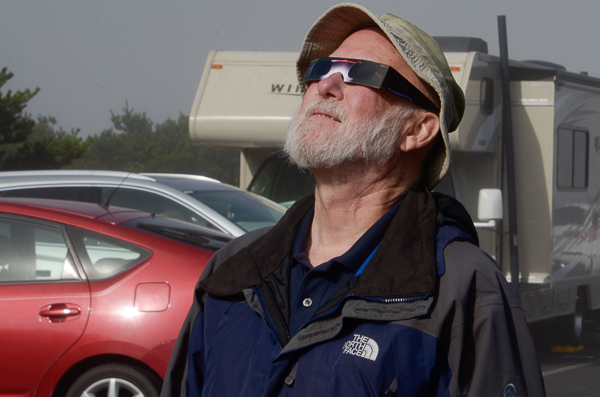 Jim had hoped to get some pictures of the cool shadows a partial eclipse makes when shining through leaves, but we didn't have any suitable deciduous plants around. So he just enjoyed watching.
---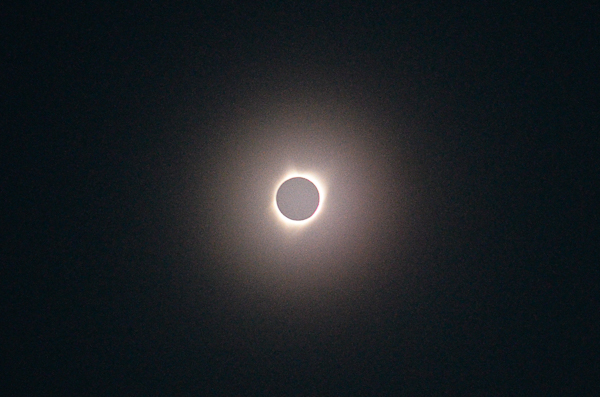 Totality!
Our location was right on the edge of totality so it lasted less than a minute. It was enough! If I were a better photographer I would probably have captured a better picture. Who cares!
It was amazing!
I'm sorry that I don't have a sound recording of the whoops and hollers.
I read somewhere that an eclipse is something that should be enjoyed with others. I heartily agree. I don't know that I would have been happy with 1000s of others, such as was experienced elsewhere in Oregon, but it was wonderful with our little band at Driftwood Beach.
---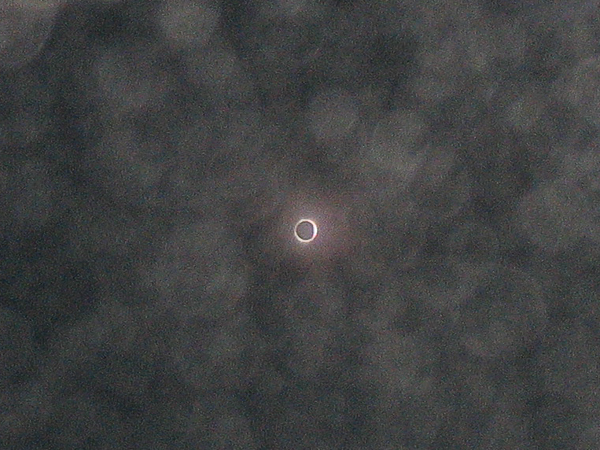 To show just how lucky we were with the coastal fog, this was a picture with Jim's camera. He couldn't turn off the flash on his point-and-shoot. The flash reflected back from all the droplets of the still present mist. Cool!
Shortly after the eclipse began to recede, we were socked in again.
The stars aligned in more ways than one!
---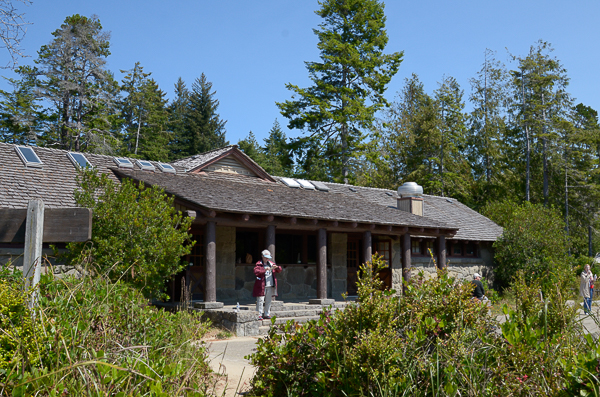 As the eclipse began to fade, we reluctantly left Driftwood Beach. We had a schedule to keep.
Lunch was at the Jessie Honeyman State Park. Jessie Honeyman was president of the Oregon Roadside Council. She worked to preserve access to coastal lands. The park, originally Camp Woahink, named after the adjacent lake, was renamed in her honor. This structure, which contains an interpretative center as well as changing rooms for swimming in the lake, was built by the CCC.
---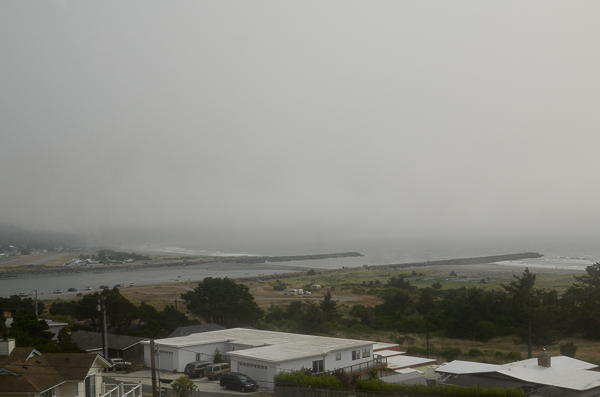 Later in the day we arrived at Gold Beach, where we would spend the night.
The Rogue River meets the sea here. The twin jetties were built in an attempt to funnel the river's strong current further out to sea so that it would drop its sediment load in deeper waters rather than block the mouth of the stream. Unfortunately the jetties weren't long enough and the sediment bar can (just) be seen well inside the jetties. This results in a narrow channel and difficulties for the fishing boats returning to port.
The continuing mist emphasizes how lucky we were with the eclipse!
That night we stayed in Gold Beach. We would be taking a jet boat trip up the Rogue River on the following day before leaving for California.
---
Click your "back" button to return to the previous page or click for our picture album.