We started our trip by driving up to Northern Virginia. As usual we leave our car at a local "Park and Fly" hotel, which costs much less than the airport parking at Dulles. It was essential on this trip because our flight left Dulles at 6:30 or thereabouts. Which meant we had to crawl out of bed about 3am! Luckily we set our own alarm in addition to asking for a wake-up call from the hotel, because the hotel never called!
After the sticker shock of South Bay hotel prices, we had opted for a new experience: an Airbnb! You hear horror stories, but our experience was quite successful. We stayed with Kimmy and John in Santa Clara and enjoyed it very much. The location was great and our hosts were very gracious. If our room was a little small, so what. We didn't spend any "awake time" in it anyway.
Our first goal (besides staying awake) was checking out our old home in Mountain View. The neighborhood was much the same, but our house had changed a bit: new paint and a new fence. Last we checked about 15 years ago, the guy who bought it from us was still living there and he may be there still. According to Zillow.com houses in the neighborhood are selling for well over $1M! Nevertheless, we're glad to be in Virginia. After cruising the old neighborhood we parked and prowled downtown to find something to eat. How we chuckled over the real estate agent who warned us against buying a house in Mountain View because it was such a bad neighborhood. Well, that was then!
---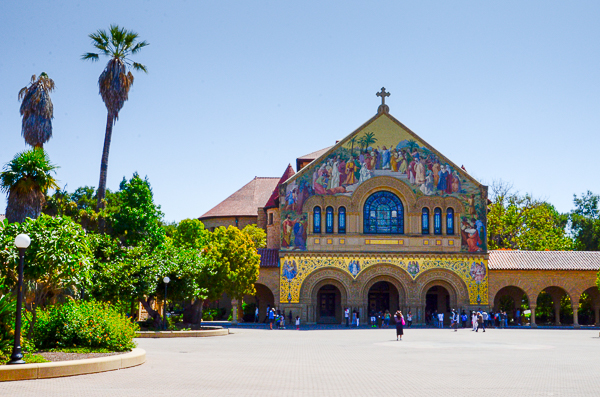 After a delicious al fresco lunch, we headed for Stanford University. The day was beautiful and we enjoyed walking around campus both visiting places that Jim remembered from his studies there and finding a few new ones.
Jim had hoped that the Stanford Alumni Association office would be open since we have enjoyed so many of their trips. Unfortunately the office was closed. Nevertheless we had a great visit to the campus -- and stayed awake.
This is Memorial Church and the Main Quad. See Wikipedia for the history of the church and some interior pictures.
---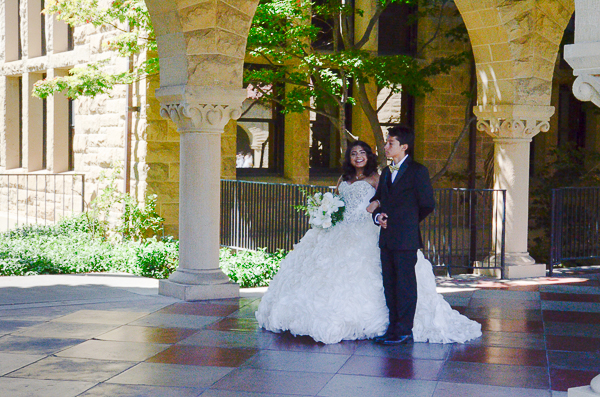 Memorial church is a favored spot for weddings. We spotted this bride and groom, with their entire wedding party. Since the church wasn't open, we aren't sure whether they were just rehearsing or posing for pictures or if the church schedules special time for couples on Saturdays. The groom maintained a very dignified demeanor, but the bride was delighted to attract our attention.
---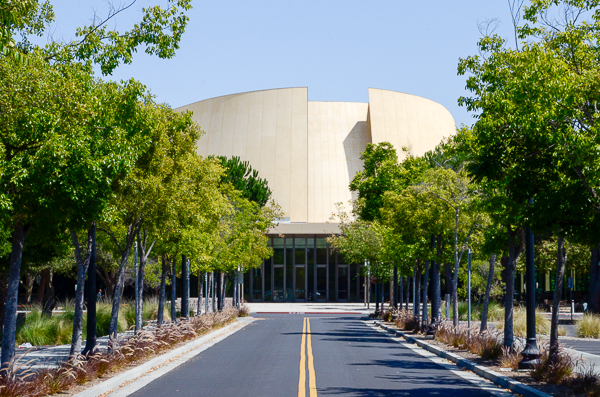 When we lived in California, we were frequent subscribers to performing arts programs at Stanford. Since that time the new Bing Concert Hall has been built. Unfortunately at the time of our visit there were neither performances nor tours.
It was a Smithsonian program, Masters of the Folk Violin, that we saw at Stanford that inspired me to start playing the fiddle.
---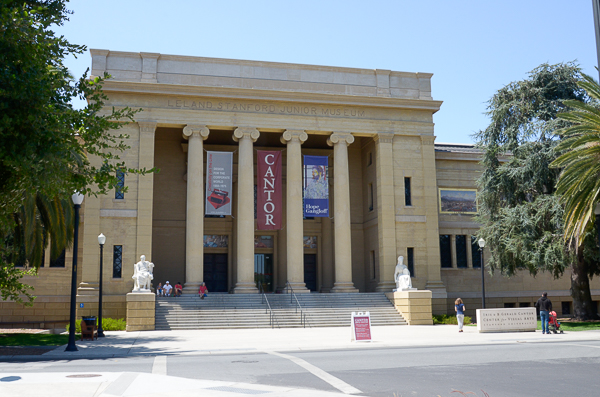 We also visited the Cantor Center. It was at the opposite end of the street shown above in the picture of the concert hall. I had never been there. The facility is one of the original Stanford buildings. It predated the 1906 earthquake and sustained no damage in that event -- unlike Memorial Church and other buildings.
---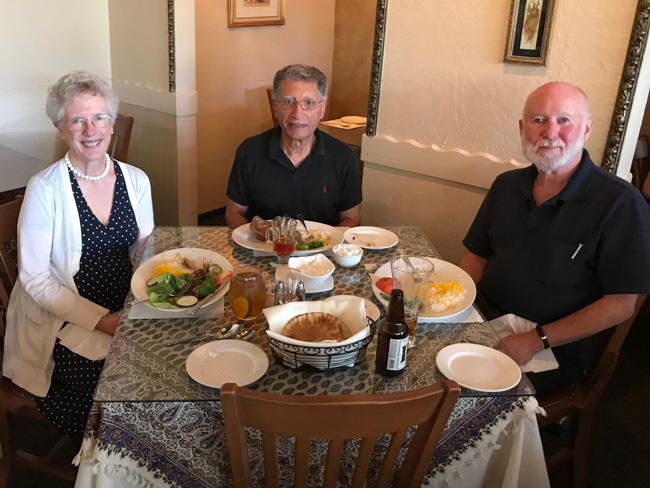 Sunday morning I attended services at my old church Sunnyvale Presbyterian. I didn't recognize any old friends there, but after church Jim and I joined Allen Madanipour for lunch. Allen and I worked together for a number of years and used to enjoy lunches at his favorite Persian restaurant -- Chelokababi. It was just as good as I remembered and it was great to see Allen again.
---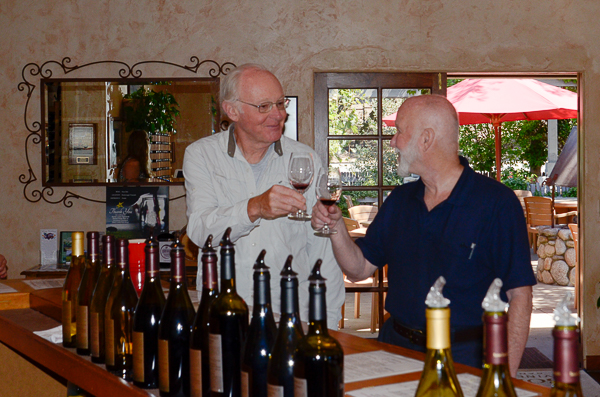 On Monday we joined friend Carl Niehaus for a day of wine tasting in Carmel Valley. We had seen Carl much more recently than our other California friends. He had visited us in Virginia and we had joined up in France last fall for some time together -- wine tasting, of course.
---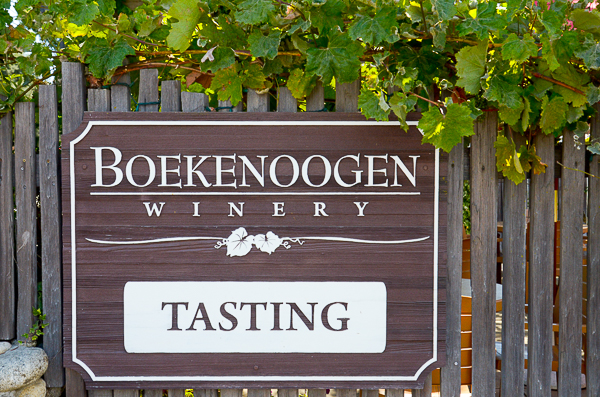 The hands-down favorite of the wineries we visited was Boekenoogen, a small family winery with some dynamite wines. Unfortunately for us they sell out their production in local venues. It doesn't make it back east.
---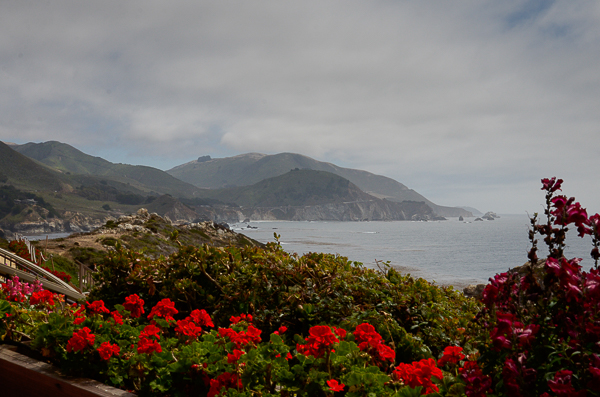 After our tasting we lunched at the Rocky Point Restaurant between Carmel-by-the-Sea and Big Sur. It was a preview of the even more dramatic Oregon coastline.
In May 2017 a massive landslide buried the highway between our current location and Big Sur. It is expected that the Coast Highway will be closed for at least a year. Carl's hiking group walked into Big Sur not too long ago and were met with open arms at restaurants that usually are sold out weeks in advance.
---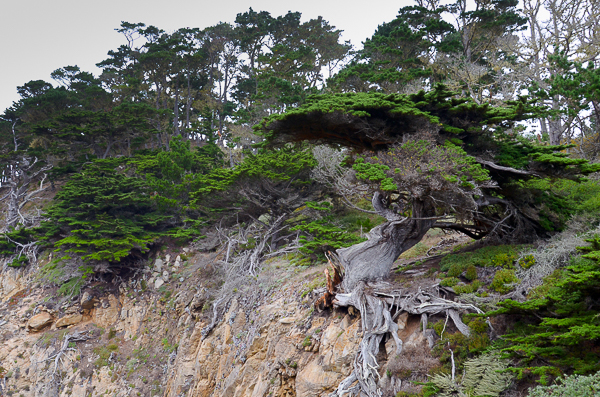 After lunch we visited Point Lobos State Natural Reserve for some hiking along the coast. One of the sights was the "Old Veteran" Monterey cypress barely clinging to the cliff. It had its own special lookout trail.
We really enjoyed spending the day with Carl and look forward to another get-together.
---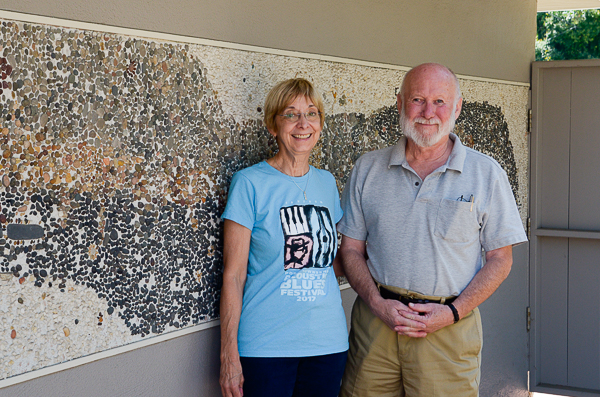 The following day we had lunch with Ann Whitesell, my fiddling buddy from the time we lived in California. She had just returned home from a blues fiddling camp in Washington state.
That evening we had dinner with friend Kay Khandpur and his wife Lara, but we were having so much fun visiting that I forgot to take any pictures!
---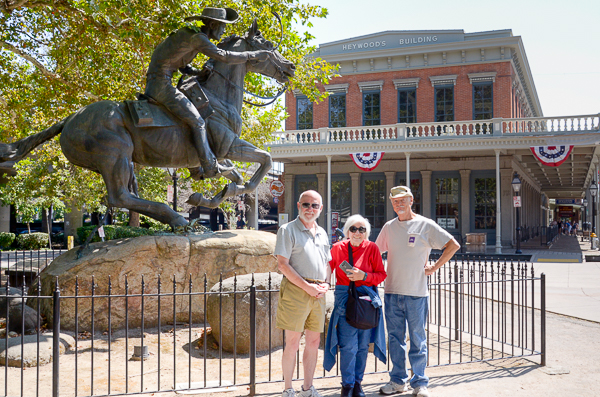 On our last day in California, we drove up to Sacramento to meet Kathy & Larry Hanson. Kathy had been my roommate all four years in college including our "junior year abroad" at the University of Southern California.
They are standing with Jim in front of a memorial to the Pony Express, which started in Sacramento in 1860. It only ran for 18 months, but has captured the American imagination.
---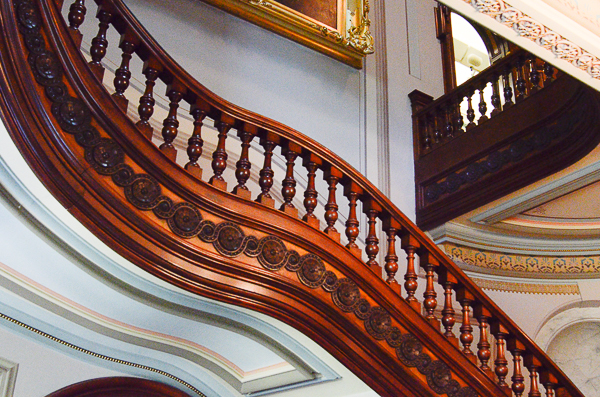 While in Sacramento we also visited the Crocker Art Museum. It is the longest continuously-operating art museum in the West. It was founded by Edwin Crocker and his wife Margaret. Crocker was an associate of Leland Stanford, the founder, with his wife Jane, of Stanford University & one of the leaders of the Central Pacific Railroad. After Crocker's death, Margaret gave the collection to Sacramento "in trust for the public."
This staircase was in the original 19th century gallery. The new addition opened in 2010. The art was wonderful, but as usual I was more taken by the architecture.
---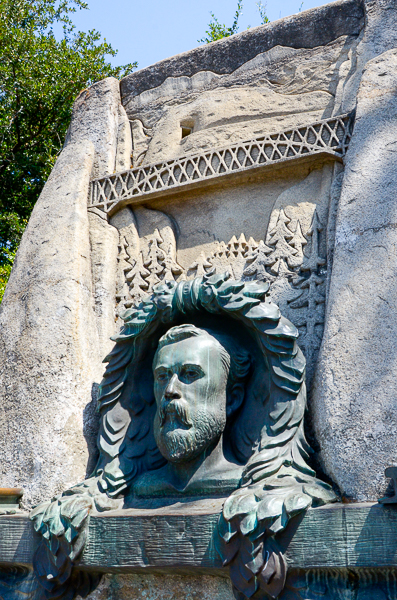 The inscription on this monument to Theodore Judah states "that the West may remember" him. Have you ever heard of him? I had not. He was the visionary who saw the possibility for a railroad line crossing the Sierra Nevada to connect California with the rest of the United States. He surveyed the route and recruited backers even though many felt the task was impossible.
Ironically, he had a falling out with his investors and was traveling back east to seek funding to buy them out. He contracted yellow fever while crossing Panama and died at 37 years old. His dream child would ensure that such torturous routes through Panama or around Cape Horn would no longer be needed to travel between California and the eastern U.S.
---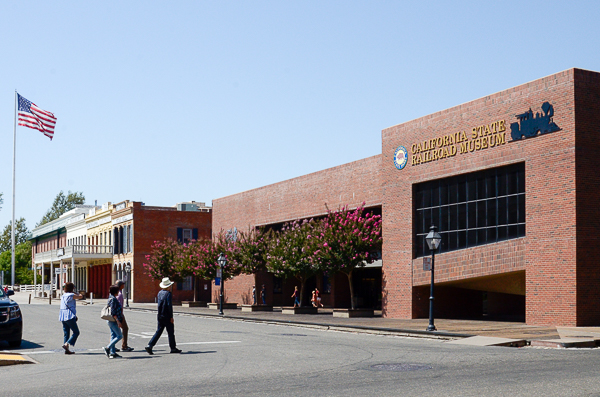 So many of our trips seem to involve transportation, particularly railroads, in some way! (Over and above the obvious fact that trips always involve getting from one place to another.) The California State Railroad Museum is a wonderful place to visit and a fitting follow-up to the Judah memorial.
---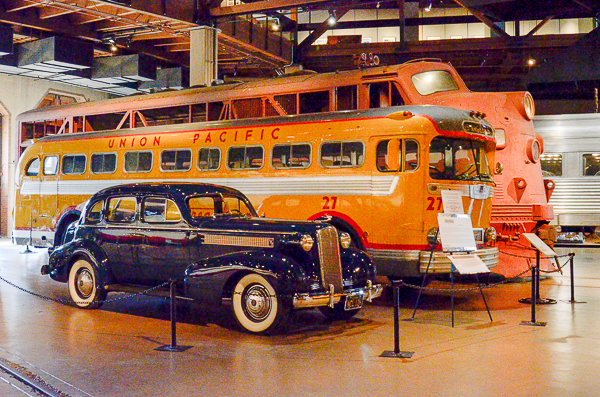 I liked the juxtaposition of the car, bus and diesel locomotive. The interpretive sign described them all in detail, but for some reason I didn't take a picture of it and of course I've forgotten. The locomotive had been stripped of its outer skin so the innards could be examined.
The exhibits were housed in an old roundhouse.
If you ever get to Sacramento, don't miss this museum!
---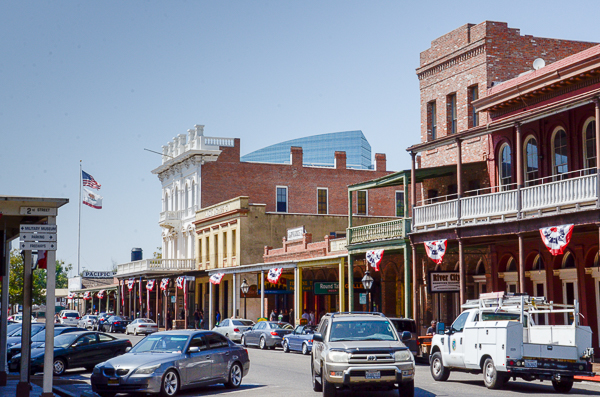 The museum is located in Old Sacramento, which is a destination in its own right.
After dinner Kathy and Larry dropped us by the train station for our trip to Portland. At the time they left us, the train was posted as on time. That changed. Dramatically.
Our train picked up a pair of private rail cards in Walnut Creek. That delayed it. Then a freight train ahead of it hit a car that was trying to beat it across the tracks. That closed the tracks for quite a while. We finally crawled into our sleeper room at 2AM. One frequent traveler told us that the train was rarely on time.
---
Click your "back" button to return to the previous page or click for our picture album.