Ever since missing out on our planned trip to the Middle East in 2011, the year of the Arab Spring, Jim has been looking for an opportunity to visit that area. When Stanford Alumni Travel sent us an invitation to the Persian (or Arabian!) Gulf and the Arabian Peninsula, he talked me into it. The fact that most of the trip was spent on our old friend Island Sky was an added bonus. Check the graphic for our itinerary.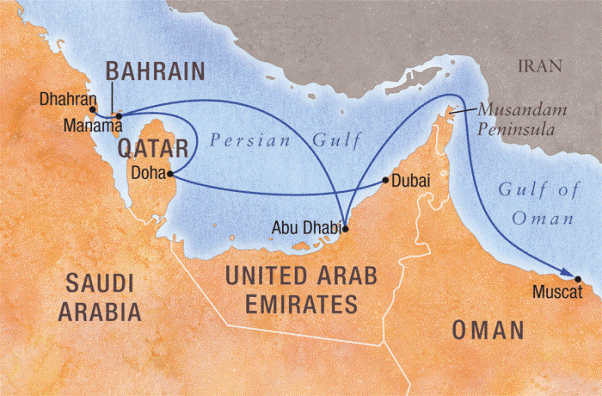 I was concerned that the mere fact of our planned visit would hex this normally stable region, but it didn't happen -- at least while we were there. (Since our trip there has been increased tension.) We had a wonderful time and felt welcomed everywhere we went. It was especially nice to get away from the news after the fraught election.
There are a couple of ways to follow us on our trip. I've tried to make the narrative a complete summary, but I've used many links to other web sites to provide additional details and sometimes pictures. You can either stick with the basic narrative or explore the various links. At the time this album was created the links were all valid, but the WWW is in constant flux and that can change. If you encounter broken links, please send us some email.
To take a whirlwind tour of the region, check out the overview page. Additional day-by-day details are below.
Dubai, United Arab Emirates
Qatar
Abu Dhabi, United Arab Emirates
Oman

The Desert
The Wadi Route
Click your "back" button to return to the previous page or click for our picture album.