The next morning our group began to break up. Some folks left really early for morning flights home. Others had afternoon flights and spent a leisurely morning at the camp before transferring directly to the airport in Muscat. We joined others with late-night flights for an additional day of touring along the "wadi route" and the seacoast. Our original motorcade was diminished from twelve vehicles to five. We were back again with Mikey and our original partners.
---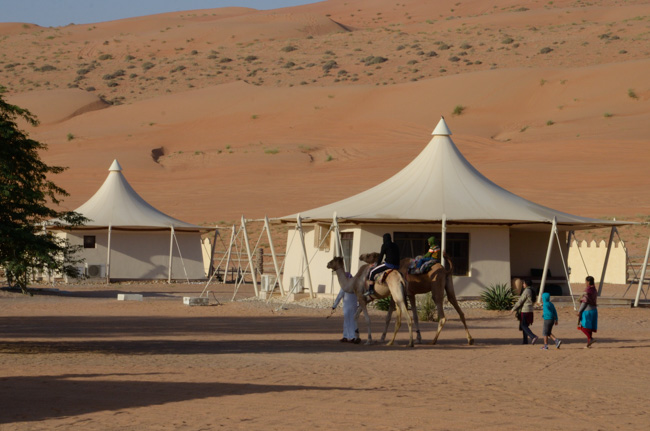 As we walked over to breakfast I saw that a man had brought in his two camels to give the tourists a different taste of the desert. It would have been fun to ride a camel for once, but they were already fully occupied with this young family.
---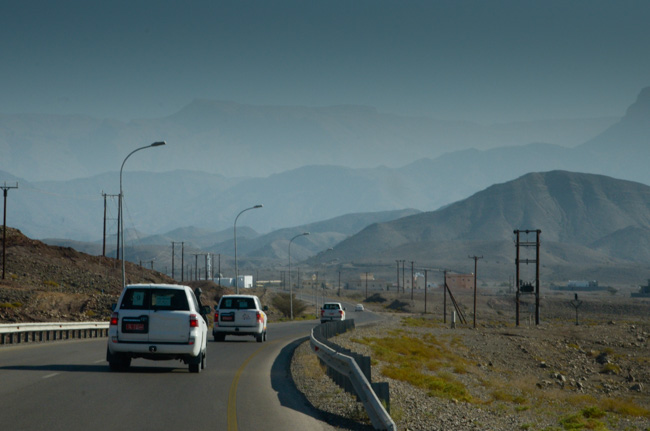 We headed back into the mountains to visit one of the loveliest wadis in Oman: Wadi Bani Khalid.
The tour folks called this day's excursion "the wadi route." Jim was concerned lest it be akin to our hike up the dry gully at Wadi Al Ayn. It was anything but!
---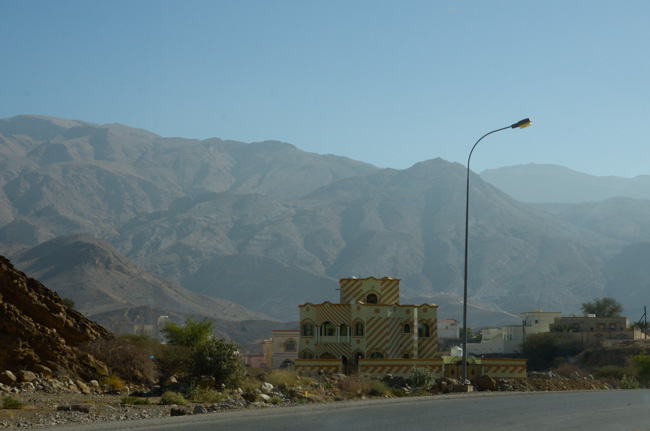 After several days of trying, I finally captured a picture of an outlandishly decorated house. The family that built this compound let their imaginations run wild in paint and tile!
---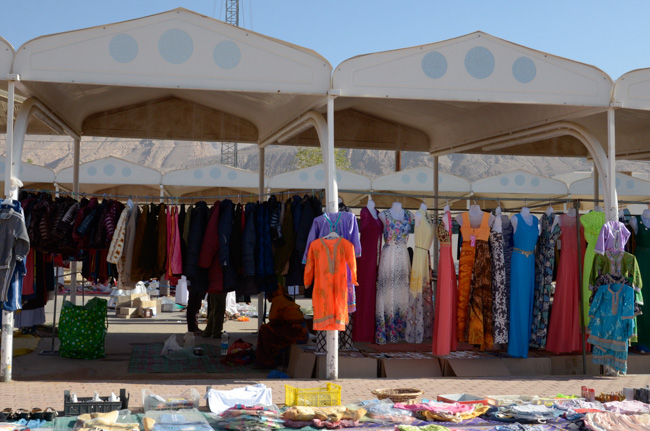 One of the villages that we passed through was having a holiday bazaar with all kinds of goods on display. This was the largest sale of ready-made clothing that we saw outside of a UAE shopping mall.
---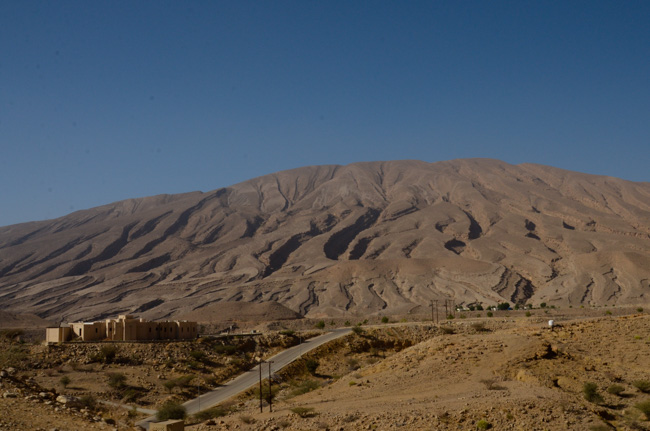 As we neared our first destination, we passed an area where erosion had carved the hillsides into dramatic channels.
---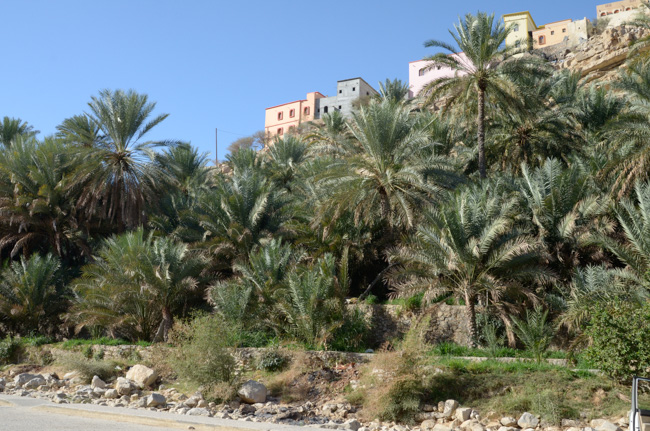 We left the cars in a parking lot and walked up the wadi bed to the ponds that are a feature of this area. The village is located high on the hill because of flash floods that occur in the valley during and after rain.
The irrigated palm plantations lined the canyon for an extended distance.
---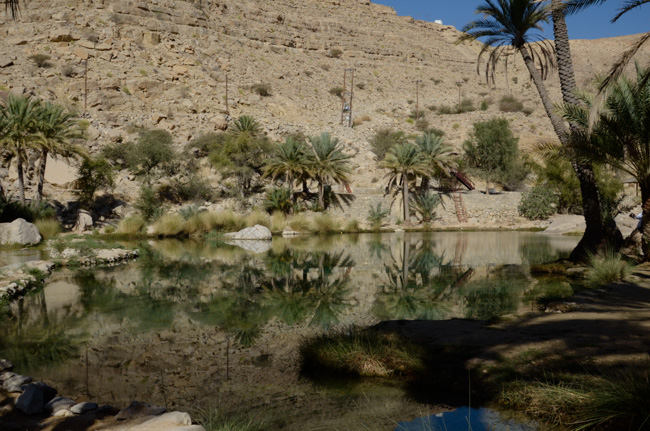 At the head of the valley, we reached a series of clear ponds.
On a weekend this area is jammed with local tourists. I can believe it! I was surprised that there weren't more people here for the holiday.
---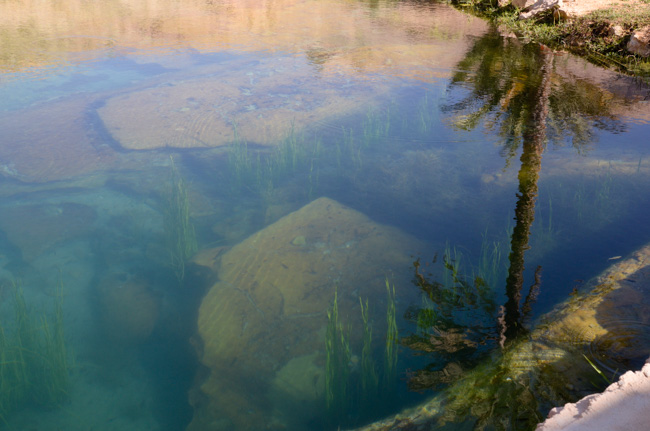 The water in the pools was crystalline and inviting. Our tour leader, Harry, stripped to his skivvies for a brief swim in the warm water (in spite of multiple "no swimming" signs).
---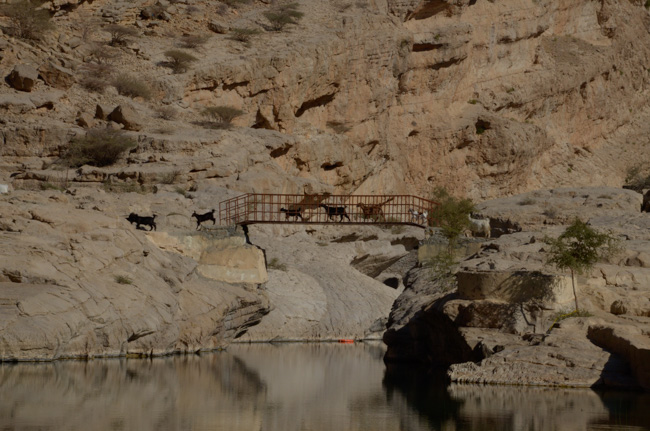 The ubiquitous goats seemed quite at home. We were told that the stream feeding the ponds had its source in caves high in the mountains, but we had no time to explore.
---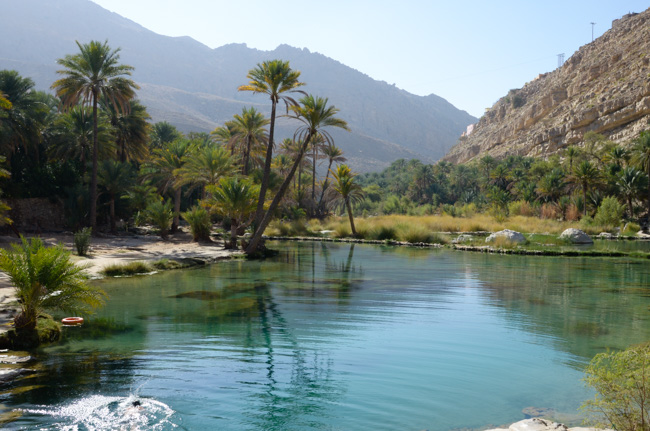 Harry enjoyed his swim enough that I forgave him for messing up the perfect reflections.
---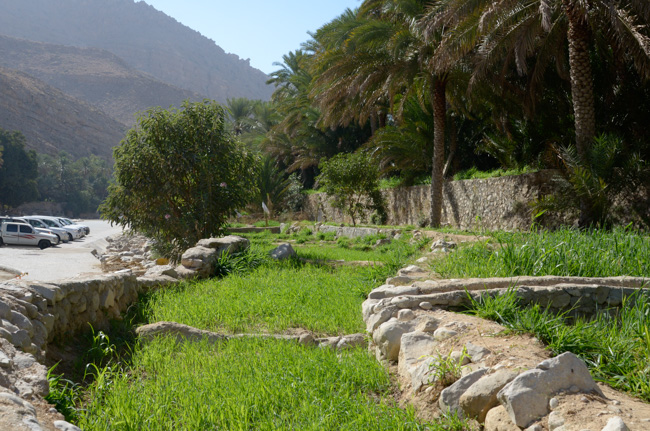 We walked back to the parking lot alongside more fields.
---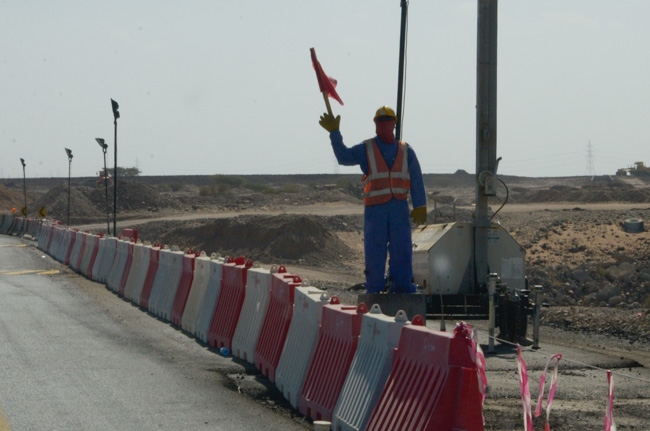 There was a lot of highway construction throughout our travels in Oman. These clever manikins were set up at strategic locations to slow traffic. Our driver said that they were just as effective as live flagmen -- and they don't get killed if hit.
In the mountains I saw a couple of handmade manikins that were very creative, but I was unable to get a picture.
---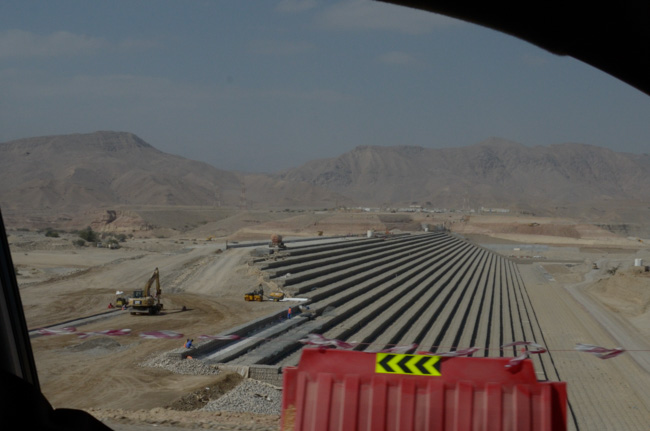 This dam under construction is on the outskirts of Sur. Disastrous floods in recent years have caused extensive damage so the dam is designed for flood control.
In addition most new construction is now in the hills surrounding the city.
---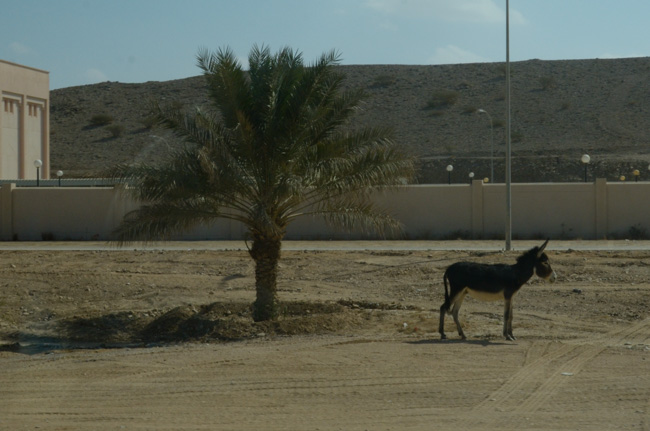 We had seen a few free-range burros on our travels, but I had been unable to get a picture of one until now -- ironically within the borders of one of Oman's largest cities.
---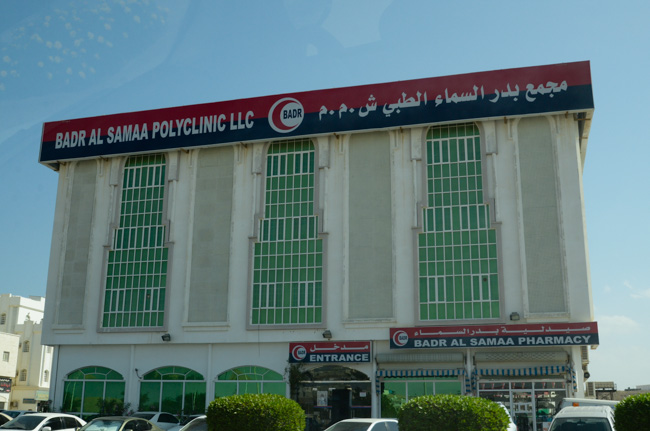 One of Sultan Qaboos's first initiatives when the country was unified was to build hospitals and clinics. When he gained power there were only a handful of medical facilities and they were only in the large cities. Now there are hundreds and there are few places in the country where medical care is not easily accessible. We saw many clinics, much smaller than this one, in the villages and small towns, but we whizzed by too quickly for a picture.
I'm sorry to say that most of the new governmental construction we saw in our travels was of police facilities. I hope that isn't an indicator of brewing unrest. Our driver said that Oman has a growing drug problem, which doesn't bode well.
---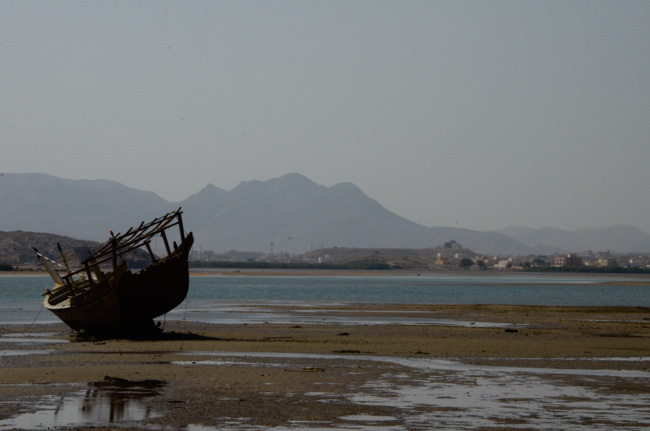 Sur has been a port and ship-building center for centuries. The city was founded by the Portuguese and the name is Portuguese for "south."
---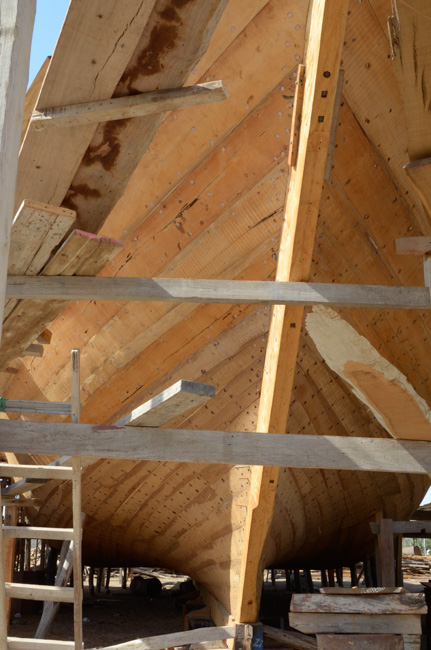 We made a brief stop to visit a dhow "factory." This establishment uses Indian expats to construct dhows using traditional techniques. It currently has a contract for a number of ships for the government of one of the other Gulf States, Bahrain if memory serves, that will be used for ceremonial purposes.
As I recall it takes about 18 months to complete each ship. The hull of the ships is made from teak imported from southeast Asia. We were told that the price of the wood was the majority of the cost of the construction.
---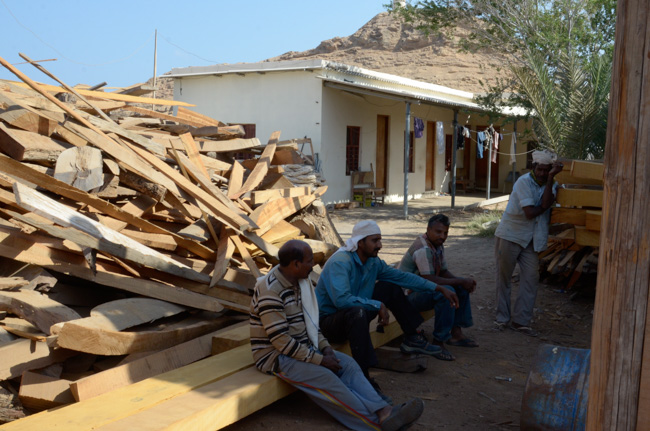 The reason that materials are such a large percentage of the cost is that the workers are underpaid and live onsite in what appeared to be pretty substandard housing, shown in the background here. The workers were on their lunch break and were enjoying the shade. Even given the conditions workers stay for years. It gives a grim notion of their employment prospects in their home countries.
Tents cover partially completed boats to protect them from the sun as they work. This would be particularly necessary in the summer!
---
Click your "back" button to return to the previous page or click for our picture album.