Although over the years I've seen bits of all the Great Lakes except Lakes Huron and Superior, I've never traveled on them. We've scrutinized cruise offerings hoping to find one that included travel on Lake Superior. We found one back in 2009 or thereabouts, but it was expensive, the economy was in recession, and we felt there would be another opportunity. HA!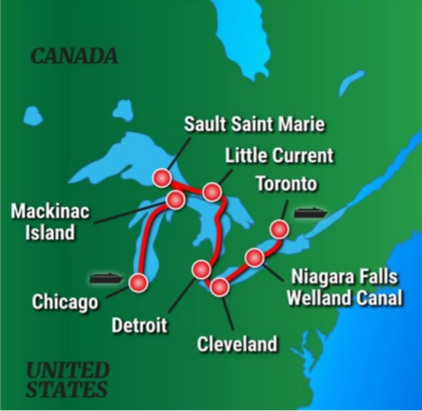 We grudgingly accepted the fact that a token swoop into Superior was the best we were going to get if we also wanted to include the other lakes. Maybe our future holds a cruise that features Lake Superior, but in the meantime we signed up with our friends Road Scholar for the "Voyage to All Five Great Lakes." They had chartered the small ship Victory I for this popular program. In spite of the program name, the ship would have done little more than poke a prow into Lake Superior. As it turned out, we didn't even get to do this.
Although there were around 120 travelers aboard, we divided into smaller groups for tours. We were assigned to the "Green Group." I had a wave of nostalgia when I heard that because my high school football team was "The Greenies." Let's go, Green Team, let's go!" That team vanished with the consolidation of the local high schools in the 1970s, but there are still those who remember.
For the first time I created the outline of this travelogue PRIOR to our trip using the material distributed by Road Scholar. I wonder if that is what hexed our engines and required adjustments to the itinerary!
There are a couple of ways to follow us on our trip. I've tried to make the narrative a complete summary, but I've used many links to other web sites to provide additional details and sometimes pictures. You can either stick with the basic narrative or explore the various links. At the time this album was created the links were all valid, but the WWW is in constant flux and that can change. If you encounter broken links, please send us some email.
I've included an overview page that has a small selection of images from the trip along with a description of the highlights of each day. For a vicarious expedition follow the day-by-day links below.
---
---
Click your "back" button to return to the previous page or click for our picture album.