In Junior High my social life revolved around Girl Scouts and camp. In High School my social life revolved around horses and church.
---
The summer after my "graduation" from elementary school.
At some point my parents built the BBQ pit in the back yard, but I don't recall it being used much. We had a similar set-up at our camp at Long Lake that was much used.
I still have those cast-iron chairs. They aren't any more comfortable now than they were then.
For some reason my mother didn't want me to wear glasses. I was constantly getting into trouble at school for talking because I had to ask those sitting next to me what was written on the board. Eventually our eye doctor convinced her that I couldn't see. Not long thereafter she decided I should wear contact lenses, which were cutting edge technology in Mississippi at the time. We had daily clashes over putting them in and the glare of the sun meant that I couldn't go outside without dark glasses.
Before too long she gave up and let me wear glasses, swearing that when I later came begging for contacts the answer would be a resounding NO. That decision suited me fine.
Since those days I have sporadically worn contacts, but the introduction of high-refractive plastics made them a distant memory. I shocked my friends when I chose near-sighted lenses for cataract surgery, but I had gotten used to being near-sighted and had no desire to change.
---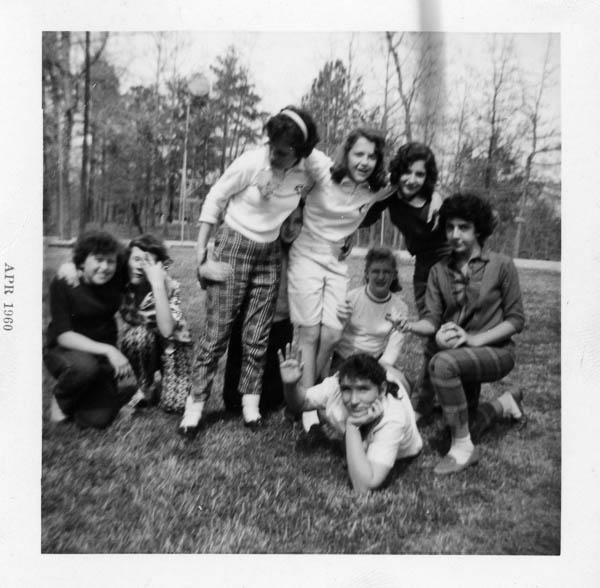 Dates on pictures are invaluable!
This was taken the following year on one of our Girl Scout weekends at Camp Wahi outside of Jackson. I'm glad it's still in operation. If memory serves, we were Troop 210.
They are (L-R): Beth Griffith, Linda Hill, Gwen Campbell, Diane Puckett, Dianne Anderson, me, Lana Toney, and Pam Jabour.
My mother was one of the troop leaders and we all had good times together.
---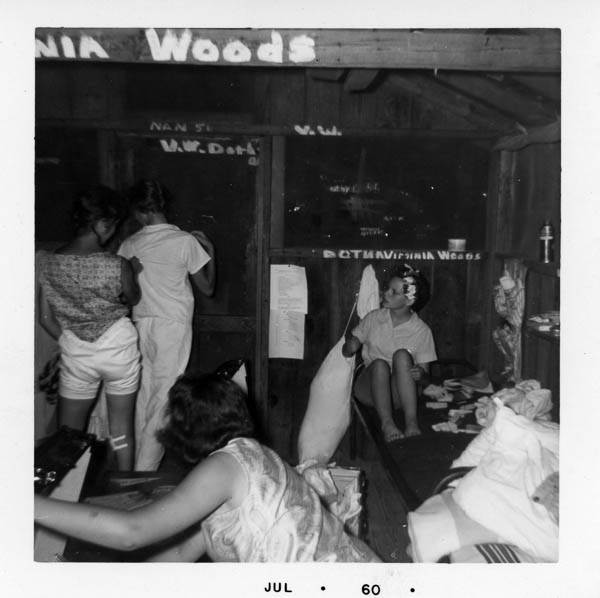 There were three other camps that I attended over the years.
Camp Mondamin on the Strong River in Pinola, MS, was operated by the YMCA. It closed in 1972, but is now operating under the name Strong River Camp. Somewhere I have a picture of one of the cabins, but this isn't it. I hope they no longer have latrines!
This picture is from Camp DeSoto outside Mentone, AL. It is still in operation. At the time I attended, they ran a Pullman car from Jackson to Fort Payne. I think I have a picture somewhere of our sleeper. This is the interior of one of the cabins. It was traditional to paint your name somewhere. I liked this camp best because it was in the mountains and offered horseback riding.
In high school I attended the Synod Youth Choir Camp (click for pictures).
As an officer in the Presbytery Youth, I also attended the Presbyterian Youth Leadership Camp in Tennessee. What I remember from that experience was the intense hazing of first-timers and the ostracism of the Mississippi delegation in this era of desegregation ugliness. I have no pictures.
---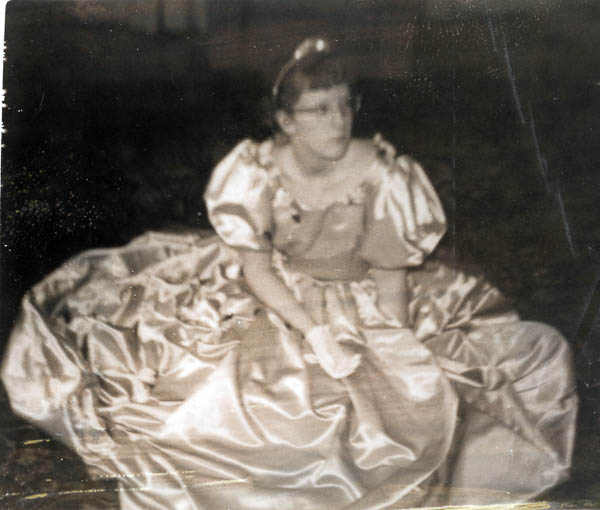 This picture is from about 1961. I'm still wearing my hair in a pony tail.
For the Civil War Centennial, my mother made fancy dresses for the two of us. Hers was an iridescent blue taffeta and mine was a lilac satin. When I later volunteered as a tour guide at the Cedar Grove house museum, I wore that dress.
At the time I volunteered, the facility was owned by the Garden Club and operated as a museum. It was later turned into a B&B. I always threatened to stay there when we visited my mother, but we never did.
At present (2020) it has been sold to a descendant of the original builders and its future is in limbo.
---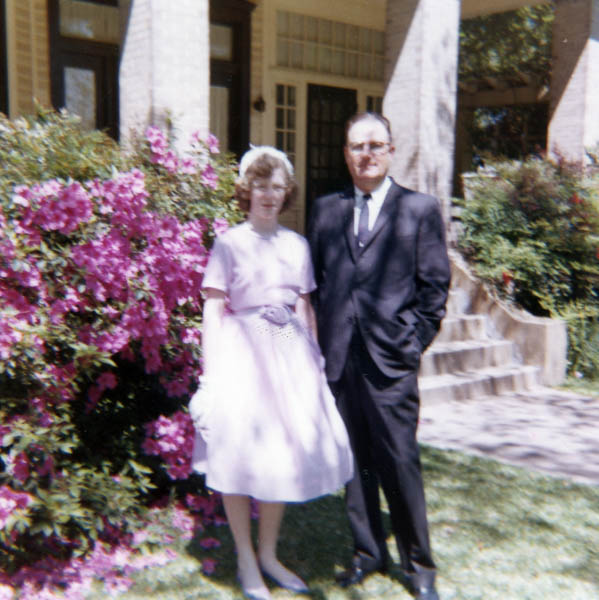 I don't have a date for this Easter picture with my father, but it was after I cut my hair.
Our house was unique in having two front doors, both of which can be seen. Sometime in the early 20th century it had been converted into two apartments. The downstairs unit retained the main entry door. The upstairs unit had an entry in the glassed-in side porch. My parents converted it back into a single-family house in the early 50s, but kept the secondary door, which was almost never used, and the upstairs kitchen!
---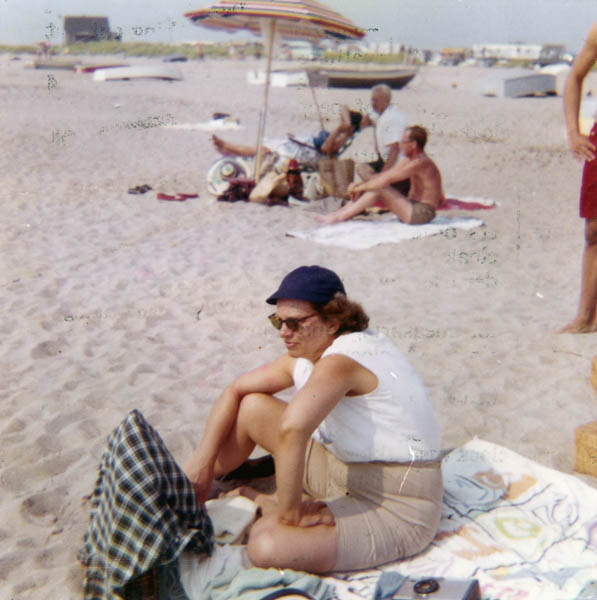 My mother and her sister Lib Pease made a commitment to each other after their parents died to make annual visits. This was not a trivial undertaking as the Peases lived in Connecticut.
Every year we got together swapping years between Mississippi and Connecticut. I laugh with my cousins how exotic Mississippi seemed to them and Connecticut to me. Our mothers' commitment brought us close and so we remain.
This year we went to the beach in Connecticut, but I can't tell you which one. My cousins had a Sunfish and sometimes we went sailing in a local lake.
---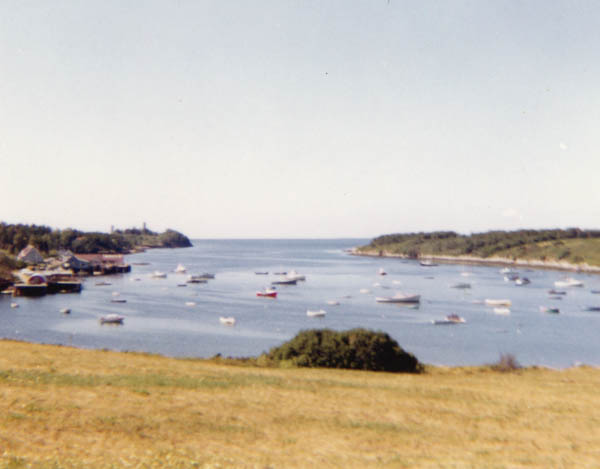 I don't know if it was the same or a different year that we all went to Maine. My father fulfilled a life-long, well almost life-long, dream of visiting the L.L. Bean store in Freeport. At that time it was the ONLY L.L. Bean store.
On the way to Connecticut, we always swung by Kentucky to visit my mother's kinfolk there.
---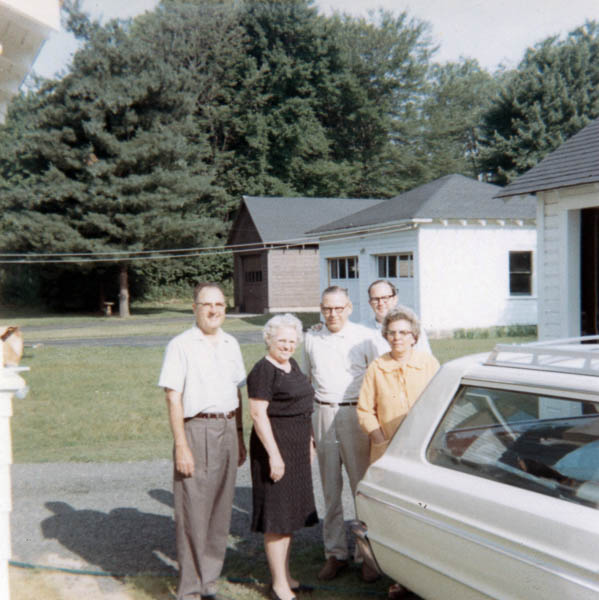 This is from a much later trip, but I'm putting it here. We bought that car in 1965. L-R: my parents, Uncle Frank, Emmett, and Aunt Lib at the Pease's house in Windsor, CT.
---
I don't know what year this might be, but I had those glasses in high school. Vicksburg had occasional snow that was enough to bring out my brother's sled. I was very popular around the neighborhood at those times since we had the only sled around.
---
When I was in 9th grade, my uncle Win Cutrer and his family left Houston, TX, and returned to Mississippi. He was unable to keep their horse, Becky, so he gave her to me. I was ecstatic.
That Christmas I received this nifty saddle and bright red jacket to outfit my new horse.
---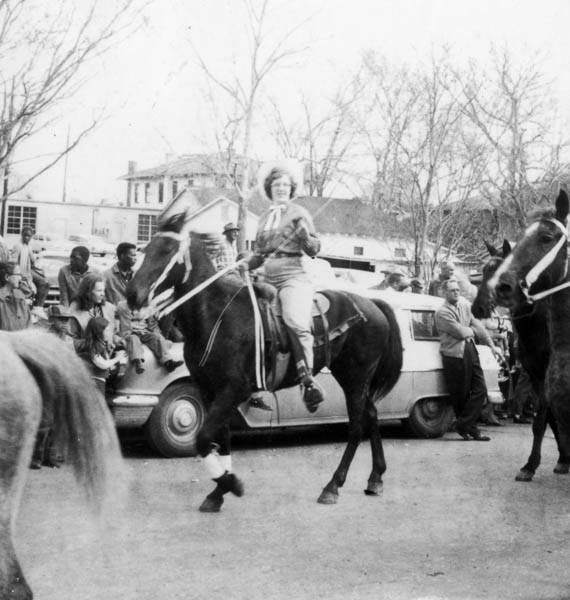 I joined the Vicksburg Riding Club and participated in most of their activities. This is a Christmas parade. For parades we dressed the horses in white bridles and put white leggings on their front legs.
Becky was an old horse when I got her, but still full of spunk. Uncle Win said that she had been used for racing in her younger years and we all believed it because she loved to run and was faster than any horse at Meade's barn in spite of her age and a misshapen rear hoof from high ringbone.
As Becky aged and my riding aspirations grew, we returned her to Uncle Win and my parents purchased Blue for me.
---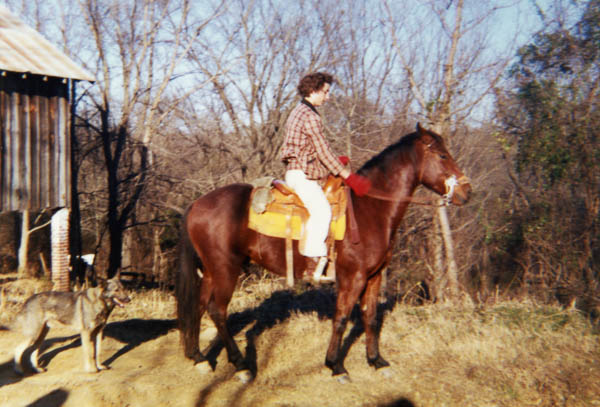 My friend Gwen White had a horse she named Pogo. He was an ungelded youngster when she first got him. We had read too many romantic horsey novels and hoped to keep him a stallion, but it didn't work. Once gelded he made a nice riding horse. Gwen couldn't afford to keep him, but his new owners were generous to let her ride him from time to time.
Gwen's father kept the eatery at Lum's auction barn and we hung out there on auction days. Occasionally we snatched a ride on one of the sale horses.
---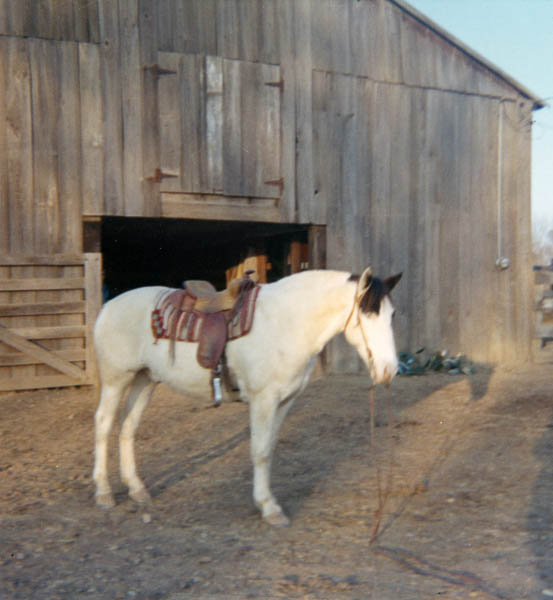 Another of the horses in my life was Playboy. He belonged to All Saints College, a local private girls' school. Their horses were boarded at Meade's until the school eliminated their equestrian program in 1964 or so.
Playboy was one of the smartest horses I've known. He knew all of our names and could be sent from one of us to the other. He was almost as fast as Becky and loved to jump. (I would have rather have replaced Becky with Playboy, but Mr. Meade convinced my parents I needed a registered horse, i.e., one he had for sale. But I loved Blue.)
---
Click your "back" button to return to the previous page or click for our picture album.