Blue was my second horse. Her AQHA registered name was Sis Arrow, but she was universally known as "Blue" because of her blue roan color. She received her registration back in the days when the stud book was still open. Blue's mother ("Buttons") was a grade mare. As a result she had to have two foals and both she and the foals had to pass inspection before she could be registered. Although the foals passed inspection, none of them inherited her good temperament. I don't recall her registered sire's name, but since Blue's registered name was Sis Arrow, I suspect it had Arrow in it somewhere.
Blue was a great horse for those she respected. Luckily I was one of those! Her main quirk was her love of water (and mud). She was never happier than when coated from nose to tail in thick, caked mud. It may have had something to do with protection from the vicious Mississippi biting insects. There were times when I would only clean the parts of her where the saddle and bridle would touch. The rest would still be filthy. It was not a pretty picture, but otherwise I would have spent my entire afternoon removing mud!
At some point in her past Blue had been abused, and it was not possible to approach her with a whip, let alone ride her with a crop. Nevertheless she was a good gymkhana mount. Her specialty was barrel racing. She wasn't a particularly fast runner, but she could turn on a dime.
When I went to college, I had to sell Blue. She found her "forever home" with the Blake family. Even when daughter Fanny grew up and started a family of her own, Blue remained with the Blakes. She lived to a ripe old age for a Quarter Horse -- probably those grade genes from her dam! Jim and I visited her at Blakely not long before she died.
---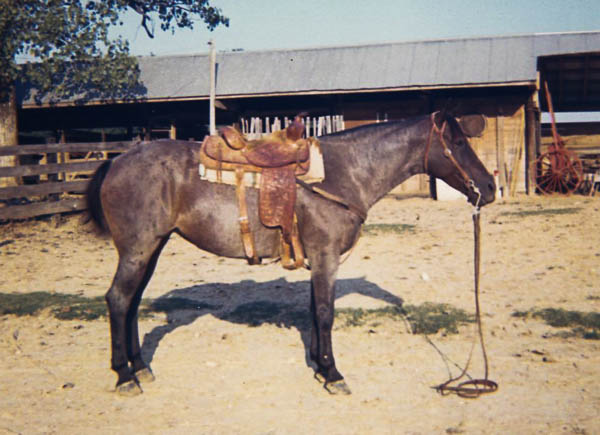 The picture shows off the characteristic blue color. It's odd that she is wearing a bridle with a bit because I only ever rode her with a hackamore.
She always had her mane roached or shaved. I don't know why. She came that way and I just kept it up. The style in those days was for a short "brush" tail. She's keeping it busy in this picture so it's hard to see, but it would only have come down to her hocks.
---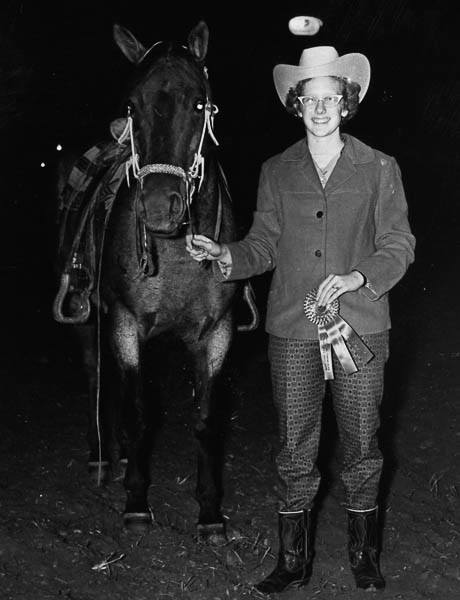 We've just won first place in Western Pleasure at the local 4-H show. Check out those cat's eye glasses! (On me – not the horse.)
My sartorial choices weren't the best in those days. As I recall the riding pants were a kind of burnt orange color and the jacket was a bright red. Blue's saddle pad didn't match either one.
---
Click your "back" button to return to the previous page or click for our picture album.