Most of these are the professional pictures by Cook's Photo Art Studio of Vienna, VA. The company seems to be still in business. I hope they don't mind my putting the pictures online. They were digitized by DigMyPics.
I don't recall the name of the particular photographer who came to the wedding. We amazed him by asking him to help himself to goodies at the reception. I got the impression that most people treat the photographer as "staff." He was a very nice man and seemed to enjoy being treated like a guest.
As for the other pictures, I don't know who took them so I don't know who to credit. Perhaps my father. The originals have discolored over time and Lightroom has done its best, which wasn't good enough.
---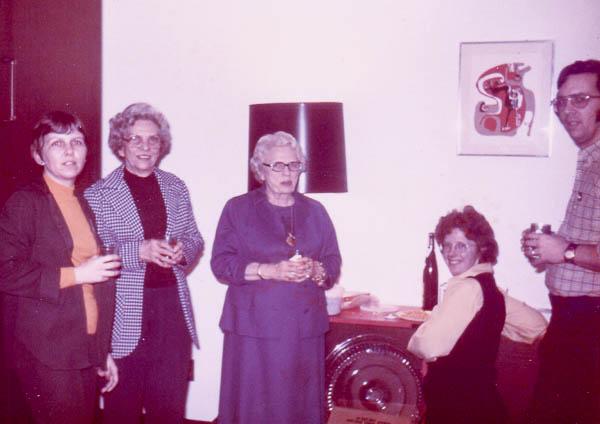 We scheduled the "rehearsal dinner" for the night before the wedding, even though the wedding itself was informal and there was nothing to rehearse. We married in January because of the marriage penalty built into our tax code. Furthermore our honeymoon had already been planned for January.
The weather was awful with snow and ice. We didn't want to endanger our relatives any more than needed, so we had the party at my parents' room at the hotel. Jim and I picked up buckets of chicken at the nearby KFC. Everyone agreed that it was a lot more fun than most rehearsal dinners.
L-R: Cousin Betty Pease Hopkins, Aunt Lib Cutrer Pease, my mother Ellena Cutrer Ward, me, and cousin Jim Pease.
---
Check out the rest of "the nuptuals:"
---
Click your "back" button to return to the previous page or click for our picture album.