Some day I'll get the professional pictures online of our wedding and reception. In the meantime, this small selection will have to do. I don't know who took the pictures so I don't know who to credit. It may have been my father.
These are (not very good) scans of significantly discolored originals.
---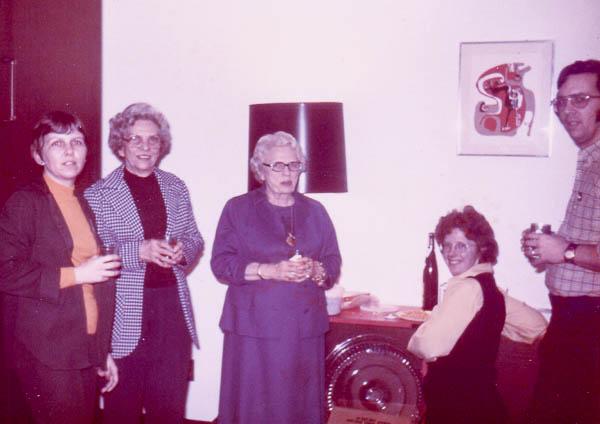 The "rehearsal dinner" was scheduled as usual for the night before the wedding, even though the wedding itself was to be informal and there was nothing to rehearse. We got married in January because of the marriage penalty built into our tax code. Furthermore our honeymoon had already been planned for January.
As it happened the weather was awful with snow and ice. We didn't want to endanger our relatives any more than needed, so we had the party at my parents' room at the hotel. Jim and I picked up buckets of chicken at the nearby KFC. Everyone agreed that it was a lot more fun than most rehearsal dinners.
L-R: Cousin Betty Pease Hopkins, Aunt Lib Cutrer Pease, my mother Ellena Cutrer Ward, me, and cousin Jim Pease.
---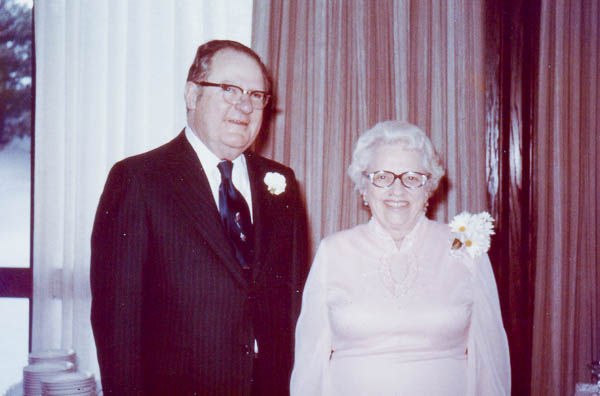 The ceremony on the following day was not without some challenges, but the mission was accomplished.
The ceremony was at my condo with a small number of attendees and the reception at the Reston Sheraton. Many more guests were invited to the reception.
My parents: Emmett & Ellena Ward. The snow can be seen through the window behind them.
---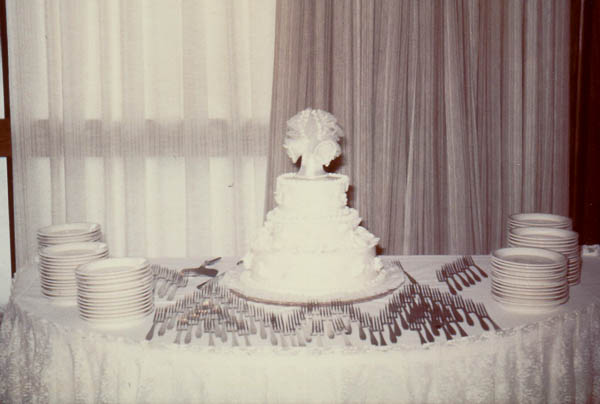 I had directed that reception-only guests be allowed to have at the buffet table even if we were late, which we were. At least they left us the cake and some of the food! (I had waited, and waited, at too many receptions while the wedding party were taking pictures.)
The cake had a story of its own. I was determined to have a spice cake instead of the usual bland white or yellow cake. Jim & I searched all over Northern Virginia before finding a bakery that would produce one. When we finally found it, we were delighted when the baker even gave us several spicy options. We chose apple spice. Yum!
We still have the wedding bell decoration.
---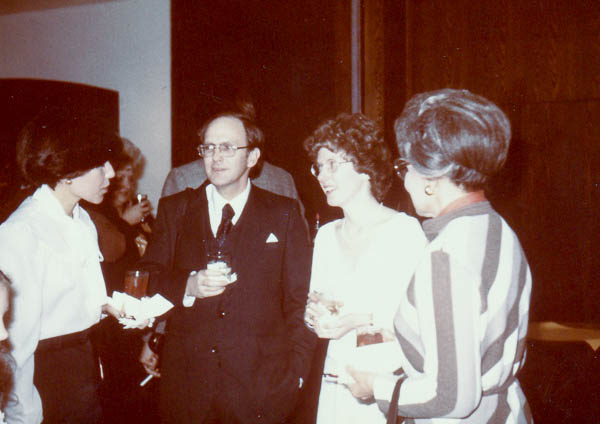 L-R: Cousin Karen Dees Shannon, my brother Emmett Ward III, me & Amelia Dees, Karen's mother.
Joseph Dees, Karen's dad, deceased by this time, was my father's first cousin.
---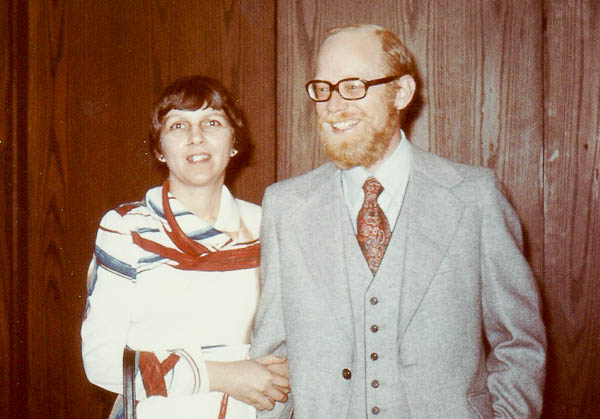 Cousin Betty Pease Hopkins & husband Phil "Hop" Hopkins.
My brother and Hop were prep school classmates and he was the link that introduced these two. It worked out pretty well for these high school sweethearts.
---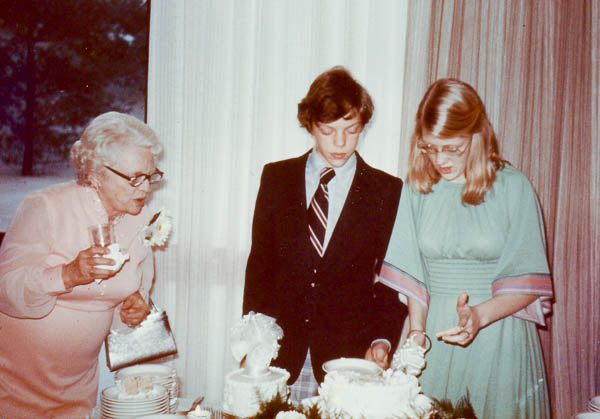 My mother instructing the wedding cake servers, Bud & Carol Hopkins, on their duties. It looks (and was) finger-lickin' good!
---
The Hopkins family was well-represented. The youngest attendee, Pam Hopkins, caught the bridal bouquet! Almost all of my friends were already married so there weren't any disappointed bridesmaids.
---
Click your "back" button to return to the previous page or click for our picture album.