My mother, who dearly loved any excuse for a celebration, had no doubt looked forward to my wedding from the day I was born. I know that when we visited Hong Kong in 1970 she purchased a banquet tablecloth specifically, so she said, for my wedding reception. In some ways I was sad to disappoint her, but otherwise I was delighted to have an informal celebration with my friends rather than hers. Moreover I've never understood the fascination with "destination" weddings.
By having the celebration "at home," it was more convenient for us, our friends, and Jim's family. We let my folks host an engagement party in Vicksburg so they could invite their friends. I may scrounge up a picture or two from it someday.
---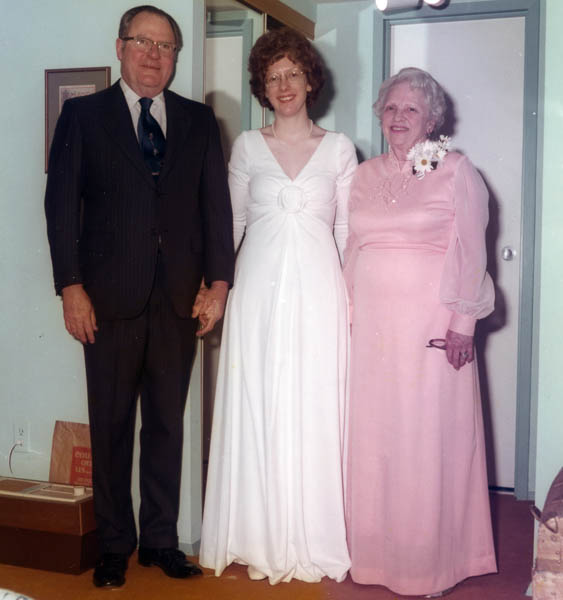 The ceremony was held in my Reston condo. While we were waiting for the pastor to arrive, the photographer had plenty of time for preparation shots. Here I am with my parents, Emmett & Ellena Ward.
As it happened, the pastor was late. I'm not certain but that he forgot he was scheduled to have a wedding! When I called his house to find out where he was, his wife said he had just come home from a retreat and was resting!
This is what happens when you're not a regular church-goer, which I was not at the time. This behavior did not inspire me to attend his church thereafter.
But he eventually showed up.
---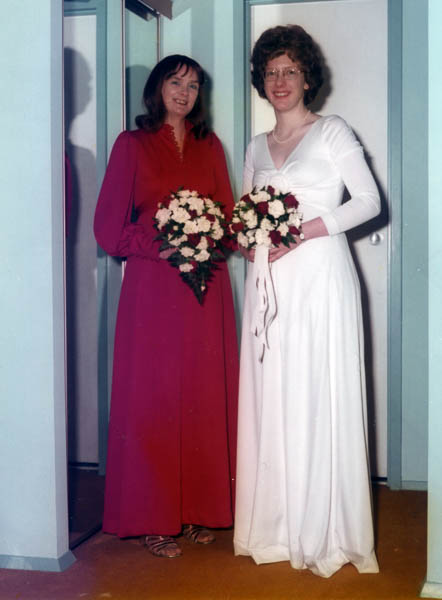 Ronni Williams Gardner was my best friend and matron of honor.
Instead of making her get a bridesmaid dress that would never be used again, I asked her to wear one of her existing dresses. It had always been a favorite of mine.
My dress wasn't a traditional wedding dress either. I bought it at a local dress shop and had some idea that it might be useful for regular formal wear thereafter, but it wasn't. I kept it for a number of years, but I think it finally ended up at Goodwill.
---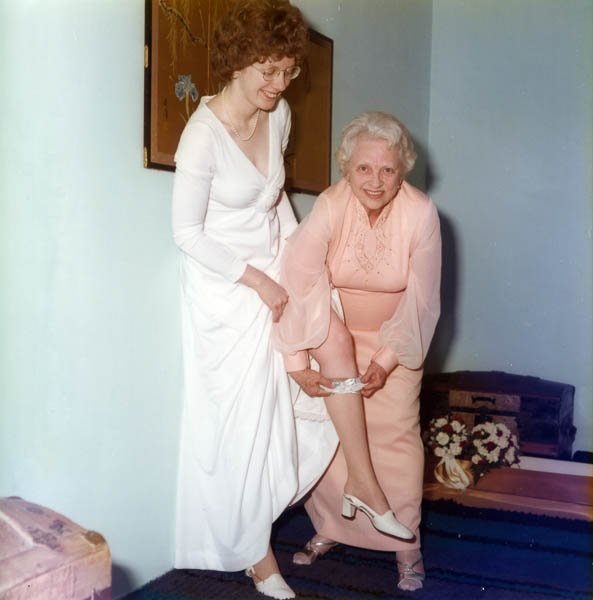 The old saw goes: Something old, something new, something borrowed, something blue.
Old: a handkerchief that had belonged to my father's mother.
New: my dress.
Borrowed: my mother's pearls.
Blue: the garter.
The rhyme ends with "A sixpence in your shoe." Well, we forgot that part. Those shoes were fiendishly uncomfortable anyway. I hate to think what they would have been like with a penny in them. I spent most of the reception barefoot.
---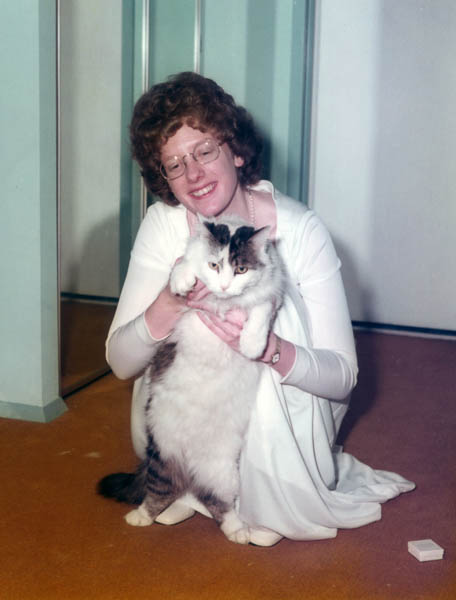 My cat Baba Ghanouj was not at all pleased with the festivities.
---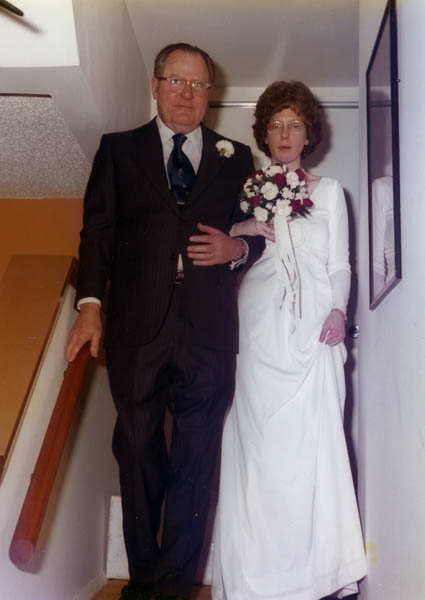 After a frantic phone call to the pastor, the ceremony finally got underway.
We had asked friend George Dugger to be in charge of the music. He cued the tape player and when Purcell's Trumpet Voluntary started, the show was on the road. (While preparing this I find that the tune was really written by Jeremiah Clarke. Does that mean the marriage started under false pretenses? Surely not after over 40 years!)
My expression mirrors what was going on in my mind at the time: "What am I getting myself into?"
Who knows what was going on in Jim's mind. Probably something very similar.
My father at least was composed.
---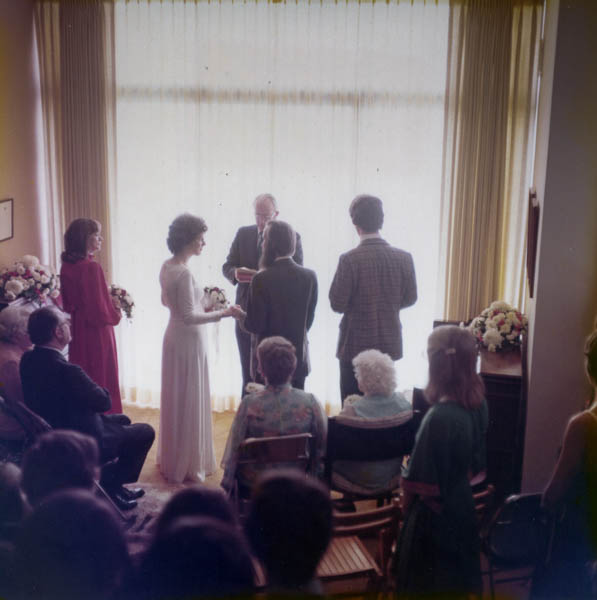 During our pre-wedding discussions, the preacher asked if we wanted to write our own vows. I think he was shocked when I answered that as long as the service started with "Dearly beloved, we are gathered here..." I didn't care what the rest was as long as it was legal.
In the event, the ceremony did start with "Dearly beloved," but at some point thereafter veered into a mini-sermon having to do with snow and I don't know what else. I confess that I zoned out. As did Jim, who had to ask if he ever really got around to pronouncing us "husband and wife."
I did like the soaring living room windows looking onto the golf course, but I don't otherwise miss that condo.
---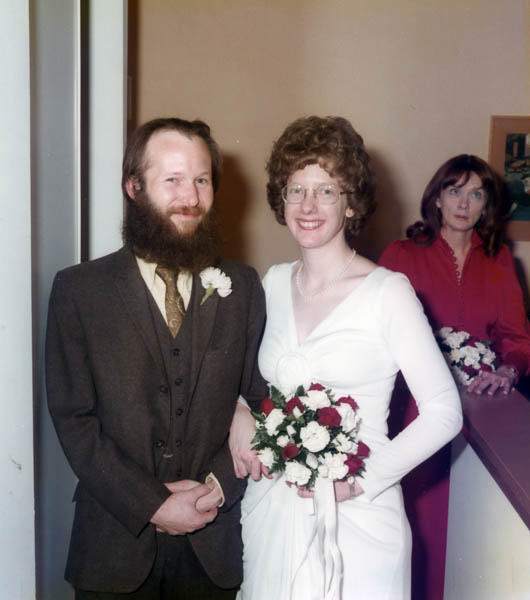 The happy couple.
Gee, we were young!
Ronni doesn't look convinced. She was going through a contentious divorce at the time, so perhaps was not as starry-eyed about marriage as we were.
---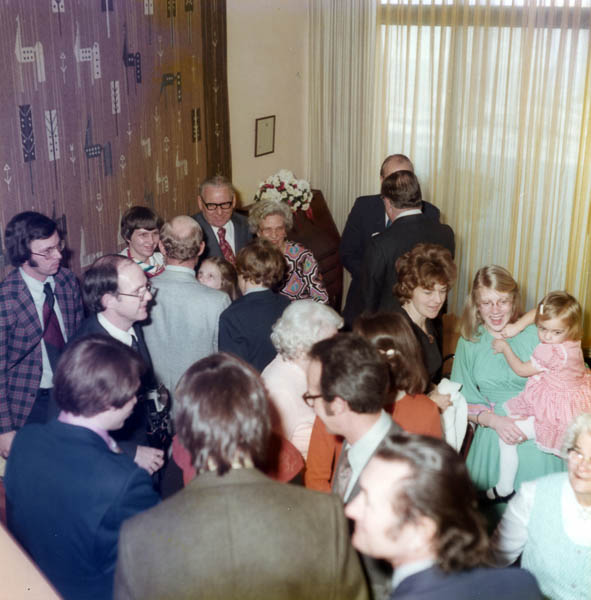 Due to size restrictions in the condo, only a small number of close friends and family attended the ceremony.
In this picture in no particular order I find Jim Pease, Steve Larsen, my brother Emmett, Betty & Hop Hopkins with daughter Pam and son Bud, Aunt Lib and Uncle Frank Pease, my father talking to the preacher, whose name I've forgotten, Wendy Pease with Carol Hopkins holding the older Pease daughter Melissa, Marshall & Carolyn Moss, my mother, Jim's gram, and Dave Dawdy. There is the back of someone's head that I don't recognize.
Most of the guests were invited to the reception and I gave the hotel instructions that the reception was to be opened at the appointed time whether the wedding party was present or not. I had spent too many hours of my younger years standing outside a reception venue waiting for pictures to be completed. In this case the hold-up was the preacher. Most of the ceremony guests got to the reception before ALL the food was gone – not so much the principles.
---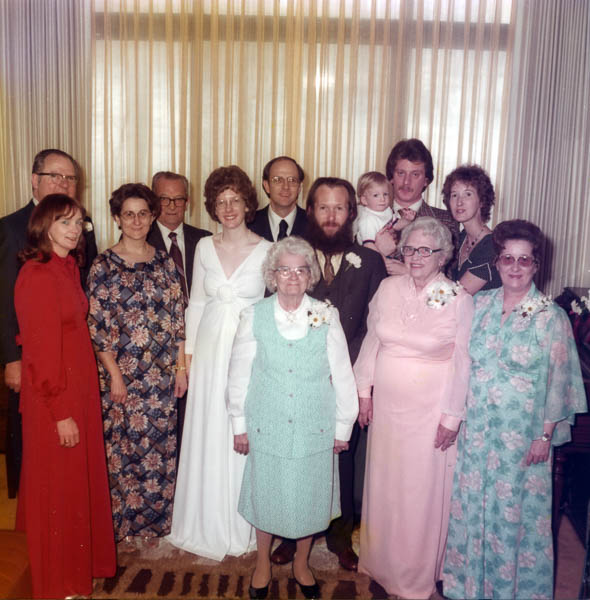 Our photo with Jim's family and my parents:
L-R:
My father, Ronni, Aunt Ruth and Uncle Jack Wright, me, Emmett, Jim's Gram Ella Gruff, Jim, Todd Janus holding Matthew, my mother, Jim's sister Grace Janus, Jim's mom Helen.
We had not attempted to coordinate colors, but the mothers and Jim's gram turned up in complementary peach and aqua dresses. Aunt Ruth and Aunt Lib (not pictured), however, both chose rather startling patterns.
---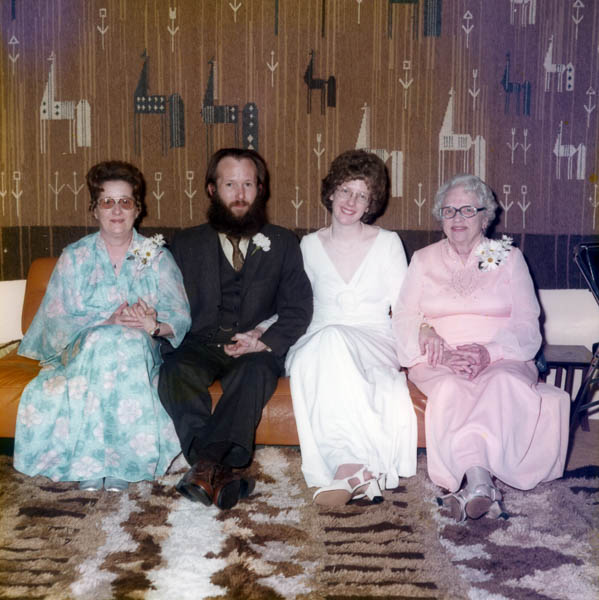 We didn't escape the inevitable pictures, in spite of trying to argue the photographer out of them. He had his marching orders and we had to obey.
Jim and I with our mothers, Helen Slack & Ellena Ward.
Several of the pictures picked up some discoloration in the scanning process. The wall hanging did not have that blue cast.
---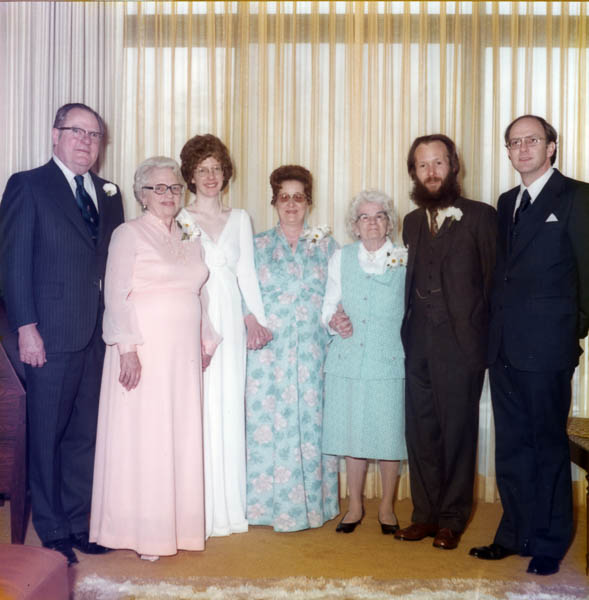 The family photo. The rest of the ceremony guests had already decamped for the reception. Smart folks!
---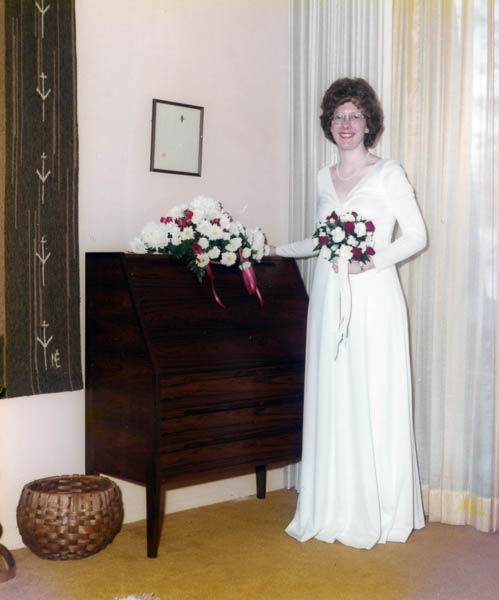 This was the photo that ended up in the hometown paper announcing the wedding.
My choice of red roses scandalized my mother, but I wanted to match Ronni's dress.
---
Click your "back" button to return to the previous page or click for our picture album.