Our reception was at the Sheraton Reston hotel. It still exists although most of Reston has changed.
As I mentioned in the ceremony page, we had directed the hotel to admit the reception guests at the appointed time whether we were there or not. As a result, all the special goodies were gone. Thankfully the cake was reserved for us, so we didn't starve. And although there was an open bar, the bubbly was also reserved so we could celebrate without restriction.
---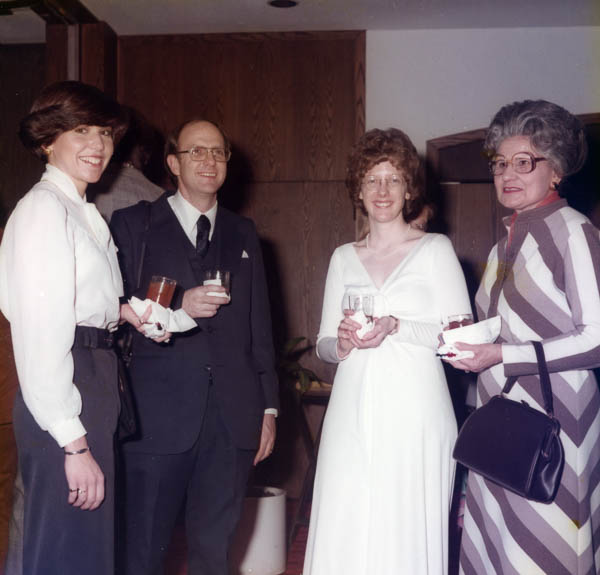 The photographer was conscientious about getting pictures of everyone at the reception, but I didn't have them all scanned. The picture of Aunt Lib was horrid, with her mugging at the camera, so I omitted it with regrets.
For reasons that are lost in the mists of time, my father's mother didn't encourage contact with the Ward relations (they were perfectly respectable, so I don't know what the problem was). The only relations from my father's side of the family that we knew were from his mother's family. They were represented at the wedding by Karen Dees Shannon and her mother Amelia Dees, pictured here with my brother and myself. My father's cousin Joseph Dees had recently died.
---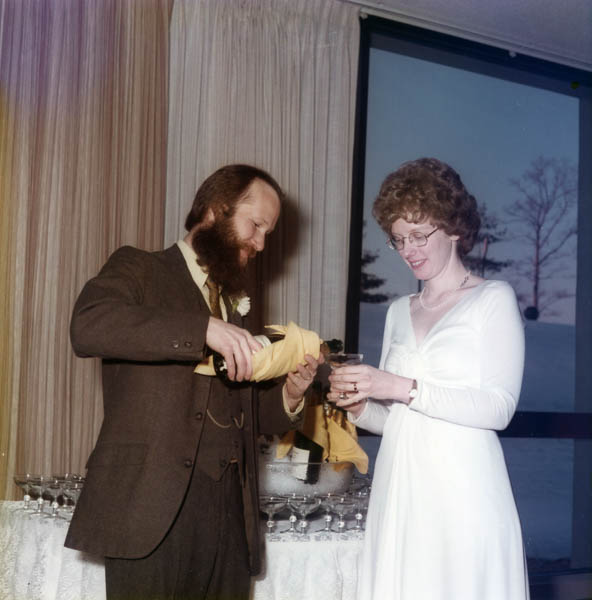 Prior to the wedding we had extensive (hic) bubbly tastings to find the perfect festive wine. We selected a 1970 "au natural" vintage from Mirassou Vineyards. We saved one of the empty bottles to display and still remember that wine fondly. The family only made it for a few years.
---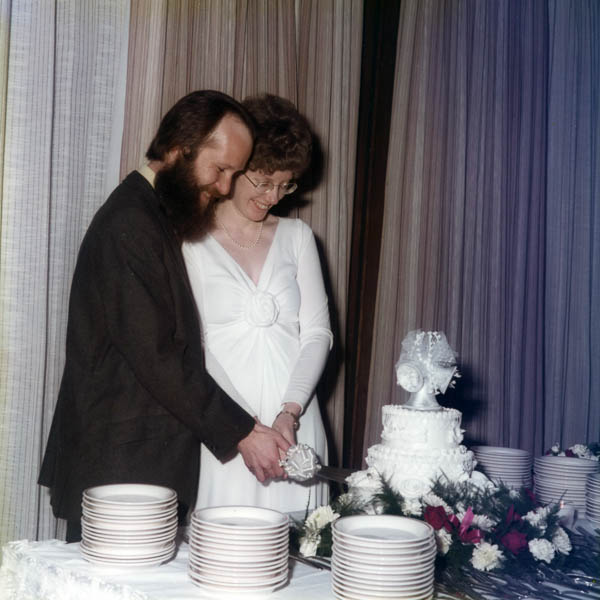 We also had an extensive search for just the right wedding cake.
Neither of us cared for the bland yellow cake base typically used, so we decided on spice cake.
Well.
This was much harder than picking the right wine and not nearly as much fun. We cast wider and wider circles visiting bakeries (no free samples), until we ended up in McLean. We marched into the bakery with a chip on our collective shoulder and demanded whether we could get a spice wedding cake. The proprietor looked startled and asked whether we wanted apple spice, cinnamon spice, or who knows what other kind of spice? We had arrived. We chose apple spice. It was delicious.
My mother had requested tiers separated by little columns, not one of our favorites, but that's what we dutifully ordered. Weren't we pleased when the cake as delivered lacked the columns! I believe I had to produce the receipt to prove to her that we had followed her wishes, but we certainly didn't complain to the bakery. We admired their taste on both levels.
I'm sorry to say that I don't recall it's name and downtown McLean has changed beyond recognition.
We still have the bells that topped the cake.
---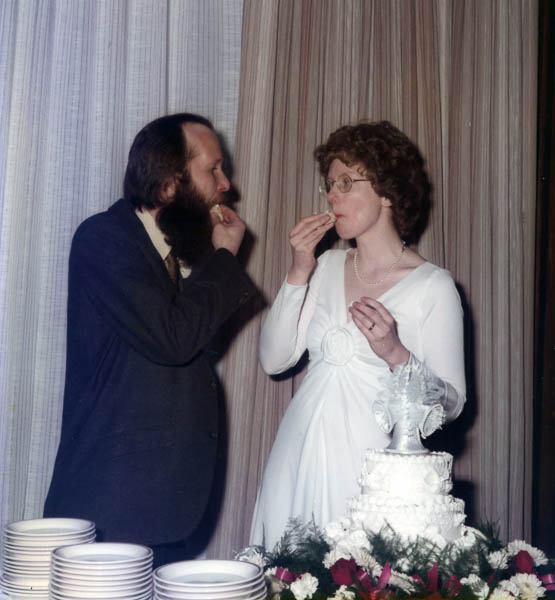 Being the independent souls that we are, we tried to avoid the traditional feeding each other a bit of cake. It didn't work. My mother insisted, but this is the image I chose to scan for this album.
After the ceremony Carol & Bud Hopkins were in charge of cutting and distributing the rest of the cake.
Young Pam Hopkins caught the bouquet, so the Hopkins family was well-represented in the festivities.
---
Young Pam Hopkins caught the bouquet. I don't remember many single friends being present, so no one was dismayed at the prospect of waiting until Pam grew up to be married.
---
I don't remember if I danced with my father, but we have proof that Jim danced with his mother. Friend Bill Nugent looks on.
---
Click your "back" button to return to the previous page or click for our picture album.