We had enjoyed the Club Quarters hotel on our previous visit. The staff was great, the location couldn't be beat, and the price was right. So we stayed there again. This time we upgraded to a room with a kitchenette – extra space, a small refrigerator, and microwave. The hotel is within walking distance of most attractions, including Drexel, and public transit is easily accessible for more distant locations. Traffic in center city Philadelphia is horrendous, so we didn't even consider taking a car. As on our last trip we caught the train from Charlottesville.
---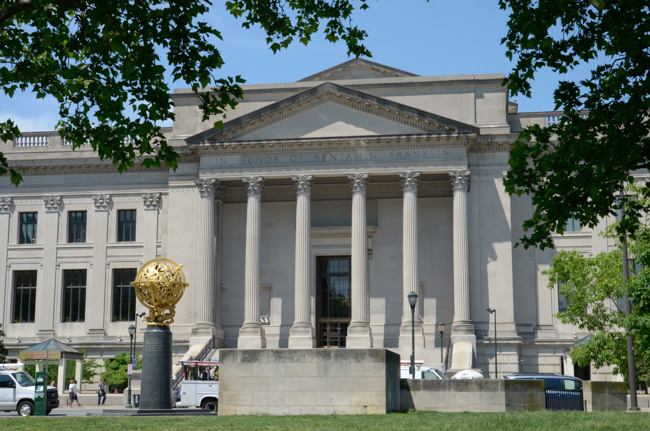 We weren't able to visit the Franklin Institute on our earlier trip. Jim had fond memories of this vibrant place from his childhood.
It IS vibrant and educational -- but it helps to be under the age of twelve, like most of our fellow guests.
---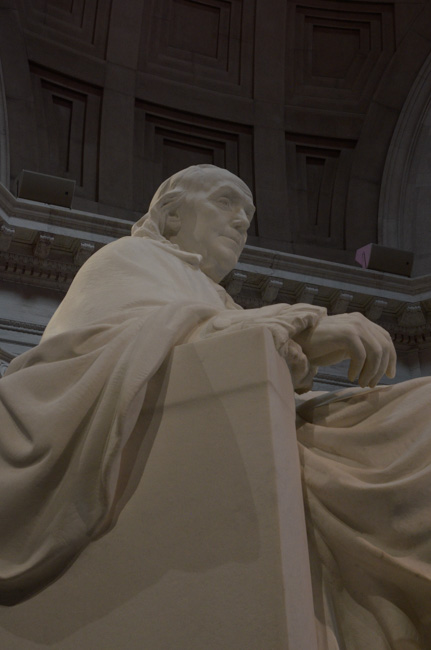 The statue of Ben Franklin dominates the rotunda.
It's impossible to overstate the impact that Franklin had, not only on the formation of our democracy, but on the knowledge of the world around us. He might not quite rank as a scientist with Isaac Newton or Galileo, but he isn't far behind.
As a statesman he has few parallels.
Some quotes attributed to him seem especially timely:
Our new Constitution is now established, everything seems to promise it will be durable; but, in this world, nothing is certain except death and taxes.
They who can give up essential liberty to obtain a little temporary safety deserve neither liberty nor safety.
Without freedom of thought, there can be no such thing as wisdom - and no such thing as public liberty without freedom of speech.
Being ignorant is not so much a shame, as being unwilling to learn.
---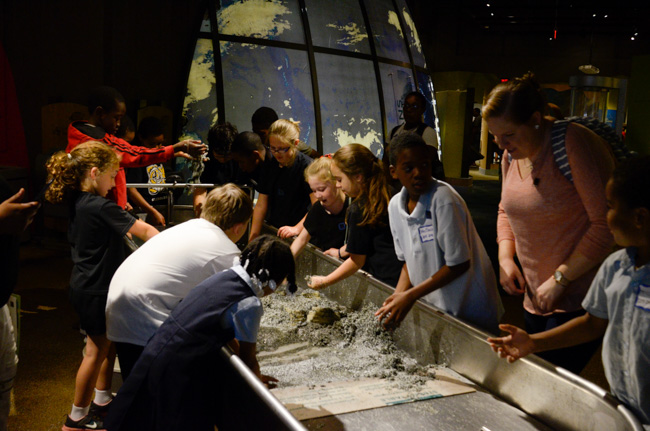 A favorite exhibit was a water table with mud and flowing water The children loved getting their hands dirty and building dams in a futile attempts to stop the water.
This is a more hygenic way to learn the same things that I experimented with in gutters and ditches when I was a child -- without benefit of hand sanitizer.
---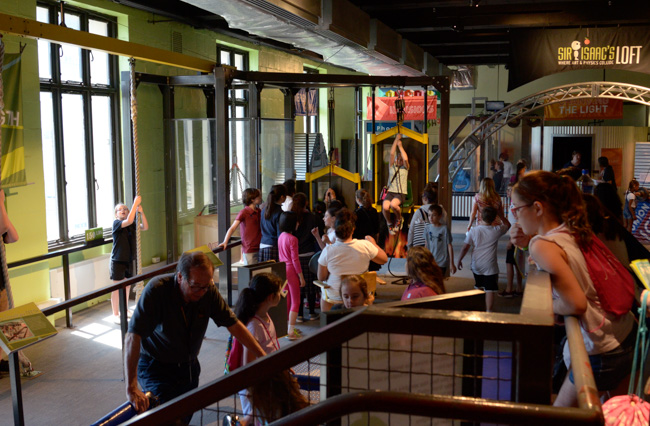 "Sir Isaac's Loft" is another room full of various experiments to illustrate the concepts of physics. Pandemonium reigned supreme!
A video called The Way Things Go portrayed a complicated sequence of contraptions, mostly dealing with fire, water and tires. Jim and I watched for about twenty minutes. I'm happy to say that the children were more interested in active participation rather than passive watching.
---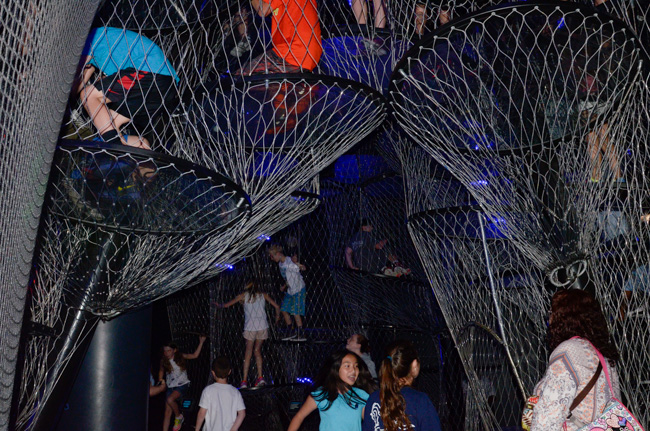 Jim remembered a huge heart that you could walk through. It was still there, but somewhat worn. We had the misfortune to visit it with about a half-dozen very noisy kids. It was claustrophobic and filled with steep and twisty stairs.
This newer exhibit was on the brain. The nets and pathways appeared to represent neural networks. But who cares, the kids were having a grand time crawling and climbing all over the place. The picture can't capture the decibel levels!
---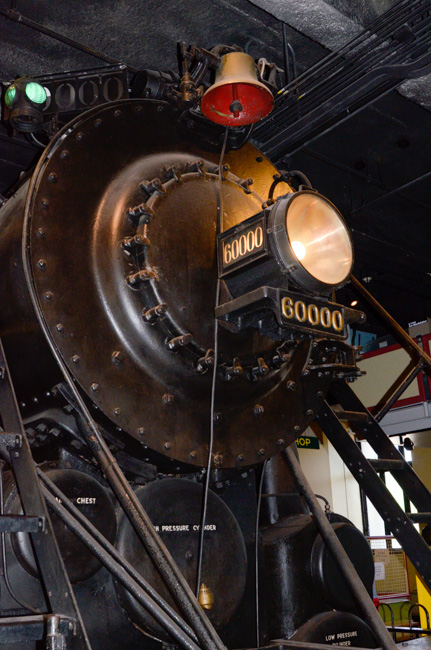 A quieter portion of the museum focused on railroads. The centerpiece of that exhibit was the Baldwin 60000, an experimental steam engine built by the Baldwin Locomotive Works. The locomotive was very powerful, but heavy and complicated to operate. Although it met its design goals, the design never went into production and it was donated (sold for $1) to the Institute in the 1930s (?).
Jim's maternal grandfather worked for Baldwin. We once had a selection of old railroad equipment that we rehomed with a local collector.
---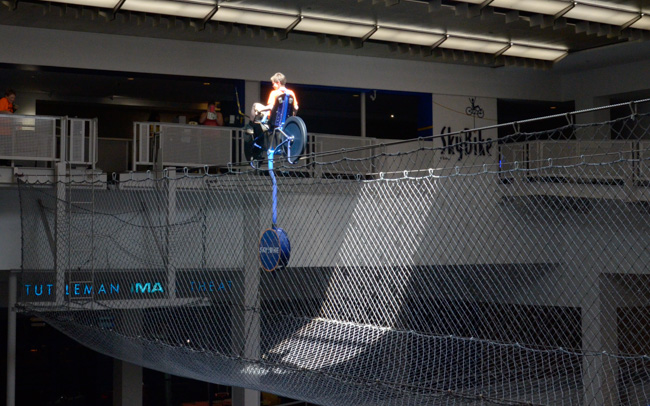 One exhibit was high over the food court. The SkyBike enables a child to ride across the court on a high wire. The bike is balanced with a large counterweight to keep it upright. Plus there was a safety net and assorted cables that would enable staff to pull back a recalcitrant child.
We laughed that our first thought would have been an attempt to dump the bike overboard! Or jump.
---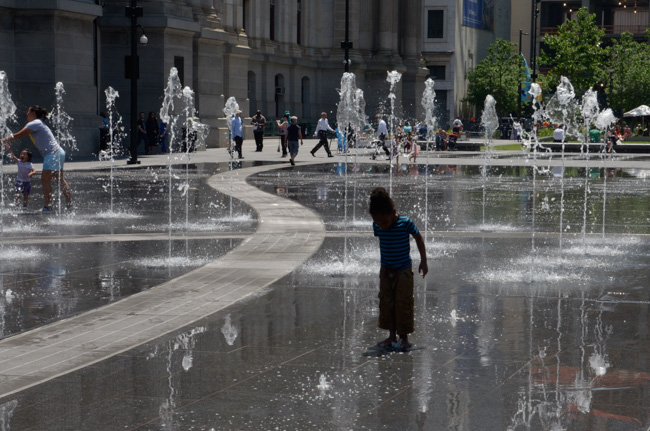 Our next destination was the Septa office to get permanent senior id cards. These would enable us to ride free without having to haul out our Medicare cards each time. Our route took us down Franklin Parkway to City Hall where we found this very popular plaza fountain. The little girl shown here was conducting an experiment to see what would happen if she stepped on one of the fountain shooters. The answer: it apparently detects the back-pressure and disables that rank of shooters. She may not be aware that she is a budding scientist, but she is. I hope no one squashes that instinct of curiosity as she grows older. Take that kid to the Franklin Institute!
---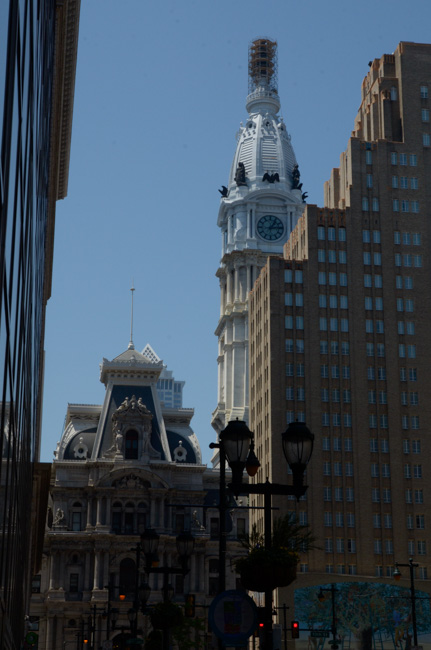 On our way to Septa we asked at City Hall about tours. Taking one had been on our to-do list for this trip. Alas, the tower was undergoing repairs, as seen by the fact that William Penn is enveloped in scaffolding, and wasn't open for tours.
This excursion had to be postponed until our visit in 2019.
---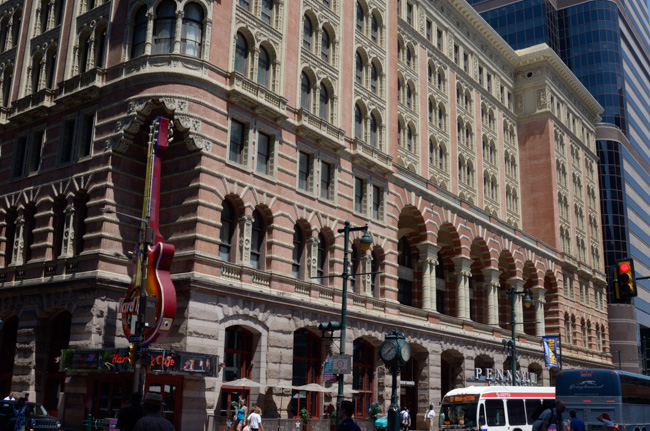 Being in the neighborhood we had to visit the old Reading Terminal, now the Pennsylvania Convention Center. We took many a "ride on the Reading" to visit Jim's folks in the days before passenger service was stopped in the 1980s.
---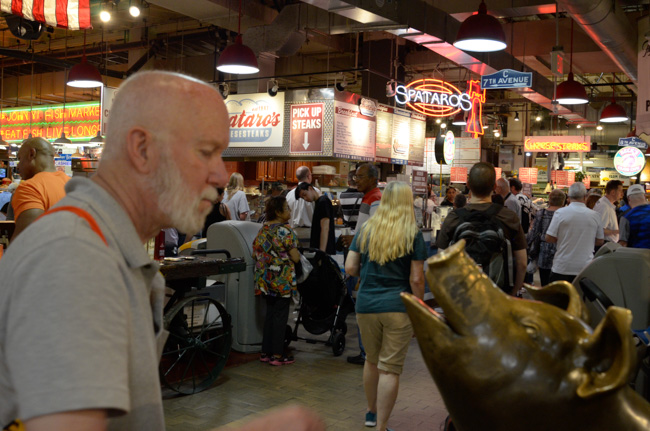 Philbert, the Reading Terminal Market's "piggy bank," raises money for The Food Trust.
We had cheesesteaks at Spartaros, shown in the background. Next time we'll try Carmens, which had a better write-up in Trip Advisor (and a much longer waiting line). As if we weren't stuffed enough, we topped it off with ice cream at Bassetts, the oldest ice cream company in the US (there's a lot of that kind of thing in Philly).
---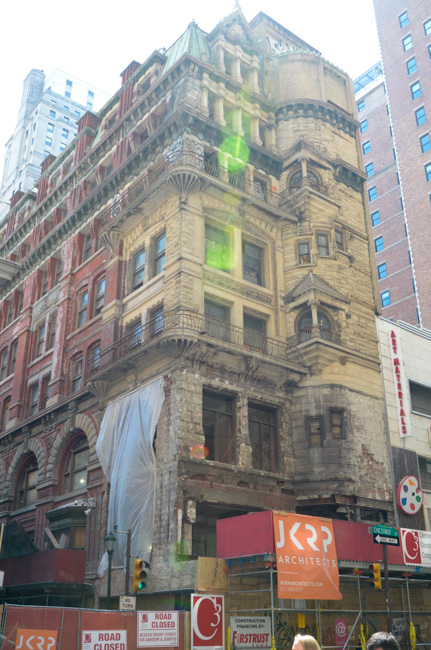 On our walk back to the hotel we passed this old building that I had noticed on our earlier visit. It was an elegant structure with a gosh-awful plate-glass excrescence on the lower floors. Someone has purchased it and is in the process of (we hope) restoring it to its former beauty. The facade that had been covered by the glass is heavily damaged so we hope that it can be recovered. Click to see the remuddled facade.
After our excursion we returned to the hotel for a break. I had brought my fiddle along since I'm planning an intensive program of practice that will lead to memorized tunes and better playing. I brought the music for only a couple of tunes and found that spending a week practicing only two tunes, although boring, leads to great progress! Git down!
---
Click your "back" button to return to the previous page or click for our picture album.