The Birmingham airport is connected directly to the railway system. It makes it quite convenient to step from your plane and catch a train to anywhere in England. Our first stop was Oxford.
---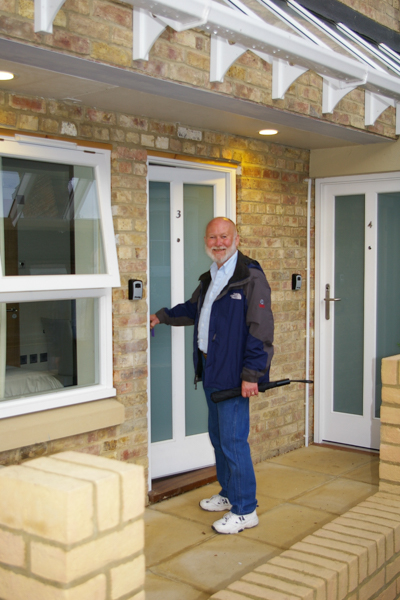 We had reserved a room at the Ethos Hotel. It is conveniently located a couple of blocks from the Thames (or Isis as it is called within Oxford), and within walking distance of everywhere we wanted to be – including the railroad station.
The hotel is in a residential neighborhood and has been converted from some existing houses. It didn't have the traditional "front desk staff" of a regular hotel, however. When we arrived the lobby was deserted. We ended up having to use the cell phone we purchased on our last trip to England to call in order to get someone to check us in. The sole employee on duty was cleaning rooms.
Our room was more like a tiny apartment than a hotel room and was very comfortable.
---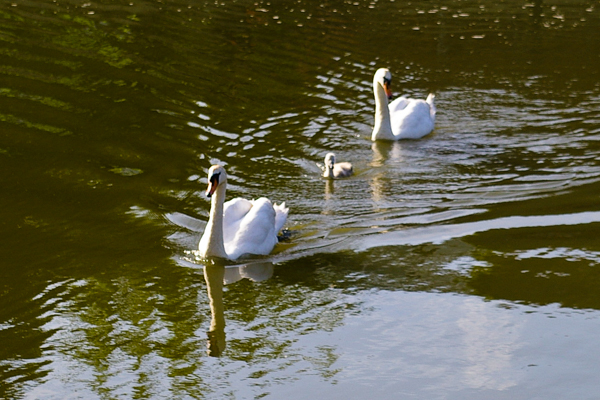 We had visited Oxford a few years earlier and after five days had not seen nearly enough. We were thinking that another three days would enable us to wrap it up.
Silly us! There is still a long list of things to see and do in Oxford.
This swan family was begging along the Thames. We used the river walk frequently to and from downtown.
---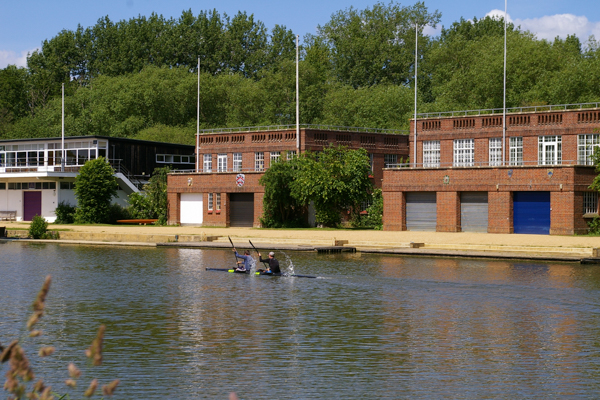 Boats of all types are common sights along the Thames. This pair were motoring along in a kind of two-person kayak. The buildings are the boating clubs associated with the various colleges composing the university.
---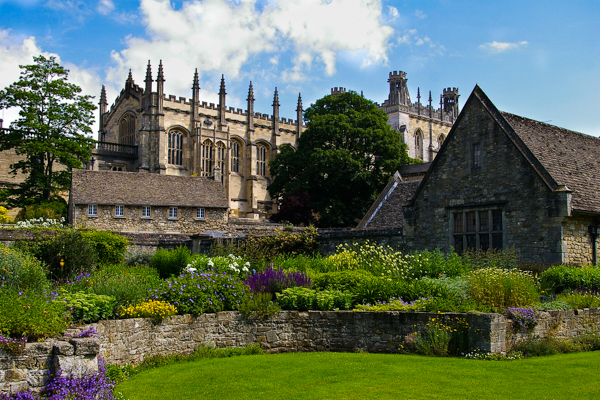 One of the places that we had visited during our earlier trip was Christ Church College.
On this trip we returned to see the Christ Church meadow. The entrance was by this lovely garden.
We also enjoyed the evensong service at the Christ Church Cathedral, which we had missed on the earlier visit.
---
A very different kind of garden was the one belonging to
St. John's College
. This landscape garden relied more on trees and foliage colors than flower beds.
---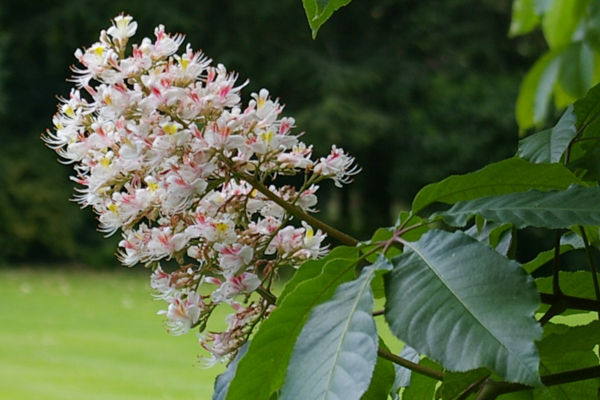 One of the trees that captured my attention was this horse chestnut with pink, rather than white, flowers. Subsequent research indicates that it is a hybrid, variety 'Plantierensis.' It is sterile, meaning it drops no fruit. Hmm, wonder if I can get one in Virginia?
---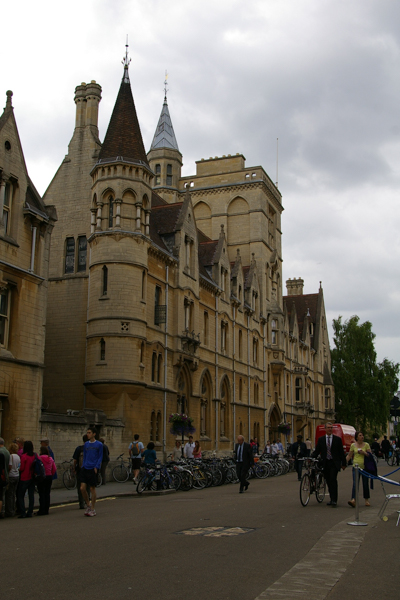 Broad Street is one of the main streets of "downtown" Oxford. There is very limited vehicular traffic, but crowds of bicycles and pedestrians.
The interrupted pavement in the center of the street is the location of a cross that commemorates the execution of Thomas Cranmer (Archbishop of Canterbury), Nicholas Ridley (Archbishop of London) and Hugh Latimer (Bishop of Worcester). This is believed to be the place where they were burned at the stake under the rule of Queen Mary I.
---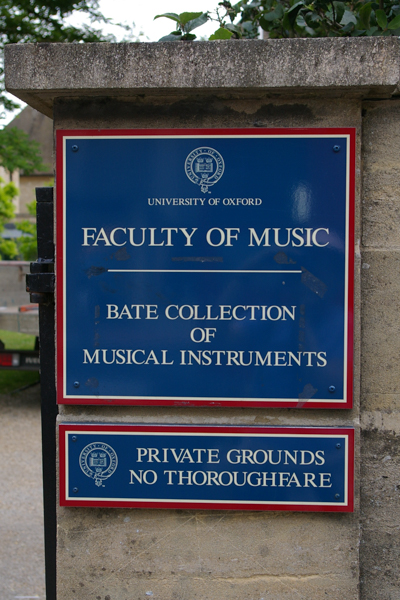 While wandering around town we passed this museum. Intrigued, we wandered in. Check out the link to see more of its collection. One unique feature is that individuals can apply to play instruments. I was allowed to take pictures, but had to promise that I would never put them online. If you want to see elaborately painted harpsichords and such like, visit their web site.
One of the joys of traveling is that something completely unplanned can become a high point of the trip. Actually, it's one of the joys of life in general!
---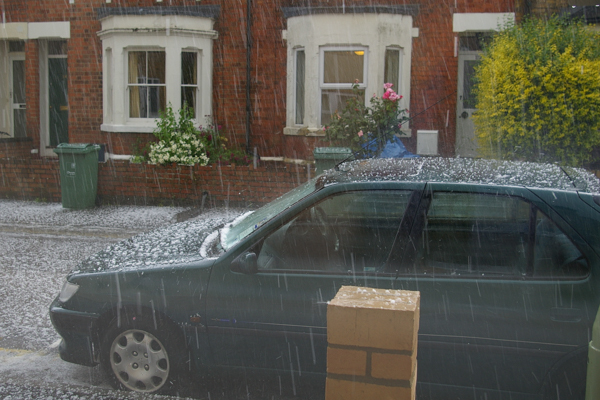 Speaking of unplanned events....
Later that afternoon a thunderstorm moved into town bringing this hail with it. We were glad that we had returned to our hotel before the skies opened. It lasted only a short while. The two young women in the unit next to ours were enthralled until one of them ran out into the street barefooted. She seemed surprised that the ice was quite cold!
By the time we went out for dinner that evening, storm and hail were both gone.
---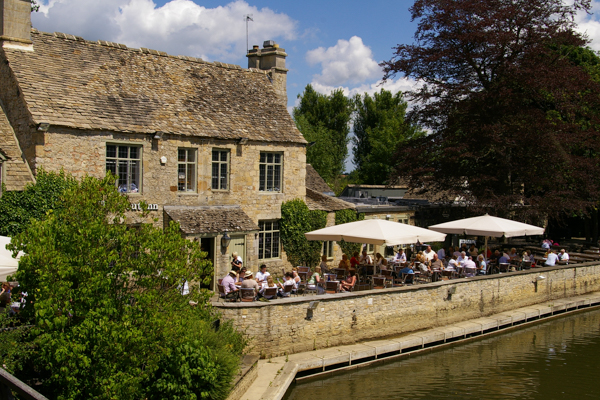 On our previous visit to Oxford we had planned to have lunch at The Trout, but too many others had the same idea and we had to pass. This trip we made it a point to get there early enough to get a table right at the river's edge. There is excellent bus service to Wolvercote from Oxford city center.
We enjoyed good cask ale, tasty food, great weather, marvelous ambiance. What could be better?
---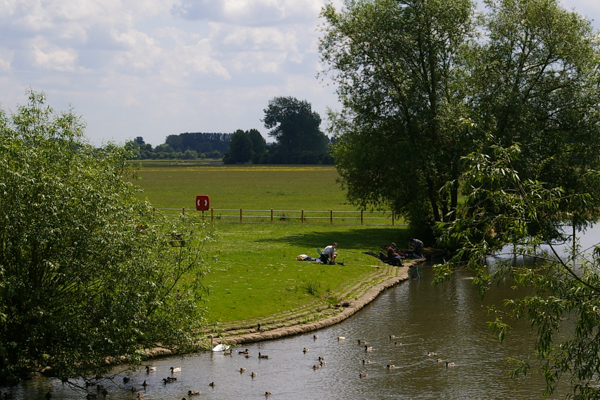 After our meal, we walked around a portion of
Wolvercote Common
. The common is a unique ecological environment that has been uncultivated grassland for more than a millennium! On this day it was the scene of some fisherfolk and assorted wildfowl.
---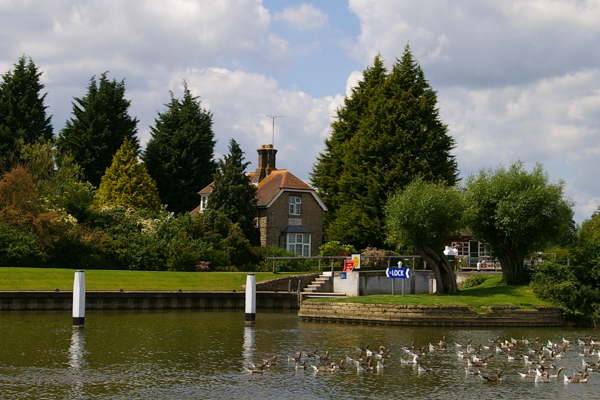 A lock on the Thames across from the common a bit downriver from The Trout.
The management of the common and the adjacent Port Meadow is the source of some traditional rivalries. The Freemen of Oxford were given exclusive rights to grazing on Port Meadow back in the 10th century. Every year there is a "raid" to round up "illegal" livestock encroaching from Wolvercote. A small fine releases impounded animals for another year of grazing.
---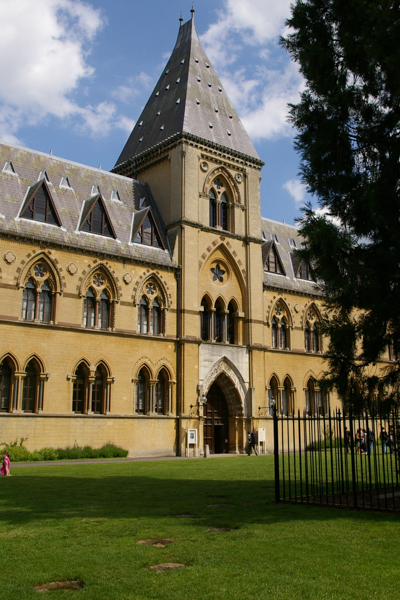 Since our last visit to Oxford we had the privilege of traveling to Antarctica. Much of our reading for that trip focused on the voyages of Captain Cook. The historical and ethnographic collections from Cook's voyages are housed in the Pitt Rivers Museum.
This is not the Pitt Rivers Museum. It is the Oxford Museum of Natural History. The Pitt Rivers Museum is entered through this museum.
The indentations that look like stepping stones in the grass are dinosaur footprints! I don't recall if they are actual fossil footprints or impressions of fossil footprints.
We were disappointed to find that almost all of the Cook collection was out on loan. Ah well, there were very many interesting things to see in these two museums.
---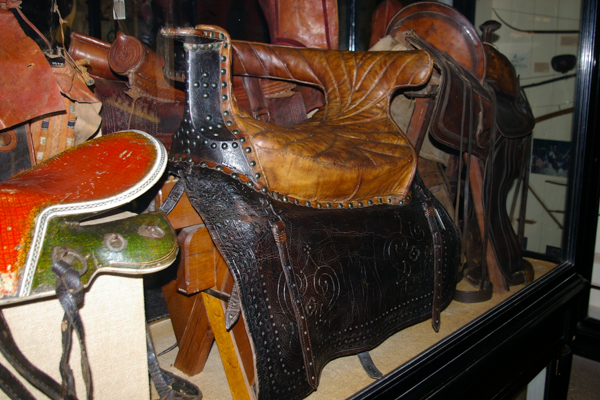 The museums were configured like museums of the past with exhibits crammed into display cases. Sometimes there was a theme to a case; sometimes there wasn't. This case contains vintage saddles. I liked this early side saddle. Originally ladies would ride aside on a "pillion" pad attached behind a regular saddle. The next development was a saddle such as this one where the lady would sit sideways. It was a very insecure seat!
Later side saddles provided much more security and flexibility. Check this web site that describes side-saddle evolution.
---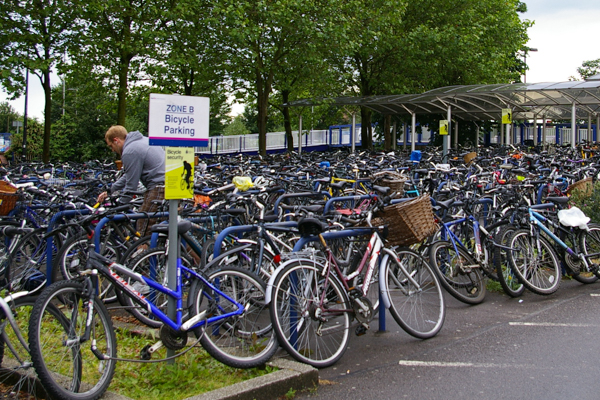 It was time for us to move on to Bath. When you get to the train station and find a very crowded long-term parking lot for bicycles, you know that you're not in Kansas anymore!
Click to continue to Bath or click your browser's "back" button to return to the England overview page.
---