Beans was the sweetest cat I've ever known. He appeared at the farm as a kitten during a bitter, bitter March. Our two barn cats, Chile and Sassafras did their best to chase him away, but he wouldn't be deterred. We began to put food out for the starving kitten. Later we found out that many people dump kittens near farms hoping that they will find homes there. So much better to have your queens spayed!!!
But Beans found a welcoming home; even the cats grudgingly accepted him. We had him castrated and otherwise cared for. Unfortunately after a time he was diagnosed with feline asthma. The vet put him on medication and he seemed to adapt fine ... until one day he disappeared.
We posted flyers throughout the neighborhood emphasizing that he needed regular medication. We searched the barn and elsewhere on the property. It wasn't until several weeks later that we found his body in the barn. We'll never know whether he was trapped somewhere until he was able to escape and come home to die or whether someone had "adopted" him and hadn't seen our flyers. We missed him very much – as did our vet. Everyone there had come to love him as well. His was a tragically short life.
---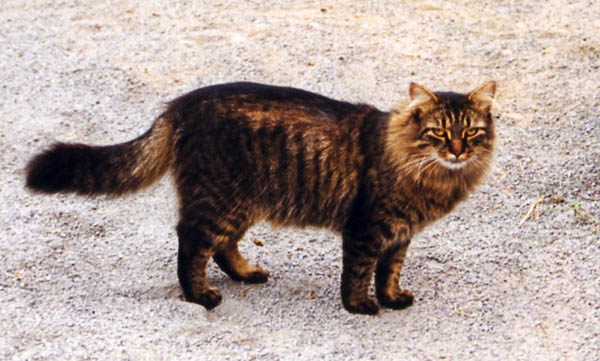 Beans was similar to Muffin in appearance, but much browner. We still miss him.
---
Click your "back" button to return to the previous page or click for our picture album.