I added Iowa to my "life list" of US states at our stop here, brief though it was. We would see more of Iowa later. Only the Dakotas are left to round out the fifty states.
Since we had opted for the morning trip to Galena, we didn't get to see much of Dubuque. The most interesting attraction would have been the National Mississippi River Museum, but it was not included in our tour package and there wasn't enough time after the Galena excursion to explore it. My second choice was to add the world's "shortest and steepest" to my funicular collection.
---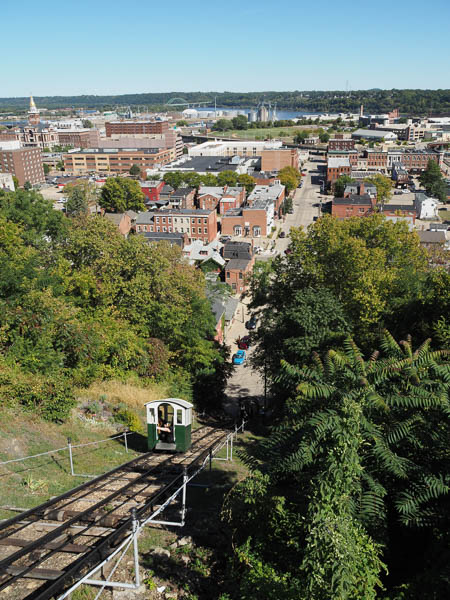 The Fenelon Place Elevator Company got its start in 1882 when a local banker needed a quicker commute from his office at the bottom of the bluff to his home at the top. He built a simple one track railway.
Over time his neighbors became interested. They banded together to form a company and charged a minimal amount for a ride. After more time, and several fires, the single-track-single-car system was turned into a two-car funicular.
It's a cozy ride. The current cars seat about six friendly people.
---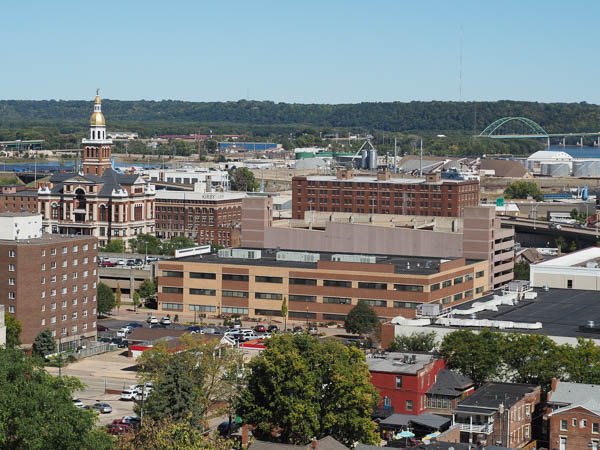 The ride is worth the view. The view is worth the ride.
The golden-domed building is the Dubuque County Courthouse, built at roughly the same time as the original version of the funicular.
---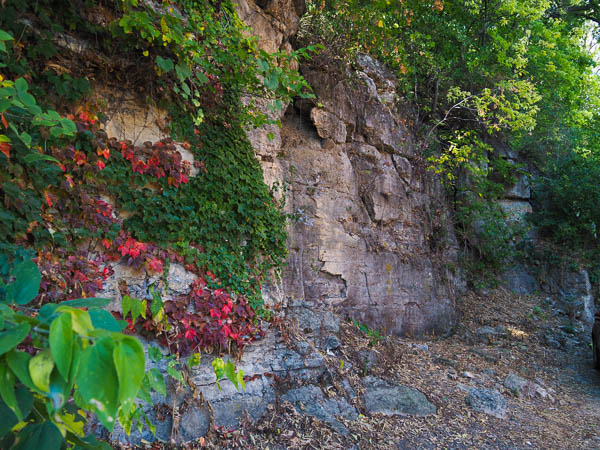 Although most of the northern US was glaciated in the last Ice Age, the area around Dubuque and Galena is within the driftless area comprising parts of Illinois, Iowa, Minnesota, and Wisconsin. This region was never glaciated and features steep river valleys carved into the plateau.
This portion of bluff is representative of many formations that we passed within this boundary.
As a non-geologist, I find the term "driftless" to be confusing. One of the guides wondered, and I agree, what is wrong with the term "unglaciated?"
---
Click your "back" button to return to the previous page or click for our picture album.