Even though Jim isn't skiing anymore, we signed up for the Potomac Valley Skiers' annual trip to Snowmass. We would be celebrating our 40th wedding anniversary while in Colorado, and Jim came up with the idea to host a dinner party for the group. After all, we spent our honeymoon on a PVS trip!
---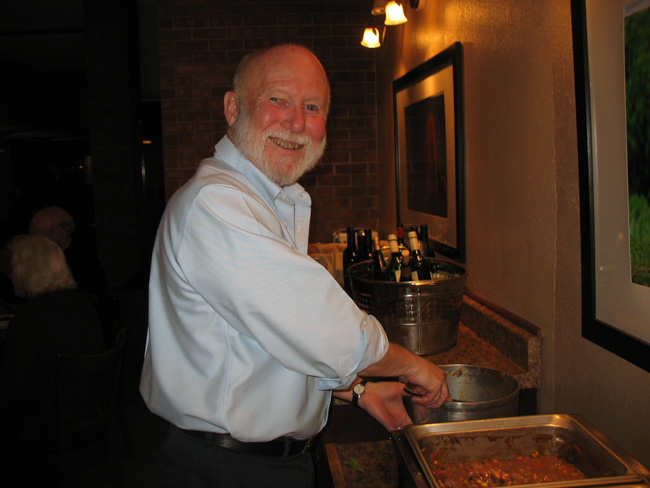 After considering many other alternatives and talking with several local restaurants on the phone before our trip, we decided on holding the party at our hotel, the Snowmass Mountain Chalet, with food catered from The Stew Pot.
Fletcher and his staff were great. The food was delicious and delivered in plenty of time.
---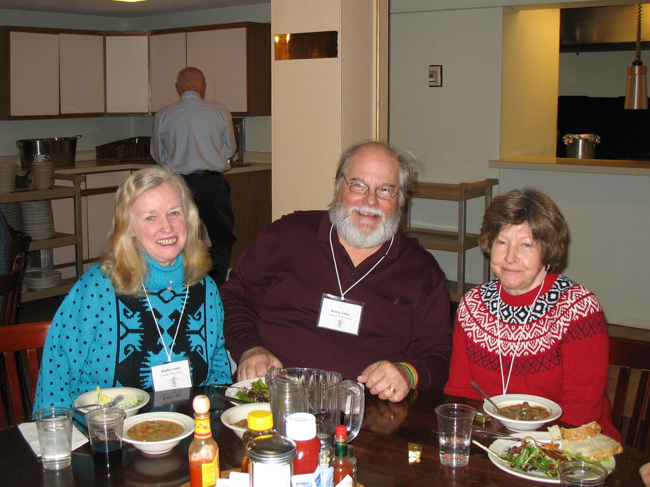 Kathy & Barry Lake, shown here with Sue Lyon, were our intrepid trip leaders. They made sure that every day had something special going on. I hope they had as good a time as the rest of us.
---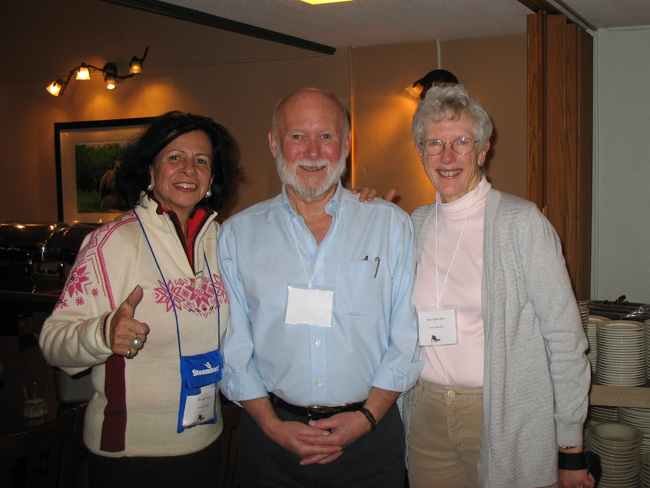 Jim and I with Blanca Hoteling. Blanca was the designated photographer during the party and provided most of these photographs.
The black band on my left hand isn't a fashion statement. Early in the week I fell and sprained my thumb. A visit the next day to the clinic proved that nothing was broken. They gave me a dandy splint that enabled me to ski and otherwise get around with minimal problems.
---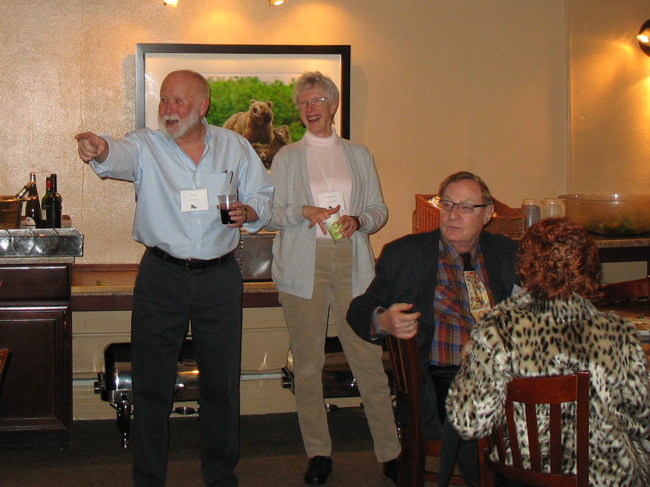 Jim entertained us with funny tales of our honeymoon, which had its share of humorous challenges.
---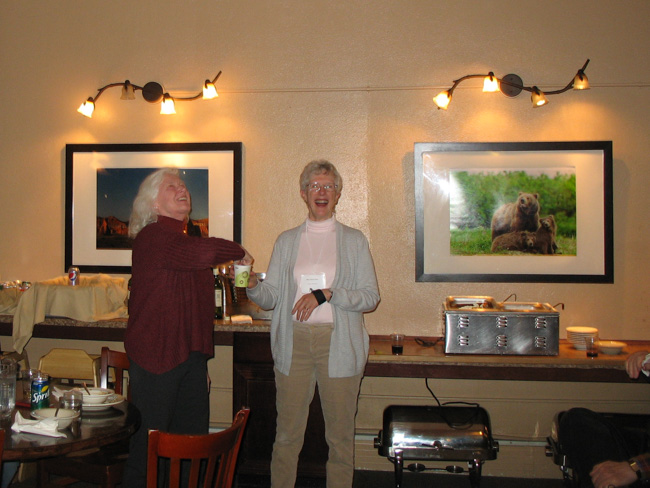 By chance our boot bag had included a fanny pack that Jim doesn't use any more. We tried earlier in the week to give it away, but had no takers. Kerry Hines suggested that we give it away as a door prize during the party. That sounded like a great idea so we collected a few goodies, Jim chopped up a list of participants and away we went. Alice McNulty did the first drawing. And the winner is....
---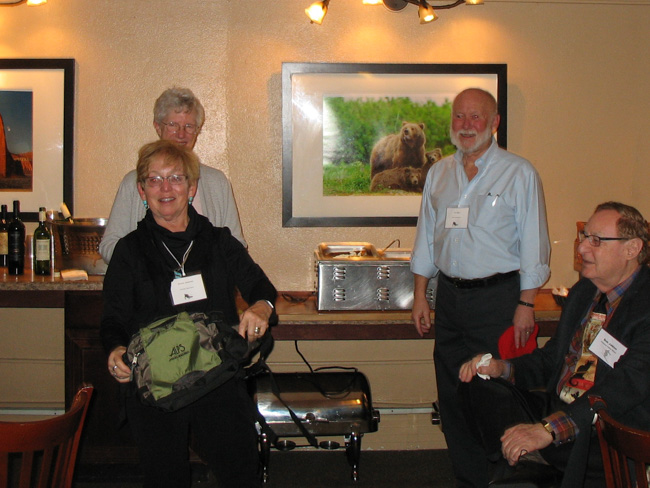 Bonnie Sweeney won the deluxe fanny pack. (It really is a nice fanny pack and was only used a couple of times hiking.) She said that she is something of a collector of bags, so it was a good fit. Bonnie drew the next name. And the winner is....
---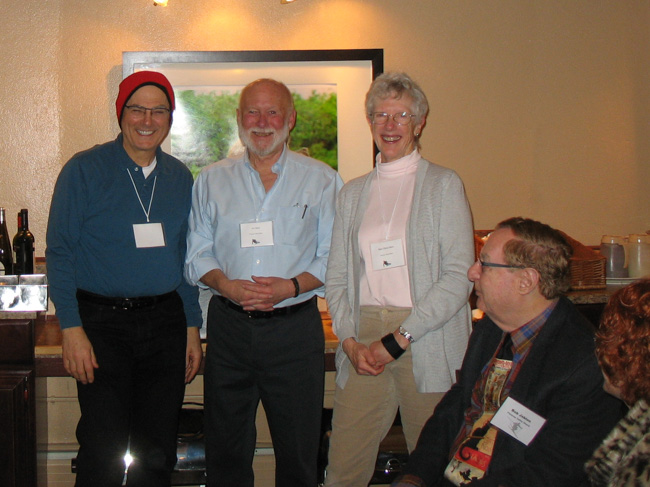 Tom Tycz was the lucky recipient of this snazzy reversible knit hat courtesy of Swiss Airlines Business Class. He modeled both the black & the red sides, but the red was the unanimous favorite. Tom then drew the final winner who was....
---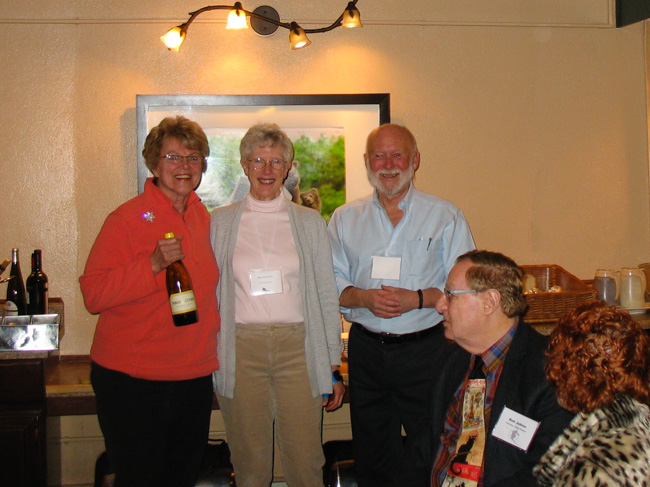 Marianne Soponis won a bottle of Sonoma Cutrer chardonnay. Mary Ellena's mother's maiden name was Cutrer and this winery was founded by her second cousin, Bryce Jones. Brice sold the winery a few years ago, but it is a sentimental favorite.
Kerry's suggestion made for a lot of fun!
---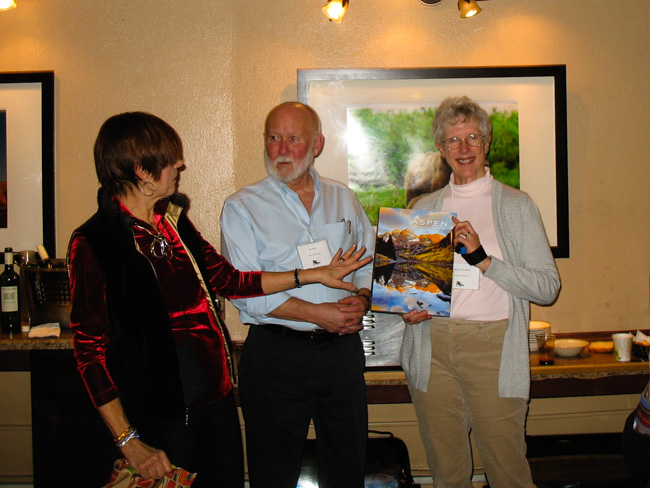 But the fun wasn't over yet. First Marianne made a humorous summary of some of our past. We just thought she was getting to know us and she was pumping us for material! Then, although we weren't expecting any presents, Rosemary presented us with a lovely picture book of Aspen. It even included a really nice aerial shot of Snowmass from a few years ago.
---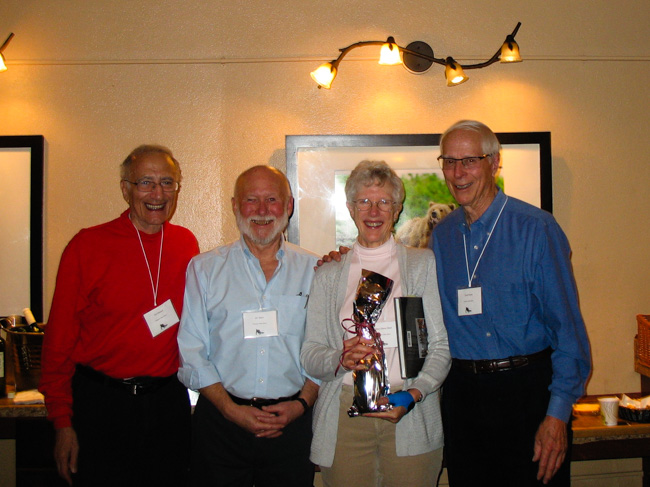 And then Kal Nossuli and David Payne presented us with a fine bottle of Spanish cava to celebrate. David said that he was sorry that he couldn't present a bottle of bubbly from the winery that he and Susan operated for many years, but it wasn't available in Snowmass.
We were later able to share the wine with everyone as we waited to depart for our final dinner. It was yummy -- even when drunk from the little paper cups by the water cooler!
---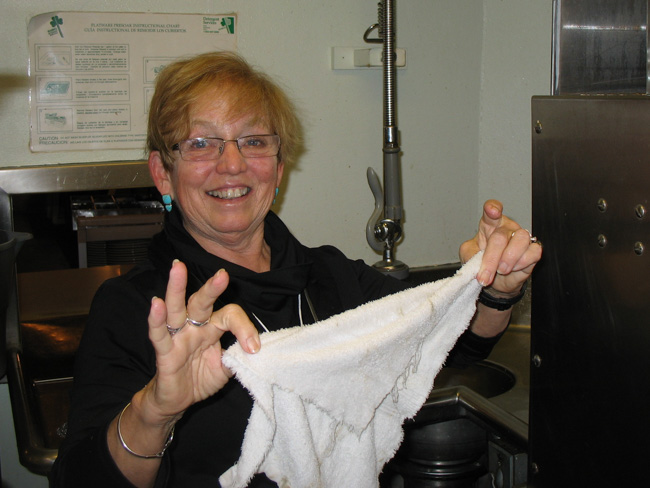 One of the conditions of our using the breakfast room at the Chalet was that we would clear up everything afterwards. Just about everyone pitched in cleaning tables or washing dishes. Thankfully they had given us permission to use the industrial dishwasher, which made things go much faster.
Bonnie was the pre-processor extraordinaire. She even figured out how to run the garbage disposal. Don't laugh -- it wasn't obvious.
---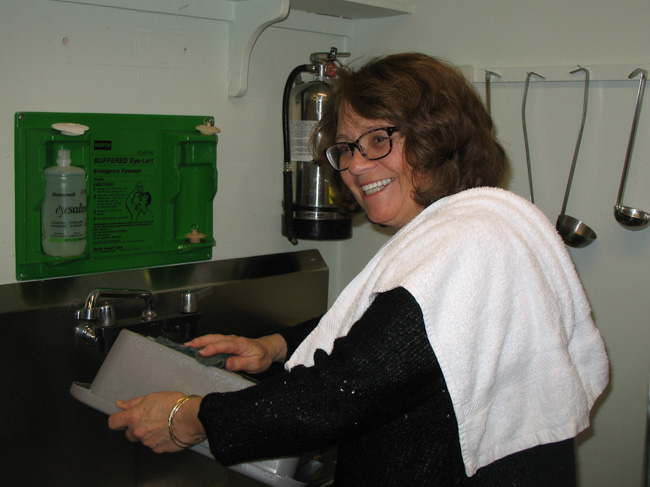 Blanca Hoteling and Mary Tycz took turns with the heavy-duty washing that couldn't be done by machine.
It was a great party and a fitting kick-off for the next 40 years.
---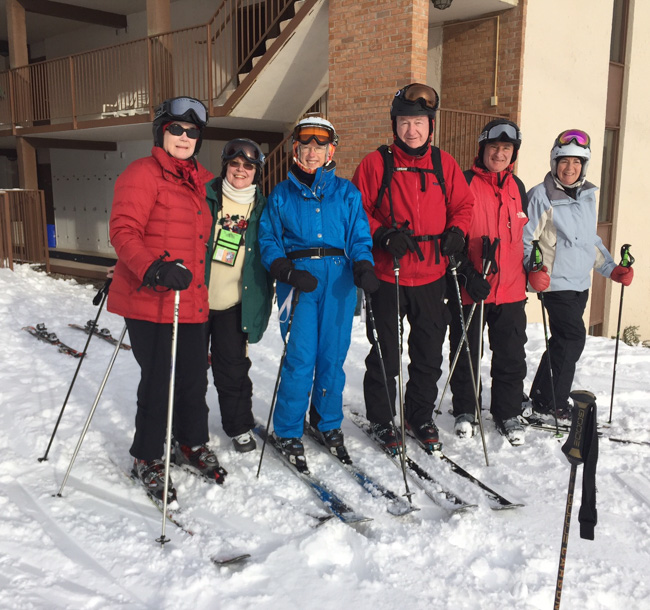 Oh, and we also did some skiing during the week! From L to R: Jannes Gibson, Marianne Soponis, me, Bruce King, Jon Wechsler & Jill Nelson.
Picture courtesy of Rosemary Schwartzbard.
---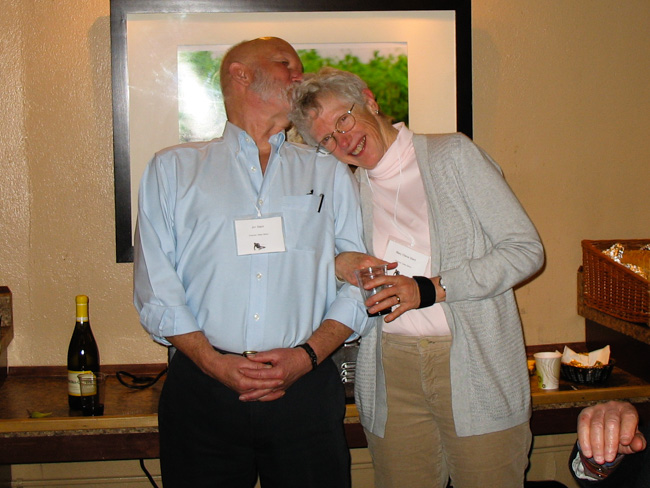 Ready for the next 40 years!
---
Click your "back" button to return to the previous page or click for our picture album.