As for people who were dear to me, many of them have passed on, but I was able to reconnect with some of those that remain. What I did not do was take my camera to the reunion events for a variety of reasons. Ellis Koury, one of my classmates did, however, and has posted them online.
I will scour my snapshots at some point in the future and attempt to fill in other missing people. Unfortunately my parents took Super-8 movies rather than snapshots. I have many of them, although I don't know how to get them online, but all the movies of my horse years have vanished.
---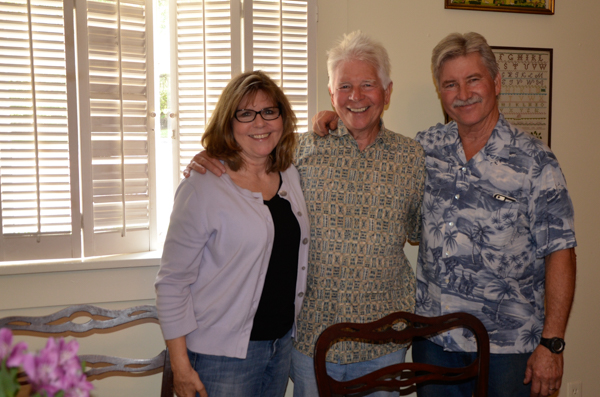 As I mentioned earlier, the Ferris family lived upstairs in our house on Baum Street.
Kim, Minor and Mac Ferris (Mac having been born after the Ferrises moved from Baum St.) are all still living in Vicksburg. We grew up in each other's houses and even spent occasional vacations together. It was great to reconnect with them.
---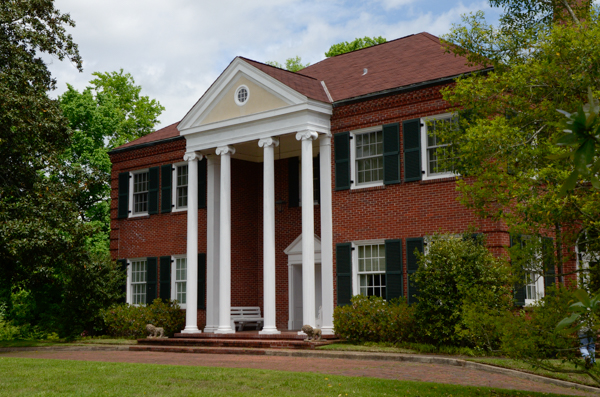 Minor still lives in the house where they spent most of their growing-up years. It is situated high on Fort Hill overlooking the Yazoo Diversion Canal that joins the Mississippi River at Vicksburg.
The property is completely enclosed by the Vicksburg Battlefield Park and its presence is a continuing annoyance to the Park Service. Prior to the 1960s the Park was open to the public, but at that time the entrances were closed so that access could be controlled and admission charged.
The entrance at Fort Hill, however, must remain open to allow access to this house.
---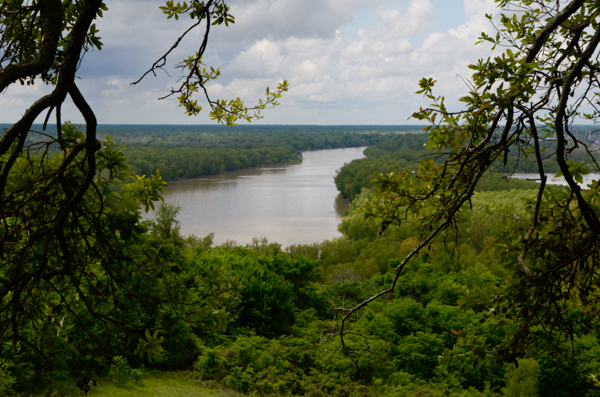 The view from the property is spectacular. This is the Yazoo Canal constructed after the 1876 "centennial" cut-off, which changed the course of the Mississippi River (not visible here) to a location some miles south. More about this cut-off can be found in the description of a trip to Vicksburg in 2006. The water was high during this visit.
The Vicksburg Harbor can barely be seen to the right. This harbor, which can handle deep-water ships, was constructed in the 1960s. My father was one of the primary supporters of the project.
Adjacent to the Ferris property is Fort Nogales where we used to play as children. We roamed all over that section of the Park. Life was good for us free range kids. And we survived!
---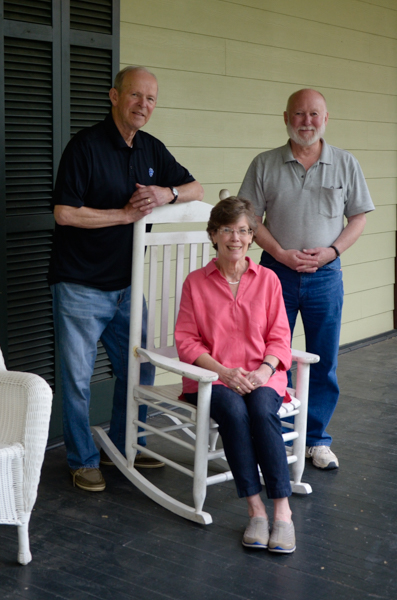 Another family that was very close to us when I was growing up was the Faulks. Charlie Faulk was the editor of the local paper. His wife was named Liz. Two of the children, Jeneva and Fred were about my age. At first the family also lived on Baum Street and we were constantly in each other's houses and spending time together boating on the Mississippi River. (Going to the "sand bar" was our equivalent of going to the beach.) Later they moved to Jackson, but we still spent summer Thursdays together when Liz would drive over to Vicksburg for her bridge club. I was also included on some family vacations. Eventually the Faulks returned to Vicksburg and settled for good.
Jeneva and her husband Bob Pickett still live in town. Fred moved to Starkville, MS, and I was very sorry to hear that he has since died.
We got together for lunch one day at a restaurant called Walnut Hills. This restaurant had been conceived and founded by Kim Ferris although she sold it a number of years ago. It's still going strong!
---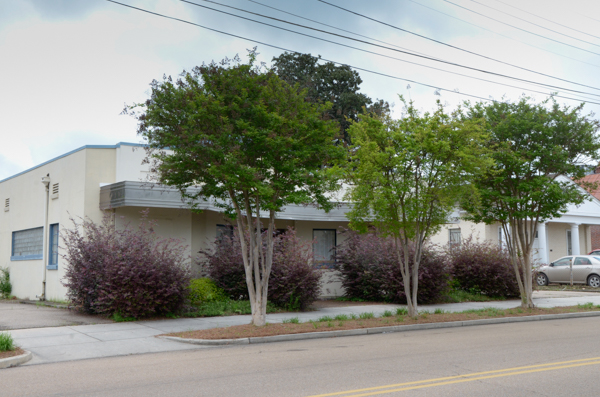 One of the places we frequented on those long-ago Thursdays was the Joy Theater. It showed more-or-less first-run movies and had the added attraction of AIR CONDITIONING!
It hasn't been a theater in years and is now nothing at all. Its most recent incarnation was as a restaurant based on the sign by the door. It is still a lovely Art Deco building.
---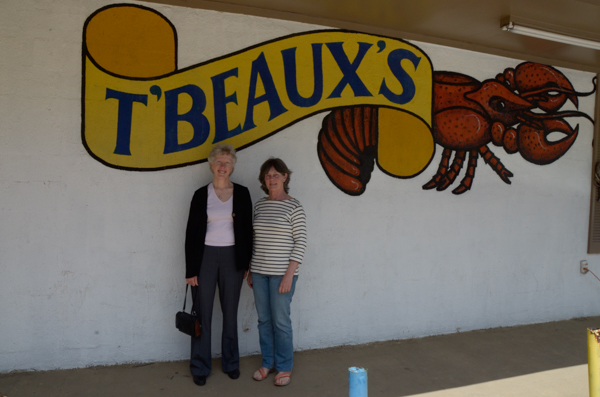 Jeneva and Fred had a cousin, Karen, who was also a good friend. I didn't know her through the Faulks, however. She had a horse that was boarded at the same stable where I kept my horse. I'm embarrassed to admit that I hadn't seen Karen in many many years, but we had recently reconnected via Facebook.
It was great to see her again for a Sunday lunch. The food at T'Beaux's was pretty good too!
---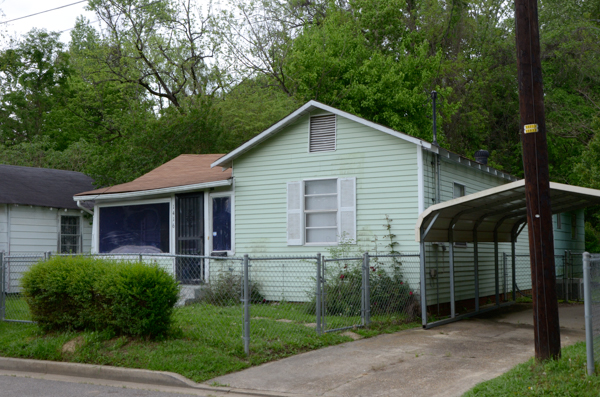 This modest house must stand in for one of the most influential people of my childhood: Saddie Jones. She started working for my parents when my brother was quite small and stayed until she had a crippling stroke in 1971 or thereabouts. Saddie died in 1973, aged 71.
Her life was filled with tragedy, but she was a woman of great resourcefulness and faith. This was her home. I was glad to see that it still exists and is well-cared-for. Nowadays the road is paved, which it was not during her lifetime even though it was in the middle of the city. African-American neighborhoods didn't get much attention back then. May not yet!
---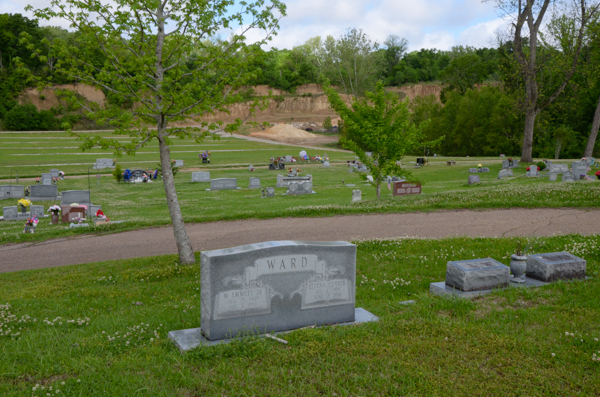 My father died in 1989 and my mother in 2001. When they purchased a plot in the "new" section of the Vicksburg Cemetery, my mother was upset that she didn't know any of the "neighbors." My father pointed out that once she moved there she would be past caring about the neighbors. She retorted that while that was true she cared about the neighbors NOW.
After my father died, whenever we visited the gravesite she pointed out friends or acquaintances who had "moved in" next door, so to speak. The neighborhood was looking up!
It appears that there is an entirely new section of the cemetery opening up nowadays. Who knows who might move in?
---
Click your "back" button to return.