We decided to travel to Barcelona a day early to allow some jet-lag detox. One of the features of this particular program was its "independence." Unlike many tours we were not tied down to buses and lectures all day every day. Another difference was that most meals were not included. Although there were lectures or tours for part of every day, we were given metro tickets and suggestions for restaurants and let loose on the town. It was the perfect way to see this fascinating city.
On most days there was a happy hour in the afternoon at the hotel. This enabled the group to get together, share experiences and possibly plan group outings for the evening. That was yet to come, however, because we started out on our own.
---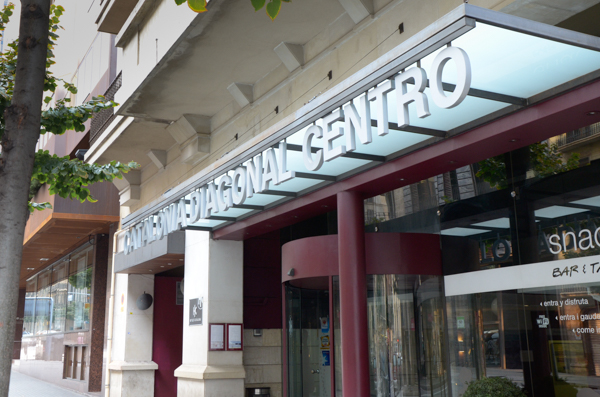 As usual Road Scholar had selected a very comfortable hotel in a convenient location -- the Catalonia Diagonal Centro. It is near the Avinguda Diagonal, which is a major street in the section of Barcelona called the Eixample. More importantly, there were bus stops and a nearby metro/train station that was the start for most of our explorations.
On this first day, however, we simply walked around the neighborhood of our hotel. It offered plenty to see.
---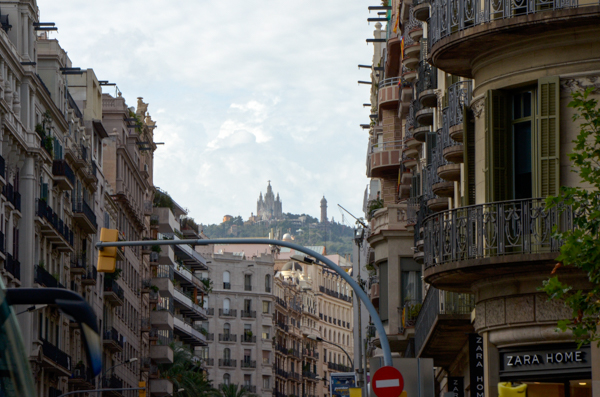 This is the block where our hotel was located. Our wonderful guide Luisa used the mountain with the church as one of our orientation points. Directions are often given as mountain-side or sea-side. It's easier than using the cardinal points.
The mountain is called Tibidabo. The church is Sacred Heart, but the location is known even more for an amusement park. There is a large Ferris Wheel, which is most easily seen at night.
---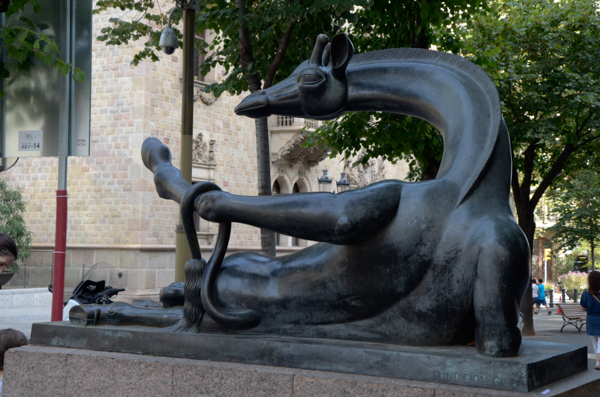 A block over from the hotel is the Rambla de Catalunya. It features this whimsical sculpture aptly called "The Coquettish Giraffe."
"Whimsical" is a word that occurs often in this description of our trip. Barcelona is a place that isn't ashamed to laugh at itself now and again.
---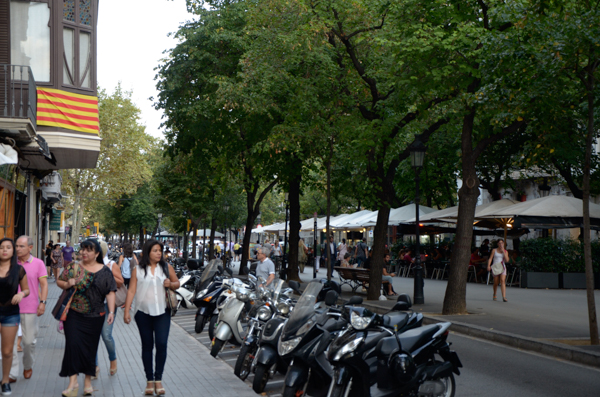 Rambla de Catalunya is not really part of "las Ramblas," which we will be visiting later. It was designed as an extension, however, and runs from the Plaça de Catalunya to Diagonal. It is a pleasant boulevard with space in the center for strolling and snacking at cafes.
---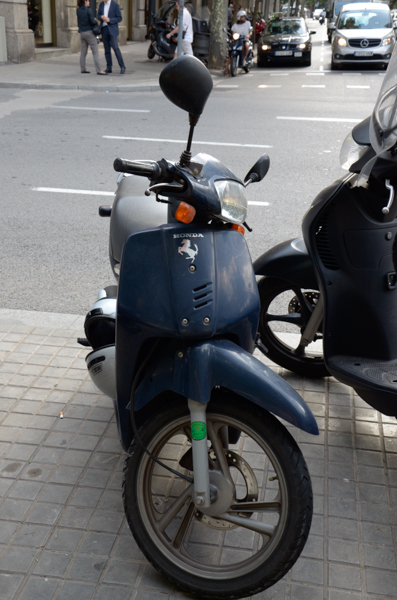 As we had noted in our earlier visit, Barcelona is a hotbed of scooters. This one was unique, however, in its appliqued Ferrari logo. Dream on, scooter rider!
---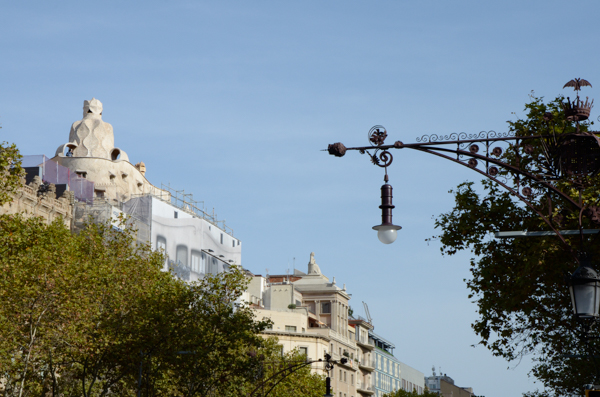 Passeig de Gracia and the iconic Casa Milà (or La Pedrera) was only three blocks from the hotel. We had visited this marvelous building when we first visited Barcelona in 2012 so didn't tour it on this trip. The Catalan word Passeig is pronounced more-or-less like the English word "passage."
The exterior was being restored so it was wrapped in scaffolding covered by a scrim containing an image of the facade.
The street lights are wonderful. I particularly like the bat finial.
---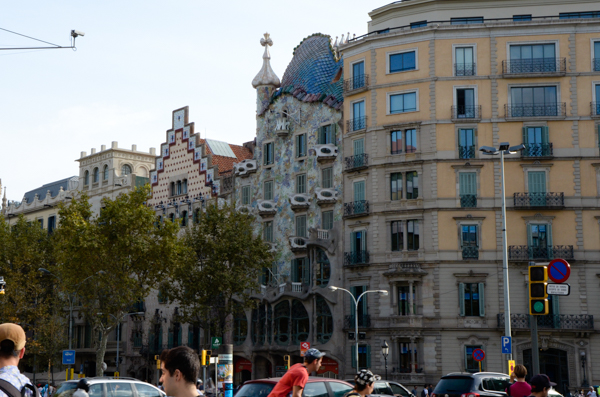 A couple of blocks down the street is the Casa Batlló, also designed by Gaudí (the spoken emphasis is on the last syllable). It was high on our list to visit on this trip.
The pre-trip reading introduced us to many of the other notable Barcelona modernisme architects, such as Josep Puig i Cadafalch (not much available on the WWW in English, unfortunately), who designed Casa Amatller, the house to the left of Casa Batlló.
---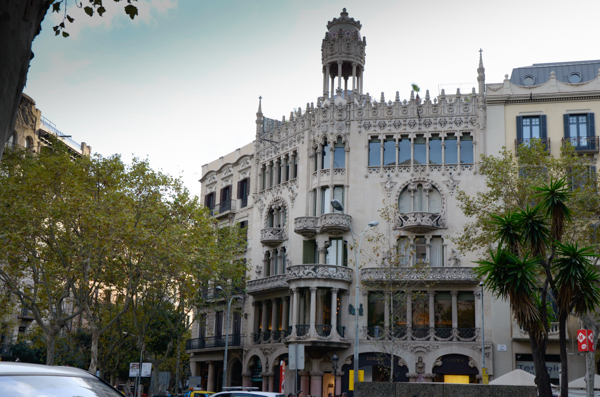 At the other end of the block is the Casa Lleó i Morera designed by Lluís Domènech i Montaner, another of the modernisme architects. We will visit one of his master-works, the Hospital of the Holy Cross and St. Paul, later in the week.
This house had been significantly damaged during the Spanish Civil War and then later by "remuddling." Since 2006 the exterior has been restored to its original appearance.
---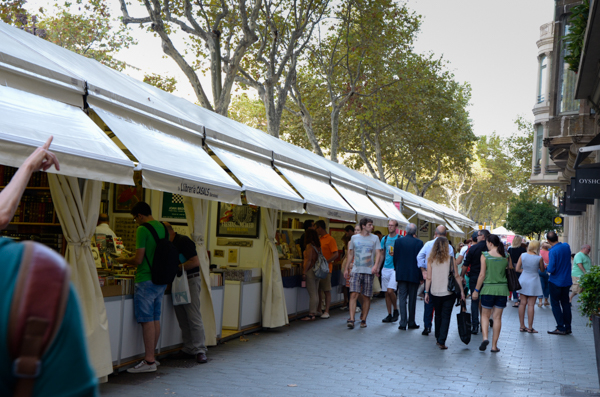 An annual book fair on the Passeig de Gracia is a feature of the La Mercè festival. These stalls were on both sides of the street and ran for at least a block, maybe more.
One of our group groused (tongue in cheek) that all the books were in a foreign language! We actually did see a small "foreign language" section at one of the stalls that offered some English books.
---
A whimsical (that word again!) door knocker seen on our travels. It was very tempting to knock -- and then run!
---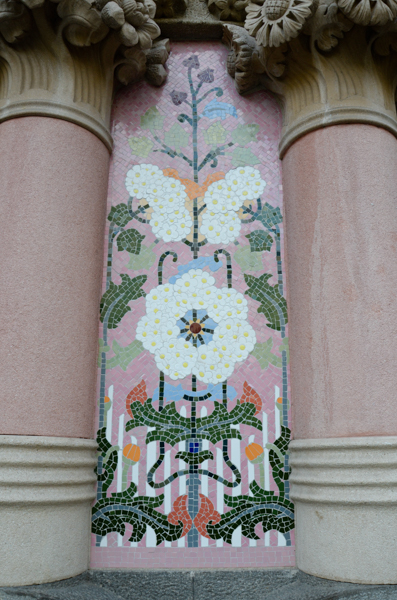 Beautiful mosaics and other details were seen throughout our rambles.
Barcelona was fascinating enough that we were able to stay awake until almost a decent hour before crashing at around 8pm.
---
Click your "back" button to return.