This is a relatively new, and very fun, tradition that has been added to Fur Rondy. It is a light-hearted version of the Pamplona Running of the Bulls. One of our group signed up to run so we were looking forward to someone to cheer on. The fierce traffic made us too late for her to get to the starting line at the appropriate time. Phoo!
There was much discussion about the difference between reindeer and caribou. We never got an authoritative answer, but there was general agreement that caribou are wild and reindeer are domesticated. Since getting home, I find that the science (as presented on the WWW) is also somewhat confusing. They are the same, only different. Domestication appears to make the difference.
---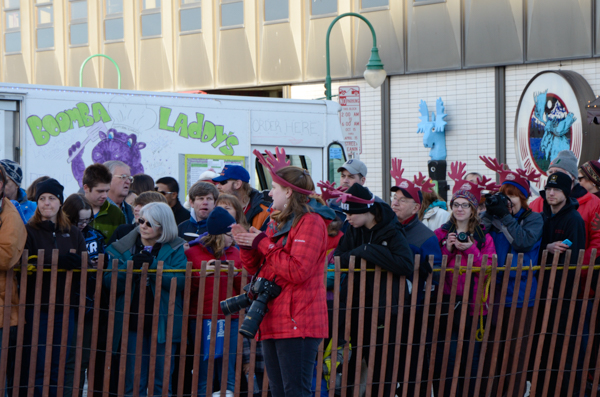 The crowds seemed even larger than at the Iditarod start. All who signed up to run received colorful reindeer antlers.
Enough people signed up that the "running" was done in several heats.
The first heat was men only. One of the guys ran in a costume of his birthday suit. Brrr. It wasn't THAT warm!
---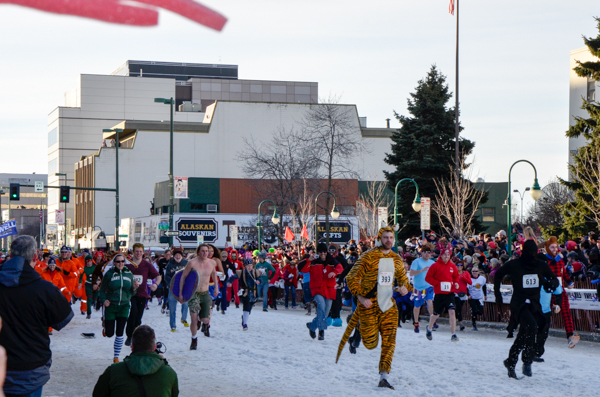 Tony the Tiger and Surfer Dude were the standouts in this heat. Wonder Woman is mostly hidden by Surfer Dude.
---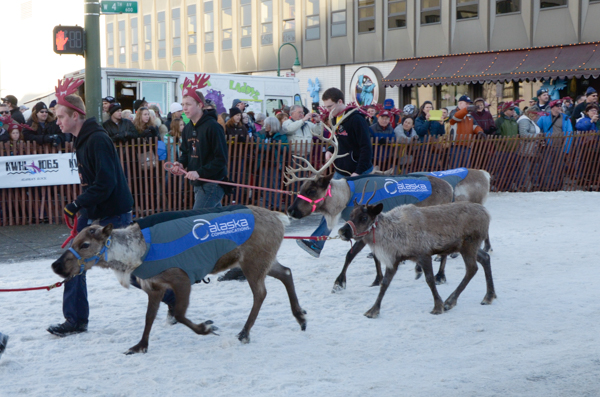 Handlers captured the reindeer and returned them to the starting line for each heat.
I was surprised at their small size. They are not aggressive so there is no real danger from those imposing antlers – unlike the Pamplona bulls.
Our bus driver said that at the inaugural event the animals wouldn't run. They just stood around. He said that they now use males and station a female in season at the end of the course. That inspires the males to run. Maybe. I'm not sure I'd believe anything about this event.
---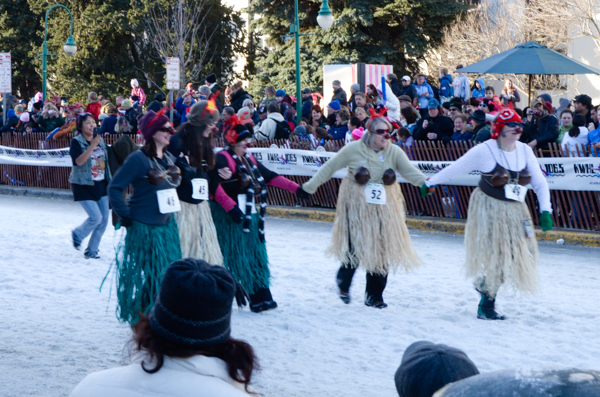 These ladies were inspired by a warmer climate than Alaska.
---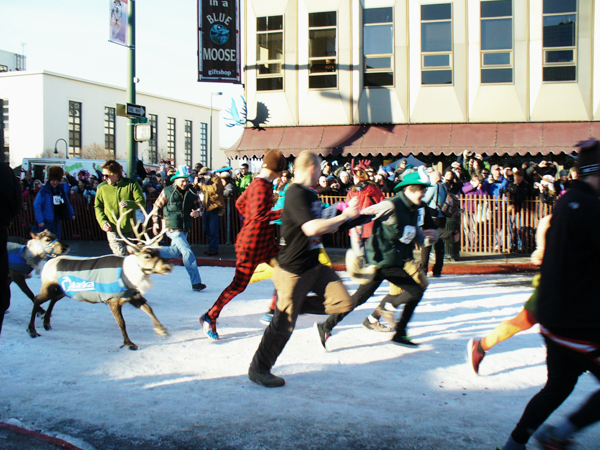 I was able to catch a picture of one reindeer trying to keep up with the crowd, but Beverly Rettig got a much better shot, shown here.
---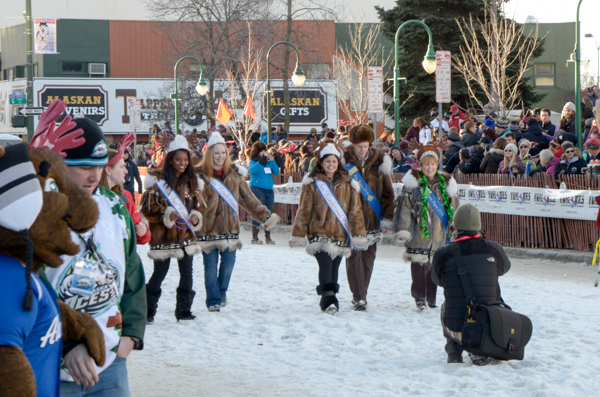 Every celebration needs its royal court. "Miss Fur Rendezvous" is on the left, accompanied by two "Princesses" and the King & Queen Regents, 2014.
Subsequent images are fun costumes. You may check them out or proceed directly to some pictures of Girdwood "city center."
---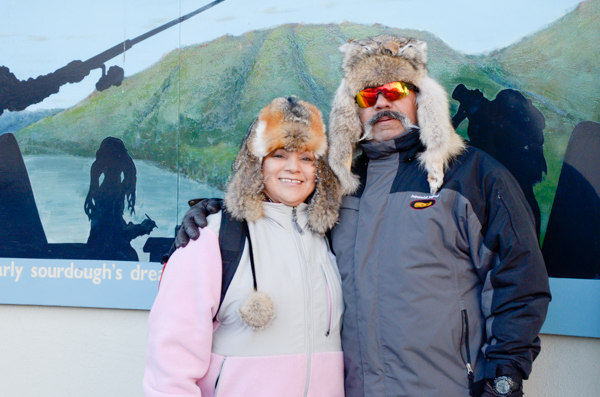 I'm not sure that this couple was in costume. They seemed very much at home in these hats.
---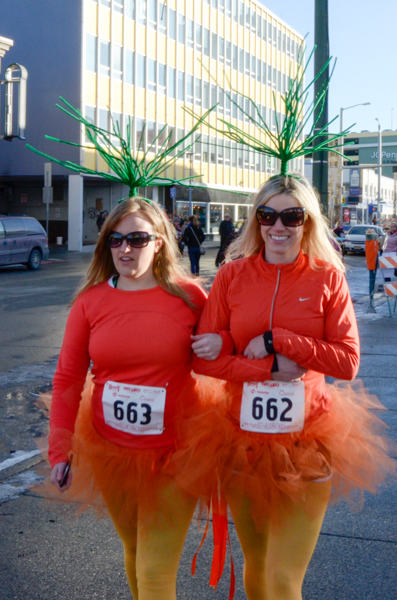 I THINK this pair were representing carrots, but I could be wrong.
I remember a Halloween years ago -- Jim decided to go to a costume party as a carrot. I planned to go in my horseback riding regalia. I made him a rather creative costume and we arrived at the party to find that we had the date wrong. The party was the night before.
---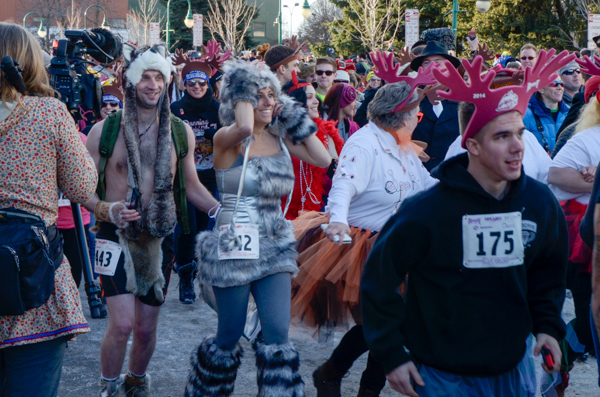 This couple was in the "fur" spirit.
---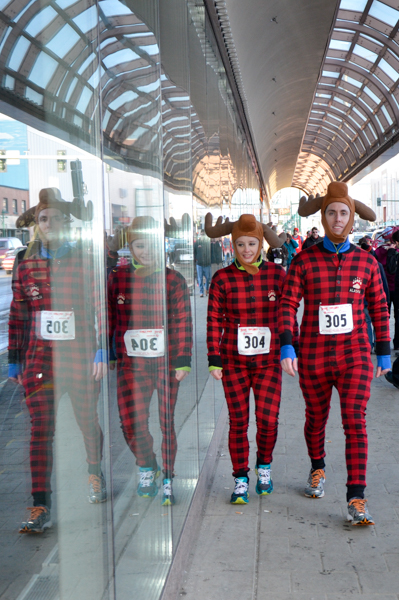 This couple had a great back-woods ambiance.
---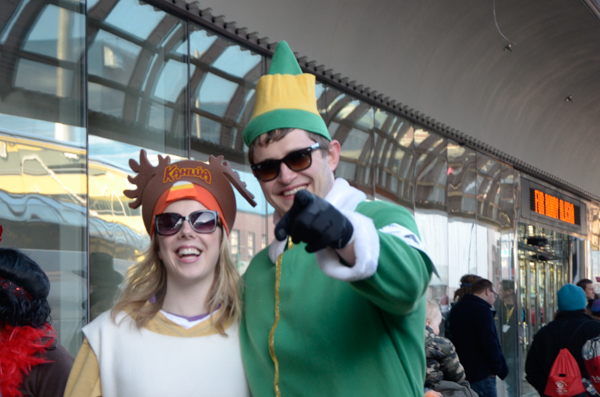 One of Santa's elves down from the North Pole.
---
Click your browser's back button or the link to visit Girdwood "city center."