We had significant frequent flyer miles to use so we took our own routing and met the group in Buenos Aires. Luckily there were no delays for either group, so we converged in good time. The trip started with a few days in Buenos Aires before we boarded our ship for the trip south.
---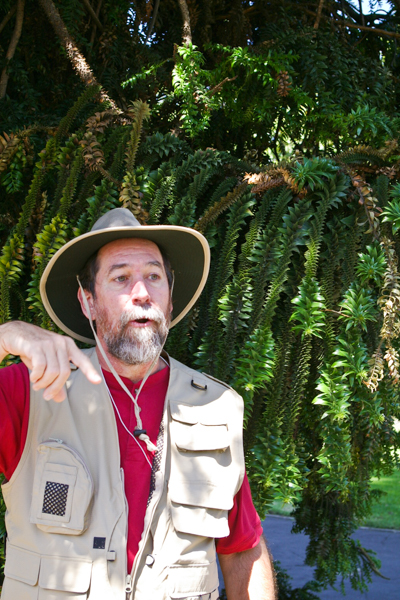 Dr. Michael Doyle, our subject matter expert for the trip, is a botanist. He's waxing eloquent about the araucaria tree behind him. It is a survivor from the time of the dinosaurs - well, maybe not this exact tree. It's definitely prehistoric looking. The tree has large and heavy cones, which grow at its very top. If a one falls on your car, it means a trip to the body shop. If it falls on your head....
Step away, very slowly.
In all we spent four days in Buenos Aires and environs.
---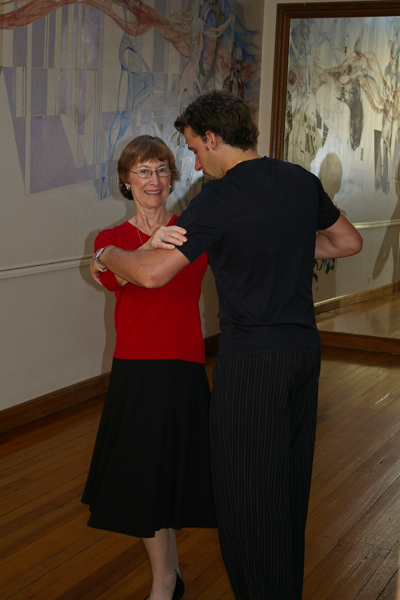 I took more pictures in Buenos Aires and elsewhere than are sensible to put online so I'll limit myself to those that are unique to our trip. If you want to see the
pink house
or
Evita's mausoleum
, check the WWW.
One evening our program included tango lessons followed by a pleasant touristy tango show with dinner.
The unbalanced ratio of women (8) to men (3). made it hard to pair up. But the guys were good sports about dancing with everyone and our male instructor, pictured here dancing with Louise, had plenty of gals to dance with.
Jim and I had recently taken a series of Latin dance classes. Not the same as the genuine article!
---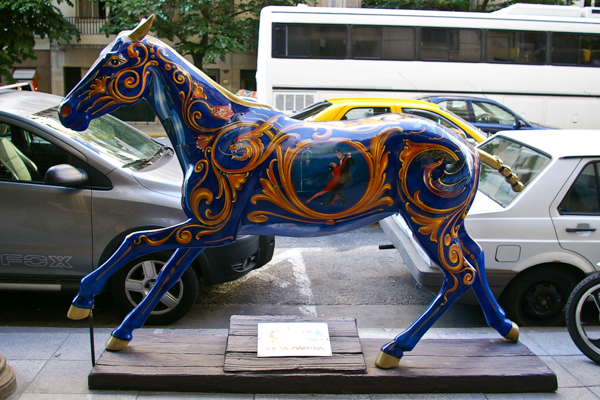 Buenos Aires hosted a championship polo tournament while we were there. We couldn't get tickets (drat!), but there were a number of decorated fiberglass ponies around town in celebration of the events.
I particularly liked this "tango pony."
---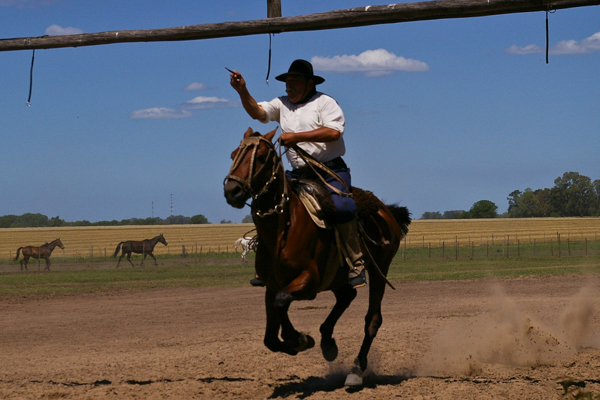 One day we made an excursion into the countryside to visit a working ranch, or
estancia
.
Part of the "work" that's done there is putting on a show and bar-b-q for us touristas.
In the riding demonstration the gauchos galloped past tiny rings hung from this pole and speared them with small needles. It was somewhat like the Maryland jousting tournaments.
Gauchos also gave ladies rides double on their horses. I passed.
---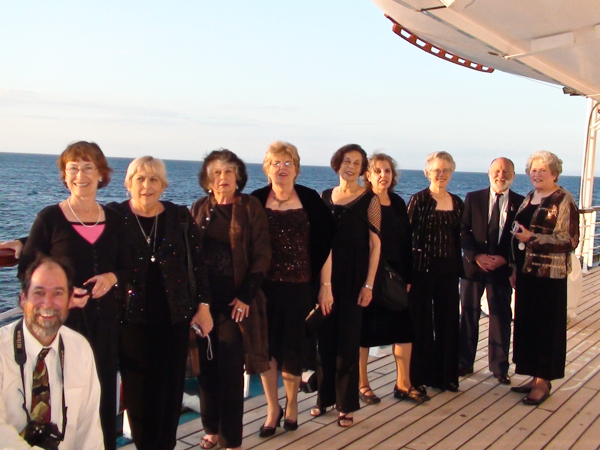 We boarded our ship,
MV Discovery
, in Buenos Aires. It was
en route
from the Mediterranean to the Antarctic for the season. The majority of passengers had boarded in Lisbon, but there were some who had boarded it in Egypt and continued on to the Antarctic with us. That's a loooong voyage!
Here's our band of Elderhostel adventurers, minus Tom Dawson, who took this picture and shared it with me.
From left to right with their home states are:
Michael (MI), Louise (MN), Charlotte (AL), Phyllis (CA), Anne (MI), Darryl (FL), Madelyn (NYC), ME & Jim (VA) and Nancy (MN).
---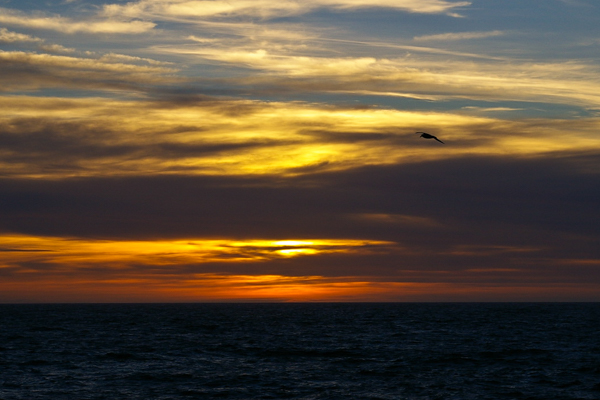 We were three days cruising to our first stop - the Falkland Islands.
There was plenty to do on board with food, a great library, food, music and lectures, food, crafts. Did I mention food?
Lectures gave us much information about the geography, history, flora and fauna of the Falklands and their relationship with Argentina.
Plus there was bird watching - and sunset watching as well.
---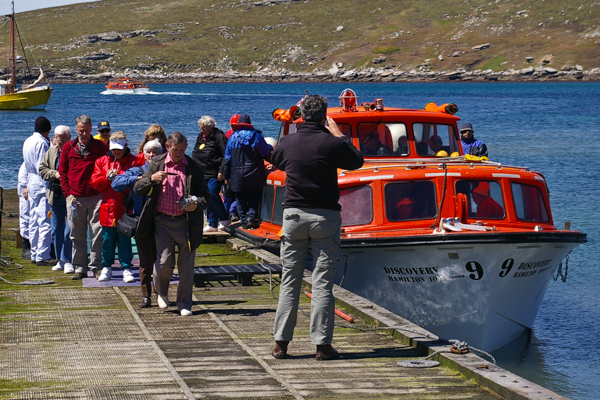 One of the many nice features of Discovery is that we used our lifeboats as tenders to land at many locations, including here at West Point Island. We could be certain that the lifeboats were kept in excellent working order with the crew well-practiced in launching them! No. 9 was our assigned lifeboat, so we felt a special attachment to it.
Passengers were divided into color-coded groups for shore excursions. It enabled the crew to manage the number of people ashore so that we didn't overwhelm the creatures we had come to see.
We were to revisit the Falklands two years later as part of a cruise across the South Atlantic.
---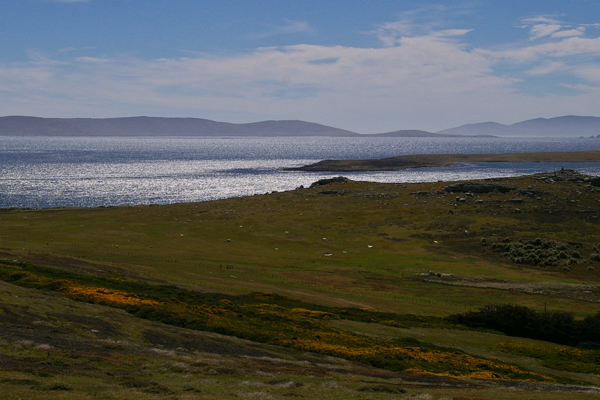 I had not expected the Falklands to be quite beautiful in an austere way, but they are. They are much like the Scottish Hebrides.
We were very lucky with the weather - sunny and warm -but quite windy, as is common.
---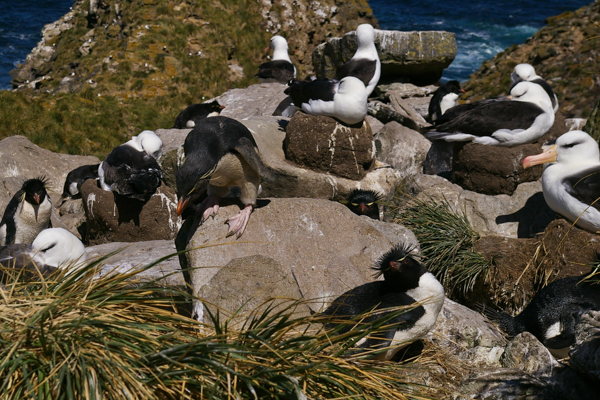 We hiked across West Point Island to visit a huge rookery shared by
Black-browed Albatross
and
Rockhopper Penguins
.
The Albatross are quite large and the penguins are quite small. It made for an interesting combination.
In early December the Rockhoppers have already hatched some chicks while the Albatross are still brooding eggs. Parents take turns at the nest and foraging.
This picture does no justice to the size of this collection of birds. Or the noise. Or the pungent odor!
---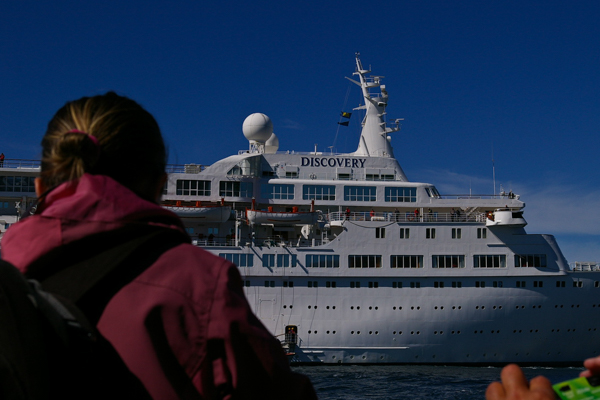 After our visit, which included tea at the homestead on West Point Island, our tender took us back to the ship for our overnight voyage to Stanley, the Falklands capital.
---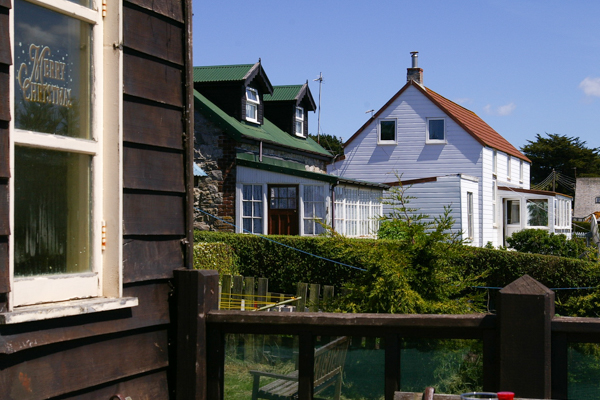 Stanley
is the population center of the Falklands. We had a choice of excursions during our day there, but we also found time to have a quiet pub lunch downtown.
It seemed strange to be broiling in the summer sun with a Merry Christmas sign in the window.
We shared the sundeck with a British chap from our ship who had seen service during the Falklands war. He had some stories to tell!
The Discovery's captain had also seen service in that war. While we were in port the local Air Force base sent jets flying by the ship as a salute.
---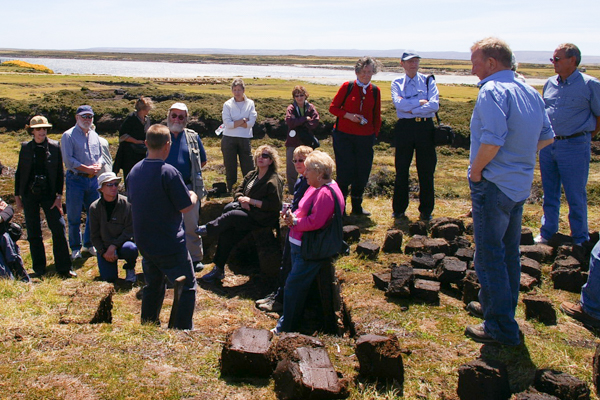 Our chosen afternoon excursion was to Long Island Farm where we learned about peat production, among other things.
One description of this excursions is: Travel to a sixth-generation Falklands sheep farm where the traditional ways have never given way to the modern. Your scenic drive to Long Island Farm passes by several of the battlefields of the 1982 Falklands War before reaching this sprawling 22,000-acre spread where the Watson family still lives and farms in the old Falkland style. That involves using skilled sheepdogs and Falkland-bred horses; milking their own cows and making their own bread, butter and cream; and relying on peat as an essential fuel – a tradition that has nearly died out in the Falklands. While visiting, you'll see demonstrations of sheepdog herding skills, shearing, peat cutting and horse gearing. Family and crew will explain how peat is integral to Falkland life and how the farm uses its horses to get a wide variety of work done. You'll even have some free time to stroll along the nearby beach – a welcome addition to any hardworking farm's landscape.
Peat, not to be confused with peat moss, is essentially an organic mud that is cut out of the ground. It is then cured in the sun for a period of time. It can then be stored and burned as fuel. Dirt cheap energy!
Except that it is also a fossil fuel of limited supply.
---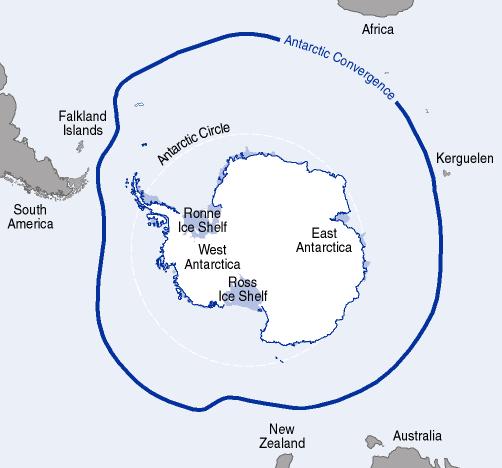 We left the Falklands and traveled toward Antarctica. On the way we crossed the Antarctic convergence or Polar Front.
This demarcation, which can actually be seen in satellite images, marks the boundary of the Southern Ocean. The water and air temperature drop dramatically as you cross it.
Image: The Antarctic convergence. (1997). In UNEP/GRID-Arendal Maps and Graphics Library.
Retrieved 20:57, February 12, 2009 from http://maps.grida.no/go/graphic/the_antarctic_convergence
I hope you will continue on to look at our Antarctica pictures.