After our cruise down the Yangtze through the Three Gorges, we flew to Shanghai for our final few days in China. It is a bustling city brimming with commercial vitality.
One day we also visited Suzhou. We had never heard of it before, but it was a fascinating place with a long history.
---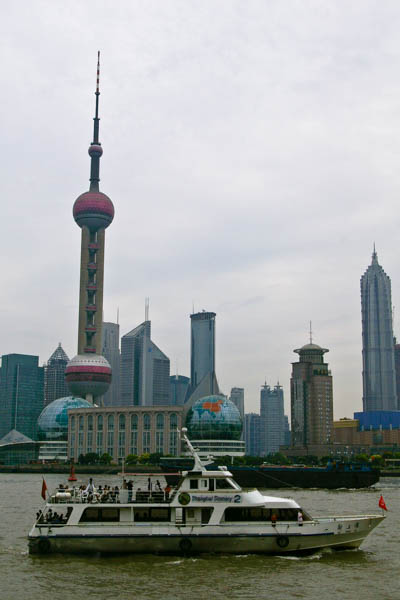 Shanghai is one of the great cities of the world. In the years since China has opened up to the world, its growth has exploded. One of the men on our tour had visited there in the 70s and he said that he could barely recognize the place. From what I've read, it has changed again almost as much since we visited (I'm finally finishing this album in 2012).
The Oriental Pearl TV tower is one of the city's landmarks. It is across the Huangpu river from the famous Bund.
---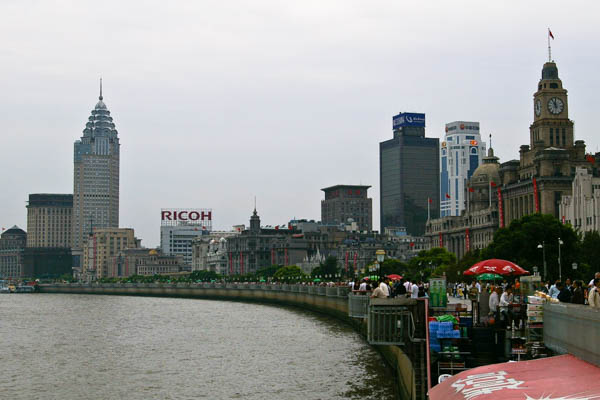 The Bund is the older commercial district that dates to the colonial era. The word "bund" means an embankment or an embanked quay. The word comes from the Hindi-Urdu word band, which has Persian origins and meant an embankment, levee or dam. It was crowded with tourists – mostly Chinese.
---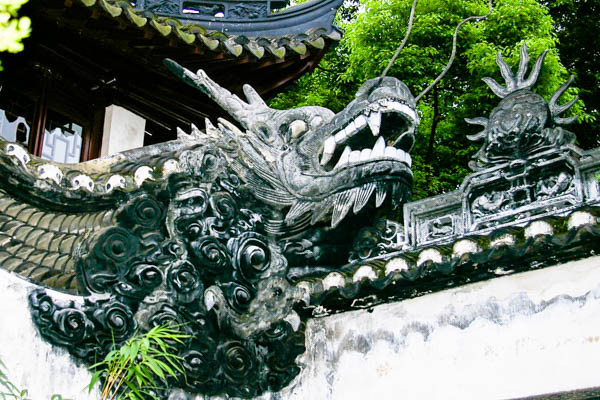 Older Shanghai districts had been known for their elaborate gardens prior to the Communist era. We visited the lovely
Yuyuan Garden
where we saw this dragon detail along one of the walls. A government official constructed the garden in the Ming Dynasty for his parents. As is the case for much in China, the garden has been restored and reconstructed many times.
---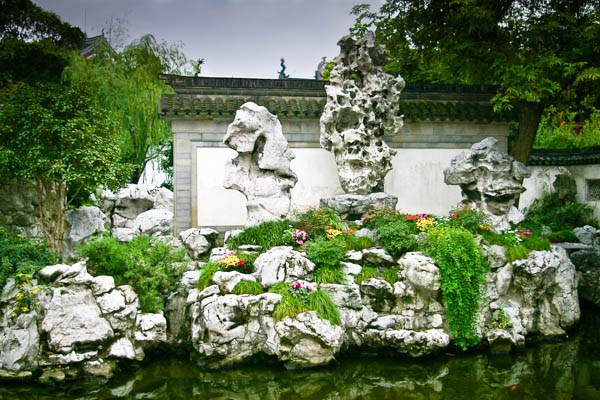 One of the highlights of the garden is the tall rock, known as the
Exquisite Jade Rock
,
in the center of this grouping. Throughout China unusually sized and shaped rocks are given prominent places.
---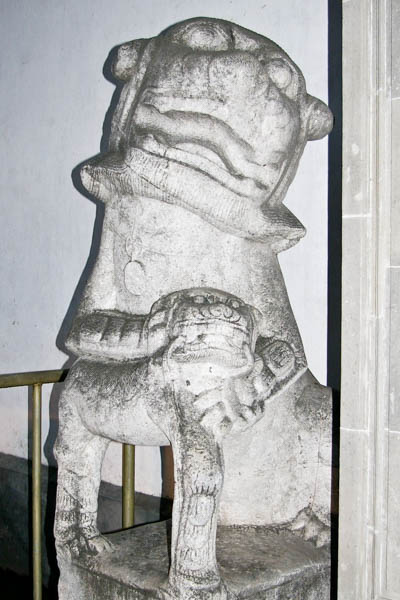 As I recall this was the oldest of the lion sculptures that we saw, although I've long since forgotten the date – or dynasty. As I said earlier, I was fascinated by the images of these mamas with their cubs. Usually the cubs were quite small and the mamas looked like they were keeping them well underfoot. This mama, in contrast, seems quite nurturing.
---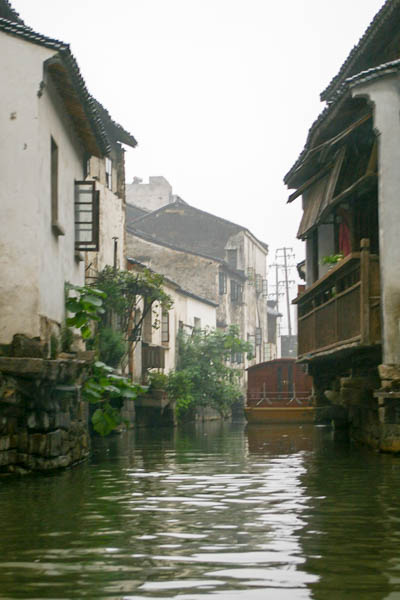 While in Shanghai we visited a nearby city named
Suzhou
. It is largely built on canals – earning it the nickname of the Chinese Venice.
We embarked on dragon boats for a tour of the old city.
Our ignorance of China was forced upon us as we realized that we had never heard of this city of some millions, founded over 2,500 years ago, and the center of the Chinese silk industry.
---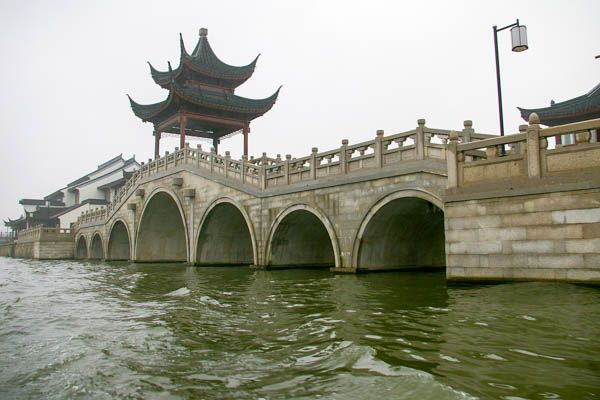 Like Venice, Suzhou has many graceful bridges but these were unmistakably Chinese.
---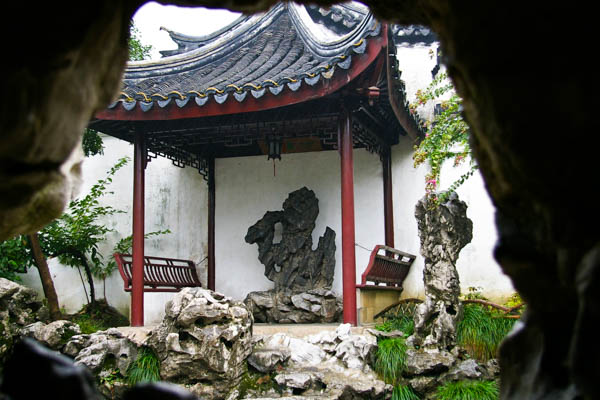 Suzhou is also noted for its ancient gardens. We visited the
Master of Nets garden
. This garden was originally laid out in the 12th century. As noted above, memorable rocks are centerpieces.
---
Water is also a feature of the gardens. This pavilion was designated as the best place to view the moon.
---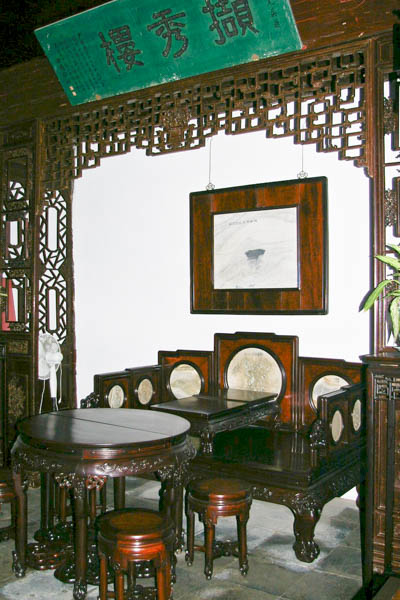 There was a residence in the garden with exquisite antique furnishings and fascinating framed landscape images. The images looked like paintings, but they were really slabs of rock that had been cut and polished to look like paintings.
We were amazed that such things had escaped the Cultural Revolution and asked the curator what had been done to protect them. "It was easy," he said, "we just covered them with posters of Chairman Mao."
I used to think that western Victorian-era furniture was uncomfortable and uncompromising. That's before I saw all the old Chinese furniture. it gave me a backache just looking at it. This room was known as the "Ladies' Sitting Room."
---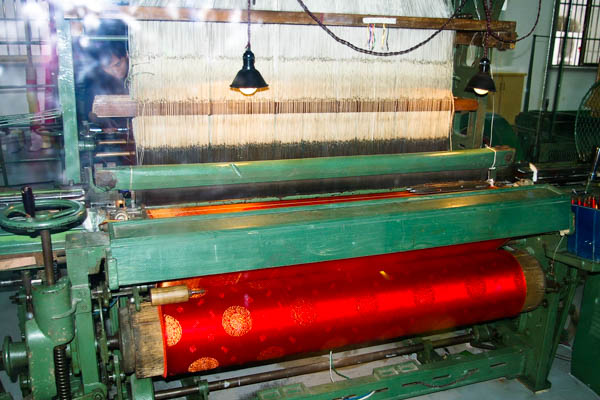 A silk factory had exhibits of all stages of silk production from the worms feeding on mulberry leaves to the finished product. Machines unwound the cocoons. The raw silk was dyed and fed into large looms to produce brocade.
Of course after the tour there was a silk shop where we were encouraged to spend, spend, spend. I actually bought some lovely brocade intending to use it for a three-fold screen. As of this date (2018) it is still awaiting construction.
---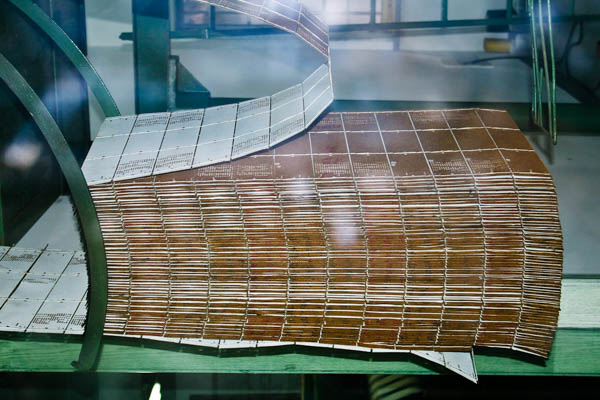 Joseph Marie Jacquard developed a process using punched cards to drive
looms
. Early computing machine developers adopted this notion of storing a "program" on such cards. At the time that I started in the computer industry (1971), punched cards were essential. It's been decades since I've seen them used in computers, but they are still driving these looms.
---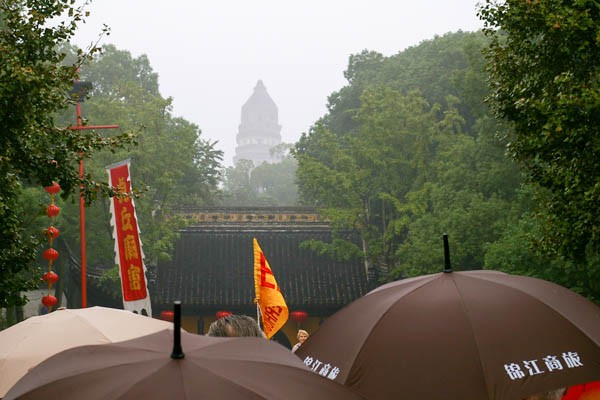 Tiger Hill
Park in Suzhou is the home of the "leaning tower of China."
In s pite of the rainy weather, the park was crowded with Chinese tourists. There were musical groups, acrobats and many other entertainers scattered throughout the park.
The yellow Elderhostel flag had led us through several weeks of our tour, but we are almost done.
There were signs throughout the park encouraging good behavior. My favorite: "Civilized behavior of tourists is another bright scenery."
---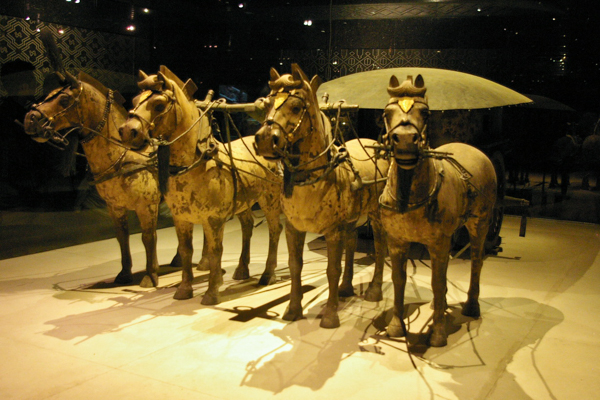 The four bronze horses hitched to the chariot are found with the terra cotta warriors in Xi'an.
---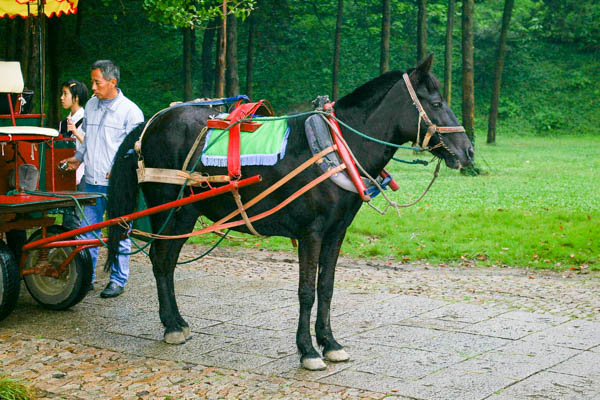 This black horse was ready to pull tourists around Tiger Hill Park.
We Arabian horse enthusiasts like to talk about "type" as a feature that sets our breed apart from others. Here is an example of "type" that has remained stable over more than two thousand years. The modern carriage horse could be the model for the ancient Xi'an horses.
---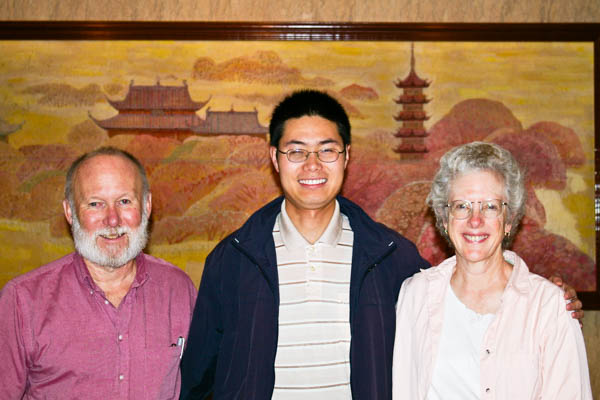 Our last day in China. Jia had been our faithful leader throughout our travels. I'm sure we tried his patience more than once, but he was always cheerful and enthusiastic.
I loved his story about how he leaned to speak English so well. "Everyone in school could read and write English," he said, "but few could speak it fluently. I used to wake up early in the morning and go to an isolated park where I would talk to the trees."
It's that kind of dedication that makes a wonderful guide.
---
Click your "back" button to return to the previous page or click for our picture album.
../../../../picture_albums.html