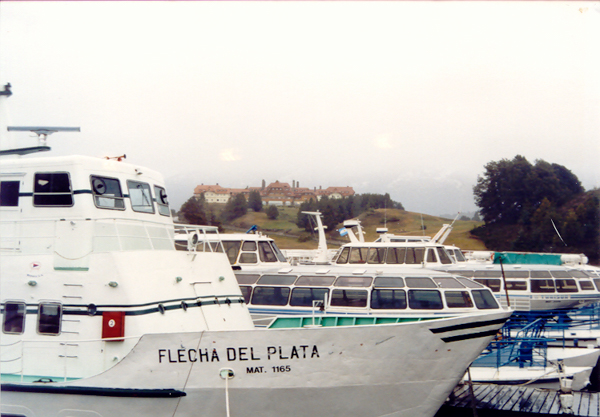 One day we enoyed a lake excursion. Lago Nahuel Huapi connects with two other lakes on the way to the Chilean border. The excursion started at Puerto Pañuelo in front of the luxury Hotel Llao Llao, one of the top resorts in South America. Some of our number made a private excursion to this hotel for tea.
The Argentine pronunciation of "ll" is not the Y sound we Norte Americanos expect. It is more of a Zh sound.
Llao llao is an edible fungus indigenous to South America.
---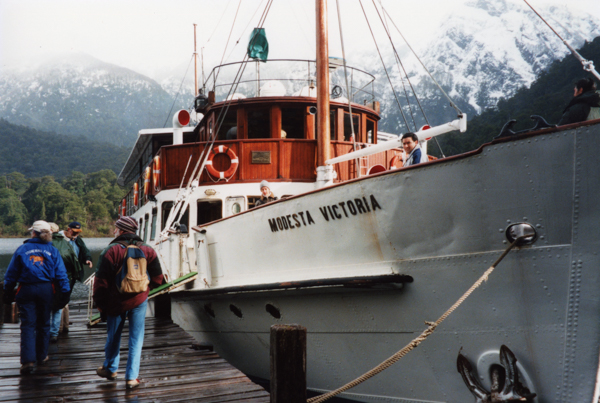 We embarked on the Modesta Victoria for our first leg across Nahuel Huapi. This grand boat was built in Amsterdam and brought to Bariloche by ship, train, and, we were told, ox cart.
She was beautiful.
---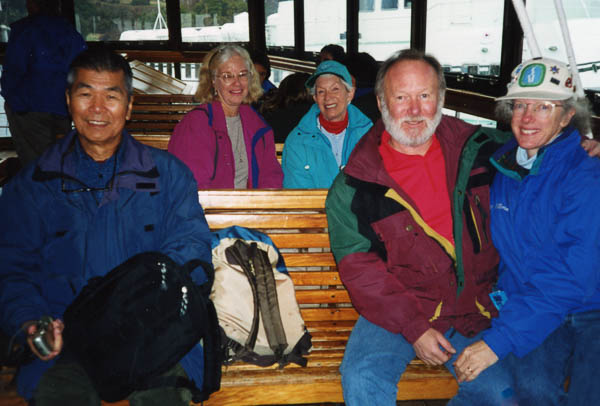 From left to right: Mike Hatanaka, Annemarie Brenner, Dina Taylor, Jim and myself.
---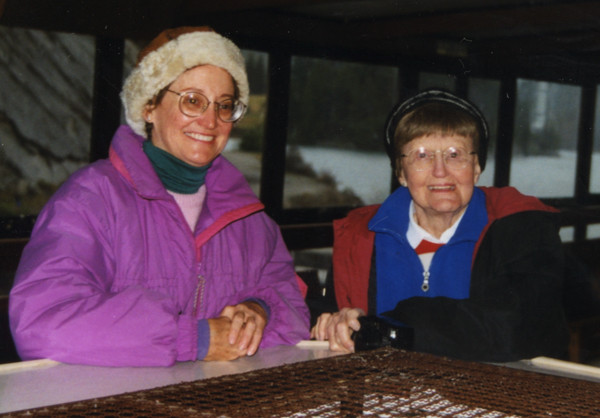 Jan Marx and stepmom Ardis
---
Annemarie, Dina and Rachel Abraham
---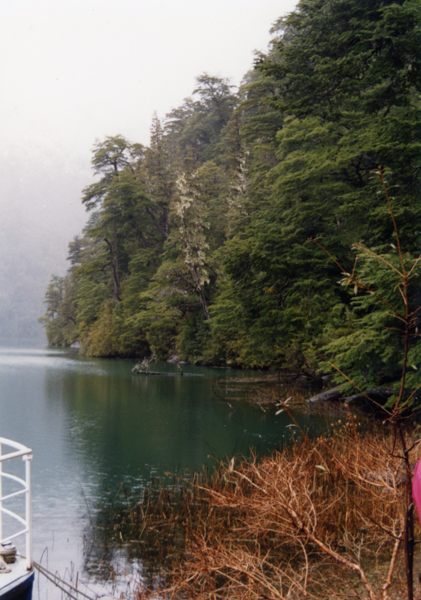 Our excursion followed the Argentinian portion of the
Cruce Andino
or Cruce de Lagos. We cruised on the Modesto Victoria to Puerto Blest where we took a short bus ride to Puerto Alegre for another boat. The weather continued to deteriorate and we were unable to see the mountains surrounding the lake. The lake water was a vivid green. There must be a lot of copper in the soil.
---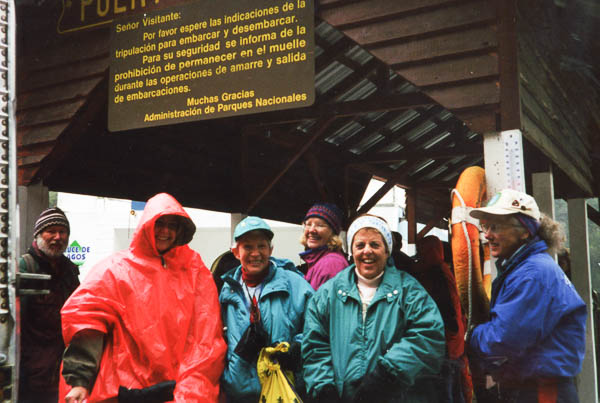 As we wait for our next boat, we found that laughing is the best way to keep warm in the cold and wet.
From the L: Jim, fearless leader Nancy McKinley, Dina Taylor, Annemarie Brenner, Sue Walsh & myself.
This picture was supplied by someone else, but I can no longer tell you who.
---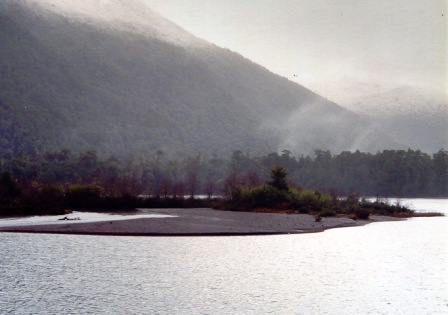 Lago Frias was not nearly as large as Nahuel Huapi. Although it was socked in at this point, you can see the snow line not far above the lake. As we shivered we hoped it was snowing heavily up at the ski area!
---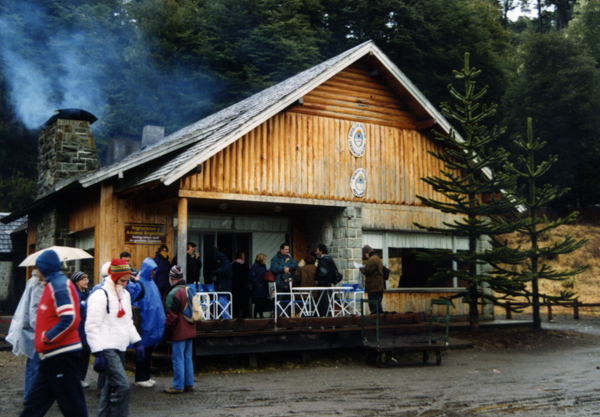 At the end of the lake we disembarked for a while to warm up at a roaring fire and visit the Chilean customs outpost. Bariloche is much closer to Chile than to most Argentine population centers.
After our break we loaded back on the boat for the return trip. Some other passengers continued on to Chile, and we picked up a number of travelers who were crossing to Argentina.
On the way back, we stopped at the hotel at Puerto Blest for a delicious lunch followed by a hike up & down the Los Cantaros cascade. I ran out of film so no pictures. After the hike Jim could have told you the exact number of steps (a lot), but he no longer remembers.
---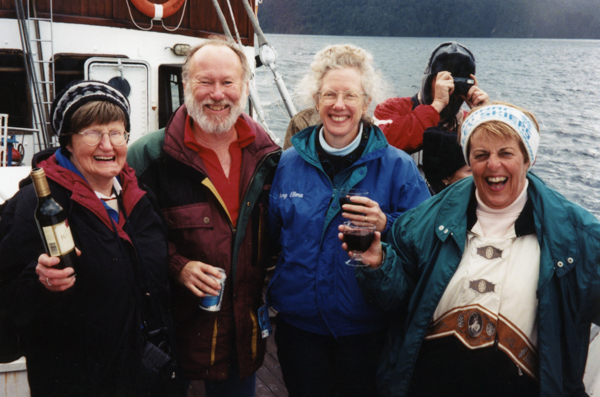 We are celebrating our return to Nahuel Huapi. I don't recall if Ardis smuggled the wine onboard or if she bought it on the boat, but it really helped us thaw out. Look at hot-blooded Jim with his shirt unzipped and coat open!
Penny, who at this point was huddled inside, said that she didn't thaw until soaking about two hours in her hotel room tub!
This excursion so impressed us that we returned many years later to complete the crossing – in the summer!
---
Click your "back" button to return to the previous page or click for our picture album.