In the winter of 1992 some friends were planning a cross-country skiing expedition to Yosemite National Park. Jim and I had enjoyed, within reason, our cross-country experiences in Canada in 1983, so we decided to accept their invitation to join the fun. Jim had been to Yosemite, but I had not. It is even more gorgeous than I had expected!
I can no longer remember the specifics of what we did when, so I'm just following the sequence of the slides.
---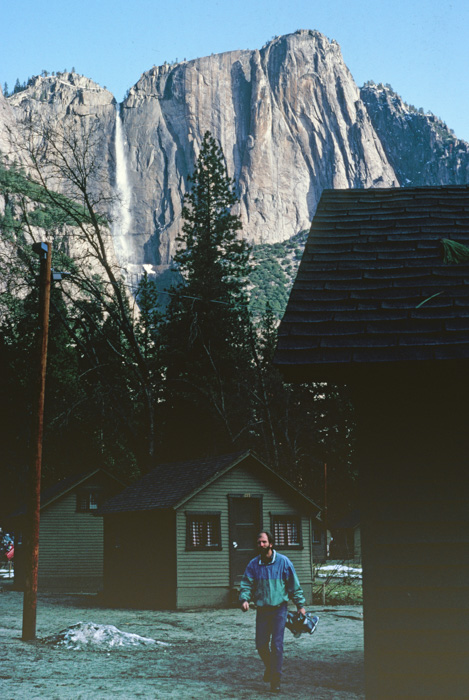 We stayed in a cabin at Yosemite Lodge. While putting together this album I was saddened to see that most of the cabins were destroyed in a 1997 flood. The cabins were pretty cozy and the six of us bunked in one. There was no private bathroom, so if you had to go in the middle of the night, that involved climbing over your sleeping comrades to tramp through the snow to the common facility.
On the other hand, it was a great place to bring out our instruments and jam in the evening.
Greg Berger, shown here, teaches music. Three of us were his students.
As can be seen, Yosemite Lodge is near the base of Yosemite Falls.
---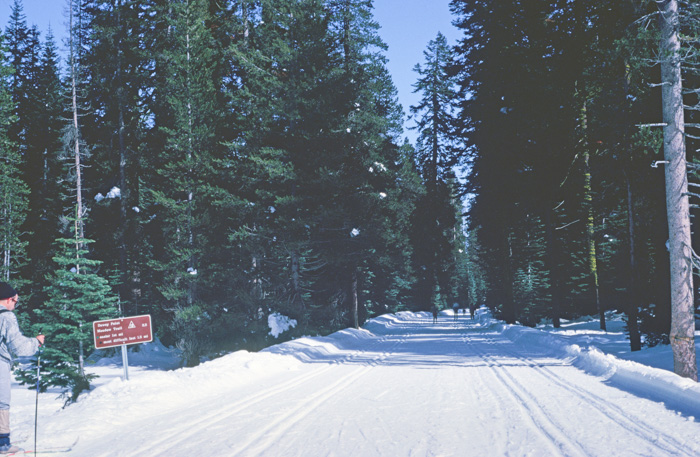 We had come to ski in addition to sightsee so skiing was early on the agenda. Our companions expressed a desire to ski all the way to Glacier Point. It is a 21-mile round trip, and Jim and I had no illusions that we could go that far. Especially as we noticed that it was downhill on the way out, which meant it would be UPHILL on the way back. Huff, puff!
The road was well prepared with pre-set tracks. We left the car at Badger Pass ski area and hit the trails.
---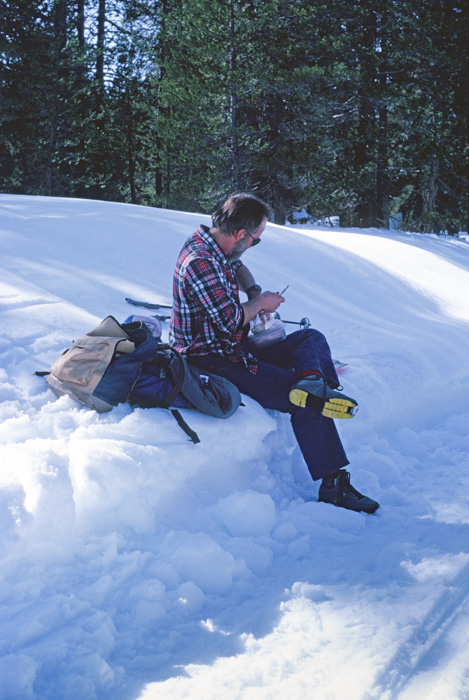 Jim is taking a break.
We had rented skis and boots in the Bay Area. Mindful of our experience with skinny skis in Canada, we opted for "mountaineering" skis with metal edges. That gave us more ability to edge and turn but it resulted in a much heavier ski.
Since the tracks were pre-set and pretty soft, the metal edges didn't really buy us much anyway.
Oh well, live and learn!
---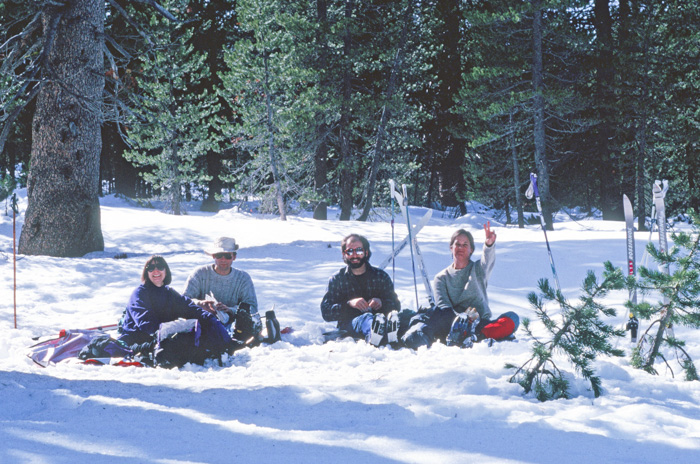 Lunch break!
L-R: Ann Whitesell, Paul Honis, Greg & Michelle Berger.
This was our parting of the ways. Jim and I turned back while the rest of our group went on. As it happened, they didn't make it to Glacier Point after all, but they had a good time.
We powered our way back uphill to Badger Pass and wrapped ourselves around a glass of wine each in the bar. On that trip back it was the first (and, to date, last) time I felt "in the zone." I was so tired that I was beyond tired. It really was an almost-out-of-body experience!
---
Although my slide note says that this is Bridal Veil Falls, I believe it is Yosemite Falls.
The flow of water is greatest in the spring when the snow is melting, so we are a bit early for peak flow. Nevertheless it's pretty spectacular.
The years we spent in California, 1986-1992, were a time of extreme drought, so we were lucky to find snow and water at all.
---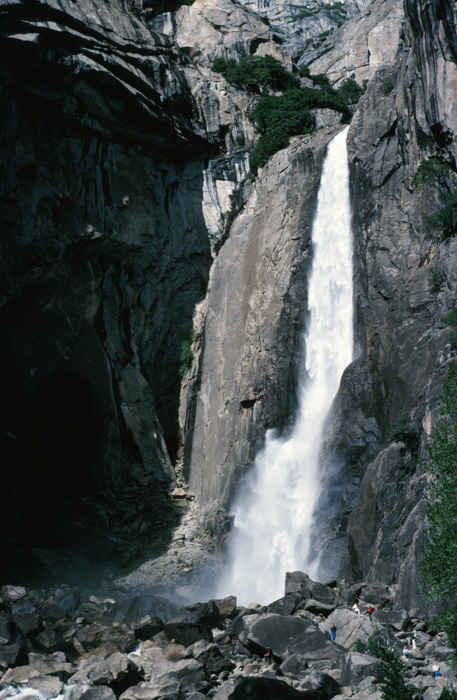 Lower Yosemite Falls. The size of the falls can be estimated by the tiny little people on the lower right at the base. There is a trail to the top of the falls and I was tempted to try it. I couldn't convince anyone to go with me and I wasn't going to do it alone!
---
I didn't have a proper lens to get a good picture of the Ahwahnee, so this entrance gate will have to suffice, plus the pictures at the link.
In 2016 a trademark battle between the U.S. Government and the ousted concessionaire caused the National Park Service to change the name of the hotel to the "Majestic Yosemite Hotel" after almost 80 years. The use of the name "Yosemite National Park" was also contested, but will remain in place for now. As of December, 2018, the dispute is still active.
Good grief!
---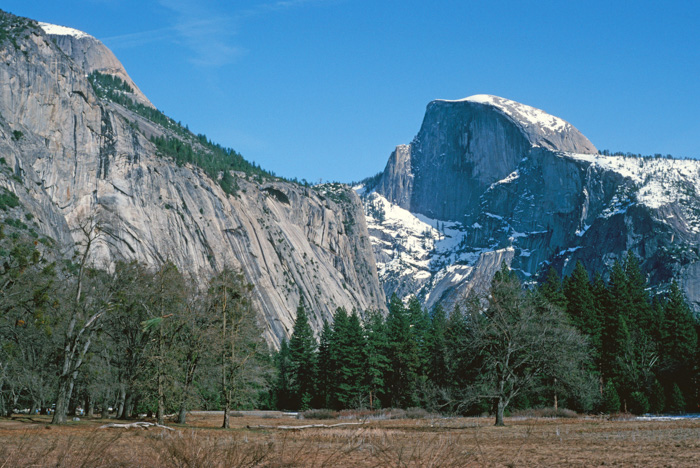 This is Half-Dome as seen from the Ahwahnee.
The views were so expansive that I bought a cheapee disposable Kodak panorama camera. I have one picture of Half-Dome that I liked enough to have framed. It is hanging in our hallway.
---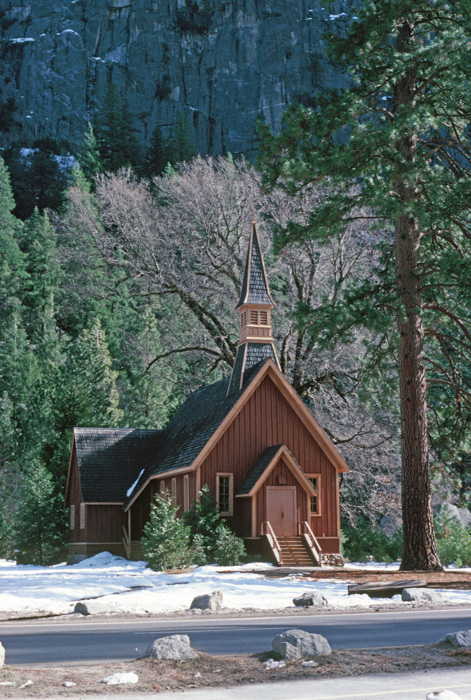 On Sunday morning I headed off to the Yosemite Valley Chapel for Sunday services. The building dates from 1879.
On this winter day the attendees were mostly local parishioners.
---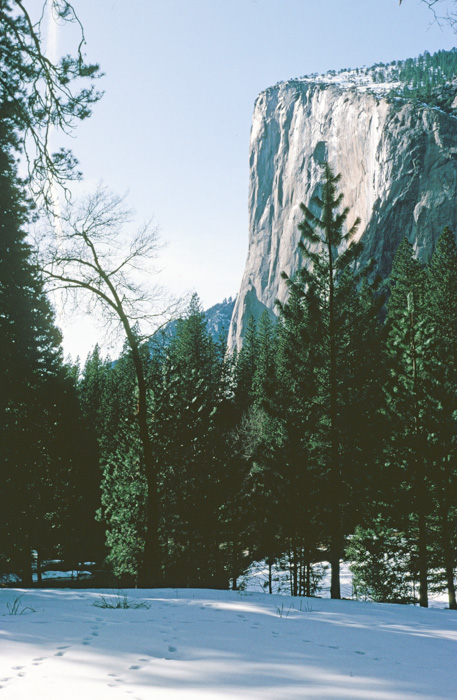 El Capitan as seen from the chapel location. It is a favorite among rock climbers. My friend Georgia loves Yosemite and says that she had to periodically get her "granite fix." There is certainly lots of granite.
---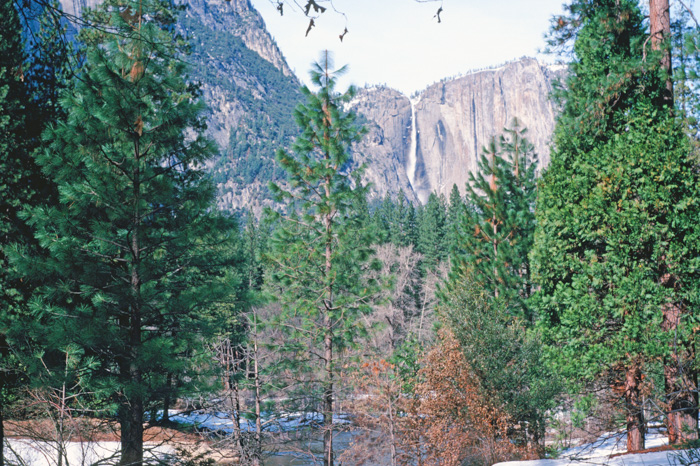 Yosemite Falls as viewed from the chapel location.
---
A hanging valley is a typical glacial residue. Bridal Veil Falls comes down from a characteristically U-shaped hanging valley.
---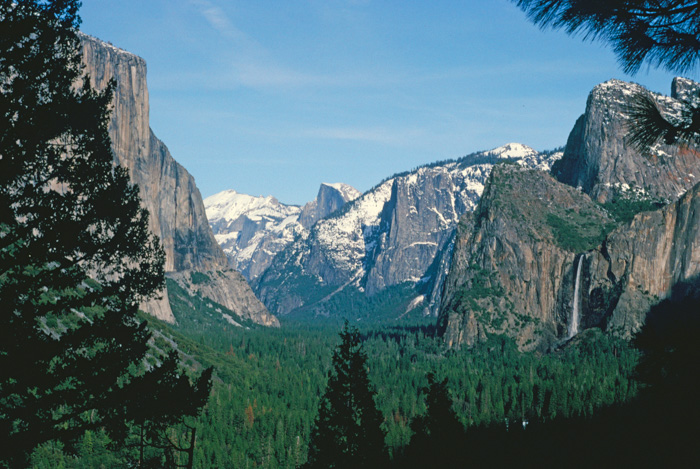 The iconic view of Yosemite Valley. El Capitan on the left, Half-Dome in the distance, Bridal Veil Falls on the right.
It really is breath-taking.
We were to come back once more to Yosemite, but that is another album.
---
Click your "back" button to return to the previous page or click for our picture album.