For many years we made an annual excursion to Biloxi, Mississippi, to spend time hanging out on the Gulf Coast with my folks. We always stayed at the Broadwater Beach hotel, renting a cabin for the week, and whiling away our time crabbing, cooking, playing bridge, eating, and imbibing.
In 1985 there was a twist: Biloxi had just been nailed by a category 3 hurricane: Elena. It was touch and go whether we could make the trip at all, but power was restored and the airport opened the day before our scheduled arrival. After some family conferences on the phone, we decided to stick with our plans. We figured that they could use the tourist income. We also had more than a few jokes on the similarity of the hurricane's name to my mother's: Ellena.
Not everyone vacations in a disaster area.
---
Although the hotel grounds had sustained extensive damage, there was no apparent effect on the "hardscape." The marina was half-empty because many boats had been relocated in anticipation of the storm.
Check these pictures of tree removal to see some of the damage.
---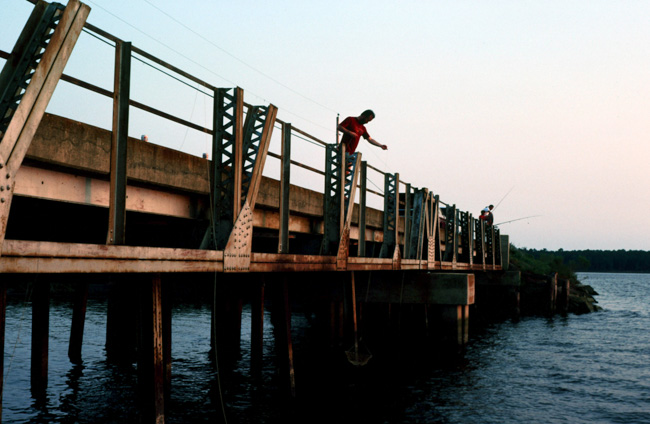 The hurricane had roiled the seabed at our favorite crabbing location at the Broadwater marina, so we tried some new places in the Back Bay. Didn't have any luck there either.
There were also no shrimp to be had.
---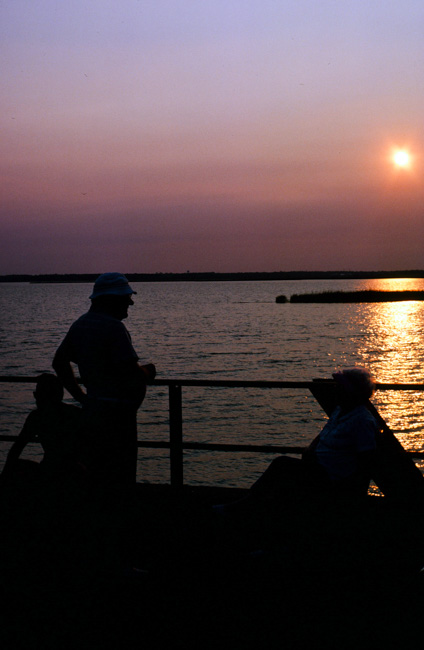 As in much fishing, however, its the experience that is the real pleasure -- not necessarily the big catch.
---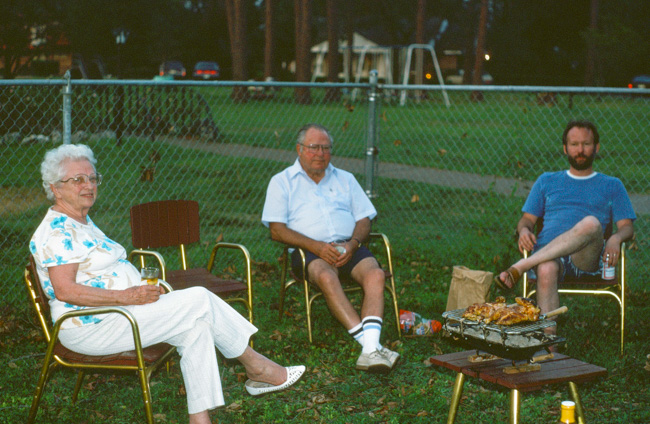 We missed the gumbo and shrimp. No matter, grilled chicken is good too.
The local grocery stores, which had been without power for several days, had good specials on previously frozen chicken and beef!
---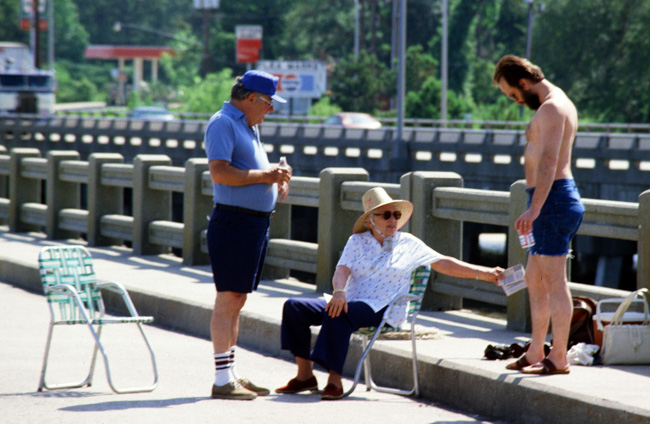 Dedicated crabbers aren't deterred by the small chance of catching anything. Just getting out to catch some rays and sip beer (or gin & tonic, as the case may be) is excuse enough.
The old Ocean Springs bridge was a favorite hangout.
This bridge, the new bridge behind it, and the Broadwater Beach itself were swept away by Hurricane Katrina as well as so much else. Unimaginable devastation!
---
Click your "back" button to return to the previous page or click for our picture album.