Baba was my first cat. I always fancied myself a "dog person," but I that is a silly thought. He was a stray and adopted me as cats will. I don't know how old he was, but according to the vet, he wasn't fully grown at the time I gave in and accepted the relationship. I forget why I named him after a middle eastern eggplant dip, but the name suited him. It started a tradition of naming pets after food.
He was a large handsome long-haired cat, mostly white, with irregular grey tabby markings. An artist friend said he was reminiscent of the Zen painting of six persimmons.
My apartment at the time was on the ground floor of a low-rise building and all the windows opened away from the parking lot. Once when my parents visited they said it was easy to tell when I had come home. Baba got up, went to the door, and waited there for me to come in. They never cared much for cats, but they liked Baba. When I met Jim, he announced that he had no use for cats, but Baba soon won him over as well. He was just that kind of cat.
Baba's life was tragically short. He became ill and was hospitalized for several days. I begged the vet for a time to visit, but he died suddenly before it could be arranged. The vet was almost as devastated as we were. He had not been able to identify what the illness was and wanted to do an autopsy. I don't know if he did or not; I had no interest in the results. Baba was cremated and his ashes scattered in his favorite haunts outside our house in Reston, VA.
---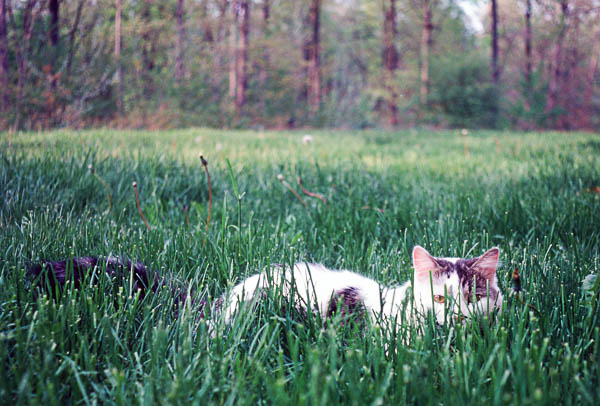 When I first adopted Baba I lived in a garden apartment. He loved to play hide-and-see in the lawn outside when the grass was high.
---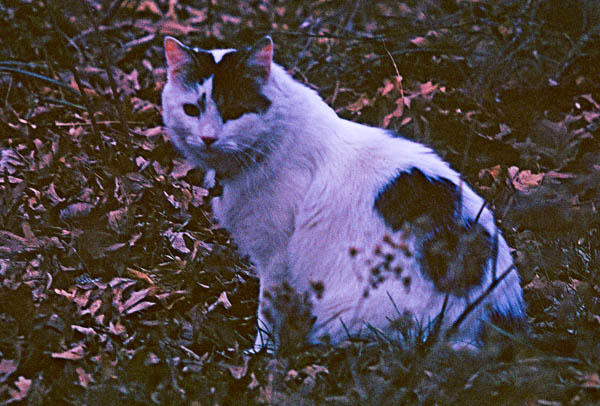 Later I bought a condo and used to let him out during the day while I was at work. There were woods nearby where he loved to hang out. I called him when I got home, and sometimes I could see him running home from far away.
---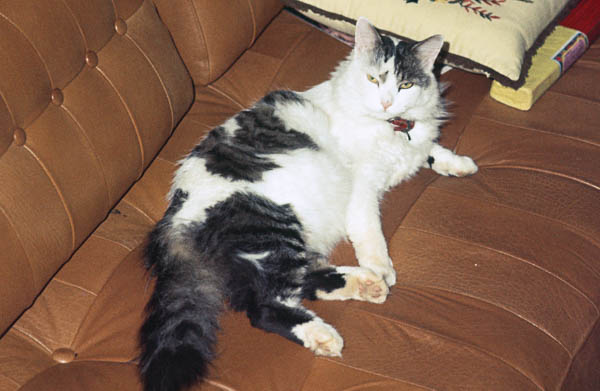 I loved this leather sofa. Baba never scratched it or anything else in the house, but Muffin later did a fair amount of damage. It was too expensive to repair so I eventually sold it.
---
---
Click your "back" button to return to the previous page or click for our picture album.