After a delightful, but often overwhelming, week of skiing in Zürs, Austria, we spent the next week in Val Gardena, Italy. Our stay there started out rocky because our assigned room in the group hotel was a pit. It was in the basement, it was tiny, it had a single bed and a cot. Not our idea of an idyllic honeymoon spot!
We complained bitterly and Margaret negotiated a refund. We then found a room in a place right across the street that was more to our liking. Not only were we no longer in the basement, we had a balcony with a view! And a double bed! We couldn't eat with our friends, but....
---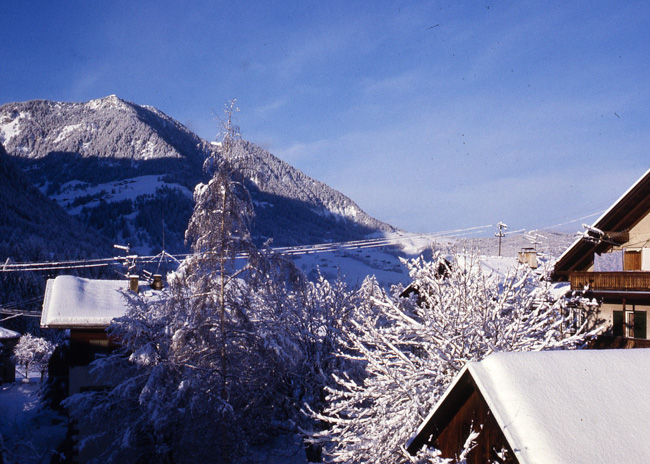 The
Hotel Stetteneck
was a delightful place. The owners and staff were very accommodating and the atmosphere was casual.
We had one unusual request: where could we find Fiat auto parts? They referred us to a repair shop down the road where we were able to find a brake master cylinder. We had recently discovered that Jim's Fiat was not a U.S. approved model; it had been purchased in Europe by a military family and imported by them. As a result, we couldn't find a necessary part to repair it back home.
After some negotiation in my fractured German (this area used to be part of Austria) and much pointing and gesticulating, we were able to obtain a suitable part to bring back with us.
---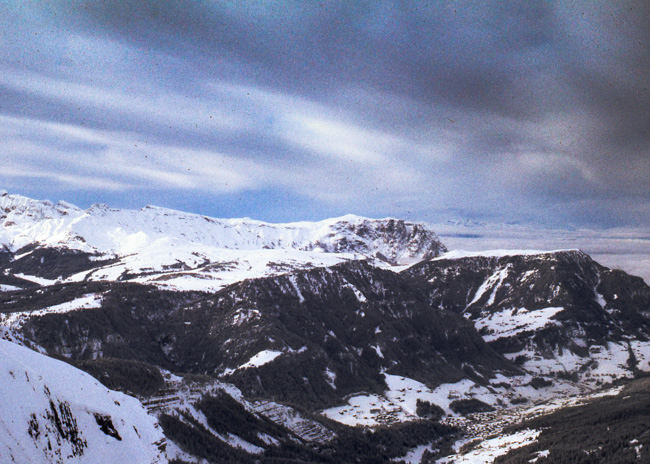 Val Gardena, where Ortisei is located, is a typical European ski valley with towns in the valley and the skiing up top. Unlike most years there was plenty of snow down in the valley.
This view is from the Seceda area overlooking the Seiser Alm (or Alpe di Suisi) area across the valley.
All places in the valley have both Italian and German names. Many also have names in the local Ladin language.
---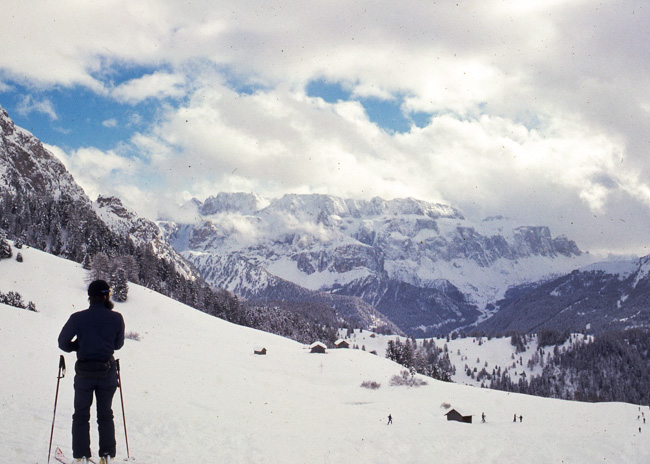 Jim surveys the wide-open expanse of Seceda.
Among our first purchases in the town was a pair of fanny packs that enabled me to take my camera to the slopes. (You can see that Jim is wearing his.) We still have those packs, but as of this year (2013) they have both been retired.
The Dolomites are among the most beautiful European mountains and are recognized on the UNESCO World Heritage list.
---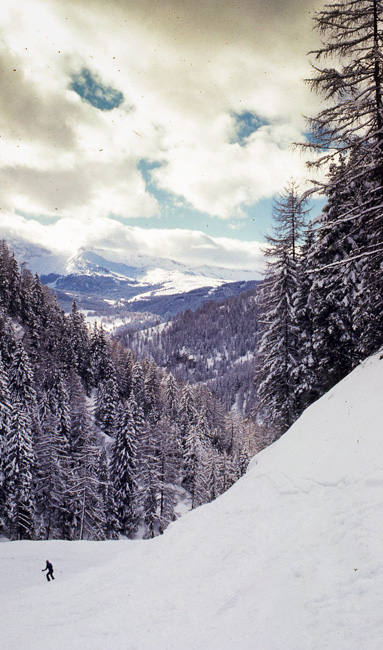 This trail in another part of the valley leads into St. Christina, another of the towns in Val Gardena. Unlike most of the trails, it is below the tree line.
One of the days we were above the tree line, a cloud moved in causing a complete white-out. Luckily we had just gotten off the lift and made our way to the adjacent restaurant to sip hot chocolate until it cleared. One young woman became so disoriented by the lack of visibility she had to be carried into the restaurant.
Since then I've been caught in similar conditions and I can sympathize with her plight.
---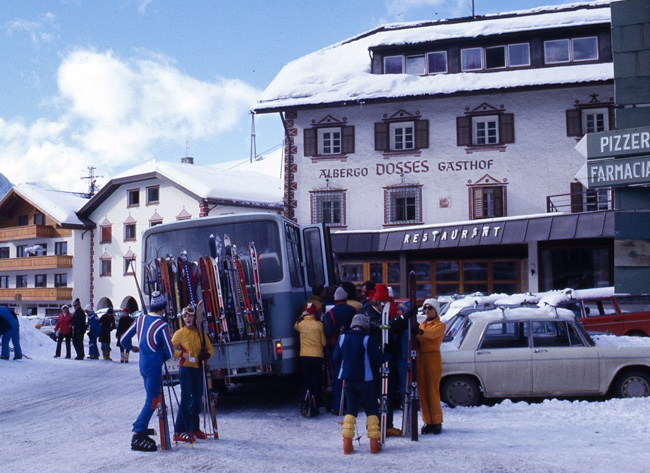 There are no interconnections between the various areas up & down the valley, so you ride buses to get around. It is quite a free-for-all as you struggle to get your skis into the carrier and then elbow your way onto the bus. I was always afraid that the bus would drive away with my skis before I could get on.
Once you arrived at your destination there was a corresponding struggle to extract your skis.
This is the only place we have seen the ski carriers on the BACK of the bus. A terrible design! When we returned to Val Gardena twenty years later the buses were still there but the ski carriers were much more convenient.
---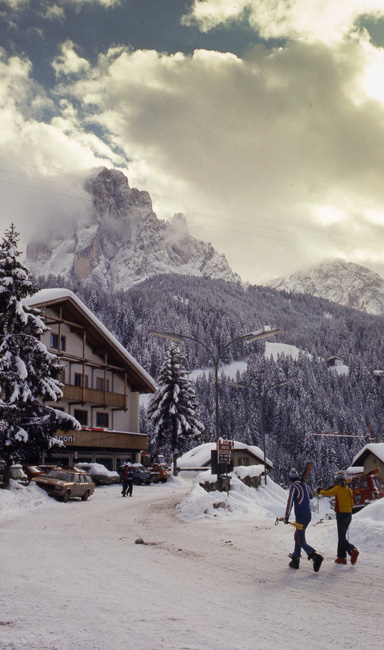 I don't believe that I've since seen as much snow in the European valleys as on this trip. The streets in Ortisei, which is farther down the valley and at a lower elevation, were clear, but here in St. Christina they are snow covered even in town.
All good things come to an end, however, and after a delightful week we met Ozzie for our ride to Innsbruck where we would spend a couple of nights.
---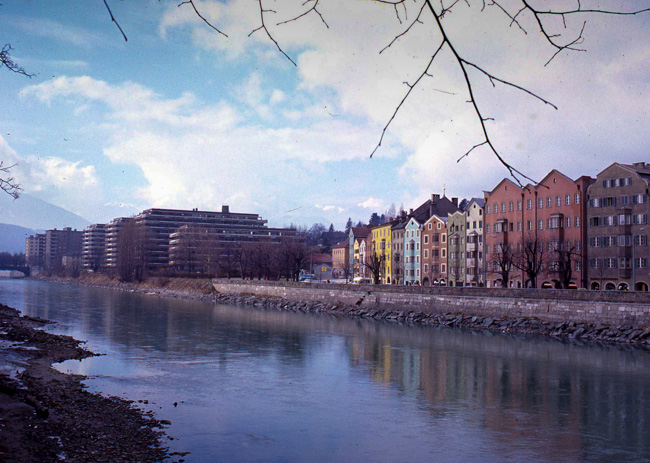 Innsbruck is a delightful city. Two years later we spent a week there planning to ski the various areas around the valley, but the snow was not kind to us. That was in the future, however, and on this trip we were happy to relax and explore the city.
---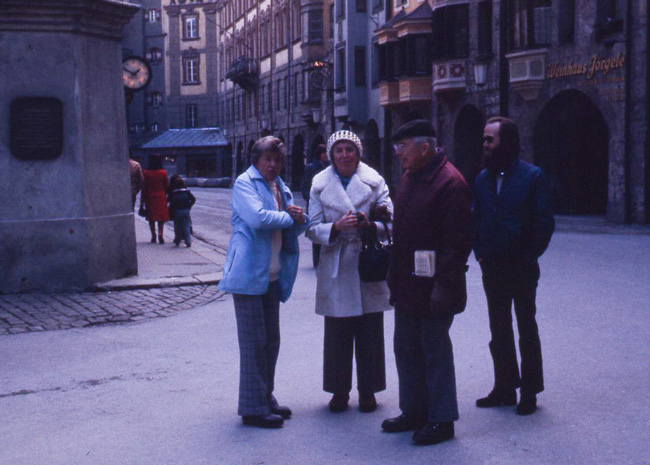 One expedition was with (L-R) Lu Beale, Dot & Jencks Mason, and Jim. We went searching for sinfully delectable pastries, preferably served with what Jencks called "gobs of Schlag" or whipped cream.
I'm happy to report that our expedition was a success. We had a delightful time at the Goldener Adler restaurant. (The Goldener Adler is now a Best Western hotel. Hmmm.)
---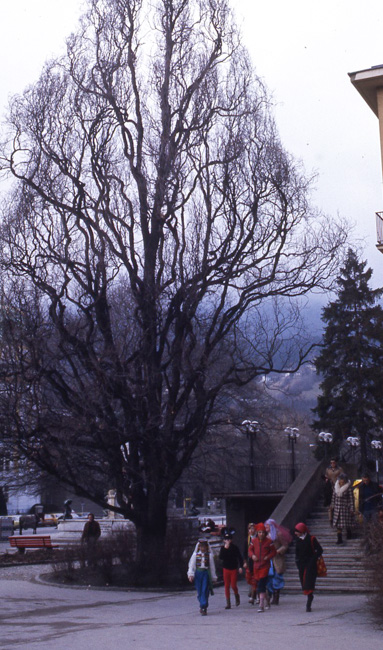 We were in Innsbruck in time for Fasching. Several of these party-goers looked like they had stepped out of the Arabian Nights.
---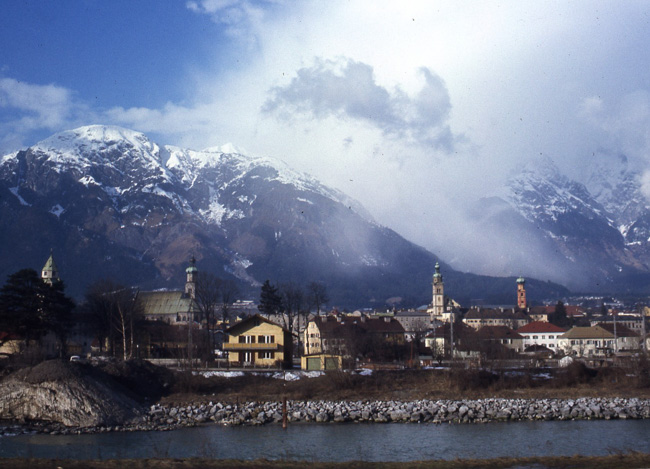 Finally it was time to pile onto the bus for our last ride – back to Munich and the plane home.
We have celebrated several anniversaries on PVS trips. In fact for our 20th anniversary we returned to Val Gardena and the Stetteneck.
We were at Snowmass, Colorado, for our 40th anniversary and treated the group to a celebration dinner.
Our skiing friends have been very dear to us over the years. We hope to spend many more years with them exploring the slopes here and abroad.
---
Click your "back" button to return to the previous page or click for our picture album.