We miss the farm, but it was a lot of work. We got chased out of Northern Virginia by the traffic. There are advantages to boarding the horses and not having to maintain property.
---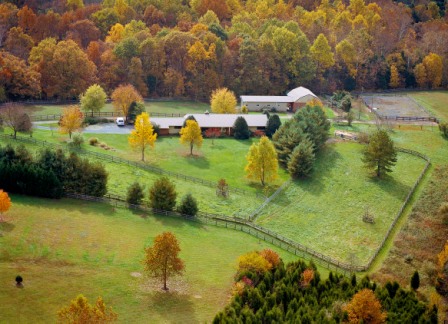 Aerial View (c) Air Photo, 2005
Every ten years or so a company would take aerial views of rural properties and market prints door to door. We had purchased an earlier picture, so I turned this one down. When it came time to put the farm on the market, however, I searched them out and bought this image and a copyright release.
We had 11 acres, much of it in the woods behind the barn and to the right out of the photo.
It was a perfect hobby farm.
---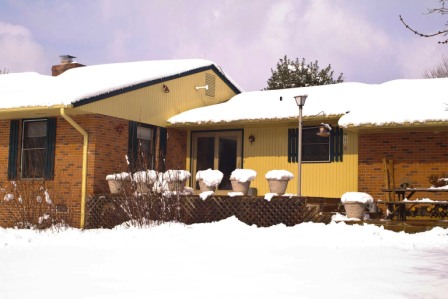 We never appreciated the house enough, however. It had been built by an electrical contractor for his home and was exceptionally well designed and built.
Once we converted it from all-electric baseboard heat to heat-pumps with propane backup, we could even afford to keep it warm in the winter.
It was a great place to have a party and we hosted many over the years.
---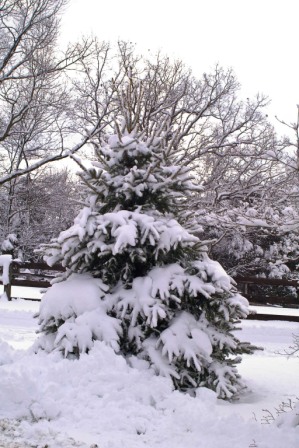 The relocation company that handled our move from California to the farm gave us a tiny Colorado blue spruce plant as a home-coming gift.
By the time we moved 13 years later it had grown into a magnificent tree.
Every Christmas we decked it out with lights. At first it was just one and finally it was several strands. I had to stand on a ladder and use a rake to reach up and position the top lights.
---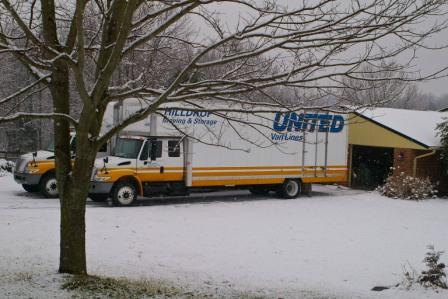 We relocated to Lexington in February and of course it snowed on the day the movers came to load up.
The driveway was too narrow and twisty to get a large van in, so they used two smaller ones for the first trip and still had to return for leftover items.
It was bittersweet, but we love Lexington and we definitely don't miss the traffic!
---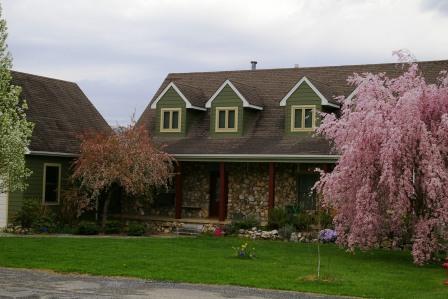 We jokingly call our new place the Termineigh Farm Annex.
We love the neighborhood and the neighbors. It's nice to be 15 minutes from everything (except the horses - they are 20 minutes).
Jim still misses the tractor. And we have planted a blue spruce.
---