Sunrise is the only horse that I've produced. I purchased an assignation between her mother, Kimber, and her sire, RF Kestrel, in a Virginia Arabian Horse Association stallion auction. Shortly after Kimber was pronounced in foal, we were transferred to California. A pregnant Kimber made the trip safely and Sunrise was born at Full House Farm in Los Altos Hills, CA. She remained a California girl through and through.
Sunrise moved with me from California to our farm in Catharpin, Virginia, and then when we relocated to Lexington, VA. After some years of declining health, she died in August, 2014.
---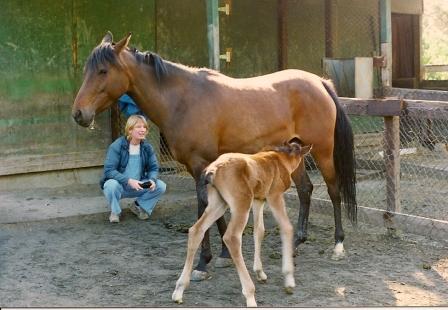 Here is Sunrise at just a few hours old with her exhausted mom, Kimber. Christy Cole, who owned Full House Farm, is in the background. She was expecting her own daughter on the same day, but Eyla wasn't born until the following week.
---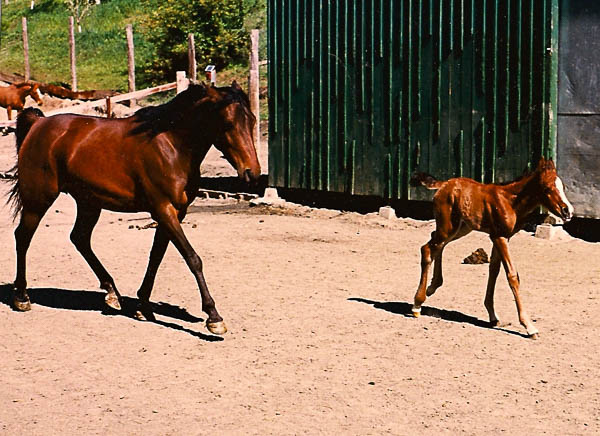 Just a few weeks later, Sunrise was leading her mom a merry chase.
---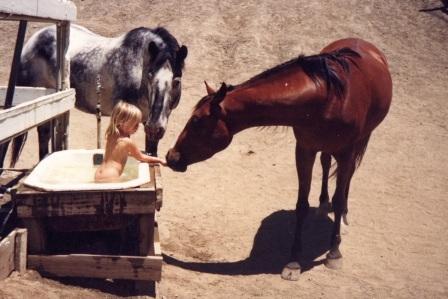 Sunrise and Eyla are both growing up. The appaloosa in the picture was named Cable. He was a very sweet guy.
Photo courtesy of Christine Cole
---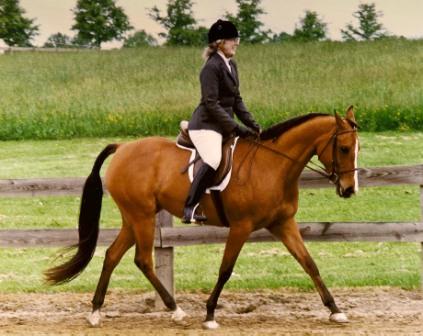 This was our first USEF rated show and I was very proud of her performance. We never left a show without a ribbon.
My goal that year was to qualify for the Regional Championship. We eventually did qualify in two events: Hunter Pleasure ATR and Trail AAOTR. Unfortunately she came down with a respiratory infection and we were unable to compete.
Photo courtesy of Carien Schippers
---