In early 2005 I was chatting with my friend Wanda Mouser during fellowship hour at church when she asked if I might be interested in a puppy. A tiny puppy had been brought to the Fairfax County Animal Shelter with a broken leg. Wanda volunteered there as a vet and had done the best she could to stabilize the leg and now the little creature needed a home. Of course I said yes!
---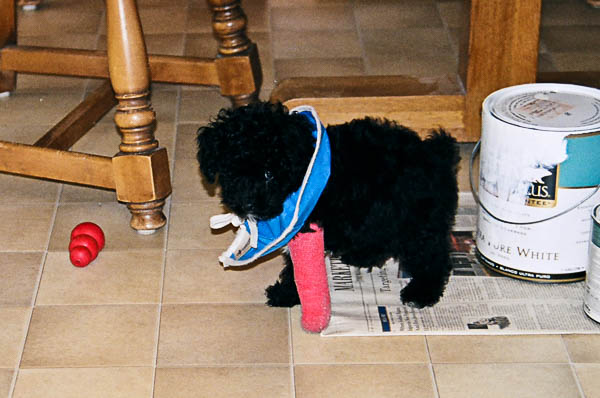 So we now had a 9-week-old puppy with a cast. His tiny size is evident by the gallon paint can.
We quickly found out two things:
He was a bouncy little creature, and
He was always underfoot.
Therefore he named himself "Hopalong Underfoot" or Hoppy for short.
Even though the broken leg healed, it ended up shorter than its counterpart causing problems as Hoppy aged.
---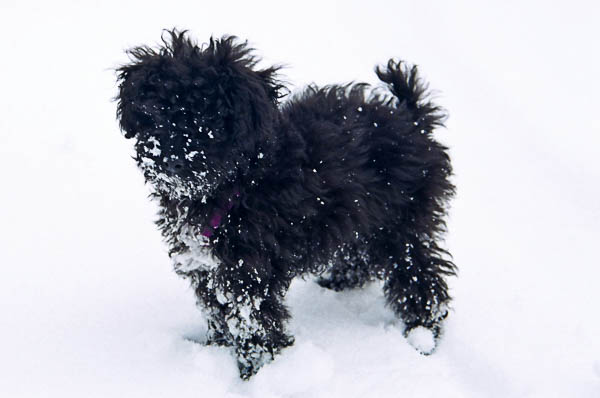 Before too long the cast was off and Hoppy was into everything. He loved his first snow storm!
We don't know his breeding, since he came from the shelter, but they said he was a Cockapoo. Okay, but for sure more Miniature Poodle than anything else.
---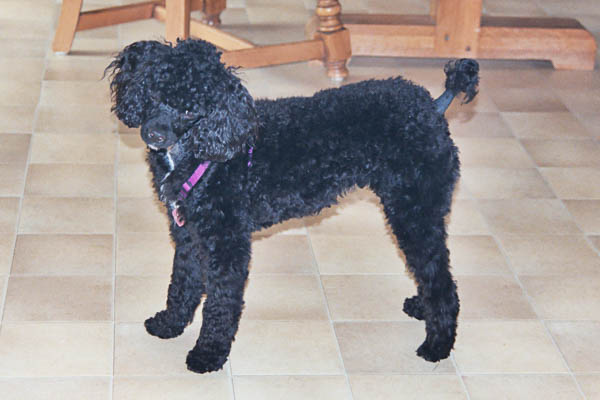 Before we knew it he was growing up and needed to get clipped. Here he is in his first puppy cut. So handsome!
---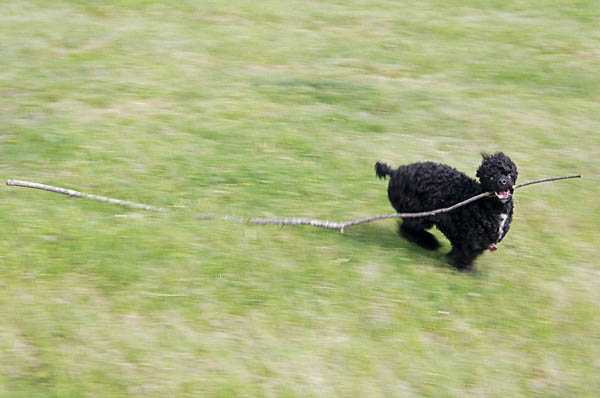 One of the things that Hoppy missed about the farm is the opportunity to go out and run around loose (and eat horse poop!).
He loved to scream around with sticks that bigger than he was.
In Lexington his out time was on a leash.
---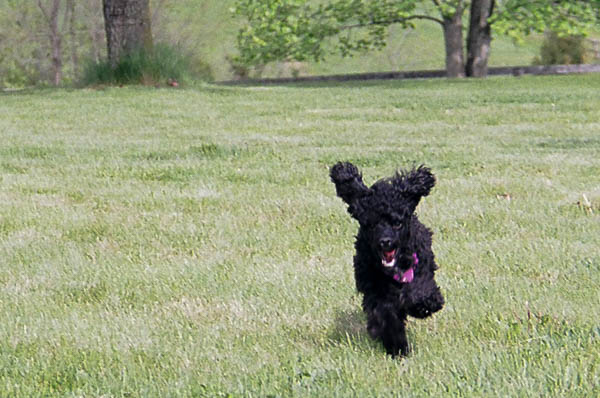 His ears never got as long as a cocker's, but his hair made up for it: flying ears!
---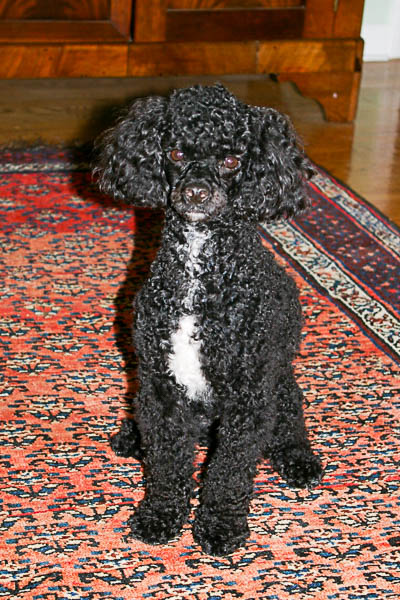 And after a grooming session: poofy ears!
---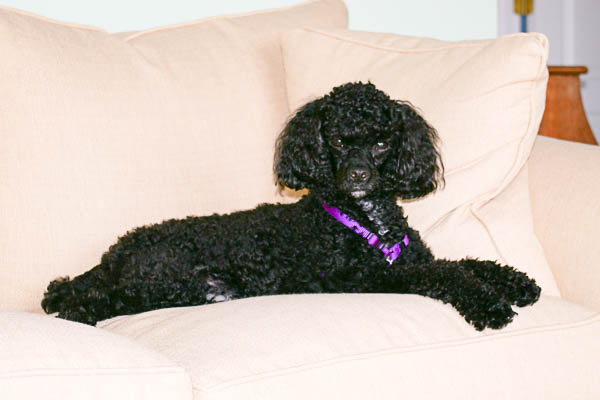 Lord of all he surveys!
For much of his life, Hoppy went with us everywhere. He was so well-behaved that we could even take him to restaurants! (The fact that he was black and would down-stay without a peep under the table helped.) He traveled as far south as Florida, west to Mississippi, and north to Pennsylvania. Not to mention countless horse shows where he was a fixture at the out-gate with Jim.
As he aged he became less interested in travel, so we engaged a house & dog sitter for him. That suited him just fine because she let him sleep on the bed with her!
---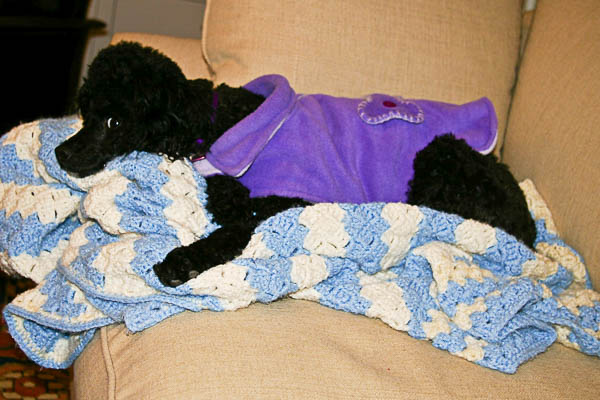 Winter was not Hoppy's favorite time, but he did love to cuddle in the blankets.
---
By 2016, the various aches and pains of age were compounded by the long-term effects of the early broken leg. He was on increasingly hefty doses of painkillers to manage the pain. Then in April of 2017 Hoppy's "geriatric exam" blood test turned up some suspicious numbers. The vet recommended an abdominal ultrasound. Among the findings, none good, was a tumor on his spleen. These are usually malignant and can rupture with catastrophic internal bleeding. Even though major surgery was possible, the prognosis was not good and we made the difficult decision.
He packed a personality as big as all outdoors into his 12-pound frame. This world is a sadder place without him. Adieu, Braveheart!
---