Today we left the Upper Mississippi and entered the Lower Mississippi at the confluence of the Ohio River.
---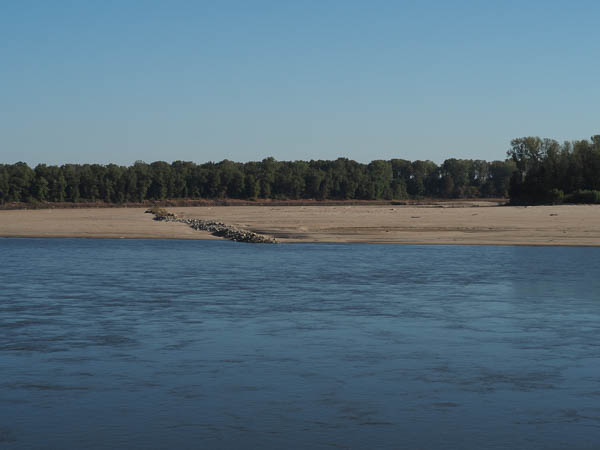 Throughout our journey the wing dams, designed to funnel the river flow into the channel, were visible due to the low water. In normal times all or most of the sandbar would be under water and the dam would not be visible.
Some believe that wing dams may exacerbate flooding in certain conditions. When they are submerged, as is typical, they pose a hazard to boaters. On the other hand, the slack water downstream from such a dam can be a boon to fishermen.
---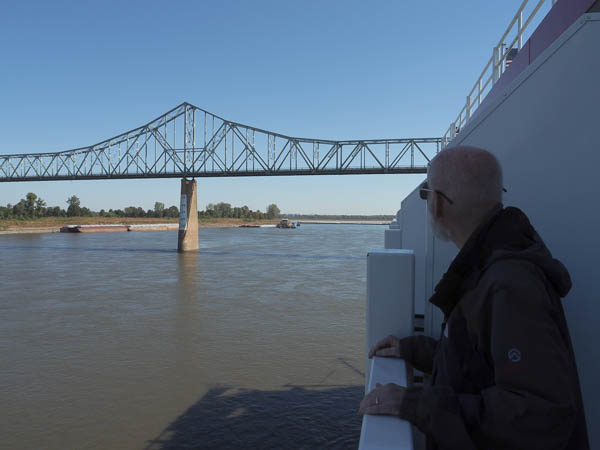 As we approach the confluence, we are about to pass under the US-62/US-60 bridge over the Mississippi.
---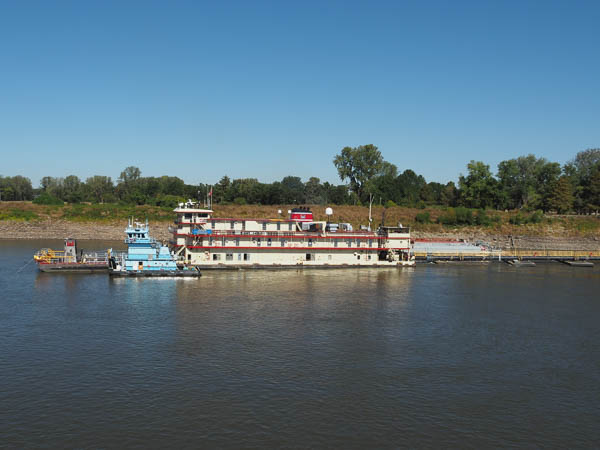 Shortly after passing the bridge we passed this U.S. Corps of Engineers dredge, Jadwin. The story at the link describes the action of the dredge and the necessity of an open river to commerce. Ironic considering that the river was soon to be closed due to low water.
---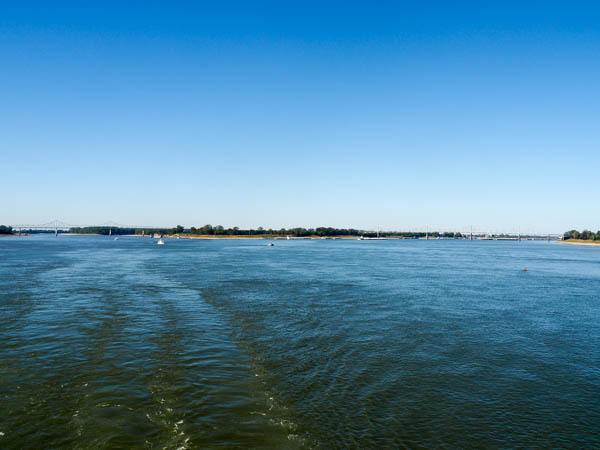 We are now cruising the Lower Mississippi River.
Land on the left is Missouri, land in the center is Illinois, and land to the right is Kentucky. They told us that we would be able to see the distinctive colors of the rivers here: the Mississippi brown and the Ohio green. Alas, they both reflect the blue of the sky equally, so we never did see a difference.
The Ohio carries more water than the Upper Mississippi, so the river size more than doubles downstream of the confluence.
I don't know why Itasca got the nod as the headwaters of this great river system. The Missouri is longer and the Ohio is larger than the Upper Mississippi.
Our next stop will be Memphis.
---
Click your "back" button to return to the previous page or click for our picture album.