Our much-loved ski club, Potomac Valley Skiers was supposed to celebrate its 55th anniversary in 2020, but we all know what happened to that. The celebration was postponed to 2021. As the pandemic continued to rage with the Delta variant and an astonishing number of refuseniks, the 2021 date looked to be in jeopardy as well, but enough people signed up to enable us to reserve an outdoor tent for luncheon at L'Auberge Chez Francois.
The party was on a Wednesday, but we drove up to NoVA on Monday. We planned to spend some time at the Smithsonian on Tuesday, but most of the museums were closed due to COVID restrictions. Not to worry, we strolled around town and met our friends Dick and Rosemary Schwartzbard for dinner at Jaleo, one of our favorite DC restaurants.
After enjoying the gathering on Wednesday, we relaxed at our hotel and drove home the following day.
There are a couple of ways to follow us on our trip. I've tried to make the narrative a complete summary, but I've used many links to other web sites to provide additional details and sometimes pictures. You can stick with the basic narrative or explore the links. At the time this album was created the links were all valid, but the WWW is in constant flux and that can change. If you encounter broken links, please send us some email.
---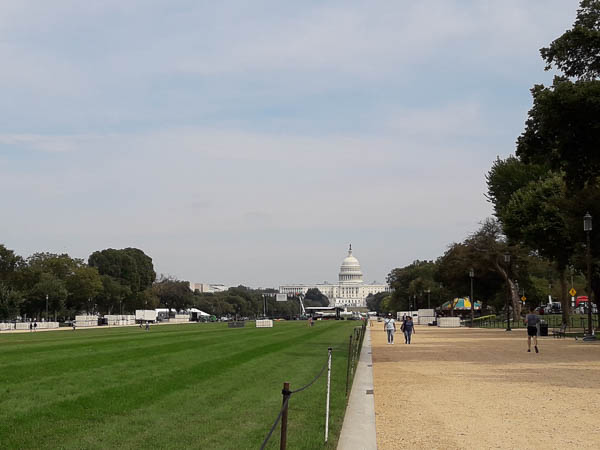 The Delta variant had much of DC closed. Tourists were few and far between. Even the annual Folklife Festival online in 2021.
On the plus side, the grass is as thriving as I've ever seen it.
---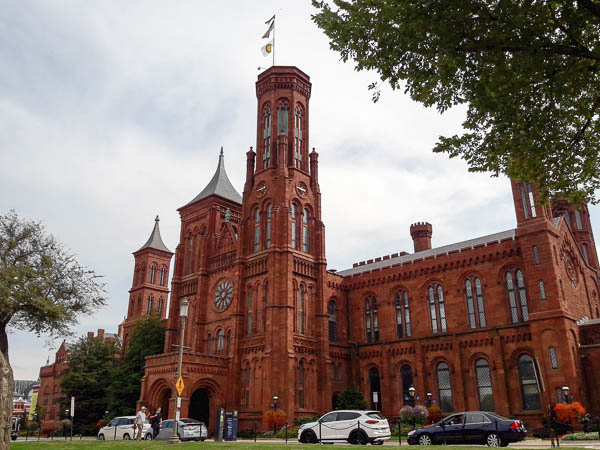 The Castle is the original Smithsonian building. It was open, but there is no exhibit space there anymore.
We've spent many happy hours in Resident Associate programs here. We've also taken many local tours, mostly to see railroad sites, but also old mills, canals, and such like. To see our various Smithsonian adventures, visit our Picture Album and look for entries identified by "Smithsonian." As I locate more old pictures, I may add others.
---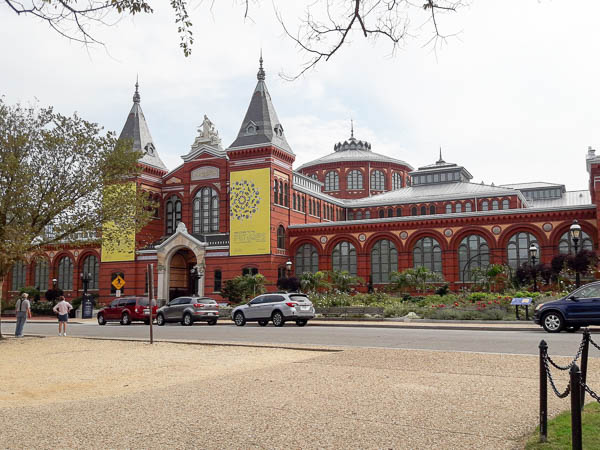 The second-oldest (and our favorite) building is the Arts & Industries building. It had been closed for many years due to structural concerns, but has now reopened. We were disappointed that the grand new exhibit was still being installed, so we couldn't go in.
One of our Smithsonian programs was a "hard-hat" tour of this building when it was beginning restoration.
---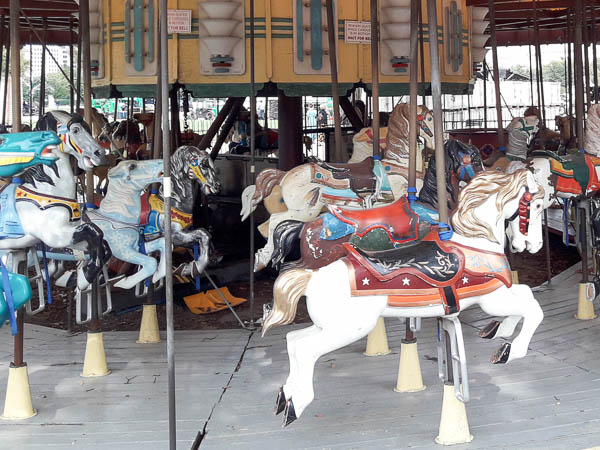 The carousel in front of the A&E Building was built in 1947. In 1981 it replaced an earlier 1922 carousel.
The carousel was not in operation for our visit or I may have taken a spin.
---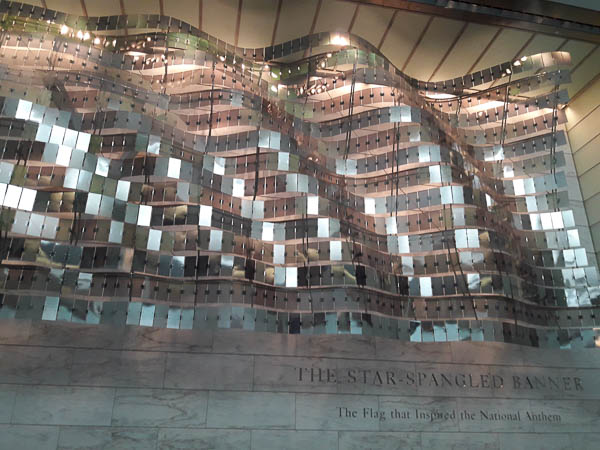 The only mall museum open on the day we visited was the American History Museum. Visitors entering from the mall are greeted by this abstract representation of the Star Spangled Banner, now displayed in a purpose-built conservation gallery.
The last time I visited this museum many years ago, the actual flag hung in this space.
---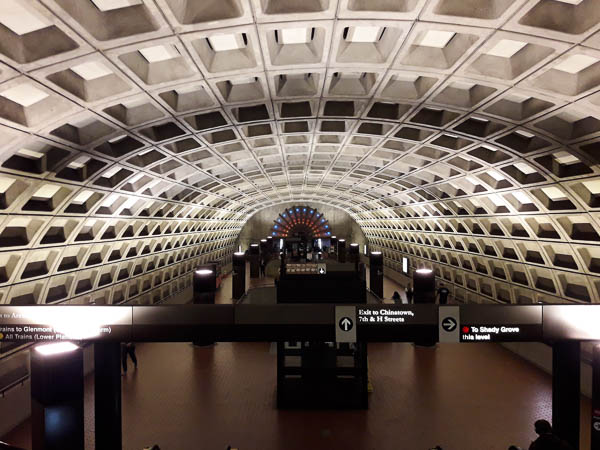 After meeting our friends for dinner, we returned to Virginia and our hotel. I never though I'd see Metro as empty as this!
We used the new (to us) metro station in Reston. The extension to Dulles is not yet completed. It is expected to open some time in 2022.
---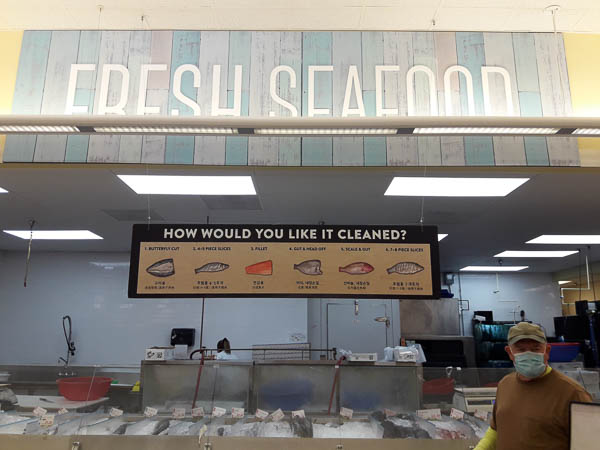 We enjoyed living in the DC metro area for many decades, but the only things that makes us homesick nowadays (besides old friends) are ethnic supermarkets & restaurants such as Jaleo. A Korean H Mart has taken over the Herndon location of a former Giant. No fish in shrink-wrapped plastic buckets!
The only similar market we know here in The Valley is in Harrisonburg.
---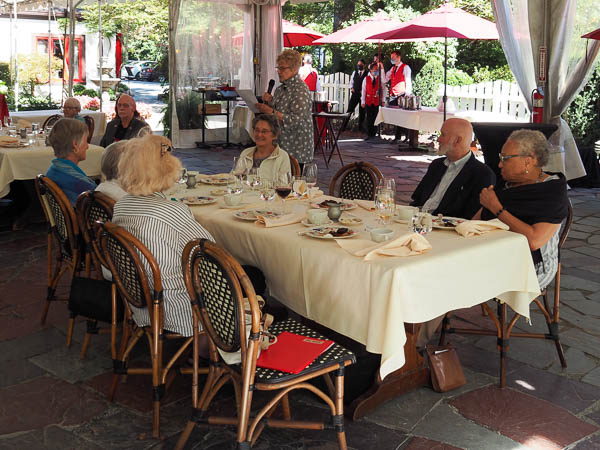 The next day we joined 40+ PVS friends for a wonderful celebration. As two of the longest-term members present (45 years and counting), Jim and I sat at the "head table."
L-R are Ellie Thayer, Nancy Pigman, Claire Soponis, Jan Marx (the only member present who has been a member longer than we), Jim, and Maryann Rozzell. Marianne Soponis, in the background with the mic, is introducing the program.
In 2000, PVS created a time capsule to be opened in 2020. The program for this day was opening that capsule. Jan and I did the honors. Sadly, there were only a few attendees who had been members in 2000. PVS has always been a club for "mature" skiers and too many have passed on.
I didn't capture everyone's picture, but I tried.
---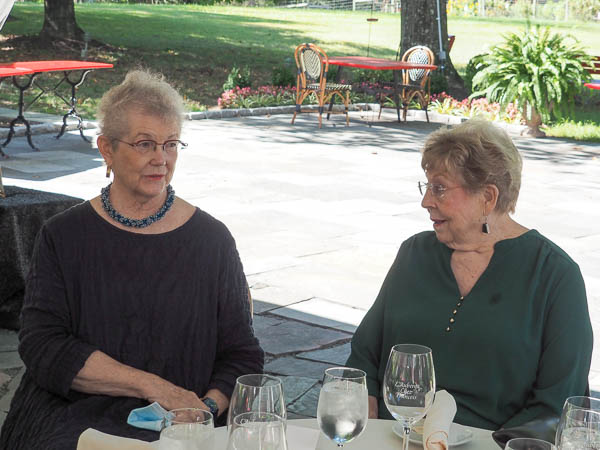 Jannes Gibson and Carolyn DeVilbiss having a nice chat.
---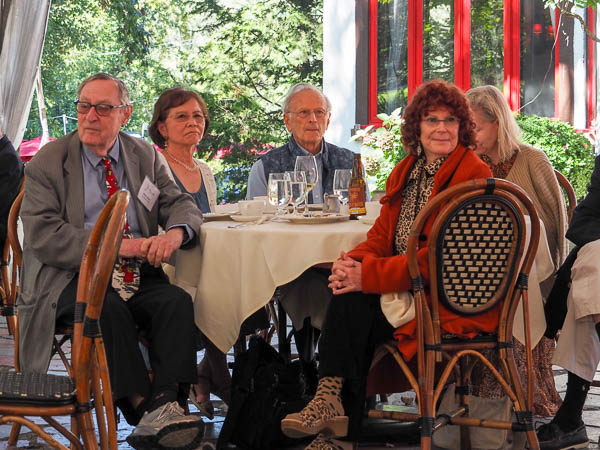 I don't recognize many of the newer members. From L-R at this table are Bob Jablon, a couple I don't recognize, Cara Jablon, and another couple I don't know.
We have enjoyed traveling with Bob & Cara over the years including an enjoyable trip they coordinated to Steamboat Springs in 2019.
---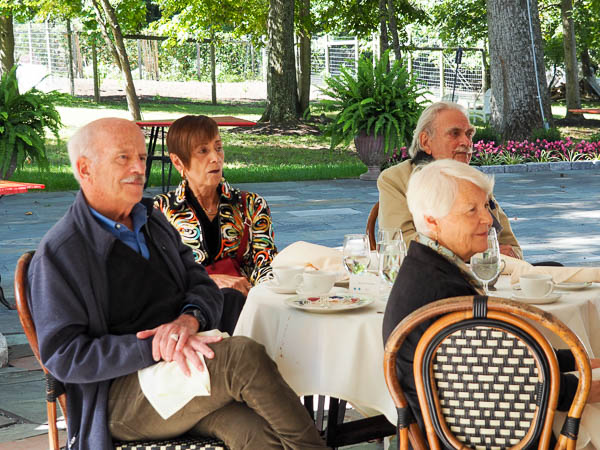 Dick & Rosemary Schwartzbard with a couple I can't put names to. Rosemary is my best ski buddy and we had enjoyed our dinner at Jaleo the night before.
---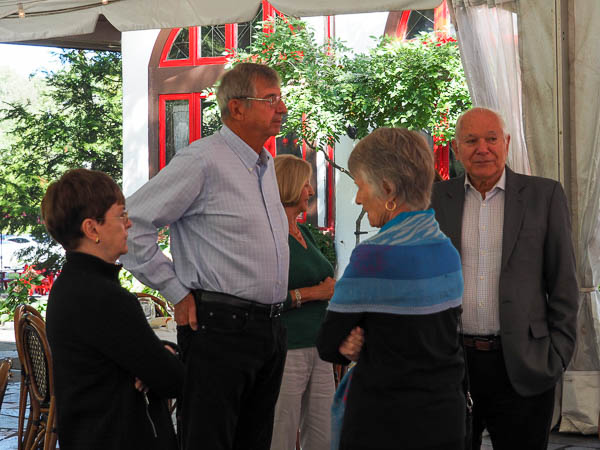 L-R: Polly Brunelli, Kerry Hines, Marianne Hines, Ellie Thayer, and John Brunelli.
John and Polly were two of the handful of people who had been members prior to 2000.
We enjoyed a trip to Alyeska, Alaska, led by Kerry and Marianne in 2014.
---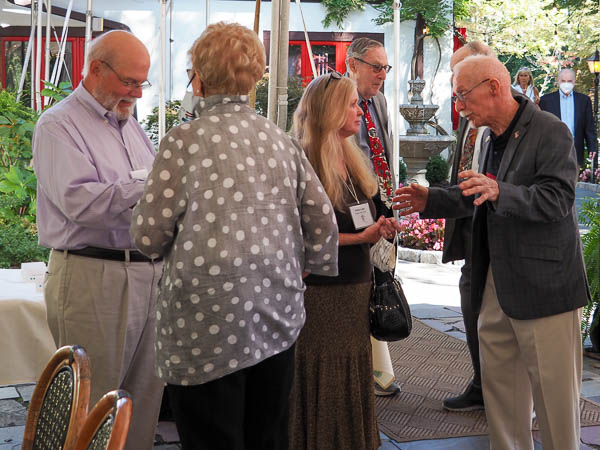 L-R: Barry Lake, Marianne Saponis, Kathy Lake, Bob Jablon, Mike Strand (background), and Burr Schuler.
Barry and Kathy are the current leaders of the popular Snowmass trips. Burr is another long-tenure PVS member -- at least since 1986.
---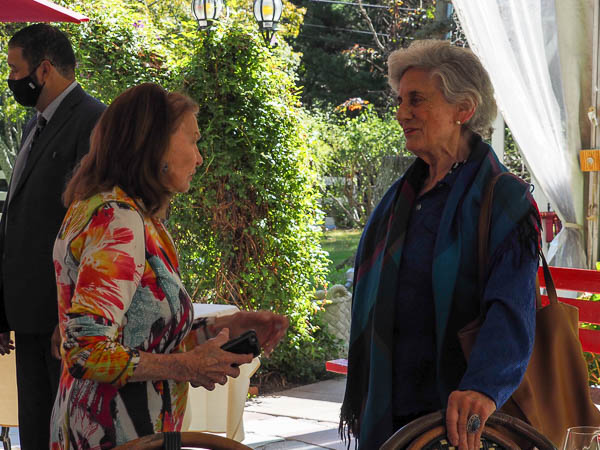 Suzanne Boisclair, on the left, has been a member since at least 1983. She is one of our two centenarians and skied well into her 90s.
Melissa Fitzgerald has been a member since 2004.
---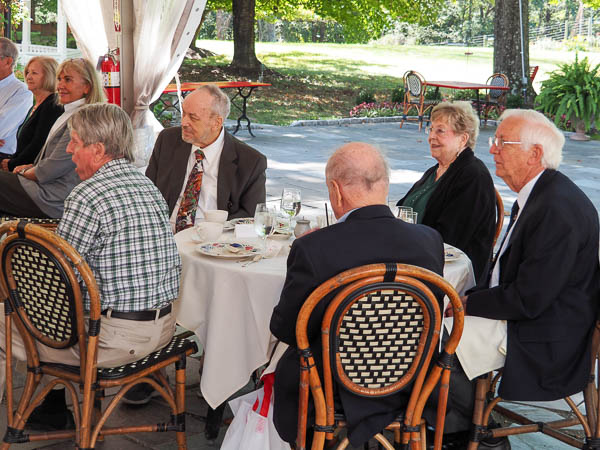 L-R: John Holt, Mike Strand, someone I don't recognize, and Carolyn and Dave DiVilbiss. Carolyn and Dave led several of the PVS trips to Snowmass.
Dave is one of those who were members prior to 2000.
---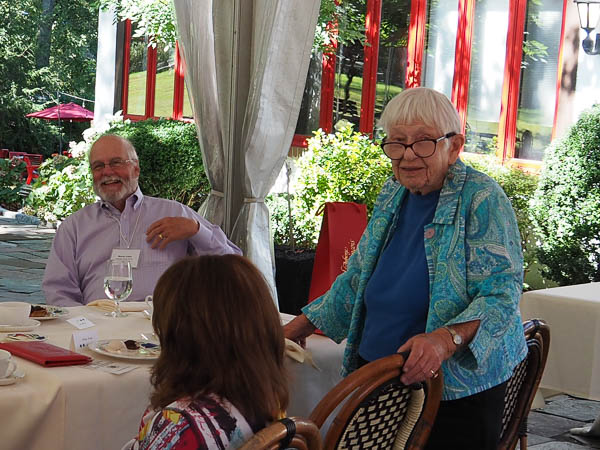 Shirley Rettig (R) has been a member since at least 1982.
---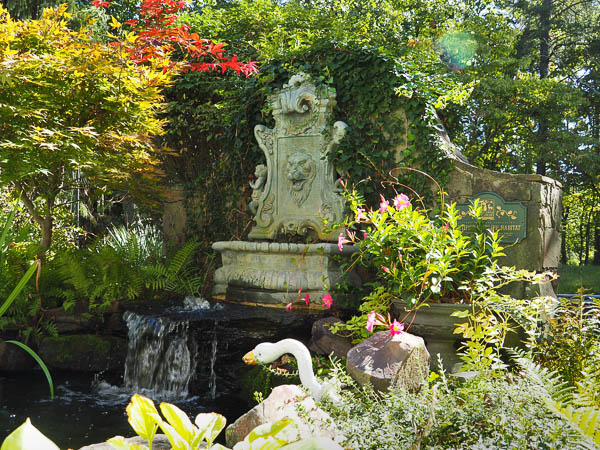 The grounds of the restaurant were beautifully landscaped. The plaque behind this fountain identifies the area as a certified wildlife sanctuary. A suitable place for our club, which has enjoyed its share of wild skiing over the past 55+1 years.
---
Click your "back" button to return to the previous page or click for our picture album.