All good things must come to an end and our week at Strathgheny was no exception. Here are some pictures of folks as they are getting ready to scatter to the winds.
---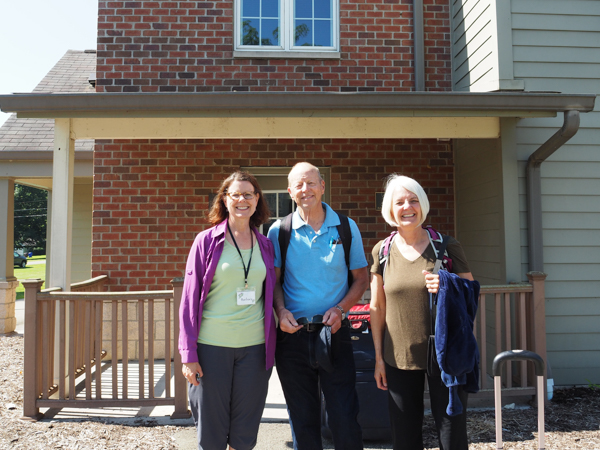 (L-R): Barbara, Louis & Kris. Barbara is from Northern Virginia and is another one who has made all five Strathgheny sessions.
Lou & Kris were our New Mexico contingent. Another camper came from California! Other states represented were New Jersey, New York, Ohio, Pennsylvania, & Vermont.
---
Barbara & David as David is off to catch a plane.
---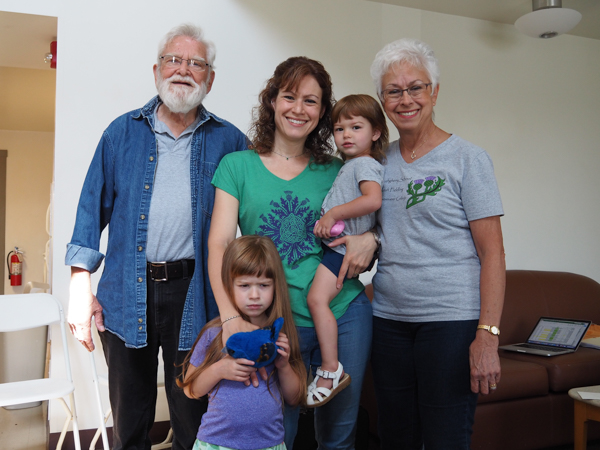 Three generations of Crawfords (apologies, Dan!). L-R: Ken Annika, Melinda, Fiona & Gay. It not only takes a village; it takes a family to pull everything together.
(Annika wasn't happy about being photographed. Gay threatened to show her this picture when she turns fifteen!) She's still a lovely youngster even with her unhappy face on.
---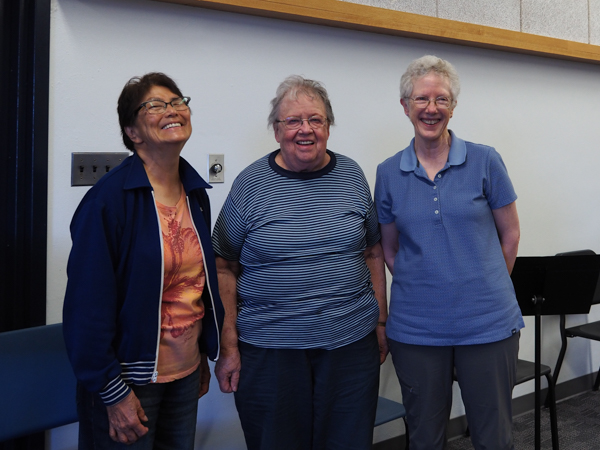 Me & my besties, Lorraine & Juanita. I roomed with Juanita in 2011, my first year at Jink. She saved my bacon that year! The following year Lorraine joined us and we've roomed together ever since.
---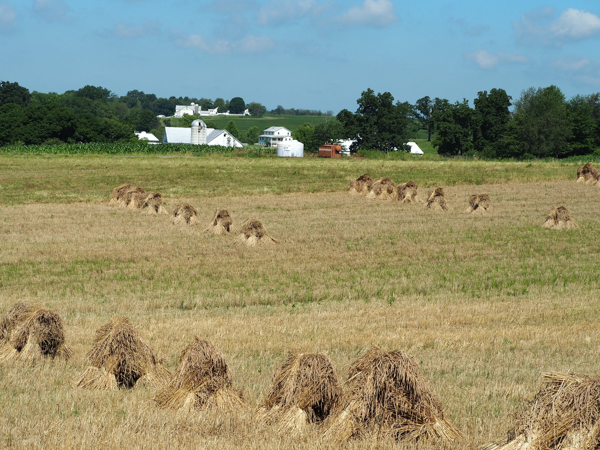 I had a long drive home that day, but I stopped to capture these shocks of wheat (barley?) straw on the way out of town. New Wilmington is home to a large Amish community and many of the surrounding farms are managed in that traditional way.
I made it home by making frequent stops, walking around at every stop, and drinking copious quantities of iced tea! At every stop I would text Jim: "Made it as far as ...." We were both glad when I arrived home safe & sound.
---
Click your "back" button to return to the previous page or click for our picture album.