One of our PVS friends, Dorian Janney, works for NASA at the Goddard Space Flight Center (GSFC). She volunteered to put together a behind-the-scenes tour for the club if there was any interest. Was there interest! The trip filled up quickly and even had a waiting list. Jim and I were among the first to sign up. Friends Rosemary & Dick Schwartzbard offered us a place to stay and the trip was on.
I had another opportunity for a behinds-the-scenes visit some 45 years ago. My friend Roxanne Taylor's husband Tom worked there and he took us to see the space shuttle, which was still under development. I don't know which one we saw, probably Enterprise. I remember holding one of the prototype tiles, which were quite controversial at the time. I was curious to find out if I would recognize anything on this visit. Nope.
There are a couple of ways to follow us on our trip. I've tried to make the narrative a complete summary, but I've used many links to other web sites to provide additional details and sometimes pictures. You can either stick with the basic narrative or explore the various links. At the time this album was created the links were all valid, but the WWW is in constant flux and that can change. If you encounter broken links, please send us some email.
---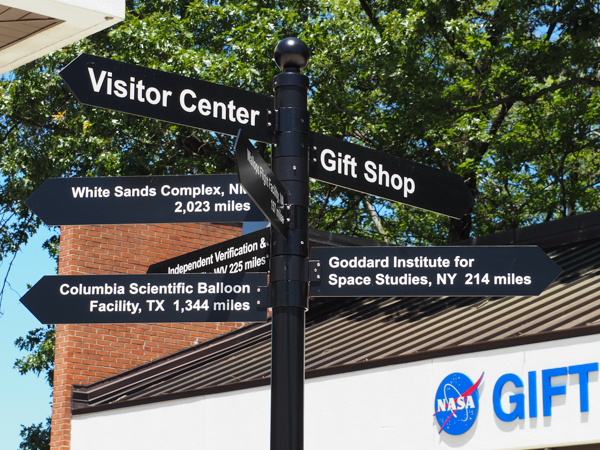 The GSFC may have been NASA's first facility, but it is not the only one. This signpost indicates several others as well as the all-important Gift Shop!
We hoped to have more time exploring the visitor center before our program started, but traffic tie-ups kept us from arriving as soon as planned.
---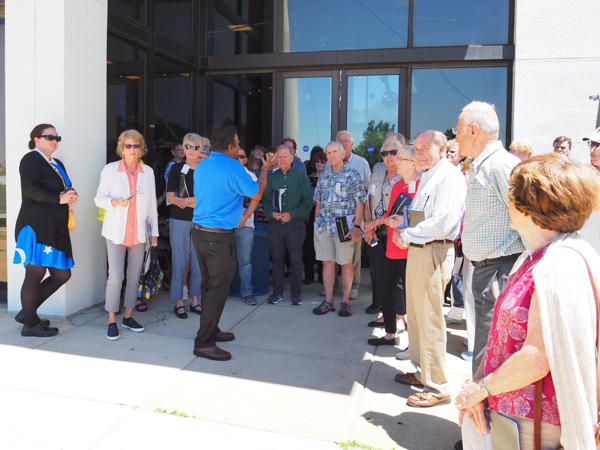 Our program started with presentations by Dorian and one of her colleagues on their particular missions within the center. Dorian works on the Global Precipitation Measurement (GPM) mission. Prior to this visit I had no idea how involved NASA is with Earth Sciences research. There is a LOT more to it than space exploration! The applications areas for this mission alone include ecology, agriculture, energy, disasters, health, and weather.
The presentations emphasized the importance of collaboration and cooperation. NASA is working with the Japan Aerospace Exploration Agency (JAXA) on the GPM mission.
Another example of cooperation is the use of the TRDS data relay system that provides almost real-time data download.
After the presentations, we divided into two groups for our tours of the rest of the facility.
---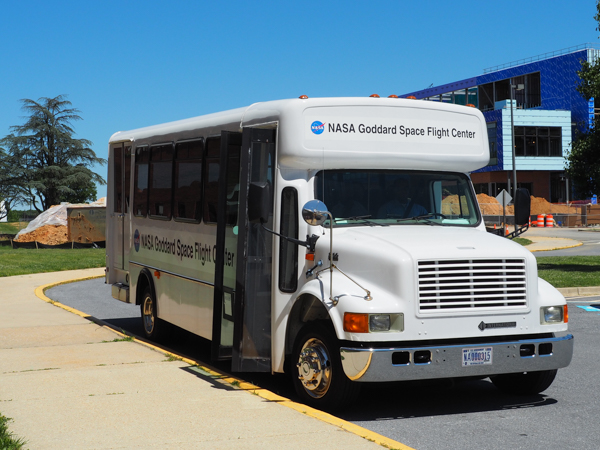 We had two dedicated "taxis" to shuttle us to the various points of interest. To prevent overloading any one location the two groups proceeded in reverse order.
---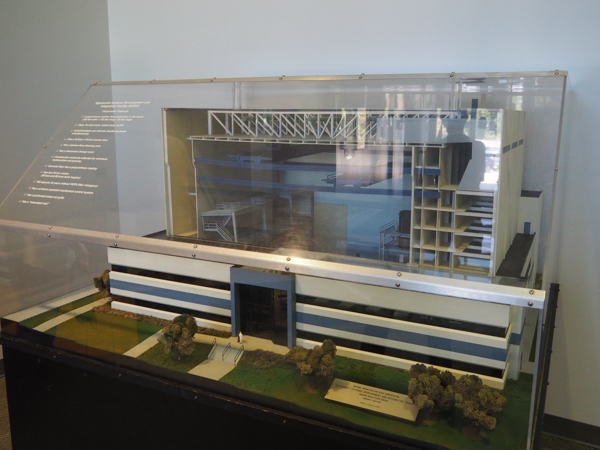 Our group's first stop was the world's largest clean room.
This model shows the surrounding structures that support the air flow and filtering.
The tiny human figures outside the building door show the scale.
---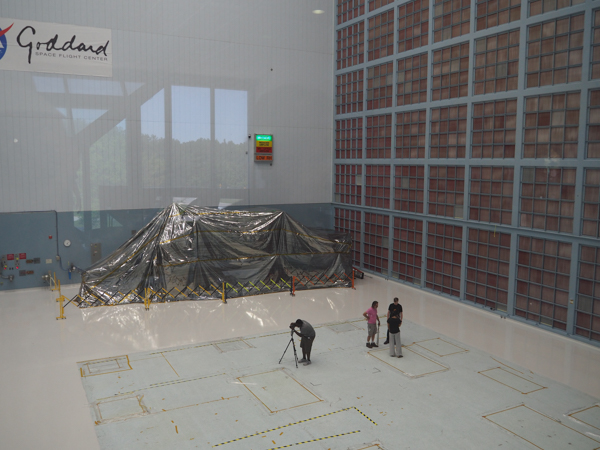 At the time of our visit, however, the clean room was unclean! It was being updated.
Click to see a presentation of the room as it appeared when the James Webb telescope was being assembled and tested. It includes a detailed demonstration of getting suited up for entry.
Our guide wasn't sure how long it would take for the room to become clean again after the update.
---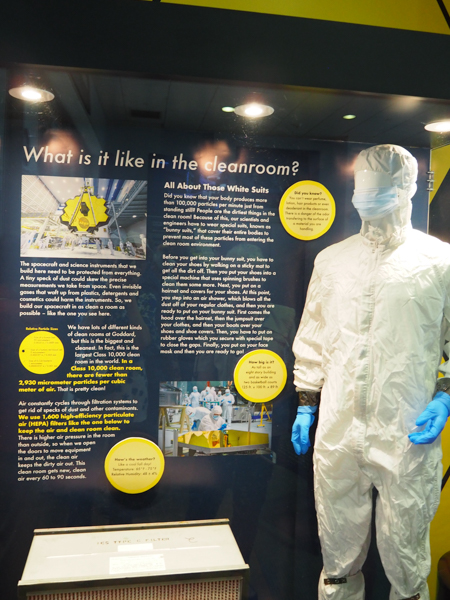 A model of the "bunny suit" that workers in the clean room don.
We saw many other clean rooms during our tour. Some are clean-er than others. There are ISO and US standards defining relative clean-ness as measured by maximum particles per unit volume.
---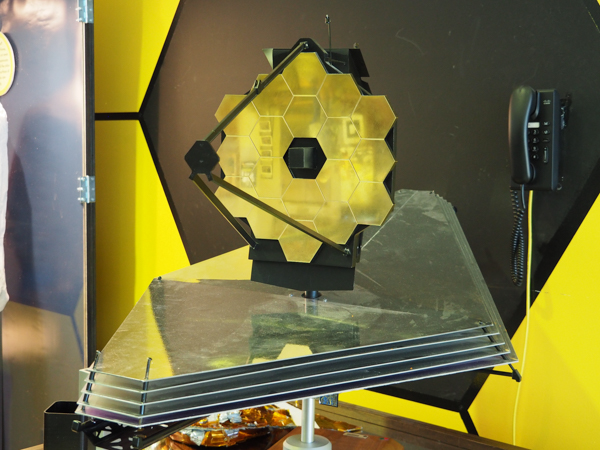 The James Webb Space Telescope (link opens in new tab) is NASA's next big eye on the universe. It will be much farther away from earth than the aging Hubble space telescope.
Unlike the Hubble, the James Webb telescope will orbit the sun rather than the earth and will be over 1M miles from earth.
This model shows what it will look like when fully deployed.
---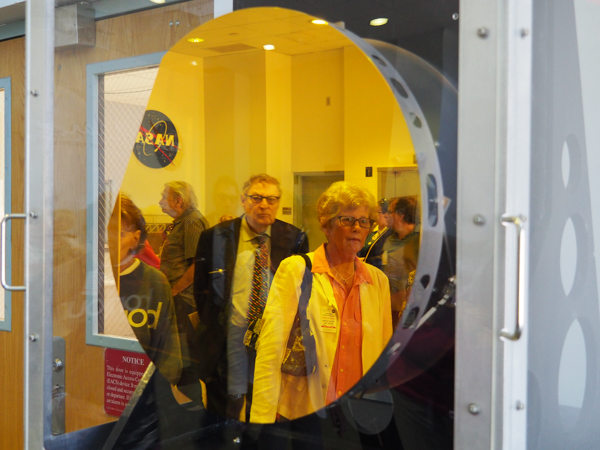 Bob and Sharon are reflected at the sample mirror on display.
---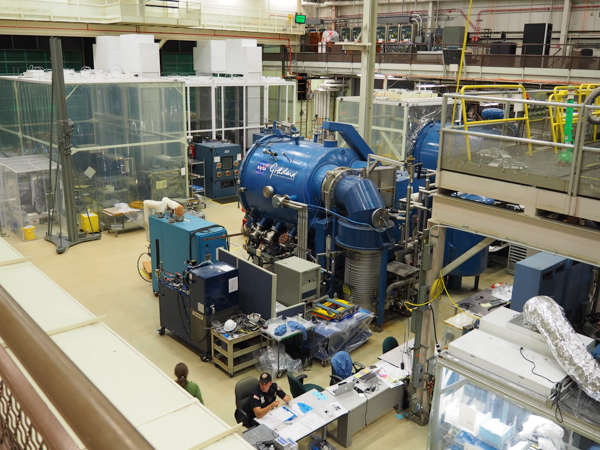 Our next stop was the environmental test facility.
The blue cylinders are capable of extreme heat, cold, and vacuum testing. There was another one that was much larger in an adjacent building.
Clean rooms of various sizes and configurations are scattered around the building.
Other types of environmental tests performed include vibration, such as would be encountered when being shot into space on a rocket, extreme noise, such as that created by said rockets, and magnetic fluxes, such as might be encountered in space.
Our guide told us that the noise chamber is quite deadly. A bird had been caught inside during a test and they didn't find anything afterward except its feathers. Maybe. There is some corroboration of the lethal effects of sound in the European equivalent test facility.
---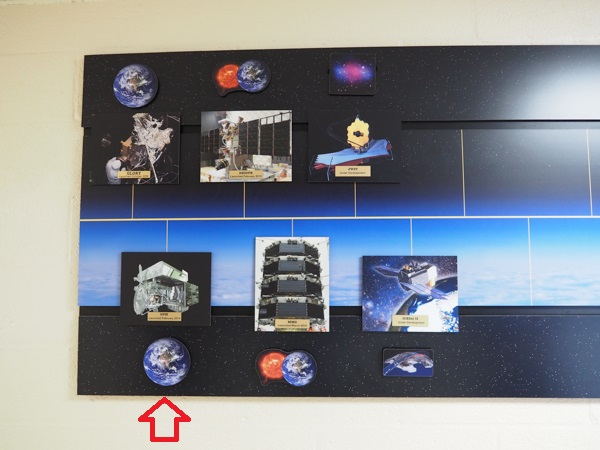 As we were walking through the building, we passed a display commemorating various NASA missions. The timeline extended down one wall and wrapped across to the opposite. Dorian's mission, GPM, marked with the red arrow, is included.
There is room for many other missions!
---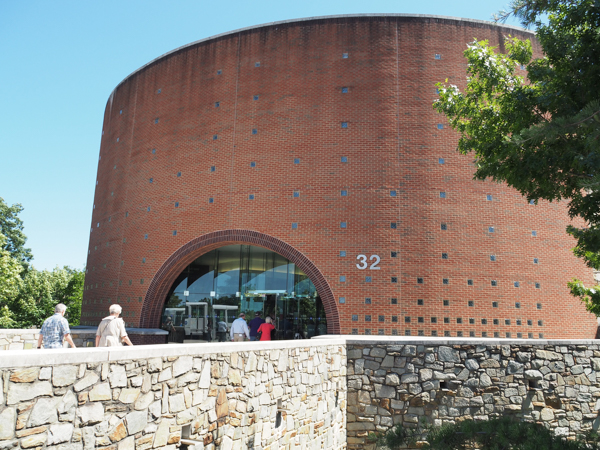 Our final stop was "mission control" for many of the ongoing projects including GPM.
There was a big-screen display of the last two weeks of precipitation data. I have been unsuccessful in setting up a direct link to it, but I have downloaded the file. It is a large file and may take time to download. Also, depending on your browser, you may have to click "allow blocked content" for it to run. Click to see the video in a separate tab. Pretty cool.
---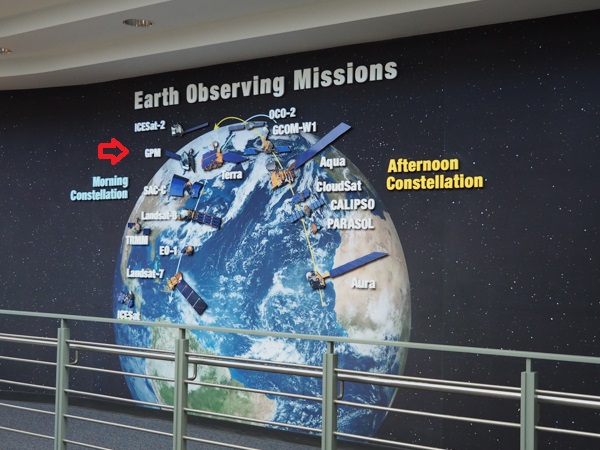 We were also able to see GPM in context with several other satellites with similar missions.
Many thanks to Dorian for setting up this tour!
---
Click your "back" button to return to the previous page or click for our picture album.