Exhibitors are as proud of their engines (maybe more so) as they are of the custom paint jobs. Many years ago we had a ski club friend who had a Morgan, wooden frame and all. He enjoyed car shows and kept his baby spotless. He even had a matching feather duster for display in the engine compartment.
---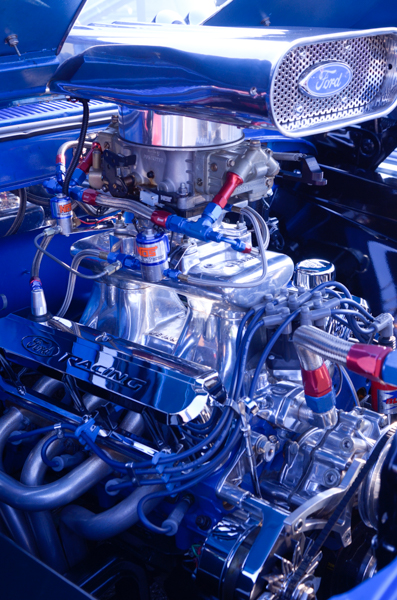 Once upon a time when I maintained my Fiat 124 Sport Coupe myself, I had to borrow a colleague's timing light for tune ups. For that reason I did them in the parking lot at work. It was a great attraction, of course, and many marveled at the cleanliness of my engine. I always responded that I didn't want to get my fingernails dirty.
Well, that was one grubby engine compared with the ones I saw here!
I loved that Fiat and did all the work on it except changing the oil (icky!). It ran like a charm, but after 13 years succumbed to rust.
Jim's first present to me was my very own timing light. That's when I knew it was love!
Jim sez: "If'n it don't go; chrome it!" This may look like a killer racing engine, but it has a suspicious amount of chrome.
---
These air horns also triggered Fiat memories. That car may have been small, but it had a horn that would clear anybody out of our way. I used it only when absolutely necessary.
When I finally replaced the Fiat with an Audi 4000 Quattro I gave up doing my own maintenance. By then I had bought a horse and decided to refocus my energy. Besides, fuel injection was a whole 'nother can of worms.
---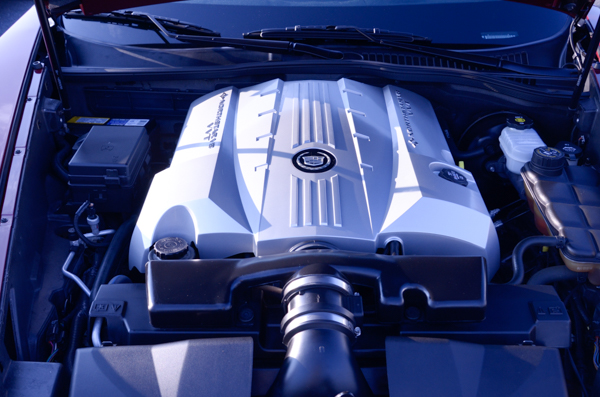 After 17 years I replaced the Audi with another Quattro. The salesman insisted on showing me the engine and it looked not unlike this. What engine? Where?
This is a Cadillac Northstar VVT. The Northstar engines were ambitious and expensive to repair. They have been discontinued.
PS. The second Audi did not capture my heart like the first one. After three years I traded it on a Subaru Outback. I'm now on my second Subaru.
---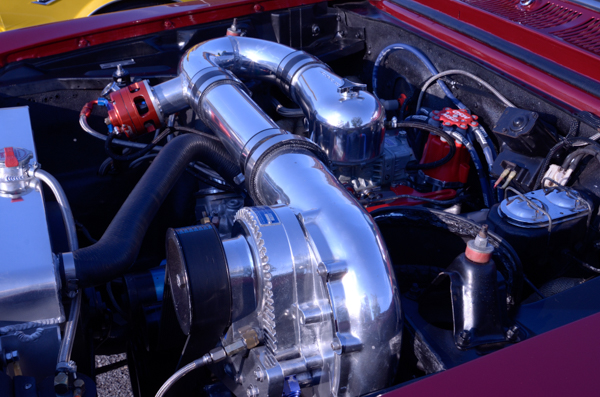 My first Subaru was turbocharged, but it's engine didn't look nearly as glitzy as this. Is that true? I'm not sure because by then I wasn't paying much attention to engines.
This is a swanky modified Chevy II.
---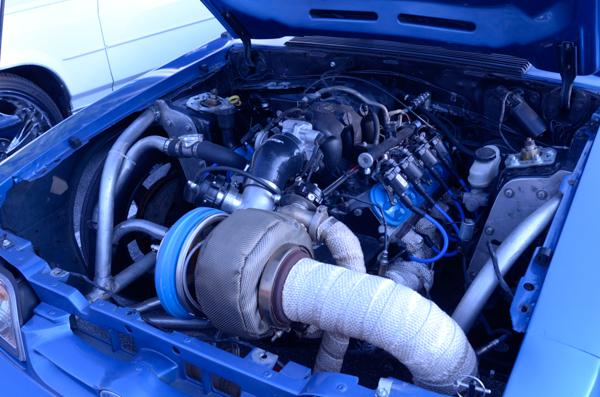 Not nearly as swanky, but perhaps more serious. This is a dump truck engine with a home-built turbo charger. I forget how much horsepower the owner claimed for this engine, but it was an impressive figure.
---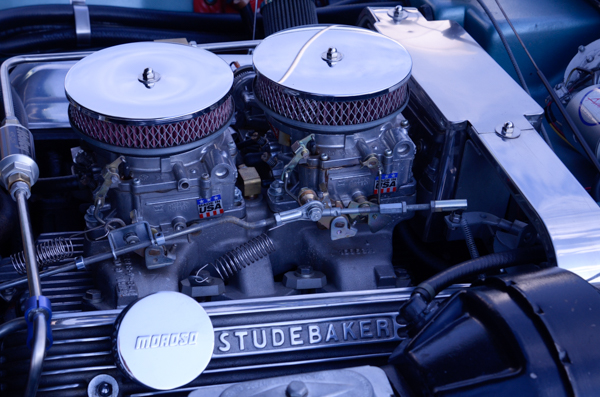 I'm sorry there was no one to talk to about this beauty. I've found dual-carburetor Studebaker engines online, but none quite like this one. This may belong to the Avanti I drooled over.
One of my colleagues years ago tried to modify his Datsun 240Z to run with THREE carburetors. He had visions of SCCA racing, but I don't think he ever got it running right.
---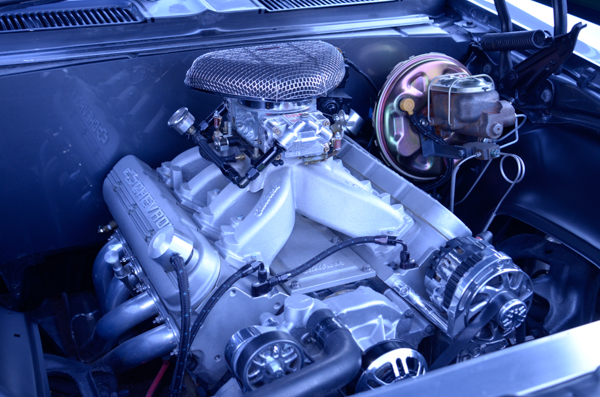 The sculptural form of this engine is striking. It makes me ponder whether the aesthetic goals of engine designers were conscious or not. I haven't been able to find a WWW discussion of engine-specific design, although I did find one that mentioned the aesthetic qualities of sound. Truly the hum, purr, growl or grumble of a finely tuned engine has its own appeal.
I guess 80% of the exhibits were either Ford or Chevrolet.
---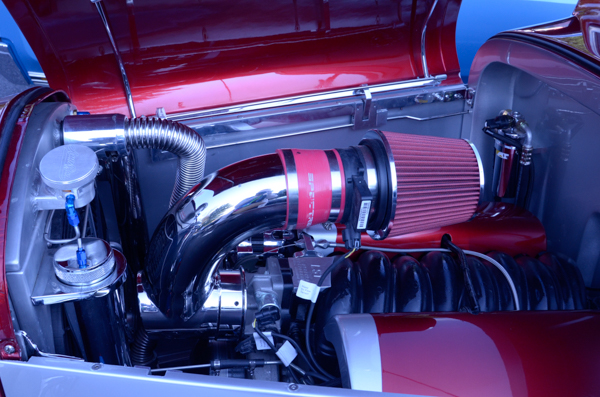 Another sculptural engine - this time with color added.
---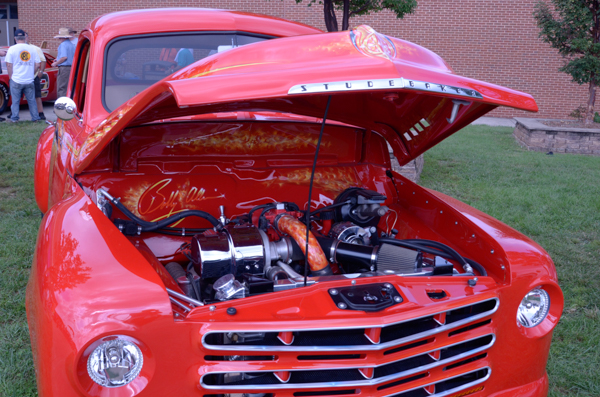 Over the top engine coloration!
I believe I saw more Studebakers at this show than I had ever seen in one day before.
---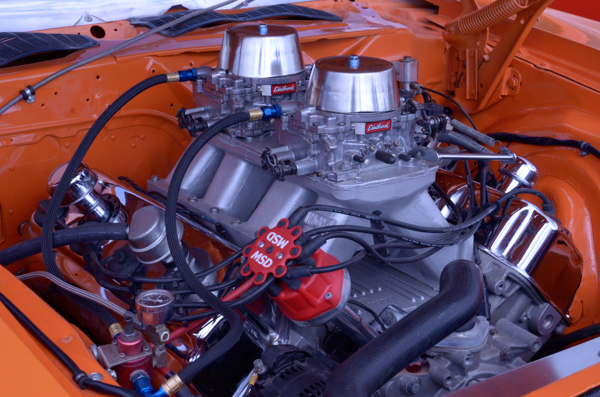 There were MSD parts in most of the engines displayed. Edelbrock was another common name. The Indy head identifies this vehicle as belonging to the Chrysler family I believe it was in the Barracuda pictured on another page.
---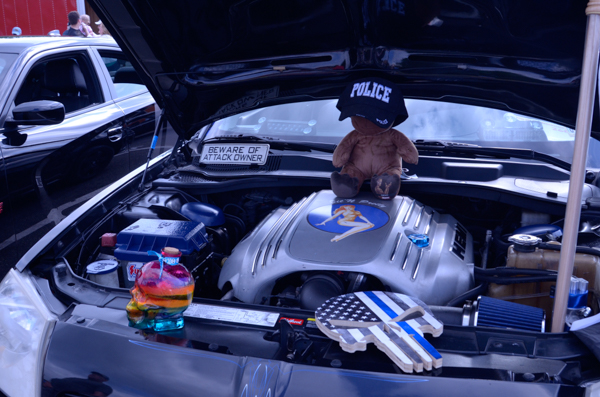 A poster accompanying this car identified it as one of six custom AWD Police Interceptors. The owner called the car "Sinful," which seems to be an odd name for a vehicle used to pursue criminals.
Its display is dedicated to police officers who died in the line of duty.
---
Click your "back" button to return to the previous page or click for our picture album.